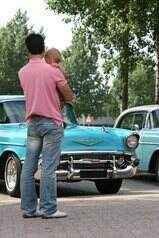 Why do 66% of first time parents buy a new car?
New Parents have a lot on their plates. There is a huge learning curve and no first-time parent can ever be 100% prepared for the task ahead! In order to handle the overwhelming amount of new chores and tasks, they quite often look for short cuts that can help them ease their day-to-day chores.
According to research by All Car Leasing, one of the biggest short cuts to ease choose is a car. Having a car provides a huge convenience for the new parents. For instance, when going shopping, a car is a huge necessity since it helps new parents do so with ease. Most new parents when buying a car, choose to buy a new car. Since the purpose of having a car is to make life easy, they don't need the headache or the worry of their vehicle breaking down. A new car with warranty will guarantee that they will have a reliable vehicle to use when they need it.
Another reason that new parents buy a car could be quite surprising. It turns out that using a car ride to help sooth the baby and help them go to sleep ranks up there with helping them get groceries. Getting babies to go to sleep is one of the biggest struggle new parents face, especially when their baby gets cranky and starts crying. Going for a car ride will almost guarantee to calm your baby and lull them to sleep. According to All Car leasing, 52% of all new parents admitted to having driven with no particular destination, just to sooth the baby. That's a huge number and while it's not the most eco conscious behaviour, sometimes desperate times call for desperate measures, and as any new parent will tell you, listening to your baby cry non-stop while trying to put them to bed definitely qualifies as desperate times.
An interesting fact about first time parents is that in 31% of households with a newborn baby, it is the woman that makes the decision to purchase a car. For those in longer relationships, men make these decisions 34% of the times. Furthermore, over 52% of new parents are ready to drive a baby with no specific destination. These statistics are an indication of the different motivations behind car purchase. For example, safety features are very high on the priority for new parents. Similarly, ease of getting in and out with car seat and shopping bags also rank amongst the top criteria for cars.
If you're a new parent and are in the market to purchase a new car, it is sometimes helpful to see what other new parents also look for in their vehicles. This might give you some ideas for features that you may not have thought of on your own.
Car dealers are quite appraised as to their target clients. New parents are particular vulnerable as they may be sold on features that they may not need. It is in your interest to visit All Car Leasing to get an idea of what other parents look for in a vehicle so that you go to a dealership armed with good information. Doing your homework will make sure you don't have regrets when making one of the largest purchases in your life. When it comes to buying a car, there's no time to slack off.
Car leasing makes a lot of sense for reasons such as taxes. The lease also doesn't have to worry about depreciation, since they don't own the car. However, in spite of these advantages, understanding the target market can help in getting them to sign up. It all boils down to marketing.