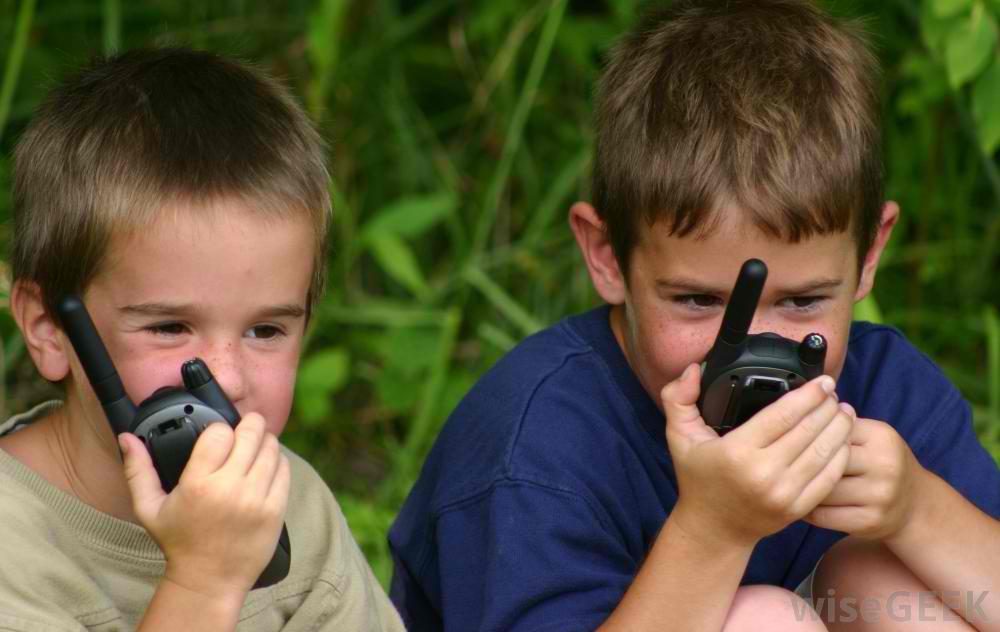 Top 5 Best Walkie Talkies | 2020 Reviews
Walkie talkies? Those are still a thing?
They sure are. They're no longer the toy that every kid dreams of; they're now programmed to start asking for their own phone by the time they start school. And "walkies" are no longer indispensible for most service businesses, which largely have switched to cellphones because of their weight and convenience.
Walkie talkies, though, can do many things that smartphones can't. Most importantly, they can be used in areas where there's no reliable cell service. But they're also a godsend in noisy environments like construction sites and concert halls, and have the ability to continuously connect a workforce spread out throughout a large area on a single channel (or set of channels). Hotels and convention centers, retail stores and warehouses – all are perfect environments for the use of walkie talkies, particularly when workers are equipped with earpieces or headsets. And naturally, they're still widely used by police and security forces.
Just as commonly, walkies are essential equipment for campers and hikers who frequently travel through areas where phones will do no good. Whether it's for locating other members of your family or hiking party, calling for help, or accessing NOAA weather channels, walkie talkies can be invaluable. Some even have a vibrate mode for hunters so the game they're tracking won't be alarmed.
Today's best walkie talkies are extremely powerful and able to communicate across distances as long as 50 miles in the right circumstances. Many are lightweight and waterproof, provide access to channels on both the FRS (Family Radio Service) and GMRS (General Mobile Radio Service) although you'll need a government license for the latter, and there are even walkies with a record function so you can keep messages for the long term.
Kids still love walkie talkies too, even though they'll be likely to outgrow them once they reach "phone age." You'll find that most of the units in our rundown of the top 5 best walkie talkies focus on units for campers, hikers and professionals, but we'll also make mention of the best ones for children, too.​
Before going on our list, make sure to read our "Best Walkie Talkie Buying Guide" too!
Let's get started. Over and out.
Quick Comparison Table
| Midland GXT1000VP4 FRS/GMRS Two-Way Radio | Cobra Electronics ACXT1035R FLT Walkie Talkie | Uniden GMR5088-2CK Camo Two-Way Radio | Uniden 16-Mile 22 Channel Two Radio | Garmin Rino 650 US GPS |
| --- | --- | --- | --- | --- |
| | | | | |
| | | | | |
| $$$ | $$$ | $$$ | $$$ | $$$ |
| 4.8 ounces | 5.6 ounces | 1.5 ounces | 9 ounces | 11 ounces |
| 36 miles | 37 miles | 40-50 miles | 16 miles | None claimed |
| | | | | |
Midland GXT1000VP4 FRS/GMRS Two-Way Radio (Pair)
These Midland walkie talkies are a perfect example of what today's modern radios can do, boasting an amazing number of features. They can access both FRS and GMRS channels, and have a separate set of those channels with pre-set privacy codes for a total of 50; the FRS channels are meant for short-distance communication, while you'll need to use high-power mode and the GMRS channels (which require a license) for longer-range transmissions. Midland claims a 36-mile maximum range, but that depends greatly on terrain, with city buildings or mountains often limiting transmission range (as is the case with all walkie talkies – the best way to get better range is to get a better or longer antenna). The GXT1000VP4s are among the best for distance over unobstructed ground, though.
We like these units because they provide outstanding sound quality with auto-squelch, but also because they're sturdy and waterproof (up to a point – you can't submerge them, but they can handle splashes and light rain) which makes them ideal for camping and hiking. These are also one of the walkie talkie models for hunters we alluded to earlier; they have vibrate mode, as well as a "whisper" mode which lets whispered transmissions be heard perfectly. (Some hunters may prefer the similar, camo-finished 1050VP4 model, which also has five signal tones which can also be used as animal calls.) You can also scan and monitor weather channels for local alerts (and not just for storms, but everything from fires to biohazards), and send out an SOS alert with the push of a button.
That's just the start. The Midlands have hands-free operation capabilities (with nine different sensitivity levels), included headsets, direct-call functions that let you contact some people on your frequency without letting others hear, 142 different privacy codes to create thousands of "private" channels, a scan function to quickly find active channels, ten different call alert tones, selectable power-saving levels, a backlit LCD display (a nice feature, since there's quite a lot of programming involved to get these working to their full capabilities) and much more.
You can clip these walkies onto your belt or carry them in a pocket since they're about the size of a phone (not counting the antenna) and lightweight. The GXTs have a rechargeable battery pack which can power the units for about eight hours and can also run on AA batteries, and come with a dual desktop charger and a car adapter. If they've left anything out, we can't think of it. There are two radios per set.
For a combination of good range, great quality and terrific features, this pair of Midland walkie talkies can't be beat at about $60.
Details of the Midland GXT1000VP4 FRS/GMRS Two-Way Radio

Channels

50, including FRS and GMRS

Power

5 watts

Claimed Range

36 miles

VOX/headset operation/vibrate mode

Yes/yes/yes

Waterproof

Yes (splashproof)

Weather Alerts

Yes

Power

Rechargeable battery pack or four AA batteries

Size

2.5 x 2 x 10 inches (including antenna)

Weight

4.8 ounces

Warranty

Three years
Cobra Electronics ACXT1035R FLT Walkie Talkie
The Cobras aren't quite as full-featured as the Midlands, but they have one feature that can be invaluable to campers and hikers, and you probably noticed it in the title of this review: if you drop them in the water, they float. That means they're completely waterproof, so some readers have probably just found the walkies they really need when out in the backcountry. They're also built more sturdily than the GXTs (although they're also fatter and shorter, so they don't fit as well in the pocket).
The range on these units is similar to that of the Midlands, a nominal 37 miles which is completely dependent on terrain, as you know by now. They have 22 available channels in the FRS and GMRS ranges, there are plenty of privacy codes, and they have emergency alerts plus an SOS signal.
So why do these rank at #2 instead of #1? Quite honestly, we think they're more difficult to operate than our top choice. The display is cluttered, with a plethora of hard-to-depress buttons all around it. We think you'll find it as confusing to figure out as we did, and in these days of simple LCD displays and touchscreens, the Cobras feel like a throwback – and not in a good way.
Rechargeable AA lithium batteries power these walkie talkies, which are more convenient than having to use a proprietary battery pack, and most of the other features you'd expect like VOX and headphone capability are included, as is the ability to replay the last 20 seconds of a message. We'd say that both of the models we've looked at so far are very good; the Cobras should be your top choice if you need truly waterproof units, but the Midlands are better if you don't.
Details of the Cobra Electronics ACXT1035R FLT Walkie Talkie

Channels

22, including FRS and GMRS

Power

5 watts

Claimed Range

37 miles

VOX/headset operation/vibrate mode

Yes/yes/yes

Waterproof

Yes

Weather Alerts

Yes

Power

Three rechargeable AA lithium batteries

Size

1.5 x 2.5 x 7.5 inches (including antenna)

Weight

5.6 ounces

Warranty

One year
Uniden GMR5088-2CK Camo Submersible Two Way Radio (Pair)
This is the first of two sets of Uniden walkie talkies we'll be examining; the next ones will be for the kids, while these are for the grownups. Like the Cobras, these walkies are waterproof; unlike them, these are actually submersible for up to 30 minutes at a depth of three feet. They also have the highest-claimed range of any of the units on our list of the top 5 best walkie talkies, at 40-50 miles. As we keep saying, though, always take those numbers with more than a few grains of salt. There are 22 channels (FRS and GMRS), a decent number of privacy codes, direct call capability, a "power boost" button for extra oomph when a signal isn't quite getting through, and NOAA weather alerts. They operate on rechargeable NiMH batteries and come in a camo pattern.
One plus is that the headsets for these walkie talkies are included in the package but that's offset by the lack of "extra" features we'd expect to see like whisper and power-saving modes, considering the fact that these are more expensive than the Cobra and Midland walkies at $120 for the set. They're fine, but not good enough to be top-ranked for that price.
Details of the Uniden GMR5088-2CK Camo Submersible Two Way Radio (Pair)

Channels

22, including FRS and GMRS

Power

5 watts

Claimed Range

40-50 miles

VOX/headset operation/vibrate mode

Yes/yes/yes

Waterproof

Yes

Weather Alerts

Yes

Power

Four rechargeable NiMH batteries

Size

8.5 x 4 x 13 inches (including antenna)

Weight

1.5 ounces

Warranty

One year
Uniden 16-Mile 22 Channel Two Radio (Pair)
And here is the second set of Unidens we mentioned, the ones that are our best choice for kids. They have most of the same basic specifications as the expensive ones, covering 22 channels (FRS and GMRS) with a nominal range of 16 miles (and a functional range of much less). They'll scan all channels for existing users, have decent audio quality with auto-squelch, and are easy to operate for preschoolers and elementary school kids (the ones who don't have phones yet).
There aren't any fancy features like headset operation or voice activation – but trust us, your kids won't miss them. The walkies will communicate around the block or neighborhood just fine, and while they may go through lots of lots of AAA batteries, so will any other toy you purchase. Don't count on these for commercial use or if your life might depend on being able to communicate out in the wild, but for $30 you can let your kids venture back to the days when every kid on the block had a walkie talkie, and loved it.
Details of the Uniden 16-Mile 22 Channel Two Radio (Pair)

Channels

22, including FRS and GMRS

Power

Not specified

Claimed Range

16 miles

VOX/headset operation/vibrate mode

No/no/no

Waterproof

No

Weather Alerts

No

Power

Three AAA batteries

Size

8 x 3 x 7 inches (including antenna)

Weight

9 ounces

Warranty

Three years
Garmin Rino 650 US GPS
For this final review we'll take the word "best" in "top 5 best walkie talkies" literally, without regard to price – because these units combine an excellent walkie talkie with a Garmin GPS device, electronic compass and altimeter – for the low, low price of $440 apiece. For those of you who had trouble in math or are in shock, that adds up to nearly $900 for the pair.
But if you're a serious hiker, trekker or camper, you may fall utterly in love with the Rino 650. The true selling point on this unit is the GPS functionality, but we'll first deal with the communications aspects. The walkies can access 22 channels (FRS and GMRS) with 121 privacy codes, voice activation capabilities and vibration mode, with a functional range similar to that of the Midlands subject to the same caveats on terrain. Audio quality is good, and there's also a texting function on these radios. There are customizable weather alerts which can be displayed on the TFT screen or heard audibly.
Now, for the "other stuff." The Rino 650 has a sensitive receiver and a quad-helix antenna allowing you to find and maintain your position, view your position on maps and images which can be downloaded or imported via microSD card (the Rino is compatible with BaseCamp software), and send your exact position to other Rino users. There's a three-axis, tilt-compensated electronic compass and a barometric altimeter built in, along with calendars complete with sun/moon rising and setting times. If you're an avid outdoor type, are you in love yet?
Everything is controlled on a well-lit 2.6-inch touch screen and held in a waterproof case, and runs on a rechargeable lithion-ion battery which can go up to 14 hours between charges. In short, if you spend a good part of your time in the backcountry and have a spare $440 (per unit) to spend, you need one of these Garmins. Otherwise, they're cool to think about.​
Details of the Garmin Rino 650 US GPS

Channels

22, including FRS and GMRS

Power

5 watts

Claimed Range

None claimed

VOX/headset operation/vibrate mode

Yes/yes/yes

Waterproof

Yes (splashproof)

Weather Alerts

Yes

Power

Lithion-ion battery, rechargeable

Size

2.5 x 2 x 7.5 inches (including antenna)

Weight

11 ounces

Warranty

One year