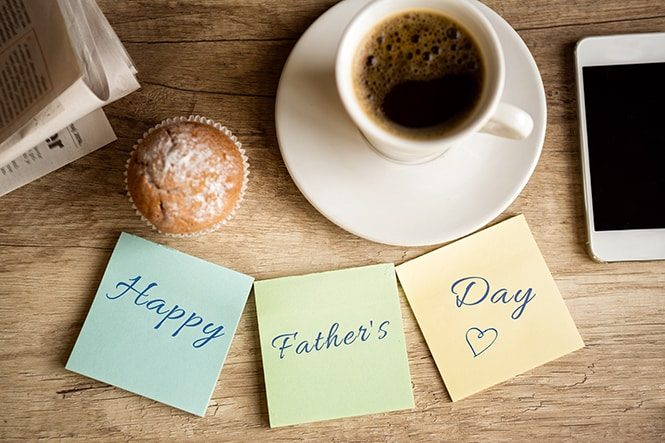 Top 5 Best Father's Day Gift Ideas | 2020 Reviews
They say that fathers are the rock that provides the solid foundation to a home. Traditionally, they are the ones who provide for the family and make sure that there is money to put food on the table, roof over the family's head and clothes to keep them warm. However, times have already changed and even if some fathers have switched roles with their wives, it does not stop them from fulfilling their roles as the head of the family.
Whatever role dad may be filling in, it is important to let them feel loved and special. Just like most men, dads are rarely showy of their feelings so do not take it personally if they are not very affectionate and "loving". Deep inside their hearts, we know that they love us, too.
So, how do you make dad feel special not just on their day but also all throughout the days of the year? We highly suggest giving them a well-thought of father's day gift to make them feel special and energized; being a parent, after all, is a lot of work. If you have no clue what to give to the most special man in your life, try to check out what their hobbies and interests are and you will usually get an idea on what to give them.
But, if you are still clueless, why not check out our list of the top 5 best father's day gift ideas. We don't know your dad, granddad, husband, brother, boyfriend or dad friend but we can guarantee that they will love the things that we have included in our list.
Quick Comparison Table
| HyperChiller Iced Coffee Maker | Fitbit One Wireless Activity Plus Sleep Tracker | Gillette Fusion ProGlide Bundle | BBQ Party Barbecue Skewers and Rack | Klikel Ingrid 8-Piece Whiskey Set |
| --- | --- | --- | --- | --- |
| | | | | |
| | | | | |
| $$$ | $$$ | $$$ | $$$ | $$$ |
| 11.2 ounces | 0.3 ounces | 8.8 ounces | 1.1 pounds | 7.8 pounds |
| 4.2 x 4.2 x 6.8 in | 0.2 x 0.8 x 2.2 in | 11.9 x 2.1 x 9.1 in | 14.2 x 2 x 7.5 in | 16 x 12.4 x 6.6 in |
| | | | | |
HyperChiller Iced Coffee Maker
Do you know of a dad who loves ice cold coffee? Or maybe they are just a huge fan of any chilled beverages including whiskey, wine, iced tea and many more. Sodas can also work well although it loses most of its carbonation when chilled so it isn't ideal for these types of beverages.
What makes this product an awesome dad gift for father's day? Some people are very particular about how their coffees taste, then this makes the best companion for their everyday consumption. You no longer have to rely upon the old ice cube method, which has stood the test of time, because this new revolutionary method is the best way to taste the coldest coffee in town, without worrying about changing its quality and taste.
The HyperChiller allows you to make your own brew at home and practice your barista skills – without having to spend a lot of money on overpriced cups of coffee. You can make your best cup of coffee, place it inside the HyperChiller that has been chilled for a few hours (the longer the better) and then wait for a minute or two. You will then get to enjoy the best and coldest cup of coffee in the world without worrying about dilution.
Another reason that we like this product not just as a daddy gift but also as a gift for every coffee lover is that it is easy to use from assembly to disassembly to clean up! Okay, it is made up of four parts but don't worry because it will be worth the extra effort. The outer and inner chambers are used for freezing water which will help keep the coffee cold inside. Once it is frozen, you can pour fresh hot coffee into the middle chamber and let it sit there for a few minutes. You will be amazed that it can get chilled by up to 130+ degrees without dilution. Yep, the flavor and quality of the coffee remains the same.
Obviously, we love this product and we are placing it high up in our list.
Details of the HyperChiller Iced Coffee Maker

Weight

11.2 ounces

Dimensions

4.2 x 4.2 x 6.8 inches

Capacity

12.5 ounces
Fitbit One Wireless Activity Plus Sleep Tracker
If you know of a dad who is very conscious about their health, you should definitely consider giving him a Fitbit as a daddy's day gift.
Everyone loves to use Fitbit – and we even love getting one for ourselves – because it helps track every step of the way from your daily steps to the distance covered, calories burned and stairs climbed. You can even use it to track how long and how well you sleep everyday; remember that sleep is very important and it is not something that you can get in installment basis – you need to get at least the minimum hours of sleep everyday so you can feel refreshed and energized. Another big plus about this product is that it comes with a silent alarm feature so it wakes your husband and not you (or the other way around) once it sets off.
For even better monitoring, the Fitbit can be synced automatically to a computer or a smartphone or tablet through Bluetooth 4.0. You can even track and set goals and watch your progress right in front of you. This is definitely the best and only fitness tracker that you need – look into your workout summaries, analyze trends and even track your nutrition and many more. Seeing numbers may be intimidating but it is actually one of the best and most effective ways that you can achieve your fitness goals. You will be surprised at how many pounds you have lost – or gained – when you start tracking them.
If your dad is intimidated with technology, don't worry. You can help them get initially set up and once you have taught them all the basics, it won't be long before they start to obsess with their numbers. Hey, no worries if they get a little too obsessed about that – you will eventually love the fact that their physical health will start improving because of it.
It's a slightly expensive dad's gift but it is a great investment for one's health thus it deserves to be at the second spot.
Details of the Fitbit One Wireless Activity Plus Sleep Tracker

Weight

0.3 ounces

Dimensions

0.2 x 0.8 x 2.2 inches

Colors

Black, Burgundy
Gillette Fusion ProGlide Bundle
Do you know of a dad who constantly has to shave and groom his face because his facial hairs just keep on growing at lightning speed? Well, this shave set makes the perfect gift because they will never run out of razor blades anymore thanks to this subscription.
Gillette has long been known in the grooming and shaving industry and you know that you will never go wrong when you decide to give this incredible shaving set to your granddad, dad, husband, brother, boyfriend or any other guy friend you have. This set comes in a box complete with a handle, blade refills and shave gel – everything that is needed to get that clean shaven look that has only been in one's dreams.
You might think twice about getting this product though since it is a subscription but you can always opt out of it and tell your recipient to subscribe themselves so they can get fresh razor blade refills every single month. You must take note that the handle is only available during the first month so they should not lose it or the subsequent subscriptions will become useless.
Now, your dad or husband can conquer the day every single time because you know that they will always have a razor set that they can rely on – and it is one that will arrive in the front door every single month. Wouldn't it be nice if you can take their mind off of those trivial things (Do I still have fresh razor blades to use?) so they can focus on more important things in life such as taking care of the family and putting food on the table.
Do we think that this is a great father's day present? Yes, of course. It is a very fitting gift especially for a dad whose facial hair just constantly grows and grows. We place this shaving set at the third rank in the list.
Details of the Gillette Fusion ProGlide Bundle

Weight

8.8 ounces

Dimensions

11.9 x 2.1 x 9.1 inches

Includes

Fusion ProGlide Razor handle with Flexball Technology, 4 Fusion ProGlide blade refills, Fusion ProGlide Sensitive Ocean Breeze 2-in-1 shave gel + skin care
BBQ Party Ultimate Barbecue Skewers and Rack Set
If your dad, granddad, husband, brother, boyfriend or dad friend loves hosting barbecue parties, this is the ultimate father's day present idea for them. What makes this product so special? It makes use of premium stainless steel so can make shish kabob all they want, right at the comforts of their own backyard. Now, your dad can hold even more barbecue parties and they can be the chef all they want.
What we love most about this product is that it eliminates the need for cleaning grilling surfaces. You know those times when you have to scrub with all your might in order to clean out those grill tops and remove those sticky and greasy burnt food? Well, that will no longer happen when they use this set because it comes with a rack where they can just stick the skewers. Grills will no longer be lined with sticking kebabs; it will only be sticking to the skewers and, in case it drops, it will fall off directly to the charcoal pit.
Now, your dad can experiment on the type of food he puts over the fire. There is no limit to his recipe – as long as a food item can be skewered then it can be cooked over open fire. It also makes grilling much easier because they can simply turn around the skewers in their racks to make sure that the meat and other food items are grilled and cooked evenly. The sturdy rack does not only eliminate food from sticking, it also helps keep things in their proper places so they can get cooked in an even manner. No matter what type of grill your dad may be using – gas, charcoal or electric –, this grilling set will work perfectly.
Obviously, this is such an awesome dad gift – cheap, easy to use and clean and dishwasher safe, too – thus this deserves to be placed at the fourth rank.
Details of the BBQ Party Ultimate Barbecue Skewers and Rack

Weight

1.1 pounds

Dimensions

14.2 x 2 x 7.5 inches

Includes

2-piece rack, six 14-inch skewers and a free ebook
Klikel Ingrid 8-Piece Whiskey Set
Younger men may be obsessed with beer but the older ones usually love whiskey – and your dad probably is no exception.
What do we love about this wonderful gift for dad? Well, it does look very sophisticated and you can even add in a matching ice box if you like. Whether your dad chooses to actually use it and drink from it or just turn it into a decorative piece in your mini bar is not a problem because it does what it was made to do and you will have no regrets getting this product.
You might worry because it comes at a very cheap price point considering that it a set of glassware but it does not actually look as cheap as expected in person. Another major concern we had about this was the presence of lead but we were happy to find out that it does not have that – it isn't real crystal and the manufacturer also confirmed this one.
Of course, it isn't the most perfect whiskey set available in the market. It has its flaws considering the very cheap price tag it comes with. While it had no defects and there is nothing to complain about, at least in our own experience, we feel that they could improve it a little more by adding more thickness into the decanter to make it look and feel sturdier. The lid part is not all glass and it comes with a flexible plastic O-ring that acts as a stopper. We were happy to find out that it did not leak at all.
Overall, this is a great item to give as a gift for father's day and we are quite sure that your dad, granddad, husband, brother, boyfriend and other guy friends will love receiving it. But, after weighing all the pros and cons of this product, we believe it deserves to be placed at the bottom of our list.​
Details of the Klikel Ingrid 8-Piece Whiskey Set

Weight

7.8 pounds

Dimensions

16.4 x 12.4 x 6.6 inches

Includes

6 7-oz DOF glasses, 1 32-oz square decanter, 1 14 x 11 inches silver plated tray
Conclusion
There is no doubt about it, the most special man in your life will love (though he may not always show it) whatever you give them for father's day. As long as it comes from the heart, they will surely not mind whatever it is that you give them. But, if you have to choose, it is always best – and also more practical – to choose gifts that they can actually use. Wouldn't it be nice to be remembered every time they take out your gift so they can do their favorite hobbies? A simple father's day gift will never fail to put a smile on their faces.