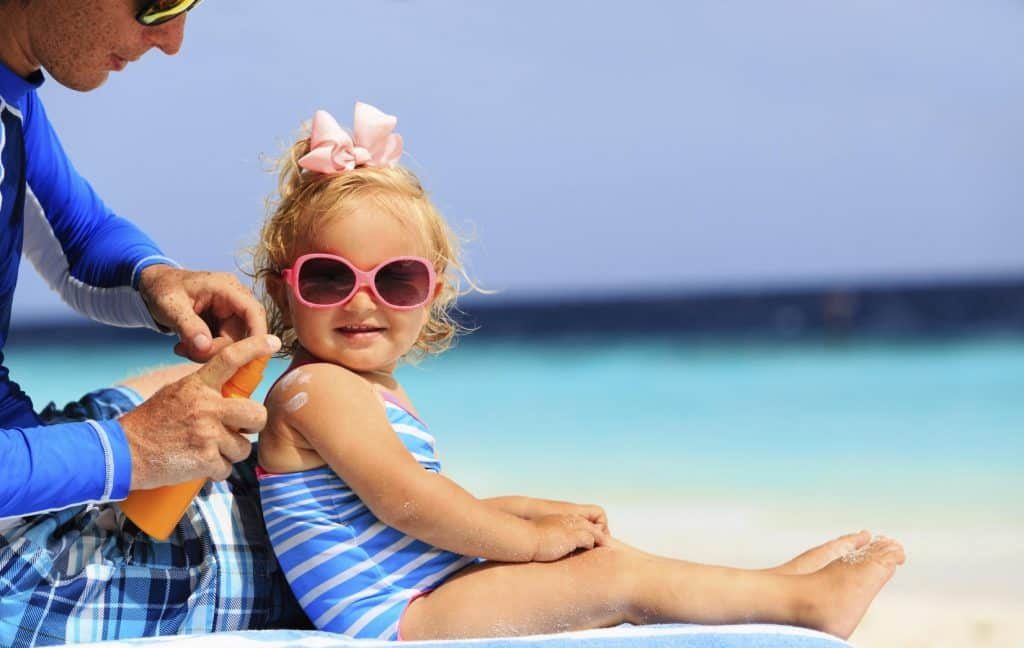 Top 5 Best Sunscreens for Your Kids | 2020 Reviews
Whatever the season may be, it is very important for parents to always keep in mind that wearing sunscreen, even for kids and babies, are a must.
As soon as kiddos reach the six-month mark, slathering on some sunscreen lotion to protect them from the harsh rays of the sun. However, a growing concern for many parents regarding using sunscreen for babies is the chemicals that are added into these products and how they might affect the child.
Exactly what is the best sunscreen for kids and how do you go around looking for them? How do you properly use baby sunscreen to make sure that you get the most out of them? Below are some important things to keep in mind:​
Avoid inactive ingredients such as retinyl palmitate and oxybenzone
Settle for mineral-based sunscreen for babies over chemical versions
Go for higher zinc oxide percentage or those with titanium dioxide
The best sunscreen ratings are those between SPF 30 and SPF 50
Lotions are better choices compared to spray ones
Of course, it is also crucial that parents apply as indicated on the packaging instructions. Just because a product has higher SPF does not mean that you should apply it less often or that your kids can stay longer under the sun.
Now, the bigger question is which among those available in the market is the best sunscreen for babies? We have come up with a list of our 5 most recommended sunscreen brands and a review of each to help make your decision process much easier.​
Quick Comparison Table
| Babyganics Mineral-Based Baby Sunscreen | Badger Baby Sunscreen Cream | Blue Lizard Australian Sunscreen | Thinkbaby Safe Sunscreen | Banana Boat Sunscreen Kids |
| --- | --- | --- | --- | --- |
| | | | | |
| | | | | |
| $$$ | $$$ | $$$ | $$$ | $$$ |
| SPF 50 | SPF 30 | SPF 30 | SPF 50 | SPF 30 |
| | | | | |
Babyganics Mineral-Based Baby Sunscreen
When it comes to all the considerations we have included in choosing a sunscreen for babies, this Babyganics sunscreen definitely got everything right!
Obviously, we love that this is a mineral-based sunscreen and has among the highest sunscreen ratings within the recommended range for kiddos. Additionally, it has 6% zinc oxide, 3% titanium dioxide and none of those inactive ingredients to watch out for. No wonder this 100% natural NeoNourish Seed Oil Blend is highly recommended by pediatricians and dermatologists!
Another reason we love this sunscreen lotion is that it glides very easily allowing for a smooth and effortless application, ideal for use on active kids. While we still do not recommend that your kids stay under the sun for long periods, it is reassuring to know that this product comes with broad spectrum UVA/UVB protection so you do not have to constantly worry about them being exposed to the harmful rays of the sun. It is also water resistant for up to 80 minutes so they are great for use on the beach or pool.
You might have been wondering what the NeoNourish Seed Oil Blend is all about. We realized that it actually meant that it contains five essential oils (from tomatoes, sunflowers, cranberries, black cumins and raspberries) that are essential for their healthy skin development. This also means that the product is non-allergenic and tear-free, making it among the best sunscreen for face. Your kiddos will no longer be avoiding you once it is time to put on some sunscreen because they know that this one will not hurt their eyes.
There is so much to love about this Babyganics sunscreen. They are safe to use even for the youngest babies (only six months old and above, please) and contain no PABA, phthalates, parabens, fragrances or other nano-particles. They have not even been tested on animals. Cool, right? No surprise here, we are placing this product to the number one spot.
Details of the Babyganics Mineral-Based Baby Sunscreen

Size

2 ounces (Pack of 4), 6 ounces (Pack of 2)

SPF

50

Water Resistance

80 minutes
Badger Baby Sunscreen Cream
For a new release, this Badger Baby Sunscreen works quite well so it is no longer surprising why it is topping the charts.
What is there to love? The fact that it is a biodegradable and certified organic product is a big plus points. That means that you no longer have to worry about your little ones reacting badly after applying this on them. Did we also mention that no animals we harmed during the creation and testing of this sunscreen? Awesome, right? So, what is in it for the kids and parents? Well, this one comes with 18.75% non-nano, uncoated zinc oxide which we certainly love. And, it also does not come with those red flag inactive ingredients that we would all want to avoid.
If you are new to using natural ingredients in a sunscreen, you will probably feel like this one is much greasier than normal but that is really just because of the types of ingredients being put into it. Some people may also feel like this product is too thick and it might be a little harder to wash off than the others but it simply means that it does its job pretty well.
We know this sunscreen for kids really works because we never experienced sunburn when using it. Kiddos love playing in a playground, pool or beach, even under the heat of the sun, and using this product just gives reassurance that they will not be harmed from the exposure. Of course, everyone has to keep in mind that reapplication is required every few hours and that staying under the sun still is not recommended so we try to limit that one.
Perhaps the only huge reason why the Badger baby sunscreen did not make it to the top of the list is because we preferred using mineral-based products more. Also, this one is much more expensive than the Babyganics sunscreen so we will have to push this one down to the second place.
Details of the Badger Baby Sunscreen Cream

Size

2.9 ounces (Pack of 1, 2 or 3)

SPF

30

Water Resistance

NA
Blue Lizard Australian Sunscreen
You probably have not heard so much about Blue Lizard because it is from Australia but knowing its country of origin – a place where there's lots of deserts and beaches – kinds of reassures you that there has been a lot of work put into formulating their baby sunscreens.
The reason we love this product is that it provides broad spectrum UVA and UVB protection which is great for use especially with young kids. Additionally, if you look at the ingredients in the label, you can see that it comes with 10% zinc oxide and 5% titanium dioxide and none of those red flag inactive ingredients. It is even paraben-free, fragrance-free and chemical-free.
This dermatologist recommended product has been proven very gentle even on a baby's sensitive skin so you do not need to worry about further harming your kiddos when using it. It stays on quite long which we love – there are places that say it is waterproof up to four hours although we cannot be quite sure about that one. We still recommend reapplying the sunscreen as per instructions to make sure your kiddos stay protected under the sun.
What else is there to keep in mind? Well, this sunscreen for babies does leave off some bit of white residue which is not exactly a problem but might be worrisome for others. For some, it is not as sticky as the other sunscreens but it would sometimes leave the skin dry.
Another reason why we like this sunscreen thus earning the third spot in the list is that it comes with a smart bottle. Leave it under the sun and when it gets exposed to direct sunlight, it turns pink. It is definitely a simple and yet effective way to remind us to keep applying and reapplying these products on ourselves and our kiddos. You'll be surprised – even if it is cloudy, you will still be exposed to the damaging rays of the sun!
Details of the Blue Lizard Australian Sunscreen

Size

3 / 5 / 8.75 ounces; 1 gallon

SPF

30+

Water Resistance

NA
Thinkbaby Safe Sunscreen
Another sunscreen for babies that you might want to consider using is this one from Thinkbaby.
This Thinkbaby sunscreen is one of the safest sunscreens for your kiddos. It does not contain oxybenzone or other UV chemical absorbers and instead has 20% non-nano zinc oxide. This product also comes with a high SPF rating at 50 and is water resistant for up to 80 minutes. It is actually the first ever sunscreen product that was able to pass Whole Foods premium care requirements.
There are many things that we love about this one, including being very water resistant which is probably why it feels really oily. It does not feel very thick and is even more watery than expected which can both be a pro and con for the user, depending on their preferences. Fortunately, shaking it a bit turned it into a more solid form so that was all okay.
Among the things we did not quite like about this sunscreen is that it felt a little too expensive for our taste. There were definitely cheaper products available out there. Another thing is that it comes with a scent, albeit a very mild and fruity one, but that made it somewhat chemical-ish. If you are curious, this one for babies comes with papaya as one of the ingredients (thus the scent) while the ThinkSport one has currant/grapefruit in their ingredients list.
We also would like to add that it might not be the best sunscreen for face, especially on babies and young kiddos, because they were too painful to the eyes. You will have to be extra careful when applying the sunscreen on the faces of active kiddos to prevent getting it into their eyes. Even so, the stinging still happens during bathing time.
This product has quite a good mix of pros and cons thus the reason we have to put this in the fourth spot of our list.
Details of the Thinkbaby Safe Sunscreen

Size

3.2 ounces

SPF

50

Water Resistance

80 minutes
Banana Boat Sunscreen Kids
Banana Boat has long been trusted as one of the best sunscreen for kids so there is no reason not to include this product here on the list.
It comes with SPF 50 ensuring maximum protection for kiddos even in the harshest conditions under the sun. One of the things that immediately caught our attention is its active ingredients which include 4% zinc oxide and 3.1% titanium dioxide – a huge plus! We also love that it is hypoallergenic and pediatrician tested so parents are assured that they are safe for us with even the youngest kids (six months upwards, of course).
This Banana Boat sunscreen has been tested on seven different real life conditions to make sure that they stay on. Conditions include sun, ocean water, pool water, sweat, wind, sand and extreme heat. Not only are they guaranteed to stay on no matter the conditions, they also guarantee that it will keep the user protected with its broad spectrum UVA and UVB protection. Kiddos will also love that this sunscreen for kids is sting-free and alcohol-free so from application down to swimming and washing it off, no tears will be involved.
Perhaps the only biggest drawback we feel this product has is its greasy application. It will make you look and feel sweaty but it is also a huge plus because then it means that taking it off will take a lot more work than usual. If thick and white sunscreens are a con for you then that might be another consideration to add to your list as well.
If you would like more convenience in the use and application of this sunscreen, we suggest using the pump bottle so you do not have to worry so much about getting both your hands free when applying on active toddlers.
After weighing all the pros and cons related to this product, we believe that it deserves to be placed at the last position in our list.
Details of the Banana Boat Sunscreen Kids

Size

2 / 8 / 12 ounces

SPF

30

Water Resistance

80 minutes
Conclusion
Who knew looking for the best sunscreen for babies, toddlers and older kids was this tricky? Well, good thing you have visited us to listen to our recommendations – you have certainly come to the right place.
Don't forget – no matter how high the SPF maybe, it won't work unless you do not apply it or reapply it constantly (according to packaging instructions). It is also not recommended for kids and even adults to stay under the sun for very long so try to limit your exposure so you do not harm yourself in the years to pass.
Enjoy the water and the outdoors!​