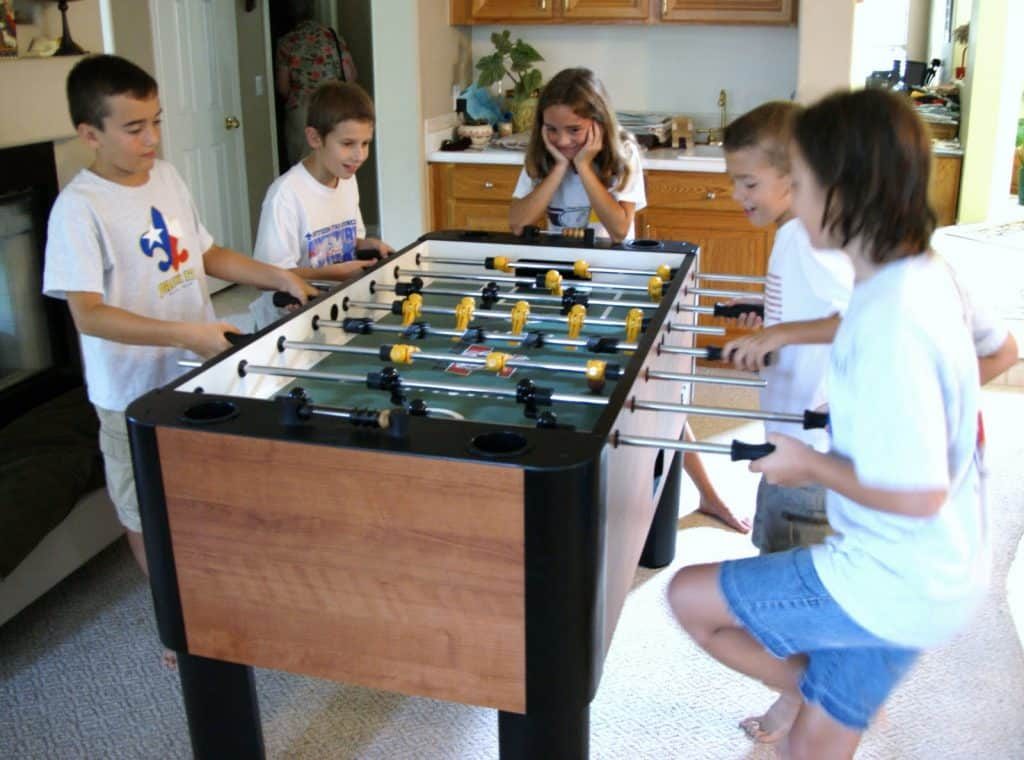 Top 5 Best FoosBall Tables | 2020 Reviews
Anyone who's spent time hanging out at the local pub, a college fraternity or a friend's "man cave" has undoubtedly come across the ubiquitous feature of all hang-outs: a heavy-duty FoosBall table. Cheaper versions are also commonplace in kids' playrooms or family basements (particularly those without the space for a full-sized model); they won't stand up for the long haul, but they're still a lot of fun.
You may be surprised to learn that FoosBall (officially, Table Football) has been around for nearly 100 years, perhaps even longer if you count anecdotal evidence and not just the patents that were granted for the game in Britain in 1923 and the United States in 1927. And it's not just a casual game for some players; world championships have been held in one form or another since the 1970s, with today's major events being the World Championships and the World Cup. Some members of the International Table Soccer Federation are even pushing to eventually have FoosBall included in the Olympic Games. Those facts may be interesting, but they're also important to those searching for their own FoosBall table because the somewhat-haphazard development of the game over the years has led to different "standards" which play a role in the table you decide to buy.
First, there are two predominant styles of table football, American and European. European tables have just one goalie on the back rod and the player is unable to rotate 360°, while American-style FoosBall utilizes three goalies which can completely spin around (although spinning the rods full-circle is prohibited in most tournaments). To compensate for the fact that "European goalies" can't reach the back corners of the table, there are sloped corners and side panels on European tables. The manufacturer of a table may also be important to those prepping for tournaments, as there are events specific to each of five different brands: Tornado, Bonzini, Garlando, Roberto Sport and Leonhart.
We're going to assume, though, that you're thinking of buying a FoosBall table for entertainment rather than tourney prep – so we'll be looking at the key issues of construction quality (which can vary widely) and price in these reviews. We'll also be focusing primarily on higher-end full-sized models, but we'll throw in a space-saving budget model as well as one suitable for outdoor use which are also worth considering.
Off we go.
Quick Comparison Table
| Tornado Sport FoosBall Table | Garlando G-500 Indoor FoosBall Table | Carrom Signature 55 Inch FoosBall Table | Kettler Cavalier 58 Inch Outdoor FoosBall Table | Hathaway Playoff Soccer Table, 4 Feet |
| --- | --- | --- | --- | --- |
| | | | | |
| | | | | |
| $$$ | $$$ | $$$ | $$$ | $$$ |
| MDF, 1" | MDF, 1" | MDF, 1" | Resin and composite with glass playfield | MDF, ½" |
| 205 pounds | 165 pounds | 177 pounds | 132 pounds | 51 pounds |
| | | | | |
Tornado Sport FoosBall Table
Tornado is "the" brand name in American FoosBall, and unless you're ready to shell out a lot of extra money (like the extra $1000 it would cost to buy the company's extraordinary Tournament 3000 table), the Tornado Sport has just about everything you'd need.
To begin with, the quality of the Sport is terrific, nearly indistinguishable from the ones you've played on at a commercial game room or in a nice pub. You'd be proud to have it in any room in your house. The play surface and sidewalls are constructed in America from high-grade, one-inch thick composite (MDF) material, which may sound less durable than solid wood but is actually the standard for all but the most expensive FoosBall tables. It resists dents, it's durable and it won't be affected by temperature or humidity. The Sport features a beautiful mahogany melamine finish, with a traditional green play surface and black and yellow men. This is (as you'd expect from a unit made in the U.S.) an American-style table, but you can buy an optional kit to change it to European-style.
The other important construction detail on the Tornado Sport concerns the steel rods on which the men are mounted. They're made from 0.125" hollow steel, as they should be on a top-quality FoosBall table. That makes them lighter and allows for play that's much faster and more exciting. Tournament tables always feature hollow steel rods for that very reason. The Sure-Grip rod handles are a nice touch, as are the end ball return and sliding scoreboard. A final feature that makes the Sport great to play on is its adjustability, as the height of the rubber boot-covered legs can be changed to accommodate younger players and shims can be placed inside the boots to ensure that the table is level.
You'll need two or three people to set up this FoosBall table because it weighs more than 200 pounds. That's a good thing in the long run, though, because once it's in place it's not going anywhere – it will be completely stable and will last for years. The one drawback to the Sport is that it doesn't come with counterbalanced men (allowing you to leave them in a horizontal position instead of automatically returning to vertical) but you can buy a counterweighted set of players for another $100 or so).
$1000 may seem like a lot, but for a FoosBall table which comes extremely close to the feel of a tournament unit with fabulous and fast gameplay, will stand up to any abuse you can dish out, and has the height versatility not seen on tourney tables, the Tornado Sport is well worth the price.
Details of the Tornado Sport FoosBall Table

Material

MDF, 1"

Finish

Mahogany melamine

Rods

Hollow steel

Style

American

Height Levelers

Yes

Size

56 x 30 x 36 inches

Weight

205 pounds

Warranty

One year
Garlando G-500 Indoor FoosBall Table
While Tornado is the premier name in America, Garlando is the #1 name in Europe and comes in at #2 on our list of the top 5 best FoosBall tables. There are some obvious differences with the Sport, like one-goalie back rods and sloped corners and side panels, since this is a European-style table made in Italy. There are some more subtle differences as well, some we liked and some we didn't.
One difference is immediately obvious; the playing surface is made from green plastic laminate rather than MDF composite. It does give the table a cool look, but it plays faster than most players will be used to so it's something of an acquired taste. The differences you probably won't notice are that the hollow rods are of a bit higher quality because they're made from cold-drawn steel and plated with chromium to fight rust, and the bushings have a nylon casing. Both are responsible for an extra smoothness to the gameplay. The rods are telescopic so they don't stick out of the sides of the table and won't accidentally hit a child walking by during a frantic game; that's a feature often seen on tables made in Europe.
As with the Tornado table, the sidewalls are manufactured with 1" thick MDF, and the unit has a decidedly high-tech look with a butcher-block finish and black powder-varnished legs (although the blue and red players seem somewhat out of place with the look). Surprisingly, though, there's no way to level the table with manual adjustments or shims so you'll have to jury-rig the legs with pieces of wood if you need to fix a tilting issue. The G-500 is about forty pounds lighter than the Sport but still more than sturdy enough to "set it and forget it."
The players are not counterweighted (although they are guaranteed to be unbreakable), the wood handles aren't quite as comfortable over time as are the Tornado's, and the scoreboard is abacus-style, but those are minor points. This is a well-built European-style table and a good deal at about $850.
Details of the Garlando G-500 Indoor FoosBall Table

Material

MDF, 1"

Finish

Butcher block

Rods

Hollow steel, telescopic

Style

European

Height Levelers

No

Size

56 x 30 x 35 inches

Weight

165 pounds

Warranty

Three years
Carrom Signature 55 Inch FoosBall Table
This Carrom model isn't much cheaper than the Garlando (the price difference is between $50 and $200 depending on the options you choose) and isn't quite as high-end in construction detail, but it comes with many included options you won't find on other FoosBall tables in this price range. That makes it well worth considering.
First things first. The table is made from 1" MDF, it has hollow steel rods and it's full-sized, so it ticks off all of the most important boxes for a FoosBall table. It's made in America and while it doesn't have the "this will last forever" feel of the Tornado or Garlando, it's solid and should hold up for years. It also doesn't have the classic good looks of those two tables, but it's not ugly and is available in Aegean green, Moroccan red and Burr oak finishes (color choice can add quite a bit to the cost of the Carrom Signature, with the green priced $150 less than the red).
So, we've established this isn't a great FoosBall table but it's a darned good one; let's take a look at the features that elevate it. It comes with two sets of players, painted and "robot" style. It comes with a European-style conversion kit included. It has levelers included to make it easy to even out the table. And most importantly it comes standard with counterbalanced men, a definite plus for intermediate- and advanced-level players. Oh – and if you enjoy a beverage (or more) while playing, there are cup holders built in.
Brand names count for a lot but don't count for everything, so you may find there's enough to like on the Signature to choose Carrom over the more-famous names higher up in our rankings.
Details of the Carrom Signature 55 Inch FoosBall Table

Material

MDF, 1"

Finish

Three choices

Rods

Hollow steel

Style

American with included European conversion kit

Height Levelers

Yes

Size

55 x 29 x 36 inches

Weight

177 pounds

Warranty

One year
Kettler Cavalier 58 Inch Outdoor FoosBall Table
We'll close out our listings with two non-standard FoosBall tables which are the best of their type. The first is a completely waterproof model which you can keep on your patio for outdoor parties or family get-togethers.
Don't get the wrong idea. This isn't a "put it outside for a season and use it until it falls apart" deal. The Kettler is a premium product with a premium price: around $1000. It's a well-made full-size European-style table (manufactured in Italy) that is fashioned from waterproof resins and laminates, and has chromium plating on the exposed steel play components. The playfield is made from glass (that's usually only seen on the highest-level tables) and plays very fast; the players are counterbalanced, unbreakable and molded onto the telescopic steel rods, and there are levelers on all four of the powder-coated steel legs.
The Cavalier certainly isn't perfect. The handles should really be bigger and more comfortable at this price level, and even though it's built to be kept outdoors we expected something more elegant-looking than a bright blue table with gray men. For a weatherproof FoosBall table that can stand up to weather and "exuberant" party guests, though, it's the best choice.
Details of the Kettler Cavalier 58 Inch Outdoor FoosBall Table

Material

Resin and composite with glass playfield

Finish

Bright blue

Rods

Steel, telescopic

Style

European

Height Levelers

Yes

Size

58 x 35 x 46 inches

Weight

132 pounds

Warranty

Three years
Hathaway Playoff Soccer Table, 4 Feet
The final entry on our list of the top 5 best FoosBall tables is specifically for those who want a smaller, less-expensive model that still plays well and can stand up (within reason) to the battering that kids can dish out. The Hathaway Playoff is an American-style table, and it's a lightweight unit since it's made from ½" fiber board and not MDF. Yet the play action is relatively fast and easily-controlled, thanks to well-made steel rods with rubber handles. Just bear in mind that the rods, like the rest of the table, won't hold up to the furious, all-out play that serious tournament players might give them.
This FoosBall table is about two-thirds of the size of a standard table, so it's ideal for college dorms, basements or playrooms. It doesn't have the extras you'd see on an expensive table, like counterweighted players or leg levelers – but then again, you're only paying about $125 for a solid product that doesn't pretend to be a tournament-style table. It's a compact but very nice FoosBall table for the family to enjoy.
Details of the Hathaway Playoff Soccer Table, 4 Feet

Material

MDF, ½"

Finish

Metallic gray

Rods

Steel

Style

American

Height Levelers

No

Size

49 x 11 x 28 inches

Weight

51 pounds

Warranty

90 days