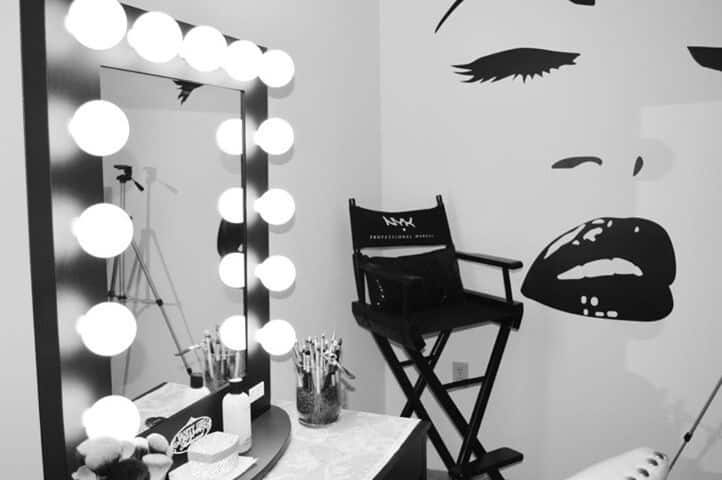 Best Lighted Makeup Mirror Buying Guide
Remember that time when the Evil Queen asked the mirror on the wall to say who the fairest woman in the world was? The mirror named a pretty young thing called Snow White, and the Evil Queen just totally lost it. The Evil Queen thought of herself as the fairest, how could anyone else be The One? She had perfected her makeup down to every detail. Or had she? Perhaps she had put on a little too much foundation. Maybe her cheeks got too much blush on. Maybe her eyeliners were not even. Her makeup was probably two shades off, that the mirror did not find her worthy of being called the fairest of them all. These things are easy to miss when you are applying makeup under unreliable lighting, especially when you're in the dungeons of a castle. But enough about fairy tales. Let's talk about real life.
What is considered reliable lighting? Natural light remains to be the best lighting option, of course. Under natural light, your makeup application will not be a choice between a hit or a miss. It will always be a hit. Natural light shows your makeup's true colors as applied. It has happened far too many times that women apply their makeup perfectly, inside their bathrooms or in front of their bedroom mirrors, only to step outside and look as if they had too much or too less makeup on.
Aside from natural lighting, makeup mirrors have a large role in whether you will end up with a makeup mishap or a makeup fortune. It is hard to perfect something when you can't see it properly, wouldn't you agree? Makeup mirrors are designed to let you see your face effortlessly. They are usually able to cover the whole face so you could apply makeup on one portion and still see how it all blends into the rest of your face.
What are the types of makeup mirrors?
● Small-sized makeup mirrors
Small -sized makeup mirrors are usually small enough to make them portable for travelling and moving around, but big enough to still show your whole face. Pocket and handheld mirrors also fall under this category. Compact mirrors are usually magnified to show more detail.
● Medium-sized makeup mirrors
Medium-sized makeup mirrors may either be fixed or portable. They are your usual table-top mirrors or the types that could be mounted on walls. Medium-sized mirrors provide the bigger picture while still helping you focus on the face. They may be free standing, which will be helpful for when you want to move it some place with a good natural lighting.
● Large-sized makeup mirrors
Large-sized makeup mirrors are usually mounted on walls or fixed to your vanity dressers. They are big enough to give you a good look of your upper body, at the least. This is helpful when you are trying to decide whether your makeup goes along with your look for the day. It is trickier to get good natural lighting with this type of mirror since they are not very portable.
Sometimes natural lighting is hard to come by. Even when you have a perfectly good window from which natural light can trickle in, timing is still of the essence. You can't very well put your makeup on with just the moonlight above you. You will need good lighting, and no, we are not talking about the harsh fluorescent lights on your ceilings. What if we told you that you can have your perfect makeup mirror that comes with the proper illumination that you need?
We here at ParentsNeed HQ will teach you how to choose the best lighted makeup mirror. You might think there is not much to consider when, in fact, choosing a lighted makeup mirror can get confusing. There is an overwhelming number of choices out in the market. Mind you, lighted makeup mirrors don't come cheap. We want you to make the most out of your hard earned bucks. Just read on and sooner than you think, you'll be ready to purchase the lighted makeup mirror that will suit you best.​
What are the things you need to consider when choosing which lighted makeup mirror to buy?
How do you intend to use your lighted makeup mirror and where are you planning to place it?
Lighted makeup mirrors now come in a variety of sizes, from travel-sized compact mirrors up to large-sized fixtures on vanity dressers.
If you're looking for something you could use while you are on the go, then you would definitely need a lighted makeup mirror that is portable. Handheld mirrors or compact style mirrors are available in the market. Handheld ones are meant to be held to your face and should come with a handle. Choose a handheld mirror that has a nice grip so that you will not have a hard time maneuvering it. The best handheld mirror should show little distortion of your face when you are trying to see your whole face in it. Handheld mirrors can be flipped as they come with two mirrors. It is best to choose a handheld mirror that comes with a normal mirror and an additionally magnified mirror on the other side. The magnified side will help you see more clearly the fine details of your face.
If you are looking for something you could use while you are travelling, choose a makeup mirror that comes with an added protection. The best travel makeup mirror is one that is sturdy and made of shatter-free glass. It should be able to take the beating of being packed and in transit most of its life.
If you are looking for something that is to be used more at home, but you are short on space, medium-sized lighted makeup mirrors that could be mounted on the wall just might be the best choice for you. Wall-mounted makeup mirrors may come in a fixed position or in an adjustable type. Adjustable types are more desirable since they may be extended, tilted and swiveled for better angle action whilst fixed types offer only one angle. One drawback of a wall-mounted makeup mirror is that it is not portable. It cannot be taken from one room to another, but if the illumination of the mirror is good, then there is really no need to keep moving it.
Another medium-sized makeup mirror choice for home use could be a countertop makeup mirror. These are makeup mirrors that are hands-free, and come with a weighted base. The weighted base ensures that your mirror will not topple over while you are using it. They usually come with a height ranging from 5 to 15 inches. Countertop mirrors are portable in a way that you may place it on top of any table, in the bathroom or on your vanity dresser. Sometimes the base may even come with a suction cup for a more stable hold. Countertop makeup mirrors may also have multiple magnifications, making it a more versatile choice.
It is important to consider fog resistance if you are going to be using your lighted makeup mirror in the bathroom. Though quite rare, lighted shower makeup mirrors are designed to resist the buildup of fog. A good shower lighted makeup mirror will have a specially coated glass, which will cause the water to bead up, instead of letting the water deposit as fog on the mirror. This ensures that you can still see clearly through the mirror. Assuming that you are planning to use your lighted makeup mirror in the shower room, choose a product that has provided a good waterproofing system to its lights. This will protect your purchase from corroding. More importantly, this will protect you from electrical related accidents.
If you have the luxury of space and money, you may opt to go all out with a large-sized lighted makeup mirror. This will surely give you the VIP feel as you sit in front of your mirror, fully lit by bulbs from all sides. You would be feeling ready for your close up by the time you get up from your chair. Large-sized lighted makeup mirrors usually come with a vanity dresser on which you could place all your makeup and paraphernalias. These types of mirrors will definitely take up some space, and are obviously not very portable. Of course, they are highly expensive. Unless you are a superstar or you are planning to become a professional makeup artist and put up your own studio, we really do not recommend getting large-sized lighted makeup mirrors. They are just not practical for us women who are not in the industry of fashion.​
Choose the right lighted makeup mirror by choosing the right light.
Again, natural light is not always accessible. The reason we are going through this buying guide is to address exactly the problem of having the right illumination when we are applying our makeup. Lighting that is too dim may cause you to use shades that are too light for your skin tone, or may cause you to build up more coverage than you actually need. Lighted makeup mirrors will simulate natural light and provide you with a natural glow, which will help you see how your makeup coverage will look like once you step outside. The best lighted makeup mirror is one that has a dimming option through which you could adjust the brightness and closely simulate the kind of brightness you will be in during the time you are wearing your makeup. These days, light sources for lighted makeup mirrors are either from LED lights or bulb types. LED lights are brighter and require less frequency of replacement, if any at all. It is best to choose an LED lighted makeup mirror that comes with a dimming switch since the bright illumination of these type may sometimes be too harsh. Standard bulbs on the other hand give a more natural glow but will require multiple light sources to achieve this effect. They also require more bulb replacement.
Choose a lighted makeup mirror with multiple magnification.
As mentioned earlier, multiple magnifications can help you catch the finer details. A makeup mirror with a normal side will help you see an overview. The magnified side will help you focus on certain areas of the face without you having to strain your eyes. A magnified view of your face will help you during touch ups, and adding intricate details that would otherwise be difficult to execute when using a normal view.
How versatile do you want your lighted mirror to be?
Lighted makeup mirrors come with a variety of features that will help you get the best views and angles while you are grooming yourself, and doing your makeup. Choose a mirror that you can swivel, swing or tilt. Some makeup mirrors come with removable face plates, which will allow you to remove it and bring it up close to your face for a closer inspection.Wall-mounted makeup mirrors are good if they are mounted with adjustable arms, which you could use to manipulate the position. If you are getting a countertop lighted makeup mirror, make sure it has a hinge stand so that you could adjust the angles of the face of the mirror.
Choose a lighted makeup mirror that will go along with your style.
Lighted makeup mirrors are available in different forms and finishes. It isn't so hard to find a design that will go along well with your interior. Choose one that will match your bathroom fixtures or your bedroom decor. Be creative and classy.
What kind of powersource is most convenient for you?
Do you need your lighted makeup mirror to be cordless? There are a number of products that come with rechargeable batteries. These make a good choice when portability is concerned. There are also corded makeup mirrors available. These are usually the large-sized makeup mirrors that require more wattage to give proper illumination.
What is an acceptable price range for you?
Lighted makeup mirrors can become quite expensive. The price for makeup mirrors range from $40 to $200. Set a working budget and go from there. Research on products that fall within your budget and try reading up on consumer reviews to get an idea whether you will be getting your money's worth or not.
Our Recommendation
We here at ParentsNeed HQ desire to help you out as much as we can. We hope that our buying guide has helped you decide what kind of lighted makeup mirror to get. If you wish to get an idea which brands are most recommended, you may check out our Top 5 Best Lighted Makeup Mirror Review and read about our top choice, the Simplehuman Sensor Mirror.
Now, going back to the story of the Evil Queen. If only the Evil Queen's mirror on the wall was properly illuminated, don't we think she could have perfected her makeup, became the fairest made-up woman and saved Snow White the trouble of having to flee for her life? Yes, we do.​