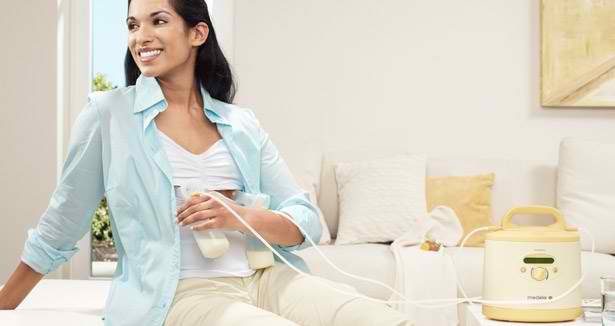 Top 5 Best Electric Breast Pumps | 2020 Reviews
You've thought a lot and read a lot. You've weighed the pros and cons. You've listened to advice from friends and family. And you've finally decided to breastfeed your new baby. It's best for the baby because breast milk is the easiest for her to digest, it ensures that she's getting every nutrient she needs, and it helps protect her developing body from all sorts of illnesses and diseases. It's best for you because it helps your body recover from pregnancy, promotes strong bones and reduces the risk of several types of cancer – and saves you from all of the hassle of formula and bottles.
And, of course, it creates the type of mother-baby bond that's impossible to develop any other way.
The realization that breast feeding really isn't all sunshine and roses, though, may not dawn until you're not feeling well, unexpectedly stuck at work, have to run to the store or otherwise unable to nurse. For better or worse, part of the deal when you decide to breast feed is expressing milk in advance so there's always a meal available for your baby. That means you're going to have to decide between an electric or manual breast pump.
Many women opt for manual pumps because they seem more "natural." Other choose them because they're easy to take with you, because they're quiet and more discreet to use, or because they've heard stories about breast soreness and are a bit skittish. But those who give each method a try often find that the ease of use of an electric pump, and the speed at which it can express milk, more than compensate for any negatives.
As with most electric appliances or devices, there are all sorts of bells and whistles you can choose if you're willing to pay extra for them. Some electric breast pumps provide the ability to vary pumping levels, pump both breasts at once, or even let the machine mimic the individual sucking action of your baby. Others just express milk efficiently.
There are an immense number of choices which is why we've developed this Best Electric Breast Pump Buying Guide. Take a read before going on our list of the top 5 best electric breast pumps.
Quick Comparison Table
| Medela Pump in Style Advanced Breast Pump | Spectra Baby S1 USA Double / Single Breast Pump | Freemie Freedom Double Electric Hands Free Breast Pump | Hygeia Enjoye, Cordless | Medela Breastpump – Swing |
| --- | --- | --- | --- | --- |
| | | | | |
| | | | | |
| $$$ | $$$ | $$$ | $$$ | $$$ |
| 7 pounds | 3.3 pounds | 4.4 pounds | 5.4 pounds | 10.5 ounces |
| Double | Single / Double | Single / Double | Single / Double | Single |
| | | | | |
Medela Pump in Style Advanced Breast Pump
We doubt you could invent a more convenient full-sized unit than the Pump in Style Advanced (often referred to as the PISA), because this double-electric model is built right into a tote bag. It takes less than a minute to unzip the compartments, hook the tubing to the breast shields and attach a bottle, plug the pump into the wall (it can run on battery power as well, with eight AA batteries) and get to work. Of course, you can also use a pumping bra. When you're done, everything packs up just as easily. The system also comes with a separate milk storage cooler and ice pack which fits four 4-ounce bottles and slips right inside the tote bag. It really doesn't get much easier, and the combination of the microfiber tote bag and battery power means that you can pump just about anywhere, at any time.
The technology of the Medela is based on what they call a "two-phase expression process," which is supposed to simulate the way a baby nurses in order to maximize the flow of milk. All it really means is that the pump starts off by gently tugging the nipples a few times to get things started (that's called letdown mode), and then moves on to longer and stronger repetitive suction for the actual milk collection. The controls let you adjust the length of each phase in order to match the way your body produces milk, as well as the speed and strength of the suction to make expression comfortable and efficient. It really does work, too; the Pump in Style is the fastest unit we've reviewed and one of the most comfortable, too. Getting the hang of using a double pump takes a little time unless you use a pumping bra – but the learning curve will be the same no matter which brand you purchase.
One of the downsides of electric breast pumps is that they're noisy, and the Medela is no exception. In fact, it's noisier than most of the options on our list, but we didn't really have a problem with that. A bigger issue to be aware of is that the tubing that comes with the PISA is prone to condensation buildup; it doesn't affect the action of the pump, but could be a health issue, so you may want to have replacement tubes ready to go in advance.
Having said that, we still think the Medela double-electric model is a terrific choice. It's fast, it's efficient, it's comfortable and it's unbelievably convenient, which is really all you could ask for in an electric breast pump. Expect to pay around $200.
Details of the Medela Pump in Style Advanced Breast Pump

Single or Double

Double

Adjustable Functions

Letdown cycle, speed, suction

Power

AC or 8 AA batteries

Breast Shields

Two 24mm, other sizes sold separately

BPA-Free

Yes

Weight

7 pounds

Size

10 x 5 x 7 inches (tote bag with pump); 4 x 5 x 5 (pump)

Warranty

1 year limited for motor, 90 days limited for other parts
Spectra Baby S1 USA Double/Single Breast Pump
We were extremely tempted to rank the Spectra S1 at #1, especially after a price cut that brought the cost down to about $50 less than the Medela. The reason we left this model at #2 is that it's nowhere near as convenient as the PISA: it's a standalone unit without the tote bag functionality, it can't be plugged in so it has to be used on battery power and the battery only runs for an hour before needing to be recharged, you can't purchase different sized flanges from the manufacturer, and it comes set up as a single pump so you have to find the right port to plug in the included extra tubing to use it as a double.
Now let us tell you the reasons why you'll probably like the Spectra better if you plan on only using your electric breast pump in one location and don't mind changing batteries. First, it runs on a "closed" system (the Medela is an open system pump) which means there's a physical barrier between the pump and the milk. That's much more hygienic, and the company claims it's what makes this unit "hospital grade." Second, it's quite a bit quieter than the Medela. Finally, there are more adjustments you can make to the speed and suction so you can find exactly the "sweet spot" for your breasts.
That's a double-edged sword, though. The Spectra is capable of expressing just as much milk as the PISA, but you'll have to do a lot more tinkering and testing with the levels to get there. It's not quite as fast either – but it is the only pump on our list that's more comfortable, particularly in letdown mode (yes, it uses a two-mode system like the PISA) where it provides what feels almost like a massage to get milk flowing.
So you tell us, which sounds better? We still aren't sure, but ultimately decided that the portability and AC power tipped the scales. Either way, you'll be happy – and so will baby.
Details of the Spectra Baby S1 USA Double/Single Breast Pump

Single or Double

Single/double

Adjustable Functions

Letdown cycle, speed, suction

Power

Rechargeable battery

Breast Shields

Two 24mm

BPA-Free

Yes

Weight

3.3 pounds

Size

8 x 8 x 7 inches

Warranty

Two years
Freemie Freedom Double Electric Hands Free Breast Pump
And now for something completely different. The manufacturer says this is the world's only breast pump system you can use with your clothes on – and we haven't seen anything that proves them wrong. The key to the system are the concealable 8-ounce collector cups with integrated breast funnels, which tuck inside your bra cups. The tubing runs out of your shirt or the top of your dress to the electric pump, and when you turn the device on milk collects inside the cups to be transferred to bottles at your convenience.
If your first reaction is "Yuckkk!" don't be alarmed. The collector cups fit well into most bras, and don't leak or sag when they're filled with milk. You can even unhook the tubing if you need to get up and do something else and then rehook whenever you'd like, without any issues. The only problems with the setup are that you have to sit upright while using the Freemie, and there's no way to know how much milk you've expressed without actually looking (which sort of lessens the "concealable" aspect of the whole operation).
This is a double-electric breast pump, and it's not as powerful as the first two entries on our list, the PISA and the Spectra. It also has just one adjustment knob that controls suction, it's a one-stage approach which doesn't stimulate milk production before pumping, and the comfort levels aren't quite up to those of the other two pumps. But it's very quiet, it does the job in more "privacy," and may be exactly what you've been dreaming of. The Freemie sells for around $150. One other note: if you like the idea of the collection cups but don't like the pump itself, you can purchase the cups by themselves for a little more than $50.
Details of the Freemie Freedom Double Electric Hands Free Breast Pump

Single or Double

Single/double

Adjustable Functions

Suction

Power

AC

Breast Shields

Two 25mm, two 28mm, 32mm available separately

BPA-Free

Yes

Weight

4.4 pounds

Size

9 x 9 x 8 inches

Warranty

60 days
Hygeia Enjoye, Cordless
Here's another unit that labels itself as "hospital grade" because it operates with a closed system. The double-electric Enjoye (as you can tell from its name) is cordless and uses a rechargeable battery which gives you somewhere between three and four hours of pumping time per charge, certainly better than the Spectra. It's easy to travel with.
The pumping action on this model is very strong and very controllable, with both variable speed and suction settings available; the performance isn't quite up to the PISA or Spectra but is close, and it's just about as comfortable as those two top-ranked electric breast pumps.
You may be asking why the Enjoye isn't ranked higher, if its performance is basically the same as those two pumps. There are two reasons. The first is that it has the same condensation issue as the PISA but not quite enough other strengths to offset the issue. The second reason is very simple: $300. The Hygeia Enjoye is a very good electric pump, it's quiet, and the hygienic closed system is a great feature. It's even endorsed by the LaLeche League. But we're not sure it's worth an extra $100-$150 over the top entries in our list of the top 5 best electric breast pumps.
Details of the Hygeia Enjoye, Cordless

Single or Double

Single/double

Adjustable Functions

Power, suction

Power

Rechargeable battery

Breast Shields

Two 27mm

BPA-Free

Yes

Weight

5.4 pounds

Size

12 x 10 x 10 inches

Warranty

One year, limited
Medela Breastpump – Swing
Many women who only want to express milk from one breast use "half" of a double-electric pump. But if you're looking for a single pump that's light and easy to carry around, we recommend the Swing from Medela.
It still features the "two-phase expression process" that we met on the PISA, as well as most of the other positive features including speed, power and comfort. (It also has the same negatives, noise and condensation in the tubing). This pump, however, is incredibly convenient to travel with because it only weighs a little over ten ounces and can run either on batteries or AC power. (Yes, we said the PISA was incredibly convenient too, because of its construction, but it weighs seven pounds – so we're talking two different types of convenience.)
We'd be even more excited about this pump if it weren't more expensive than we thought it would be, about $150 compared to $200 for the PISA. But if you're willing to pay for the (pardon this word again) convenience, it's a good choice and the only single pump model we thought was good enough to be ranked on this list.
Details of the Medela Breastpump – Swing

Single or Double

Single

Adjustable Functions

Letdown cycle, speed, suction

Power

AC or 4 AA batteries

Breast Shields

One 24mm, other sizes sold separately

BPA-Free

Yes

Weight

10.5 ounces

Size

5 x 2 x 11 inches

Warranty

One year limited for motor, 90 days limited for other parts