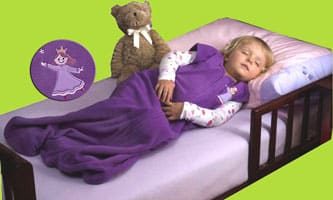 Top 5 Best Wearable Blankets for Your Kids | 2020 Reviews
When can babies sleep with blankets? As a parent, you should already know by now that using blankets on infants are a huge no-no and that having them on toddlers is nearly pointless because they usually just kick it off after a few minutes and then complain that they are cold.
Thank goodness for the invention of the wearable blanket. This item has given many parents all over the world some peace of mind knowing that their babies can stay warm all throughout the night, without overheating and without the danger of getting tangled up in the blankets. These baby sleep sacks have also given back parents minutes of valuable sleep as the babies no longer cry after wriggling out of the blanket and feeling cold.
Provides an easier way to transition from swaddling to using a blanket
It is portable and can easily be brought during travels
It allows babies to sleep longer, giving parents more sleep
It reduces the risk of SIDS
It keeps them warm throughout the night without the risk of overheating
It grows with your kids (has leg holes for walkers)
When choosing this type of baby sleep bag, it is important to note two things: zippers and material thickness. It is crucial to go for baby sleep sacks that have top to bottom zippers so that the baby cannot reach it and free himself while you are asleep. On the other hand, material thickness should be based on the current season – thick during winter and thin during summer. Merino wool is great for use in all types of seasons but can burn a hole in your pocket.
If you are ready, here are the top 5 best wearable blankets for your kids to use.
Quick Comparison Table
| Baby Sleep Sack from Woolino | Halo Sleepsack 100% Cotton Wearable Blanket | Merino Kids Organic Cotton Baby Sleep Bag | SlumberSafe Kids Sleep Sack Wearable Blanket | Slumbersac Kids Summer Sleep Sack |
| --- | --- | --- | --- | --- |
| | | | | |
| | | | | |
| $$$ | $$$ | $$$ | $$$ | $$$ |
| 0 to 3 years | 10 to 36 lbs | 2 to 4 years | 3 to 6 years | 3 to 6 years |
| Merino Wool | Cotton | Organic Cotton | Cotton | Cotton |
| | | | | |
Baby Sleep Sack from Woolino
For parents interested in finding baby sleep sacks to use on their kids during the colder winter months, this wearable blanket made from Merino Wool is the perfect solution.
While parents are no longer worried about their babies getting tangled in loose blankets thanks to the popularity of the baby sleep bag, a growing concern now is which weight to use on their babies. Certainly, you would not want your baby to feel too cold or too hot when they sleep, right? Even that can result to SIDS which is something no one would want to happen.
The Woolino baby blanket is made from breathable Merino wool which means that it is able to naturally regulate the body temperature so that they are able to sleep safely and soundly throughout the night, no matter what season it is.
Another thing we love about the Woolino sleep bag is that it comes with a two way zipper so you can unzip it from the top or bottom with ease. Open it at the top to get the baby out easily and open it at the bottom so you can do some quick diaper changes – it is quite convenient for everyone! Those who are worried about the zippers digging in or pinching your baby's neck or face need not worry because it has a protective flap up top to keep the zipper hidden.
Additionally, parents need not worry about their baby's wearable blanket having full of chemicals because this one does not. It is made from hypoallergenic Australian Merino wool which is naturally fire resistant. You can also toss this one in the laundry along with other clothes as the industrial zippers seem indestructible and the organic outer cotton material and inner wool will still stay intact.​
This baby sleep bag certainly burns a hole in one's pocket but it is such a good investment that many of us would not think twice getting it. This product deserves to be placed at the first position in our list.
Details of the Baby Sleep Sack from Woolino

Recommended Ages

0 to 3 years

Material

Merino Wool
Halo Sleepsack 100% Cotton Wearable Blanket
When it comes to wearable blankets, it is the Halo sleep sack that pioneered it all after its founder lost his firstborn due to SIDS. It was then that the brand was conceived and it is now being used in hospitals and is being recommended by pediatricians as well.
These trademarked sleep sacks are meant to replaced the regular blankets but not pajamas so the latter still has to be worn while the baby is inside the sack. What this type of blanket does is keep the baby inside, allow them to kick and freely move around during their sleep and yet prevent them from slipping out of the blanket and leaving them cold for the rest of the night.
What we love about this sleep sack is that it is just the right weight for warmer nights like in the summer. It is made of cotton and is not very thick or very thin so it just gives them the right amount of warmth throughout the night. Another thing we like is that it has an "upside down" zipper which means that it runs from top to bottom. This is important so your kid is not able to reach it, unzip themselves and wriggle free from their sack and it also prevents the zippers from digging into their bodies in case they roll to their tummies in the middle of the night.
Truly, this wearable blanket is the perfect alternative to swaddles and is great because they keep the babies snug but still free to move around their hands (no sleeves to prevent overheating) and feet.
For colder months, Halo also offers a micro fleece version to keep them warm. Do go for a bigger size of what your baby usually uses because their sizes run a bit small and they are also not preshrunk. It is still a much better choice to get an all-season sleep bag, in our opinion, so we are placing this at the second spot in our list.
Details of the Halo Sleepsack 100% Cotton Wearable Blanket

Recommended Ages

S (10-18 lbs), M (16-24 lbs), L (22-28 lbs), XL (26-36 lbs)

Material

Cotton
Merino Kids Organic Cotton Baby Sleep Bag
Yet another great toddler sleep sack to consider getting for your kids is this one from Merino Kids. This sleep bag features two layers of organic cotton and is 100% all natural and GOTS certified. Parents also do not have to worry about wrapping their kids in chemicals because this one does not have any pesticides and chemicals and is naturally fire retardant.
What makes us love the Merino Kids wearable blanket? Obviously, we love it for its main purpose of replacing loose blankets which can be a safety hazard for kids who constantly toss and turn around during their sleep. We cannot keep watch 24/7 so we need to find a way to let them stay safe and secure even without us looking and constantly hovering.
This sleep bag is designed for toddlers and can be used for up to two years so you need not purchase any other wearable blanket. Although this product is definitely on the higher end of the list in terms of pricing but it is a well worth investment since it lasts quite long compared to other similar products that last only a few months.
But, this product is not just designed as sleep sacks for babies when they are sleeping in their beds and cribs. It actually comes with an innovative safety belt aperture so that you baby can continue sleeping in them in their car seats or strollers without being disturbed. You can simply slip in the bag through these apertures and not remove them from the bags so that they can maintain a good sleep routine.
Also, we realized that its contoured body design does have a huge advantage. It helps keep the bag in place so the bodice stays clear of the face, lessening the risk of suffocation. Your kids can still freely move their bodies and legs inside the sleep bag but it is secure enough that they cannot sleep underneath or wriggle out and end up feeling cold. That means more sleep for you and your baby.​
This product, however, is slightly pricey and is designed only for the warmer months so we will have to put this on the middle of our list.
Details of the Merino Kids Organic Cotton Baby Sleep Bag

Recommended Ages

2 to 4 years

Material

Organic Cotton
SlumberSafe Kids Sleep Sack Wearable Blanket
If you are looking for other contenders as the best wearable blanket for babies, aside from heavily praised Halo one, you might want to take a look at this one made by SlumberSafe.
SlumberSafe creates high quality sleep sacks for babies that are perfect not just for use inside the home but also during camping trips and sleepovers at grandma's house. This blanket has a rather high TOG allowing it to be perfectly useful all throughout the year. SlumberSafe blankets are, however, only designed for older kids between three and six years of age so you will have to look somewhere else if you are looking for infant sleep sacks (they do have a down sleep sack with an even higher TOG which are designed for children from birth up to six years).
What we like about this product is that it provides just the perfect alternative for sleeping bags which might be too big for children this age. It does not come with leg holes at the bottom so it really resembles a sleeping bag and, thus, will make them feel like one of the adults or the bigger children.
This product looks simple enough and yet can spell a difference between life and death. It does not only protect your kids from the cold weather especially during camping trips but also makes sure that they do not get tangled in loose blankets that can potentially block their airways.
This SlumberSafe wearable blanket is such a cute sleeping bag for toddlers, preschoolers and school-aged children and even comes with beautiful and playful designs. For example, one design has forest animal embroidery at the front and the back that will make them even closer to nature when out camping. At the back are cute prints of animals such as owls, squirrels, foxes and many more.
Although we would like to focus more on infant blankets, this is such a nice toddler blanket to consider so we are placing it in fourth position.
Details of the SlumberSafe Kids Sleep Sack Wearable Blanket

Recommended Ages

3 to 6 years

Material

Cotton
Slumbersac Kids Summer Sleep Sack Wearable Blanket
This 1.0 TOG wearable blanket is one of the best baby sleep sacks to use during the warmer summer months. It is made from 100% cotton ensuring that your child stays comfortable and safe while wearing it all throughout the night. It is also lightly padded and very soft which will definitely guarantee a longer sleep for the kiddos.
What we love about this sleep sack wearable blanket is that they are perfect for use during camping and overnight trips outside the house so you do not have to lug those heavy and bulky sleeping accessories such as duvets and blankets. Additionally, parents no longer have to worry about these loose blankets covering their babies which could become a potential safety hazard. Kids also tend to toss and turn and roll over around a lot during their sleep and end up kicking their blankets and waking up cold. This wearable blanket certainly eliminates such a problem.
These SlumberSac baby blankets are made from 100% cotton and lined with 100% cotton as well which is just the perfect material for babies who have sensitive skin. It also has a filling made from quick dry soft polyester fleece to help prevent allergies. This filling also prevents the sac from losing form and becoming lumpy.
Another thing that we love about this product is that it is all natural and does not come with any fire retardant chemicals that can harm your baby's health. Their lightweight sleeping bags for kids are also designed to fit kiddos from birth until 10 years of age.
While it looks very simple and unassuming, we believe that it is still one of the best baby blankets in the market and that it does its job quite well. It is, however, only designed for summer and the warmer months so you will have to look for another wearable blanket to use when the colder temperatures come in. As such, we will have to place this one at the bottom of our list.
Details of the Slumbersac Kids Summer Sleep Sack Wearable Blanket

Recommended Ages

3 to 6 years

Material

Cotton
Conclusion
Remember that these sleep bags and wearable blankets are not meant to replace the regular pajamas and sleeping wear. They are designed to have no sleeves in order to have better temperature control – put your kids in thicker sleepwear during winter and in lighter ones during the summer season.
Also, be sure to keep watch of your kids during the first few uses of this wearable blanket to see how they behave. They might not like the zipper digging into their skin or they might not become comfortable with the lack of "freedom" in their legs. You can also opt to go for those with leg holes for the bigger kids. We hope both you and your kid enjoy a great night's sleep every night!​