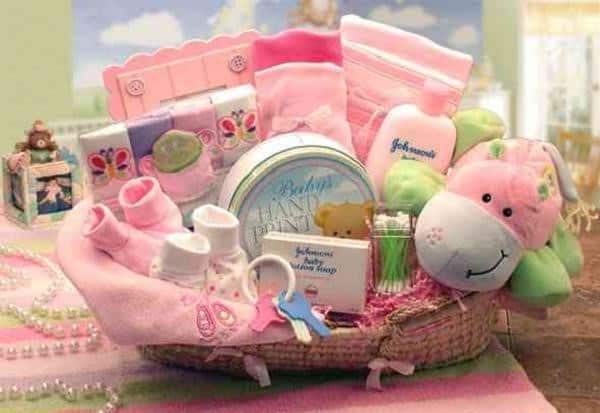 Top 5 Best Baby Shower Gifts | 2020 Reviews
As small and adorable as babies can be, finding the perfect gift for them can be a huge challenge to anyone. Even before they are born into this world, baby gift ideas are already tricky – you either go for something that will please the unborn child or the mom carrying them. So, exactly how do you choose the right baby shower gift ideas for soon-to-be moms?
There is really no right nor wrong answer to this one. However, if moms were to be asked, they would probably give you the following pointers:
go for practical items
the best baby shower gifts are those that the little ones can eventually use
unique baby gifts are cute but if they can only be used once or are just for display purposes, they aren't exactly the best
go for products that moms can benefit from
try to be as gender neutral as possible with your gifts
you can combine your big-ticket purchases with other baby shower gift senders and help lessen the family's future spending
if moms are able to get more time for sleep or just down time, that would be a plus point as well
Have you gotten any baby shower ideas already? If not, you might want to check out our list of reviews on the best baby shower gifts to give out to unborn baby girls and boys – and their moms, dads and perhaps even the siblings. Have a great time shopping!
Quick Comparison Table
| Aveeno Baby Mommy and Me Gift Set | Gerber Baby Girls' 19-Piece Newborn Essentials Gift Set | Moolecule 7 in 1 Mommy Diaper Bag Set | Disney Baby Stroller and Travel System Gear Bundle | Ocean Mists Renewal Spa Relaxing Bath and Body Gift Set |
| --- | --- | --- | --- | --- |
| | | | | |
| | | | | |
| $$$ | $$$ | $$$ | $$$ | $$$ |
| 6 x 5 x 4" | 17.1 x 12.9 x 2.7" | 16.2 x 7.1 x 13" | N/A | 6 x 12 x 12" |
| 2.8 pounds | 2 pounds | 2 pounds | N/A | 3.6 pounds |
| | | | | |
Aveeno Baby Mommy and Me Gift Set
Not sure what to get that will both please mommy and baby? Well, here's the gift set that you should look out for.
This Aveeno Baby Mommy and Me Gift Set is one of the good gifts for moms that you should consider getting for the special mommies and babies in your life. Each set comes with an 8-oz baby wash and shampoo, an 8-oz creamy wash, a 5-oz moisture cream, a 5-oz moisture lotion, a 2.5-oz moisture lotion for mommy and a 4-oz SPF 15 moisturizer.
Aveeno is well known to be a good provider in baby skin products, ensuring that it stays safe and gentle even on the mildest skin. In fact, it helps get rid of baby's rash problems and will help the skin clear up. We are totally in love with this product and believe that this is great for use on sensitive, dry skin as well as those who suffer from eczema. And yes, they are great for use whether you are a baby or an adult.
This gift set is a great companion for parents and their babies at least during the first few weeks. It is all that is needed to wash and shampoo the baby. Of course, to complete the whole process, you should also use the lotion and cream that will keep baby's skin healthy. Its mixture of natural scents which includes lavender, chamomile and vanilla also helps soothe, calm and comfort babies – you can use the products in the morning or in the evening for a comfortable sleep.
Of course, the mommies are not to be left behind – they need to pamper themselves as well. We certainly love that this gift set comes with a lotion and moisturizer for mommy (and daddy) because we cannot just leave them not pampered, right?
This is such a wonderful gift that comes with an even great price so we are placing this at the top spot in the list.​
Details of the Aveeno Baby Mommy and Me Gift Set

Weight

2.8 pounds

Dimensions

6 x 5 x 4 inches

Includes

Baby Wash and Shampoo, Creamy Wash, Moisture Cream, Lotion, Moisturizer
Gerber Baby Girls' 19-Piece Newborn Essentials Gift Set
If you are looking for great baby shower ideas for girls, this 19-piece newborn essentials gift set is the perfect addition to your shopping list.
What we love most about this bundled gift set is that it comes packed with all the basic clothing that newborns need so mommies do not have to worry about purchasing clothes, at least for the first few weeks. It comes with all the needed items to get a baby dressed, fed, burped, bathed and soothed. If you are unsure of the gender of the baby, you can also opt for a gender neutral version of this gift set.
What makes this gift set perfect for the little ones? After taking a bath, the baby can be bundled up using the receiving blanket. In case of a warmer weather, the little one can opt to wear any of the short-sleeved onesies but if it gets a little too cold outside or when they go to sleep, they can opt to wear the long-sleeved versions. For going out, they can also put on the cap, booties and mittens for added protection. You can also take out the baby bibs for when you are feeding baby or when you are worried about their constant drooling.
Perhaps the only reason why it would not make the "perfect" baby gift shower is that it does not come in any special packaging. This bundled set comes only in a clear wrap so if you want them placed in something fancy, you will have to get the item delivered to you first so you could do the wrapping yourself.
Otherwise, you could never go wrong at purchasing this product as a gift and the mommy who will receive it will definitely be grateful for it. It comes with quite a reasonable price considering all the items it comes with which is why it deserves to be placed at the second position.
Details of the Gerber Baby Girls' 19-Piece Newborn Essentials Gift Set

Weight

2 pounds

Dimensions

17.1 x 12.9 x 2.7 inches

Includes

5 short-sleeved onesies, 2 long-sleeved onesies, 5 caps, 3 bibs, 4 flannel receiving blankets
Moolecole 7 in 1 Mommy Diaper Bag Set
If you are not a parent yet and are planning to give the perfect baby shower gift for a mom-to-be, you might just be surprised at how important and essential this diaper bag set is.
This bag set has all the essential bags, of varying sizes, that a mom (or dad) needs for every occasion. Whether you are going out for a quick stroll around the neighborhood, park or museum or a rather long trip to grandma's house, these bags can fit all the essentials that a baby needs for the trip.
What makes this diaper bag set one of the best baby gift ideas? It comes with a large mommy bag, a medium sized mommy bag, a lunch bag, a baby bottle bag, two liner bags and even a diaper mat for easy diaper changing when you are out with the baby. Each of these bags serve a different purpose but they can easily store quilts, blankets, towels, diapers, milk, bottles, cups, snacks, biscuits, cutlery, bowls, toys, diapers and many more. You can stuff them all inside any of the bag that you choose and it can all be neatly accommodated without fear of the bag bursting.
Although we know that this diaper bag set is not the best and the highest quality in the market but it functions quite well and comes with a very reasonable price as well. There might be some problems when using the zippers but they can otherwise do the function that it needs to do so it does not bother us as much.
This diaper bag set is the perfect gift for mommies who are very particular about organization or would like to bring every single thing that they believe their little ones need for a trip. Pretty sure, you will be remembered for your gift each time they go out of the house and each time the little one's diapers are being changed.​
We certainly love this product for its function and price but not a big fan on the quality so we place this at the third spot.
Details of the Moolecole 7 in 1 Mommy Diaper Bag Set

Weight

2 pounds

Dimensions

16.2''x 7.1''x 13''

Includes

Large Bag, Medium Bag, Lunch Bag, Bottle Tote, Diaper Mat, Two Liner Bags
Disney Baby Stroller and Travel System Gear Bundle Collection
This gear bundle collection is perhaps the best of the best shower gifts for babies as it comes with all the furniture that a baby will need while growing up.
For parents, preparing for the items for an upcoming baby is a huge challenge. There are a lot of things to be considered and, not to mention, a lot of cash to be spent. Giving this bundle as a baby shower gift helps reduce their need to purchase big-ticket items for the baby so they can instead use it on even more important purchases such as food or they can set it aside as savings.
What makes this collection the perfect baby shower gift? The part that it has everything is one. Parents cannot get out of the hospital with their babies if there is no car seat installed in the car so that one is already covered. The car seat can also be installed in the stroller that is part of this collection so that is another plus. At home, infants can stay entertained (or they can take a nap) inside their musical swing or bouncer while the parent goes on about his or her chores. Come sleeping time, they can stay in the bassinet installed on top of a playpen with a diaper changing station. When the baby is old enough to eat and sit upright, they can use the high chair. So you see, your gift bundle can be used for months and even years and they will remember you every time.
We love this collection as they all match (Minnie Mouse theme) so it is not an eyesore to have so many items inside the house. You can even get a matching diaper and tote bag to go with your gift set.
Our only biggest issue with this bundle is that the swing can be problematic at times. It uses a cord and can be battery operated but sometimes it does not work as intended so we will have to bring this one down to the fourth spot in the list.
Details of the Disney Baby Stroller and Travel System Gear Bundle Collection

Includes

1 stroller, 1 car seat, 1 playard, 1 swing, 1 bouncer, 1 high chair
Ocean Mists Renewal Spa Relaxing Bath and Body Gift Set
This gift set is not exactly one that will fall as one of the best baby gifts in that the little ones cannot use these products directly. Instead, this bath and body set is intended for their mommies (and daddies?). We need to make sure that the adults stay happy and pampered so that they can extend the same thing to the little people who are depending upon them.
This product allows your recipient to pamper themselves after a long and stressful day looking after a baby. It comes in a very ideal personal course which involves renewing, recharging and rejuvenating oneself. We certainly love the fact that these products come in an ocean scent that helps soothe not just the body but also the soul. That is definitely what you will need after a long day of bathing, feeding, holding, rocking and diaper changing!
The whole package comes with a body lotion and shower gel – because a long soak in the tub with candles and a sweet-smelling gel is what you need to feel revitalized and reenergized. Babies may be small but they can be very demanding and can take up a lot of your time and energy.
Sadly, we think that this gift set is a little too inferior when it comes to its quality. Its packaging is just so-so and will make you have second thoughts about giving it directly as a baby shower gift without changing its wrapping. We also think that it is slightly overpriced for the items and sizes being included in the package so you might want rethink your purchase. Regardless, we still love that it has been packaged to our convenience so it is up to you to decide whether you want to give it as a gift or not.
After weighing all the pros and cons of this baby shower gift set, we believe that it is best placed at the last position in the list.
Details of the Ocean Mists Renewal Spa Relaxing Bath and Body Gift Set

Weight

3.6 pounds

Dimensions

6 x 12 x 12 inches

Scents

Ocean Mist, Jasmine, Lavender

Includes

Body Lotion, Shower Gel, Potpourri, Slippers, Body Poof, Sponge, Candles, Floral Accents, Gift Tin
Conclusion
Who knew searching for the best gifts for a baby shower can be that tricky and difficult? Babies can be such demanding creatures despite their small size so do not be surprised at the amount of items, gears and products that they need. Of course, never forget the mommy (and daddy) who slave it out for these little ones.
We have added in a good mix of products that are great for both parents and babies to use. Without a doubt, you will never go wrong with your purchase regardless of which product you choose from the list. We need to make sure that everyone stays happy, right?​
FAQ (By Our Ardent Readers)
Why are baby shower gifts so important?

It is probably a special way of pampering would be mummy to feel good and expect great things and be ready for the bundle of joy arriving.

What mums actually need?

Pregnant women in their later stages of pregnancy need a lot of pampering both physically and emotionally. Anything that can soothe their discomfort or niggles and makes them smile and put them back to their normal self is a great treat indeed. Also some information about what to expect in the coming days will make them prepare better to deal with the situation.

What gifts can you give?

This is a million dollar question and is totally dependent on the person and their needs. You could give them things they need or totally surprise them by presenting them with something new and innovative idea.

Are there any affordable gift ideas which does not break the bank?

There are loads. Please refer to our baby shower gifts review page for some ideas. There are much more available on the online shopping sites. Or why not create one yourself?

What baby shower gifts are most appropriate?

Well this is totally on the person you are gifting to. You could understand their needs and choose a gift appropriately. If they have already purchased some for themselves then why not gift something for the baby.

What are the things to keep in mind before giving the gifts?

It is very important to have a little chat with the person and try and understand their needs around their family. If they already have purchased or have already been gifted with exactly the same thing you are thinking of then you may have to change your idea. Check with them if they want it for themselves or for the baby. May be you would want to give them gift cards and allow them to choose their gift for you.

How much is too much to spend on these gifts?

It totally depends on the relation you have with the person and how much you are ready to spend. But according to us it is more important to present them with things they need rather then expensive ones that they will never use.

What gift can you give if the gender of the baby is not known?

It is a good idea to keep it generic like gifting them unisex clothes and toiletries. Also toys that any infant and toddler might use. For more ideas look for our baby and kids section.

What are the most unique baby shower gifts that stand out?

The most unique gift to anyone is that one thing that pleases them the most. It could be trivial for others but means a world to them. So it is very important to understand the needs of the person before buying them a gift.

Are there any special gifts for first time mum?

The list could be endless. Please go through our Mom, Baby and kids section to find what would be most appropriate gift for a new mum.

Are there any cheap, creative baby shower gifts?

Yes possibly. Firstly know the person you are gifting to and find things to make it yourself. There is nothing more satisfying for both parties than a hand made personalised gift. You could buy bits and pieces from the market and put them together to make a perfect bundle.

Is it rude to return or exchange the baby shower gift?

Not at all and that everyone understands. If you have an unwanted gift or a gift that has been repeated, then it is good to return or exchange it for something else.

What are the last minute baby shower gift and long distant gifts that can be sent via post?

We would advise to make a list of things that is going to last long and also does not break or disintegrate while on transit. For example : clothes, toys, toiletries, baby equipments etc.

Are there any meaningful, memorable and organic gift ideas?

Yes of course. You could think of buying something decorative for the child nursery made out of recycled things or something that is used on a daily basis that comes from a plant base.

Can i personalise the baby shower gifts?

Thats a great idea. You could try engraving the name, family photo or a collage etc.

Where can i buy the baby shower gifts?

You could buy them in store or from trusted online retailers like Amazon.