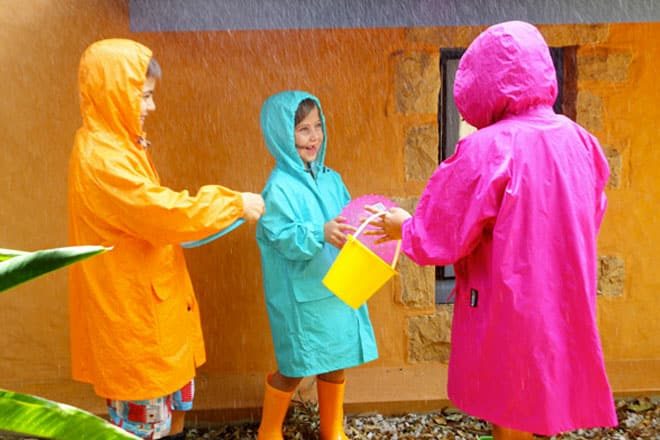 Top 5 Best Raincoats for Kids | 2021 Reviews
One of the most annoying weather conditions we happen to often experience is rain. Your day is all set for a whole full schedule only be bogged down by a downpour. Adults may find the rain annoying and frustrating but not for kids. Children love the rain because, in general, kids do love playing with water -- no matter where the water comes from -- and rain is the best waterworks playground for kids.
In order to have your kids enjoy or get the most out of the rain, you've gotta get the right raincoat to protect them while letting them have fun all at the same time.
Raincoats are mainly for keeping your children dry and stop them from getting sick in the after being in the rain.
When kids get sick, it's causes terrible stress on everyone in the family. This is definitely something you want to avoid. So keeping your kids warm and dry in the drizzle is an absolute top priority! We've chosen the best raincoats for kids on Amazon. And we made sure that the raincoats we've chosen for kids are the ones that will work as well as those for adults. Our criterial for raincoats are material, design and extra features that we find essential for our kids. Out of all the raincoats on the market, we have chosen 5 best raincoats for kids that we think will work best for your kids.
Quick Comparison Table
| Columbia Switchback Rain Jacket | Arshiner Baby Kid Waterproof Hooded Coat Jacket | Rainbrace Girl Boy Cartoon Waterproof Hood Jacket | Vinaka Children Kid's Waterproof Cartoon Raincoat | Cloudnine Children's Raincoat |
| --- | --- | --- | --- | --- |
| | | | | |
| | | | | |
| $$$ | $$$ | $$$ | $$$ | $$$ |
| 1 pound | 10.2 ounces | 11 ounces | 6.4 ounces | 7 ounces |
| 2-12 | 1- 6 years old | 2-12 years old | 4-12 | 6-12 years old |
| | | | | |
Columbia Switchback Rain Jacket
We really love Columbia products. No matter how you see it, Columbia raincoats for kids are our favorite mainly because of the quality, the make, and the multipurpose features. First off, we love that it's made of 100% nylon. One of the reasons why we chose this as the best raincoat for our kids is that it is really breathable. It is horrible when it is about 80 degrees out and it's raining, you're kids sweat like crazy because most raincoats prevent water from leaking through and also prevent water and vapor from leaking out. It's horrible really; your kids get wet from sweat and in the end still catch colds because they got soaked in sweat. The jacket comes with a back went letting the warm air out and keeping your kid cool and dry.
One plus factor for this kid's raincoat is that it is very lightweight. So when rain gets on it, it doesn't bag your kids down from all those droplets. Water easily shakes off, so while your child playing under the rain; it just simply slides off the jacket. It is relatively thinner than how it looks. So, even under a heavy downpour, rainwater easily just slides off the raincoat. It works best when you have an active child. So no matter how much your kids run around, it's fine. No sweat to think of.
One of the green features about this raincoat is the limit has a seam seal that works well in sealing out the water. You will also find that it has a reflective detail. It shines off when hit with light, it sort of glows. So you will definitely know where your child is in the dark.
The design is perfect as well. We really like the fact that the interior lining is soft and thin. It is easy to wash because nylon is machine washable. You don't have to wary about this hoodie raincoat from molding up because of all the moisture. And that is why this is our favorite and ranked as the top pick for the best raincoat for kids.
Details of the Columbia Switchback Rain Jacket

Sizes

Size chart included in Amazon Link

Weight

1 pound

Age Capacity

2-12

Raincoat Material

100% Nylon
Arshiner Girl Baby Kid Waterproof Hooded Coat Jacket Outwear Raincoat Hoodies
This is the best toddler raincoats in the market. Most of the raincoats may be too big for your little tot but this is the perfect size for your children aged 6 and below. This is absolutely an adorable item buy. You would love that it comes in different color choices of the rainbow: red, yellow, green, blue, pink, and purple. We really love how this child raincoat is perfect as a kid's rain jacket as well. It doubles as an adorable jacket for your kids. Even if it does look thick and lumpy at first, it is actually thin and lightweight.
Your toddlers will barely feel this being a heavy outfit to wear. You can even fit a thick jacket underneath and it still won't feel heavy on your child. Water easily shakes off making it an awesome child's raincoat. This toddler's rain jacket makes the best fit for your little tot, and the lightness of it makes it easy for your child to move around without a problem. Since the inner lining is made with polyester fabric, this raincoat is pretty breathable. It prevents moisture to build up inside the raincoat and it also somehow absorbs and releases the moisture caused by sweat so your children will stay cool and dry at all costs.
The quality is great since it the lining goes both inside and outside the entire rain jacket. This makes it even a more durable jacket. Although some have reported that their kid's raincoats have buttons or snaps falling off, we haven't shared the same unfortunate event. Maybe it's about you being gentle on the snaps but nonetheless, that would only b the negative thing to say about this cute rain coat. Nonetheless, the quality is great. The design is absolutely adorable filled with embroidered flowers. That's a definite plus factor for us since painted or printed designs will eventually come off. And for that reason, we are putting this as our third favorite rain coat in our list!
Details of the Arshiner Girl Baby Kid Waterproof Hooded Coat Jacket Outwear Raincoat Hoodies

Sizes

90, 100, 110, 120, 130

Weight

10.2 ounces

Age Capacity

1- 6 years old

Raincoat Material

Solid Polyester
Rainbrace Girl Boy Cartoon Waterproof Hood Jacket
This is really a raincoat that functions and keeps off the rain from your kids. It is highly durable because it is made off of the solid polyester fabric. The polyester fabric keeps the rain, the wind, the moisture away. It is a real delight for kids to wear if they do choose to run around the rain. You'd love to keep this item with you all the time in times when you are going to travel, for outdoor activities like camping and such.
The material is relatively lightweight. It is designed to for optimum comfort. It is thin and light and it doesn't hamper your children when the rain comes pouring. You will like that the material because it doesn't bother your children so much when they get to wear it. The materials aren't too stiff either making it easy for your kids to move around and play in. Some raincoats can prevent keep the rain off completely but it's too thick and heavy that moving around with it is just too difficult.
You will also like the fact that this raincoat is fairly easy to clean. You can just wipe if off dry and it's ready to go. Just make sure that you store it dry to prevent mold build-up. Honestly, the main reasons why we bought this raincoat in the first place is because of the design. It comes with a 3D dinosaur scales for boys and a cute 3D angel wings for girls. It's implied adorably. Furthermore, the kids really like it that way. One added feature for this one is the fact that the hoodie has clear sides, that way, your kids can look from side to side without having to remove the hoodie off. It's specifically great in keeping the rain off completely and the clear sides keep the hood stay on your kids.
One other thing to love about this is that it has a mini pouch or carrier to keep it out of sight when not in use. You can store this child's raincoat inside the small pouch. You can keep it along with your child's notebooks and it won't bother your kid in terms of weight and space. And that is why this is our third favorite children's raincoat.
Details of the Rainbrace Girl Boy Cartoon Waterproof Hood Jacket

Sizes

3 size options

Weight

11 ounces

Age Capacity

2-12 years old

Raincoat Material

210T Polyester Solid Fabric
Vinaka Children Kid's Waterproof Cartoon Raincoat
These Kids Raincoats are the cheapest raincoat we have on our list. You will find this really helpful since it is just exactly the perfect raincoat for kids. The kids will surely enjoy most of their time with this pastel colored raincoats. You have a choice of picking from three design sets, red-- which is actually coral pink--, blue-- sky blue to be specific--, yellow-- like bright bee yellow color. The designs are adorable and simple. For the unbeatable price, this item really packs a lot of good things for your children.
This is very thin, by the way. It is also made of an environment-friendly solid polymer that prevents m moisture from entering and leaving. Since it is thin it doesn't produce much heat inside the raincoat. It doesn't serve a heavy greenhouse coat over your kids so it's not much of a worry with regard to moisture build-up inside the raincoat.
You will also like how it folds into a really thin plastic pouch for easy storage. You can keep it inside your children's bag so that you won't have to worry about sudden rains either. Your little one can easily pull it off the pouch and put it on themselves. You might also like an added feature. The raincoat's double lined with seem seals that prevent your child from ever tearing the polymer seam lines you will also like the clear sides on the hoodie providing your children with a better peripheral vision. That way your kids can run around and move around and play around with a full view of their surroundings.
One of the reasons why this is an awesome raincoat for kids is the fact that this raincoat is very cheap. It is barely an investment because you can also get your money back guaranteed when you're not satisfied with the product and as far as we have seen it, it is barely a cost that hurts your wallet. And for that reason, this raincoat made its way to spot number four!
Details of the Vinaka Children Kid's Waterproof Cartoon Raincoat

Sizes

Small, Medium, Large, Extra Large, Double Extra Large (measurements featured on Amazon link)

Weight

6.4 ounces

Age Capacity

4-12

Raincoat Material

Nylon
Cloudnine Children's Raincoat
This adorable raincoat comes with a design concept that is difficult for your kids to resist and probably, you won't either. One of the things we really love about this item is that this is very lightweight. Our kids can easily move around with it with no sweat at all. You child will also be able to run around with lesser worries of the item being too heavy that your kid's movements will also be limited. And a heavy raincoat can make your children get really tired easily.
It is also very breathable. The material is polyester that is why it is breathable. It allows air to pour in and pour out of the raincoat making it fairly handy with regard to you having a very active child. At least you know that after a long day f playing under a horrible rainy weather, your kid will stay dry and stay comfortable underneath with no worries on whether he/ she will be damp from all their sweat.
One of the reasons why we love this item as well is that it is simply easy to clean as well. Although it is clothlike, it is waterproof. It relatively holds up against the rain pretty well. However, it cannot hold up against a strong downpour and long exposure to rain. The raincoat is made of a cloth like polyester fabric making it quite susceptible to being porous if it gets too damp. But with an average rainfall, your child is completely safe from an outburst of rain.
We also love the fact that it is thin and it is easily kept away too. You can just fold and keep it anywhere inside your child's bag or anywhere else. It also has other cute raincoats for children because it has a froggy design, lady bug design, and duckie design. Take your pick. We surely took this as our fifth player in our top 5 Best raincoats for kids.
Details of the Cloudnine Children's Raincoat

Sizes

One size fits all

Weight

7 ounces

Age Capacity

6-12 years old

Raincoat Material

Polyester
Rain coats are important to have in our children's wardrobe. It is vital in keeping our children safe and dry in an otherwise disease ridden weather. Rains can be great for our kids to play in and have fun around but we'd also want them to enjoy and keep the completely safe from the negative effects the rain can cause and for that reason, raincoats for kids are absolutely the perfect item to keep the dry and cool throughout. We have chosen the best in the market and we are sure that any of your choices will surely make you happy just as much as it has made us. Happy Shopping!