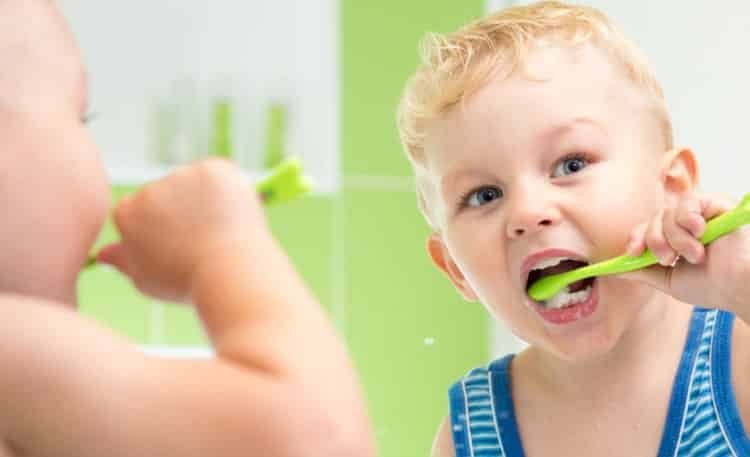 Top 5 Best Baby Toothpaste | 2020 Reviews
Spit, baby! Spit out that toothpaste! Spit! Spit!
We know how familiar these words are when we're teaching our children to brush their own teeth. It can be very unsettling when they smile at you with all those fluoride filled soap suds making their way through down to their stomachs. Teaching our children how to brush their teeth is one thing but teaching them how to spit out the toothpaste is another. Toothpaste for babies may still have chemicals in them that shouldn't be swallowed. They may not have an immediate reaction to swallowing toothpaste but in the long run, it does pose health risks. So, 'when do I start using toothpaste for babies?' I thought you'd never ask... The short answer is "Don't be in a rush." For the long answer, read on...
Baby Dental Care
Teaching the art of toothbrushing to kids is like trying to teach a child to tap their heads with their left hand and rub their tummies with their right hands at the same time... And switch! Children under 2 are usually not developed enough cognitively to multitask well and therefore shouldn't brush their teeth with toothpaste. It will take a lot of practice for them to control their swallowing reflex while they're focused on making the perfect brush strokes with their toothbrushes. Many toothpastes contain ingredients which are great for shining pearly whites but not so great for the rest of you!
So to mitigate the dangers of swallowing too much toothpaste, several brands have created toothpastes for toddlers three years and up, and some have have also created safe all natural toothpastes for babies to two year olds. Children's toothpastes generally contain less chemicals when compared to adult toothpastes and so should a little get swallowed, it will be less harmful. Some brands even use ingredients which can be swallowed.
At what age child should start brushing teeth?
Before we get started, it's important to point out that for babies under 1, the best toothpaste is water. Babies generally do not consume foods which cause hard to clean plaque which damage their tiny teeth. So you don't have to wonder about whether to use baby toothpaste with fluoride or baby toothpaste without fluoride for your precious little ones. Just dampen your infant's toothbrush with water and brush away!
Once your babies are past their first birthdays, you can start introducing baby toothpaste without fluoride. And by the time they get to figure out what the difference is between spit and swallow, you can choose among brands of the best toothpaste for 2 year olds.
You should always consult with your child's dentist before deciding when to use toothpaste for baby. And when you finally decide to take the plunge and buy baby toothpaste, we've got your back in doing battle with the daunting array of baby toothpastes on the market. Here at ParentsNeed HQ, we've picked the best on the market and come up with a list of 5 best baby toothpastes for you to choose from.
Best Fluoride Free (Non Fluoride) Toothpaste vs. Best Natural Toothpaste
While you may have heard that fluoride is great for protecting your teeth, it is dangerous if swallowed. Because of this, most children's toothpaste do not contain fluroide. However, there are also other common ingredients used in regular toothpastes which are dangerous if swallowed regularly or in large quantities. Some of these ingredients include parabens, dyes, artificial flavoring, artificial sweeteners, and petrochemicals. To qualify as an all natural toothpaste for babies, toddlers and young children, toothpastes not only has to not contain fluoride, it also cannot contain any of the artificial products mentioned above.
With so many brands out there, it is a time consuming ordeal to sort through the marketing fluff and focus on what's important..."What toothpaste are good for cleaning your children's teeth but are safe if accidentally swallowed by children?"
As always, whether you are choosing everyday essentials, like toothpaste for your little ones, or a larger purchases like a car seat and stroller combo, we understand the need to be able to find the best item deserving of your hard earned cash. So rest assured that what you choose from our top 5 list will be from the best available on the market!
Quick Comparison Table
| Earth's Best Toothpaste | Jack n' Jill Natural Toothpaste | Tom's of Maine Training Toothpaste | Colgate My First Toothpaste | Orajel Training Toothpaste |
| --- | --- | --- | --- | --- |
| | | | | |
| | | | | |
| $$$ | $$$ | $$$ | $$$ | $$$ |
| 1.6 ounce | 1.76 ounce | 1.75 ounce | 1.75 ounce | 1.5 ounce |
| 6 mo to 3 yrs old | 0-3 years old | 3 to 24 months | 0 to 2 years old | 0 to 4 years old |
| | | | | |
Earth's Best Toothpaste
We at ParentsNeed are proponents of natural products. To use the word Natural on their products, brands have to prove their chops. We have gone through the ingredients' list line by line and we endorse Earth's Best Toothpaste to be an all natural children's toothpaste.
Earth's Best Toothpaste comes in two flavors: gentle strawberry & banana flavor and apple & pear. These flavors are unique and appeal to many children more so than the usual mint flavored children's toothpaste. We love the fact that it comes with an infant gum brush to get into the habit of brushing areas before their teeth erupts.
Teaching your child a good oral hygiene is important and Earth's Best toothpaste is a great product to start you off on the right path. This toothpaste will be safe to use before your child masters spitting out toothpaste. However just because this tooth paste is safe to swallow does not mean your children should swallow it and not learn to spit! This is like training wheels on a bike and you use it only for learning. Once your children has mastered spitting, they can progress to products that can better protect their pearly whites.
There is one negative aspect to Earth's Best Toothpaste. Its size. We can't seem to find a size bigger than 1.6 oz (47 ml) tube and every tube come with a rubber gum brush. We find that a larger tube could be more economical and reduce packaging waste.
Overall, Earth's Best Toothpaste comes in top spot on our Top 5 Best Baby Toothpaste Review.
Details of the Earth's Best Toothpaste

Flavors

Strawberry & Banana, Apple & Pear

Sizes

1.6 oz (47 ml)

Recommended Age

6 months to 3 years
Jack n' Jill Natural Toothpaste
From food to clothing to all-around dental care, the Jack n Jill brand is reliable partner for all your baby essentials. Coming in second place on our Top 5 best toothpaste for babies is the Jack n' Jill Natural Toothpaste.
A huge plus for the Jack n' Jill Natural Toothpaste is their choice of flavors! They have banana, black currant, blueberry, raspberry and, the all-time favorite, strawberry. is a real delight to have since they only chose organic natural fruits as a flavoring for the toothpaste. It is unique on the marketplace as it contains an organic calendula extract which helps soothe your babys' gums in places where their teeth are about to erupt.
Jack n' Jill toothpaste is deserving of its "Natural" label as it contains no SLS, artificial flavoring, artificial sweeteners, preservatives or parabens. To enhance its flavor and make it pleasant for your babies to use, the toothpaste uses xylitol, a natural birch extract which is used in many other products as a sweetener. Xylitol is not to be confused with Aspartame, a laboratory concocted sweetener. Xylitol is completely natural and in fact it is even produced naturally in our bodies in small quantities!
Overall, this toothpaste is a winner. Choosing between this or Earth's Best Toothpaste will probably come down to which flavor your babies prefer. One drawback to the Jack n' Jill toothpaste is that the cap can break off easily. If that happens, the toothpaste will lose it's nice consistency of "not too thick and yucky or too thin and runny" and instead crystallize at the top and form a hard crust.
Details of the Jack n' Jill Natural Toothpaste

Flavors

Strawberry, Blueberry, Banana, Raspberry, Black Currant

Sizes

1.76 oz (52 ml)

Recommended Age

0-3 years old
Tom's Training Toothpaste
Imagine squeezing your child a pea-sized amount of toothpaste on their toothbrush and a sweet fruity aroma fills your bathroom. That's exactly what you get when you use Tom's training Toothpaste.
As with the other two toothpastes above, Tom's Training Toothpaste is for teaching your baby to spit out and not swallow toothpaste before switching on to a baby toothpaste with fluoride. And to ensure your child's safety during this training period, Tom's Training Toothpaste does not contain SLS, parabens, artificial preservatives or dangerous chemicals. Like Jack n' Jill Toothpaste, Tom's Training Toothpaste also uses xylitol as a sweetener which is a big plus!
What stands out about Tom's Training Toothpaste is that all their ingredients can be traced to where they were sourced, even the water they use (which comes from the Maine Aquifer). Another notable ingredient is using seaweed as a thickening agent to make that gooey toothpaste consistency! As a bonus, telling your toddler that they shouldn't swallow their toothpaste because they'd be swallowing seaweed might give them an extra incentive to learn not to swallow!
Tom's clear paste is FDA approved and this baby toothpaste doesn't test its product on animals! We fully endorse Tom's "Natural" label as they have proven that their product cares about nature and your baby's health.
There are a couple of drawbacks to Tom's Training Toothpaste which puts it in third place on our Top 5 Best Toothpaste for Babies Review. Firstly, it was disappointing that we couldn't find a larger size than the tiny 1.75 oz (52ml) tube. Secondly, it only comes in 2 flavors, Mild Fruit and Orange Mango. So if your toddler doesn't like the Mild Fruit or orange mango, you'll have to choose another brand.
Details of the Tom's of Maine Training Toothpaste

Flavors

Mild Fruit, Orange Mango

Sizes

1.75 oz (52 ml)

Recommended Age

3 to 24 months
Colgate My First Toothpaste
Known as the world's leading toothpaste brand, Colgate's baby version is also a product you can trust. Colgate's 'My First toothpaste' is a good toothpaste for babies under 1. While Colgate's adult toothpastes are not know for their "Natural" ingredients, their baby toothpaste is.
Colgate's 'My first toothpaste' is fluoride free, SLS free, dye free, preservative free and it comes in a sweet mild fruit flavor. This toothpaste is safe to swallow in small amounts and therefore is perfect as a training toothpaste. Colgate has gone through great lengths to make sure that your little tot is safe and happy every time they brush their teeth.
We find that Colgate has lived up to their reputation as a brand you can trust for dental health with their "My First Toothpaste" baby toothpaste. Keeping your baby's milk teeth as best you could until they shed off and change is key to your child's future dental health. The healthier your baby's milk teeth are, the longer they will keep them. And the longer they keep their milk teeth, the longer their adult teeth will last.
Colgate kept the flavor simple and sweet but not nauseatingly sweet for children. Unfortunately, if you baby doesn't like Colgate's flavor, you're gonna have to choose another brand. Colgate also limited their tube size to a 1.75 oz (52ml) tube. Due to the limited choice in size and flavor, Colgate's My First Toothpaste comes in fourth on the ParentsNeed Top 5 Best Baby Toothpastes.
Details of the Colgate My First Toothpaste

Flavors

Mild Fruit

Sizes

1.75 oz (52 ml)

Recommended Age

0 to 2 years old
Orajel Training Toothpaste
Orajet toothpaste comes in a variety of fruity flavors, ensuring that you'll find something that your child will love. We love their delightful packaging with familiar nickelodeon characters that kids really love like Thomas the train, PAW Patrol, Little Pony and more!
Having an attractive packaging can make brushing teeth a fun experience for your toddler! Kids love PAW Patrol characters: Chase, Marshal and Rubble. However, while this packaging may be appealing for kids, we have to make sure that what's inside is as good as what's outside. On this front, Orajel does NOT have the same natural ingredient target as our other 4 toothpastes. We find that the Orajel tends to use reduced concentrations of chemicals and artificial ingredients in a level that is considered safe to swallow by the FDA. One ingredient they left out is Fluoride, which we at ParentsNeed find to be what's acceptable at minimum, to be a baby's toothpaste. One other aspect to consider is the fact that its active ingredient, Microdent, isn't really ideal for teething babies.
Orajel significantly more affordable than the other 4 toothpastes on our list and and also comes in a very attractively priced toothbrush and toothpaste combo. We believe Orajel can target a lower price point because they do not aim to use natural ingredients, which tend to be expensive. Without fluoride, Orajel can be swallowed safely in small amounts but we would recommend that parents watch their toddlers and babies like a hawk and make sure that they swallow as little as possible.
Although it says that it is best for ages zero to four, we recommend you only start using this toothpaste when your child is age 2 and above. Due to its non-natural ingredients, Orajel comes in fifth place on our Top 5 Best Toothpaste for Babies review. However, if affordability is key for you, you can rest assured that Orajel is safe for your toddlers, and despite some artificial ingredients, Orajel outshines all its non-natural competitors on the market.
Details of the Orajel Training Toothpaste

Flavors

Pinkie Fruity, Fruity Fun, Tooty Fruity, Berry Fun

Sizes

1.5 oz (44ml)

Recommended Age

0 to 4 years old