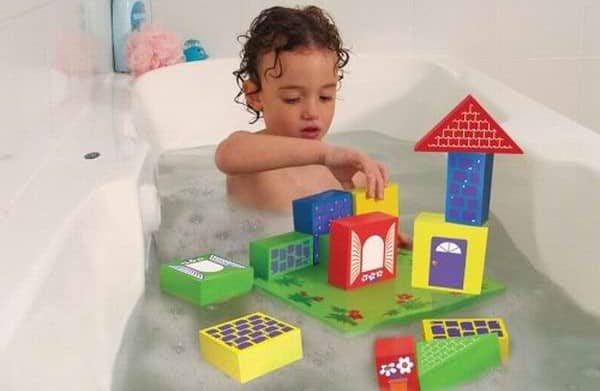 Best Bath Toys for Toddler Buying Guide
Admittedly, not all parents (and kids) love bath time. It is messy, takes up a huge chunk of everyone's time and can be a major source of tantrums, especially at the beginning. But you know what can make bath time fun and easier for everyone? Toys!
The best baby bath toys do not just help distract kids from what they are actually doing and let you do things such as wash their hair or trim their nails without a problem but also help in their development. Adding as much imaginative play into their routine, even during bathing, helps make them become creative and spontaneous people.
If you are not convinced about getting toys to accompany your kid's bath time, here are some compelling reasons that are sure to convince you:
Advantages of using bath toys
• They help distract your child
If you have been a parent to a toddler for some time now, you will probably have already realized how hard it is to get them to take a bath and finish the entire process in just five minutes. Being kids, their minds are all about play but this also makes it hard for you to do the necessary things such as wash their hair and body or trim their nails. They will think that everything is a game and would do anything to grab their shampoos or even the nail clippers.
Bath toys help divert their attention elsewhere so you can go about what you need to do and breeze through bathing tasks. Your kids will be too busy with their balls, ducks, scoops and puzzles to care about what you are actually doing.​
• They make bathing fun
Although dipping and splashing in the water sounds like a lot of fun, it actually is not as much when there is an adult constantly making a fuss around you and letting bubbles and soap suds get into your eyes. Having toys in the bathtub can help make the entire process fun and entertaining and makes the kids forget about "bathing" especially since it can be very hard to bring them into the tub in the first place.
Toys help create a warm and relaxed environment inside the bathroom, perfect for getting them ready to sleep. A word of warning though: getting kids out of the water can be just as hard as getting them in it. Kids' personalities can be very difficult to predict at times.​
• They help in your child's development
As long as you choose the right kids bath toys, you can help assist the development of their physical, emotional and mental growth. Many toys can improve a child's motor skills while others can help in the development of their logic and reasoning as well as their imagination and creativity.
Let your kids play on their own for a while inside the bathtub (but make sure you are just within reach to keep accidents from happening) and let their imagination run wild. You might just be amazed at what awesome worlds and games they can come up with!​
• They help provide a great bonding experience
If your kid is not so keen on playing on their own, you can also help them create make-believe worlds with their bathtub toys or show them how to play it so they can follow afterwards. Bath time provides an excellent opportunity for kids to bond with their parents and the entire process becomes even more enjoyable with the help of their toys.
However, in a sea of countless infant bath toys, how do you choose the best one for your baby? Check out our guide below to find the best and highest quality toys to accompany your toddler's bath time.
Are these bath toys free from harmful chemicals?
A lot of parents are still enraged that even with the advances in scientific research, there are still a lot of kids' toys that do not pass safety standards. As much as possible, go for manufacturers that are known for producing toys that are free from bisphenol A (BPA), phthalate, PVC and lead.
Check the label and the actual product carefully and make sure that it is toxic-free and does not have paint and dyes. If choosing plastic bathtub toys for toddlers, at least go for one that is PVC-free. Also make sure that the toy does not have small parts that could possibly choke your kid if it gets swallowed.​
How old is your kid?
Age is a major factor when choosing the best bath toys for kids. For example, the best toys for 18 month old kids might not be the best choice in toys for 3 month old babies.
When you are choosing toys for infants, you might want to go for those that will help develop their hand-eye coordination. Since they have a hard time holding and grasping objects with their hands, they will most likely want to explore things through their other senses such as their sight and hearing.
The best toys for 5-month old babies and below are those that have high-contrast colors, have the ability to produce sounds or have interesting textures.
Toddlers will most likely that will help improve their motor skills, logic, imagination and creativity. You can opt for stickers, puzzles or writing instruments. Another great idea would be to choose basketball toys or those that will allow them to scoop and pour water.​
What kind of bath toys does your child like to play with?
If your kid is the quiet type, then they are probably more interested in toys that do not require a lot of moving around or those that they can operate on their own. Although bath books are great for play with babies, some older children may still enjoy reading stories even during bath time.
If you have an active kid, those that will allow them to move around such as basketball toys, might be the best option. When shopping for the best bath toys for toddlers, you might want to bring along your kid and perhaps even let them do the shopping themselves so they get excited about taking a bath inside the tub.​
Kids bath toys: floaters or stickers?
The best toys for 6 month old kids and above can either be those that float or those that stick. So, the question to consider might be: is your bathroom fit for a floating toy or a sticking toy? Some bathrooms might have textured tiles and surfaces making it hard for bath toys to stick to it. In this case, it would be a better option to go for designs that can float on the water or can be clamped or mounted into the tub.
On the other hand, if you have more wall space to spare and have a clean and flat surface that will allow suction cups to stick to it, then by all means, try out sticker bath toys. What is great about these types of bath toys is that they do not take up a lot of floor (or tub) space and do not get in the way when it is already the adults' turn to take a bath.
Select bathtub toys with water temperature indicators
Some toys that are designed for use in the bathtub have special functions. For example, there are those that create sounds and music while there are those that have the ability to write even though the material is wet. However, if you only had to choose a toy for its particular additional function, you might want to consider one that has a water temperature sensor.
As a parent, you need to make sure that you always look into the safety of your kids at all times but, sometimes, judging if the bath water is at a safe and comfortable temperature can be tricky. Some toys are great at determining this on your behalf so you can easily get an indication that the water has already exceeded the recommended temperature for kids.
Still, you have to check out the actual product to see that it is watertight so you can be assured that the bath toy is safe from mold, mildew and bacteria even after months of use.​
Avoid baby bath toys with holes and openings
When it comes to choosing toys to accompany your kids during bath time, one of the things that will probably come to mind is getting rubber duckies and the best squirters. While it can be fun to pour water inside a toy and squirt it out, these types of play things are actually not recommended by experts. Squirting toys pose a health risk as the damp environment inside it can become a breeding ground for mold, mildew and bacteria.
Just thinking about it sounds gross. And you know how small kids can be – they will usually bring whatever they get their hands on inside their mouths. Can you just imagine what will happen if bacteria will get their way into their stomachs?
When choosing the right bath toys for babies, make sure that you go for those that do not have holes and are instead watertight and airtight, to prevent dirt and bacteria from making their way inside the toy.​
Choose the bath time toys that are dishwasher-safe
Parents often overlook it but cleaning up the surfaces of toys is actually a very important chore to do. Even if you have purchase toys that are airtight and watertight, chances are that molds, mildew and bacteria will still find its way in them due to its constant exposure to water. It is a good practice to occasionally scrub and wipe these toys clean, especially along corners, dents and non-flat surfaces.
However, if you are a busy parent and have no time to do these tasks, at least choosing bathtub toys that are dishwasher-safe will give you an assurance that you can clean them off and let the hot water and detergent do the hard work for you. Just toss them into the top rack to prevent germs and bacteria from forming in the toys.​
Is it easy to store?
When you become a parent, you might just be surprised at how easily one little kid can accumulate a roomful of toys. Yes, toys provide great company and distraction to your kids but it can also be a pain to clean up after and an eye sore inside the house.
Once you start looking and shopping for the right bath toys for toddlers, always consider how easily they can be stored when not in use. In fact, you might want to shop for a toy organizer or storage basket first to make sure that all the toys are able to fit inside and not make a lot of mess in the bathroom.
Go for baskets, dividers and organizers that have holes beneath them so that the water from all your bath toys can easily be drained out and the formation of molds and mildew is prevented. Having a storage area for your bath toys will also help teach your kids to clean up after themselves and store them when not in use. Additionally, it gives them a sense of ownership over their toys and will most likely encourage them to take care of it so that it will last longer and will not go missing.​
Expensive doesn't always mean high-quality
As in any other type of product, the most expensive toddler bath toys does not necessarily mean that it has the highest quality available in the market. Before you make your purchase, be sure to shop around first and see what options you have. You might just be surprised that there are still some high-quality toys that are available in the low- and mid-price levels. Of course, you might also want to consider purchasing items at a certain amount in order to avail of special discounts or get freebies and additional toys.
Our Recommendation
After breaking down the list that you need to consider for choosing the best bath toys for toddlers, you probably have some things on your mind that you want to buy now for your little one. If you are still not decided, worry not because we at ParentsNeed HQ took care of it already and came up with a list of Top 5 Best Bath Toys for Your Toddler! And our top pick is the ALEX Toys Rub a Dub Water Flutes.