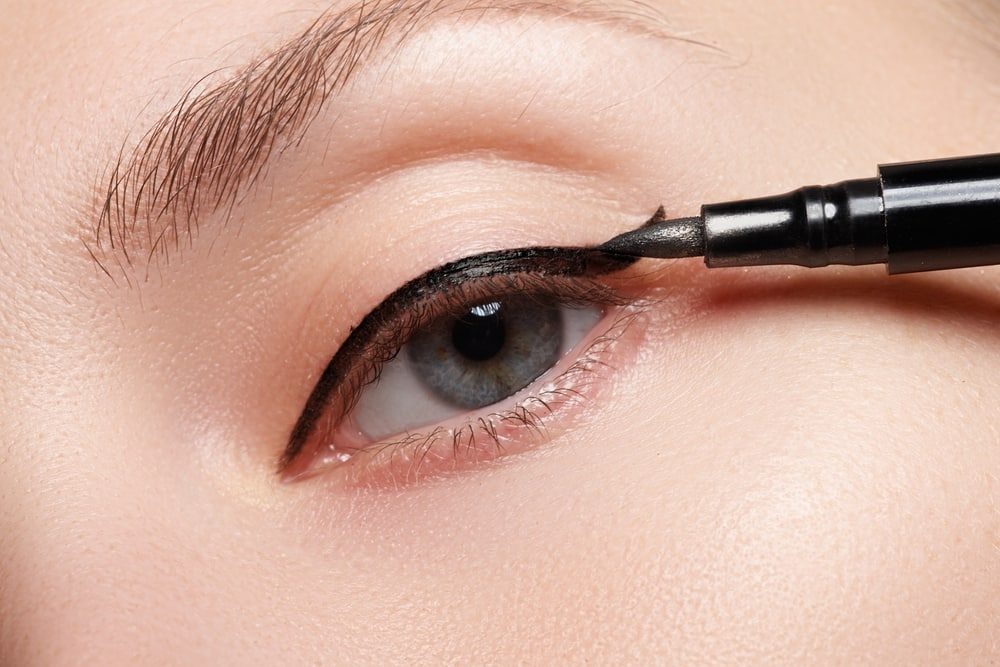 Top 5 Best Eye Liner Pencils | 2020 Reviews
Once you get past the point of being afraid to do your eyes because you're afraid you might poke a hole in them, applying eyeliner becomes second nature. Many women, though, stay with liquid or gel liners because they can be applied with a brush, and not with a pointy (and potentially scary) pencil.
There's no reason to fear, of course; eye liner pencils aren't dangerous, as long as you don't choose one that's way too sharp – or unless you do something really dumb. In fact, eyeliner pencils are the gentlest way of applying eyeliner, the easiest tool to control, and the type of liner most commonly sold and used.
If you've shied away from pencils in the past, you'll be amazed when you give them a try. You simply use the pencil to draw along the upper and lower lash lines (making sure you sharpen the pencil when it gets dull to avoid thick lines), smudge it just a little, and you're done in a snap – with no worries of liquid eyeliner running where you don't want it. They're also the easiest way to add darkness to your waterlines, or to create a splash of color to your waterline because they come in so many different shades. Many ladies also swear by pencils when going for a smoky eye (although some prefer gel for that).
Eyeliner pencils will give you a subtle look, perhaps not quite as crisp or precise as you might get by using a liquid product, but extremely attractive nonetheless. You can also pick them up for pennies (well, maybe a bit more than that) at any drugstore.
For regular usage, though, you don't want to just grab any eye liner pencil you happen to see at CVS or Walgreen's; you want to choose one of the top 5 best eye liner pencils available. The good news is that some of our choices for that list are even sold at drugstores.
Here we go – but before we start, make sure you pick up a really good sharpener when you buy a standard eyeliner pencil. You'll thank us later. Also, you may check out our Best Eye Liner Pencil Buying Guide here.
Quick Comparison Table
| Urban Decay 24/7 Glide-On Eye Pencil | Dior Longwear Eye Pencil | Milani Liquif'eye Eye Liner Pencil | Stila Kajal Eye Liner | Clinique Intense Quickliner For Eyes |
| --- | --- | --- | --- | --- |
| | | | | |
| | | | | |
| $$$ | $$$ | $$$ | $$$ | $$$ |
| 41 colors | 5 colors | 8 colors | 4 colors | 11 colors |
| 0.04 oz. | 0.04 oz. | 1.1 oz. | 0.3 oz. | 0.3 oz. |
| | | | | |
Urban Decay 24/7 Glide-On Eye Pencil
If we could have ranked this Urban Decay product #1, #2 and #3, we would have. (Of course we could have, since we make the rules, but you know what we mean.) This eye liner pencil is simply fabulous.
We'll start with the fact that you could probably stand directly under the shower all day while wearing the Urban Decay 24/7, and still not have your eyeliner run, crease or smudge. It's highly pigmented and truly waterproof, able to stand up to water and sweat (as well as tears if necessary) for hours on end without running, and perfect for use on the waterline. The eyeliner has a consistency that's user-friendly, though; it doesn't require you to put down layer after layer, and it's easily able to be smudged and corrected up to 30 seconds after application before it dries. That makes it ideal for creating looks (like a smoky eye) which need to be "just right."
This pencil is tough and seemingly impossible to break, but it does need to be handled carefully and sharpened regularly for best results. Even better, it's available in more than three dozen different colors ranging from tropical to vibrant, including ones that are shimmery and metallic, so it's not just a tool for your everyday makeup. It can also be used for "play." A full 50% of the UD's ingredients are moisturizers like jojoba and cottonseed oil, and it also contains Vitamin E. What it doesn't contain are sulfates, parabens or phthalates. Bottom line: it's eye-friendly as well as eye-beautiful.
The two things to be cautious of are that the Urban Decay goes on quite "dark" because of its pigmentation, and that it can be somewhat difficult to remove. Other than that, the only argument against this eye liner pencil is its $20 price tag. That didn't bother Allure when it was giving out its Best of Beauty awards, or any of the dozens of other magazines and websites that agree on the complete superiority of this pencil. It shouldn't bother you either; your $20 will be well-spent.
Details of the Urban Decay 24/7 Glide-On Eye Pencil

Mechanical

No

Colors

41, including Perversion matte black, Roach deep copper shimmer, Goldmine gold shimmer with micro-sparkle, Deep End metallic peacock shimmer, Chaos cobalt blue matte, Psychedelic Sister purple cream, Woodstock hot pink with silver micro-glitter, Yeyo metallic white

Partial List of Ingredients

Cyclopentasiloxane, Isododecane, Synthetic Wax, Polybutene, Jojoba Seed Oil, Polyethylene Terephthalate, Hydrogenated Cottonseed Oil
Christian Dior Waterproof Long-wear Eyeliner Pencil
Since we decided to include a #2 and #3 on this list, we might as well go through with it. The Dior is even less expensive than the Urban Decay, and it's not available in the many shades that the UD product comes in. Nevertheless, this is one terrific eye liner pencil.
This highly pigmented eyeliner is just about the "most waterproof" and long-lasting product you'll ever find. We don't have allergies, but even those who do say that their continually-watering eyes don't make a dent on the Dior Impact. For those of us who give their eyeliner more "normal" use, it's simply not going to budge. The product is smooth and simply glides on, remaining soft for 30 seconds for adjustments or blending, and then setting perfectly.
There are not many colors of this Dior eye pencil available, but they're all vibrant and gorgeous, from the black and blue to the green and brown. One layer will normally be somewhat opaque, and a second layer will make the liner fully opaque and good for the day (and night). Naturally, you'll need a strong makeup remover to get it off, but that's a small sacrifice for a great eyeliner pencil. It's ophthalmologically-tested as well. Because of its small selection of colors, we had to rank Dior #2, but we love it anyway.
Details of the Dior Longwear Eye Pencil

Mechanical

No

Fill Weight

0.04 ounces

Colors

5, including Iconic Black, Iconic Otanio (bold blue), Midnight Blue, Forest Green, CocoaPartial List of Ingredients: Wax, Polymer, Film
Milani Liquif'eye Eye Liner Pencil
Those of you who are saying "I can't imagine paying that much for an eye liner pencil!" – never fear. We're here to help. And if our review of the Urban Decay pencil piqued your interest, you'll definitely want to keep reading.
Milani Liquif'eye is so similar to the UD 24/7 Glide-On that it's spooky. The biggest difference (other than the fact that it comes in many fewer shades) is that the Milani is extremely pigmented, even more than the UD. Oh, there is one other difference. This pencil only costs about $8, less than half the price of the Urban Decay pencil.
The Milani shadows glide on smoothly, almost as smoothly as a liquid liner without tugging at your skin, and as you'd expect from the high level of pigmentation, the color is intense and once it's on it's there to stay with no smudging or cracking. It's also quicker to set than the Urban Decay products, so you only have about 15 seconds to do any blending, smudging or corrections, and you'll need strong makeup remover to get it off.
There are two lines of Liquif'eye eye liner pencils. The first are standard pencils in three metallic colors, gold, silver and aqua, and two matte colors, brown and black. Because the liner is so smooth, you may find it necessary to try several sharpeners before you find one that works well with these pencils, and you may need to harden them a bit in the freezer before using them. The second line consists of mechanical pencils in three shimmering colors: green, purple and blue. Because they are auto-propel, you'll find that they have a finer point and can be used for more precise work, and of course you won't have the sharpening issue. Both lines are similar in their attributes (smooth, long-lasting, quick-setting and smudge-proof) and the colors are almost as stunning as those in the Urban Decay pencils. We do think the standard metallic pencils are easier to use than the mechanical ones.
If given a choice, we'd go with the UD 24/7 eye liner pencil over the Liquif'eye. If given a budget, we'd go with the latter. You can find these pencils in some drugstores, too.
Details of the Milani Liquif'eye Eye Liner Pencil

Mechanical

Metallic and Matte: No, Shimmers: Yes

Colors

8, Metallic gold, silver and aqua, matte brown and black, shimmering green, purple and blue

Partial List of Ingredients

Isododecane, Cyclopentasiloxane, Synthetic Wax, Mica, Alcohols, Sebacate, Polyethylene, Silica
Stila Kajal Eye Liner
We now shift to a very different type of eye liner pencil. The Stila Kajal isn't intended to give you lots of colors to choose from, metallic or sparkly options, or even a super-long-lasting application (although it will last all day). It's made to resemble the famous Indian eye darkener Kajal, which is ground from natural pigments and provides an incredibly dark color suitable for the vampiest of looks. The Stila version is produced by more modern techniques and is much easier to apply, but it is still the ultimate choice for those mysterious eyes.
The liner is very pigmented, and if you choose the onyx color, it's definitely jet black with just a single opaque line. It glides on smoothly, even on the waterline, and is ideal for smoky eyes as long as you work quickly before it sets; if you want to use it without much smudging or blending, though, you may find that it combines best with eye shadow underneath or on top.
As with the Liquif'eye pencils, you may have to be careful when sharpening the Stila Kajal or try several different sharpeners before you're comfortable, and it may also need a quick pop in the freezer because it goes on so soft. It's available in just four colors, including tiger's eye, but we think the onyx Kajal is the one that's worth the price of admission, which is around $18.
Details of the Stila Kajal Eye Liner

Mechanical

No

Colors

4, Onyx, Tiger's Eye, Emerald, Topaz

Partial List of Ingredients

Sohexadecane, Octyldodecanol, Polyethylene, Microcrystalline Wax, Ethylhexyl Palmitate, Aluminum Starch Octenylsuccinate, Vinyl Dimethicone Silsesquioxane Crosspolymer, Ascorbyl Palmitate, Lecithin, Citric Acid
Clinique Intense Quickliner For Eyes
This twist-up pencil does double duty; there's an eye liner pencil on one end, of course, and there's a smudge tool at the other. To be honest, we weren't expecting a lot from a Clinique product (when compared to some of the higher-end brands we've reviewed), but this liner goes on easily and smoothly without tugging, with a creamy consistency we'd think would be more expensive. Even nicer for those who don't like to bother with sharpening, the twist-up feature (which is why it's named "Quickliner") means there's no need for sharpening and you can apply the eyeliner quickly.
Clinique Intense isn't quite as pigmented as the other choices on our list of the top 5 best eye liner pencils, but it's still quite vibrant and will still last most of the day without smudging or fading. We believe its best use is for smudging to achieve smoky eyes or other sexy looks, but you'll find it works just fine as an everyday liner as well, with or without eye shadow underneath.
There are eleven colors of the Quickliner including intense black, intense plum, intense ebony and intense peridot; even the brigher colors stay easily on the waterline, a problem with many brands of colored liners. Easy, intense, and only about $12 – those are three qualities which make the Clinique Intense line a good buy. It's ophthalmologist-tested and fragrance-free, too.
Details of the Clinique Intense Quickliner For Eyes

Mechanical

Yes

Colors

11, (All "Intense"): Black, Charcoal, Chocolate, Black Honey, Ivory, Midnight, Plum, Ebony, Aubergine, Peridot, Clove