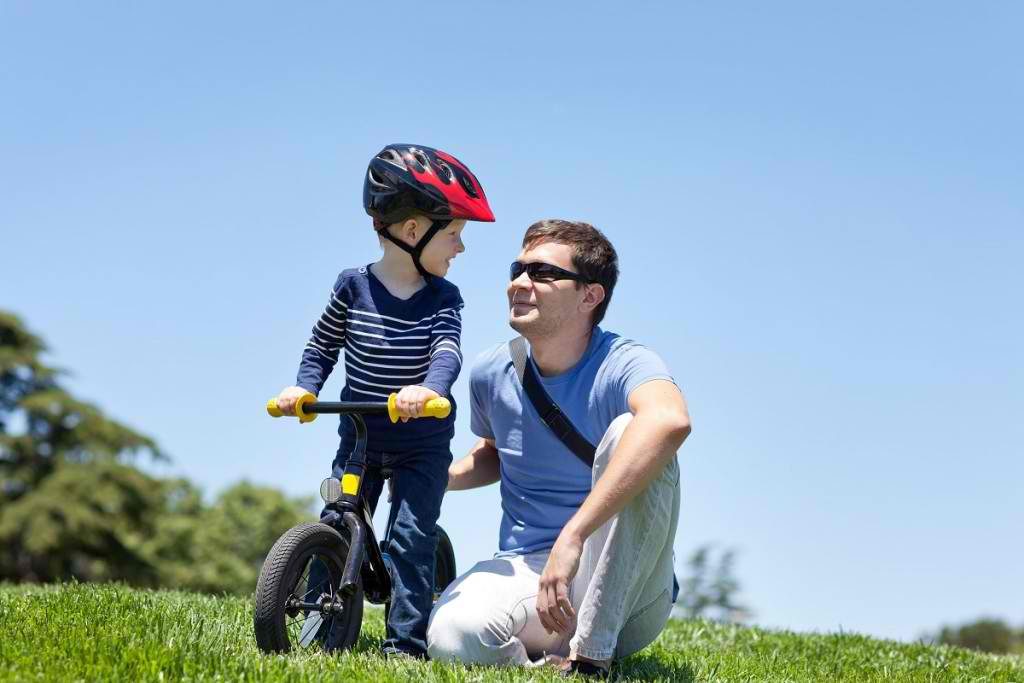 Best Balance Bikes for Toddler Buying Guide
A Balance Bike, also called a Training Bicycle or a Run Bike, helps children to learn steering and balance. It has no drivetrain or pedals. To function well, a balance bike has to be small enough that a rider can walk the bike also while being able to sit comfortably in the seat while putting both feet flat on the ground. So, you might be wondering, how is that going to teach my little one anything? Well, your little rider will first begin to walk the bike while standing over the seat and then eventually move on to sitting in the seat. In time and with good practice, your rider will feel comfortable enough to run and scoot while riding their bike. Next step? You'll soon see them moving on to lifting both their feet off the ground and they'll finally cruise while balancing on the two wheels. Hoorah!
While the world argues whether or not to invest in a balance bike, we personally think that this is probably the best decision you might take for your kids and if you do read on, you are soon to figure out why. We will list out so many pros that you will be left to wonder, why doesn't anyone know of these benefits and tips? Or even, why didn't anyone tell me these before? Well, good thing that you stopped by and now you have all the information on your tips while you decide to pick a Balance Bike for your kid. Well, in our favor we have the balance bikes manufacturers who say that kids learn to ride faster with a balance bike as they begin by learning to balance first and then move on to pedaling. What the other bikes do is just the opposite and can even make your kids too dependent on the training wheels. Much to our dismay, the pediatricians have not been able to point out any such evidence that could link training wheels to slower learning to balance bikes to faster learning.​
When and why balance bikes come into being?
No one clearly knows as to when people started using these or how they became so popular. Some historians do suggest that they may have begun in the early 1900s. But even with knowing when people started using them it's nearly not as clear as to why. We're thinking that the only reason that seems logical as to why these were being used was as a solution to help or assist people in learning to ride.
Everyone knows that you need to achiever or learn two things in order to successfully be able to ride. Now we are not going to get all technical here and bore you or put you off the actual reason for this guide; however a little information didn't hurt anyone. So here goes, the two things are but of course pedaling and balancing. If you have ever got onto a cycle with training wheels, you'll know how easy it is to ride a bike with them. So it's safe to say that training wheels make pedaling easy and almost solve that problem. Now, how do we tackle the second one, which is the balancing bit? While training wheels make you feel confident while riding, the moment you take them off, you know the real situation; what the wheels do is only eliminate the need to balance. So basically with training wheels, you're riding a bike, which is great, but remember, you're riding with training wheels! More and more parents are now opting for the balance bikes over training wheels.
Why Balance Bikes are Definitely Worth the Hype
Beyond teaching your little ones to balance, we present to you five more reasons why bikes for tots are definitely worth it. Once your little one starts riding on these, who knows you may find a lot of new reasons for yourself!
Safety - It's so much easier to learn to ride on a balance bike. This is easily achieved as kids learn to balance as well as pedal on a balance bike as compared to learning only balancing with the training wheels. So more, scraped knees or crying faces, kids will learn to be more confident when they move to a regular bike, all thanks to the balance bike and no thanks to the training wheels!
Economical - So if we do the math right, a balance bike would ideally be equal to a tricycle plus a training wheels. How you ask? Well, with a balance bike, you don't need training wheels and of course, you wouldn't need a tricycle as well as a balance bike together as the balance bike will do all the job there of teaching your kid to pedal and balance. What's more is that the balance bikes have a good resale value as well! So all in all, not a bad investment at all!
Family Time - These bikes are bringing back family time as more and more families opt to use these on their trips to the park and even the great outdoors! These are great for your little ones to be occupied while you take a walk or a stroll yourself, while carefully keeping an eye on your kid.
Kids Will Love to Get Outside and Play - Your kids will be bugging you to take them for a ride. Kids will love the independence plus the sense of accomplishment they get from riding a balance bike. Balance bikes are so simple- no complicated instruction, just simple pure fun.
Ride Pedal Bikes Sooner - Kids usually get comfortable with the training wheels and take a long time to move on from them to the regular pedal bikes. Not so with the balance bikes, since they look and feel like a regular bike(minus the training wheels), kids learn much quicker and if reports are to be believed, kids on balance bikes move on to the regular ones at the ages of 3 when compared to a 5 or 6 on training wheels or tricycles.
Now that we have pushed you into considering a balance bike for your toddler, we wouldn't want to leave you without some tips on what to look for when buying a Balance Bike. These are our suggestions and you are more than welcome to also look at the internet or even talk to your family or friends, anyone else that has used the balance bikes for their kids and see how they liked these. When you get a first hand opinion from someone you trust, it changes the whole ball-game and you'll immediately be open to the idea of getting a balance bike for your kid! Alright, so let's look at some very important considerations while choosing a Balance Bike:
What to Look for in a Balance Bike
Balance bikes look simple but don't be fooled by their simple design! And of course there's no one-size that everyone can use. Here's what you need to keep in mind while selecting one
Weight - By a rule, you may not want the bike to be over than 30% of your child's weight. For e.g., bikes that are 10lb bike are good for 35 lb(3.5 yrs) kids and not for a 25 lb.(2 y.o). Bikes that are lightweight will also be good for parents as, you never know, a kid might just not be in the mood to carry his bike, and who does it end up with? The parent of course! So choose wisely!
Seat Height- To begin with, how do you know what's the ideal seat height? To figure this out, ask your kid to hold a book between his legs and then you raise it upto his crotch; the distance between the ground and the book will give you the seat height. And please measure while your kid isn't wearing any shoe. What the world follows is that the bike seat height has got be an inch to an inch and a half below their inseam.
Tire Type - The most popular ones are foam and air (pneumatic) ones; although you can also find plastic and rubber ones. The most loved ones are the air tires as they are all-around, providing good traction and cushion. These tires could have flats and sealants are recommended to prevent such cases.
Bike Tire Size - Tire sizes vary with the bike size and age of your kid. However the most popular size is 12" and the range is 10"-20" tire size. 16" is used by larger kids who are yet to learn to ride. It's a good thing to buy a bike based on the seat height rather on bike tire size as you may end up not getting a good size.
Turning Limiters - There's a lot of debate around whether these are actually beneficial for kids or not; the argument being that these act as Training Wheels for the handle bars and kids don't' really experience actual learning with the steering not in place. How they work is that they will not allow the front wheel and handlebar to complete a full turn. Some also point out that with using these kids could be a lot safer and prevent injuries or a fall. These definitely play a small part and shouldn't be a deciding factor in your purchase.
Brakes - How does a Balance bike rider stop the bike? This is achieved by their tine little feet; but that does not mean we rule out the use of a secondary hand brake! A brake can help prevent injuries; helps them to transition to a bike with a pedal bike and also saves their shoes!
Footrests - Again an arguable topic, why do balance bikes need a footrest? I mean where are we imagining our kids going with these? Which is why most parents don't see any need for footrests. We are guessing this feature was more of an adult decision than any kid actually needing it .As long as it doesn't get in the way of running or moving about, it's alright if it's there.
Grips - Handlebar grips are the primary safety features on a bike. Your kid's hands will be protected with the rubber grip that has a knobby end if in case the handlebars run into a wall or tree. It also protects their tiny little hands from hitting the ground.
Frame Materials - The Balance bikes are made of wood, metal or composite frames. The Steel frames are heavier and could potentially rust, but can hold a heavier rider. Next is the Aluminum bikes which are comparatively lighter plus have a lower weight capacity .Wooden bikes are the best and environmentally friendly but tend to be less adjustable than the metal bikes. The wooden ones could even last for years if taken care of properly. Then there are the composite frames that are also lightweight while providing a higher weight capacity, and you wouldn't have to be concerned of rust or chipping paint.
Recessed, Covered and Rounded Bolts - Exposed bolts become scratched with time and could also potentially scratch the inner legs of kids while striding. Bolts need to be covered, rounded and recessed to prevent and minimize the possibility of scratches.
Our Recommendation
Our top pick is the Strider – 12 Sport Balance Bike.
After having read so much about the what to look for while buying a balance bike, please also have a look at our balance bike review on the Top 5 Balance Bikes for your Toddler which would help you decide as to which bike is best for your toddler. Our balance bike reviews will help you to find the balance bike which best matches your budget, desired features and your child's age. Also, like we've mentioned , it'll be great to always check with your family and friends and see what options did they choose.