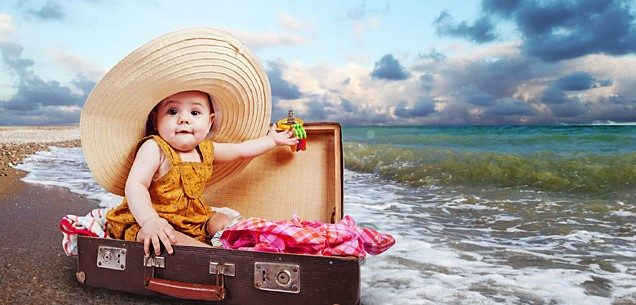 Top 5 Best Travel Gear for Toddlers | 2020 Reviews
Traveling as a family provides a lot of benefits not just for the kids but also for the parents. Everyone learns a little more about the ways of the world but they also learn a few more things about themselves.
However, having little kids in tow can be also extremely frustrating for a lot of parents. Unlike adults, toddlers are not best at staying still even for just a couple of minutes and they easily get bored. Parents are not just tasked to ensure safety and comfort to their kids but they also have to make sure they stay entertained to prevent tantrums from happening.
Admittedly, bringing toddlers along are more challenging than babies. Toddlers already know how to walk and run which means that parents have to make sure they stay alert at all times. Regardless, we here at ParentsNeed HQ still believe that the benefits that everyone gets from traveling far outweighs the challenges that families with little kids face.
If you are a parent to a toddler – or one or even two – here are some the top five of our most recommended travel gears that will make the journey a whole lot easier for both kid and parent. Alternatively, you can check our Best Travel Gear for Babies Buying Guide here.
Happy travels!
Quick Comparison Table
| Graco Nautilus 65 3-in-1 Harness Booster Car Seat | Summer Infant 2015 3D Lite Stroller | Deuter Kid Comfort III Child Carrier | Regalo My Cot Portable Bed | Ciao! Baby Portable High Chair |
| --- | --- | --- | --- | --- |
| | | | | |
| | | | | |
| $$$ | $$$ | $$$ | $$$ | $$$ |
| 7.5 pounds | 15.9 pounds | 7.11 pounds | 6.2 pounds | 7.5 pounds |
| | | | | |
Graco Nautilus 65 3-in-1 Harness Booster Car Seat
You certainly cannot get inside the car with a toddler without a travel car seat on. Whether you just constantly run errands to the groceries or elsewhere around the neighborhood or you go on long distance road trips with the entire family, you will certainly need a car seat to ensure your toddler's safety. At the top of our list is the Graco Nautilus Booster Car Seat, which is perfect for road trips with toddlers.
When choosing car seats for toddlers, it is important to go not just for those that have been rigorously tested to meet and even exceed US safety standards but also those that can be adjusted as your child grows. The best thing about this car seat is that it can accommodate kids from 22 pounds or 27 inches and it can be changed into a travel booster seat to accommodate slightly older kids up to 100 pounds or 57 inches. With its Simply Safe Adjust Harness System, the height of the harness and headrests can be adjusted with just a single motion so your child stays properly and safely secured no matter their height.
This 3-in-1 toddler car seat comes with a 5-point harness system, a 3-point recline, harness and buckle covers, single cup holder and a storage compartment. This product is designed to be used as a forward-facing car seat then a belt-positioning booster seat then a backless booster seat – that's three car seats in one awesome product!
Despite this product not being recommended as a forward-facing seat for kids under two, we still place this on the top spot of our list just because it grows with your kid. It definitely costs slightly more than other products but we believe it is among the best car seats for toddlers – you get the most value out of your money since you can use it for a very long time.
Check out this list of our top 5 best booster seats for more options.
Details of the Graco Nautilus 65 3-in-1 Harness Booster Car Seat

Dimensions

28 x 18.7 x 15.6 inches

Weight

7.5 pounds

Passenger Weight

22 to 100 pounds

Passenger Height

27 to 57 inches

Target Gender

Unisex

Warranty

Limited, 1 year
Summer Infant 2015 3D Lite Convenience Stroller
One of the biggest woes that parents have when it comes to traveling with toddlers is that these little people require a lot of physical and mental strength and they can be very exhausting to deal with the whole day.
Toddlers might not seem heavy in the beginning of your sightseeing but they tend become physically challenging as the day wears on. If you are planning to walk around cities and neighborhoods with paved streets and walkways, then this ultra portable and lightweight umbrella stroller is your best buddy. There are many things we love about this travel gear for toddlers. For one, it is made from a light aluminum so it is not just easy to carry and push but it is also durable enough to hold a kid of up to 50 pounds. Another thing we like about this stroller is that it can recline to nearly flat so the passenger can comfortably take a nap and you can even make quick diaper changes in them. Of course, there is also the extra large storage basket so you can stow all of your things for the day.
Sadly, this umbrella stroller isn't able to stand when folded so that can be a bit frustrating especially if you already have a lot of things to think about. Still, we are ranking this one as second in our list.
Check out our list of top 5 best umbrella strollers for more options.
Details of the Summer Infant 2015 3D Lite Convenience Stroller

Dimensions

41 x 8.8 x 10 inches

Weight

15.9 pounds

Passenger Weight

Up to 50 pounds

Target Gender

Unisex
Deuter Kid Comfort III Child Carrier
If you love traveling the backcountry and exploring the great outdoors but are too skeptical about the level of support and safety that soft-shelled carriers and baby slings can provide for your toddler, this toddler carrier backpack might be your best match.
The Deuter Kid Comfort III Child Carrier provides you the flexibility that no stroller can provide, which is great for both kid and parent. We love that this child carrier is super strong and sturdy but still 'soft' enough to provide comfort to the kid sitting inside and the parent carrying it. This toddler backpack carrier comes with a 5-point harness system to ensure safety. The harness and seats can also be adjusted easily to accommodate your growing child. To protect them from the elements, it also comes with an integrated sun roof (although we also suggest that your child wear jackets or long sleeved tops depending on what the weather is.
Aside from these great benefits for the kids, this carrier was also designed with the parent in mind. It has a zipped compartment to accommodate a hydration system so there is no need to carry and open water bottles – hooray for going totally hands-free! Additionally, it has several storage options such as a zipped outer pocket, a large zipped compartment under the seat for your kid's essentials and mesh side pockets. Of course, there is also a hip fin pocket for small items such as keys, energy bars or cellphones.
While we have a lot of good things to say about this child backpack carrier, its price tag is not one of them. There are still a lot of less expensive alternatives available in the market but if price isn't an issue for you, we definitely recommend this product. Regardless, you can be sure that you get a high quality travel gear for every single cent. We place this one on the third spot in our list.
Details of the Deuter Kid Comfort III Child Carrier

Dimensions

17 x 13 x 31 inches

Weight

7.11 pounds

Volume

18 liters

Material

Nylon

Target Gender

Unisex
Regalo My Cot Portable Bed
Whether you are planning to stay over at grandma's house, a hotel room or a campground for the night or to nap at the day care, this super lightweight travel cot is the most recommended product for sleeping.
Despite its portability, this portable toddler bed is made up of a comfortable yet sturdy frame that can bear a load of up to 75 pounds. Its bed liner is comes with reinforced stitching which adds durability to the product. And, just in case of accidents, you can always put the cotton fitted sheet over its frame and throw it into the washer if it gets soiled.
Another thing we really like about this travel toddler bed is that it has a 7-inch clearance from the ground so you can bring it to the beach and not have to worry so much about the sand getting into their cots all the time. If your child moves around too much during sleep, the 7-inch height from the ground need not make you worry so much. If you are worried about safety, the fact that Regalo maintains among the best safety records for kids' products should bring your comfort. Even better, the company gives back to various children's organizations so you do extend a certain amount of help for each of your purchase.
Except for our worry about kids falling from the 7-inch height, we really have nothing else bad to stay about this portable bed. This is definitely a great alternative for young kids who hate toddler travel cribs and would rather sleep like an 'adult'. Some might still prefer crib-like designs so we are putting this on the fourth spot.
Check out this list of the top 5 best travel cots for babies for more options.​
Details of the Regalo My Cot Portable Bed

Dimensions

48 x 26 x 7 inches

Weight

6.2 pounds

Recommended Weight

Up to 75 pounds

Recommended Height

Up to 52 inches

Target Gender

Unisex

Material

Plastic, Steel

Inclusions

Portable bed, carrying case, cot cover, instruction guide

Warranty

Limited, 90 days
Ciao! Baby Portable High Chair
Another product that we highly recommend for outdoor loving families is this travel high chair which you can bring everywhere you go.
One of the nice things about this toddler seat is that it will make your kid feel like an adult because it looks pretty much like those portable chairs that we use when camping. The only difference is that it comes with a tray as well as a built-in cup holder perfect for those busy little children.
This portable booster seat comes with a lightweight design so you can carry it around wherever you go – during camping trips, by the beach, to grandma's house and even inside your favorite restaurant. You no longer have to use those gross high chairs that are being provided by dining places because you can bring a portable one instead.
Another thing that we love about this seat is that it is extremely easy to use. There is no need for assembly or setup because you only have to fold and unfold it within seconds. The vinyl tray can be easily wiped off so even if your toddler makes a lot of mess, you do not need to worry much. If your toddler moves around too much, you can still be assured that they stay safe in it since it comes with a comfortable lap belt that will hold them securely. There is also a leg hole under the tray to make sure that your kid does not slide down the chair when they are in it.
The only thing that we do not like about this portable high chair is that its tray is a little too shallow so more food goes into the lap than usual. We would also have loved for the tray to come off as well as the cover so you can just toss it into the washing machine when it gets too dirty. Otherwise, we still think it is a great travel gear to have which is why it grabs the fifth spot in our list.​
Check out our list of the top 5 best baby high chairs for more options.
Details of the Ciao! Baby Portable High Chair

Dimensions

28 x 18.7 x 15.6 inches

Weight

7.5 pounds

Passenger Weight

4 to 35 pounds

Passenger Height

Up to 32 inches

Target Gender

Unisex
There you have it. We hope this list of travel gear reviews for toddlers have helped you make a clear decision on what things to buy for when you explore the world with your little one. Happy travels and enjoy the adventure!