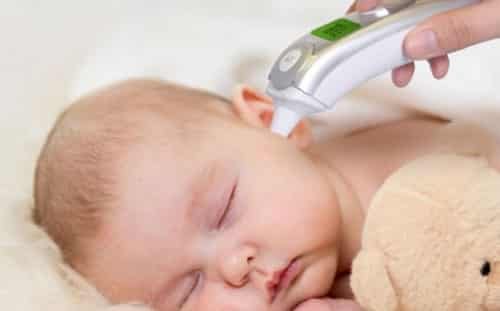 Top 5 Best Ear Thermometers | 2020 Reviews
Having sick kids could be quite troublesome. You love your children and do not want them to get sick, but when they do, it could be very difficult to handle. One of the first things to look out for when your kids are sick is their temperature, it is imperative that you get accurate readings so that you could report them accordingly to their pediatrician.
If your child is 3 months old and below, it is advisable for you to take their temperature through the use of a rectal thermometer, however, for those above 3 months old, your best bet would be an ear thermometer.
An ear thermometer bases its readings on the body temperature via the ear canal. Since the hypothalamus and the eardrum shares the same blood vessels your ear temperature is almost the same as your brain temperature which makes it the most accurate temperature reading. With this statement, it is safe to say that the ear thermometer is the most accurate thermometer we have so far.
It is also good to note that because you get the temperature through the ear, it could be subject for less fuss and annoyance from babies as they do not exactly like it when you place something in their mouth aside from food. In addition, using an ear thermometer lessens the risk of inaccuracy due to the fact that the positioning or oral thermometers could greatly affect their readings.
When choosing an ear thermometer, you have to note several things, one is their response time, the faster they give out the results the less problem you will have with your baby. Second, safety features; since this is non-contact thermometer, there's lesser risk of choking but you still have to be mindful not to leave it lying around the house as your kid will not be able to tell the difference. Taking those in consideration, we have the 5 best ear thermometers in the market today.​
Quick Comparison Table
| Innovo Forehead and Ear Thermometer | iProven DMT-489 Medical Ear Thermometer | Graco 1 Second Ear Thermometer | Care Touch Digital Infrared Ear Thermometer | Braun Thermoscan 5 Ear Thermometer |
| --- | --- | --- | --- | --- |
| | | | | |
| | | | | |
| $$$ | $$$ | $$$ | $$$ | $$$ |
| 2x AAA Batteries | 2x AAA Batteries | 3 V Round Lithium Battery | 3 V Round Lithium Battery | 2x AA Batteries |
| 7.7 ounces | 4.2 ounces | 2.4 ounces | 0.2 lbs ounces | 0.57 pounds |
| | | | | |
Innovo Forehead and Ear Thermometer
The Innovo forehead and ear thermometer bagged the best ear thermometer on our list because of the following reasons. First, it has a dual mode feature; this enables the user to get the temperature from babies to adults. As we have already learned, ear thermometers are used mainly for those above 3 months old but because the Innovo also has the ability to get the temperature from the forehead, you could even use it on babies below 3 months old.
This is possible through the use of infra-red scanning technology, this ear thermometer will be able to provide you with quick and reliable results that even pediatricians and medical professionals trust. What more is that this equipment is clinically tested and even CE and FDA approved.
Aside from these, the Innovo thermometer also has the capacity to recall your last 20 readings, especially great if you are tracking your baby's temperature as prescribed by your pediatrician. Not only that, it is also able to give out results in Fahrenheit and Celsius enabling you to read results regardless of your measuring system.
Adding to the list of things to love about the Innovo is its capacity to indicate if you have a fever, which means a temperature that exceed 99.5°F/37.5°C. This is flagged by seven rapid short beeps and flickering lights, makes it much easier to remember the temperature guidelines.
Getting temperature could not be as easy as using the Innovo, you just need to put the tip of the probe inside your ear and ensure that the sensor is aligned with eardrum, press F2 and let go after 1 sec, fast, easy and accurate results with less fuss. If you are going to get through the forehead you just need to press F1 and follow the same procedure. You will get the results through the display with appropriate backlit which makes it easy to read even in the dark, useful when you take temperature at night as you don't want to wake up your baby.
Details of the Innovo Forehead and Ear Thermometer

Dimensions

3.2 x 2.8 x 7 inches

Weight

7.7 ounces

Power Source

2x AAA Batteries

Features

Dual mode and Readings retrieval
iProven DMT-489 Medical Forehead and Ear Thermometer
The iProven dual thermometer is the next on our list, with its feature very similar to the Innovo forehead and ear thermometer. The iProven is FDA approved and is also widely used by clinicians due to its revolutionized calibration technology.
It has dual functionality; you can easily take temperature through the forehead or the ear with a simple push of a button. These buttons are clearly labeled on the product as Head and Ear, once the mode is chosen you just need to make sure that the device is placed accordingly.
If you are taking the measurement by the forehead you have two options; you could place it directly on the forehead and wait for the temperature to load or swipe the thermometer on your forehead and get a much more accurate measurement. You just have to ensure that you are depressing the 'Head' button as you do so and wait for the click sound which means that the reading is recorded and it should calculate your average temperature.
The device is powered by 2 AAA batteries which are already included, you just need to remove the battery saving tab and you're good to go. Based on average usage, the batteries should last you a couple of months. You have the option to choose the measurement of your readings, either Celsius or Fahrenheit depending on your preference.
In addition, it also comes with a fever alarm, which is pretty straightforward in flagging you if your little one is sick. If you get a beep and green backlight, it means that you have a normal temperature, on the other hand, if you get 7 beeps and a red backlight you might want to check if you have the appropriate fever medicine for your little one just in case. With 20 recorded readings recalled, similar to the Innovo, tracking is very easy.​
This is our second best digital thermometer because of one tiny flaw on the printed instructions manual which could be easily solved by reading the reviews or reaching out to their customer service.
Details of the iProven DMT-489 Medical Forehead and Ear Thermometer

Dimensions

6.4 x 2.2 x 2 inches

Weight

4.2 ounces

Power Source

2x AAA Batteries

Features

Dual Mode with Head and Ear button
Graco 1 Second Ear Thermometer
The Graco 1 second ear thermometer stays through to its promise of giving a result within a second. This is a great digital thermometer for babies if you are still unsure of what you need as it comes with an in-ear probe that is perfect for infants, making sure that they won't mind having their temperature checked.
The display could be easily read as it comes in big bold numbers; the device is made of plastic, making it lightweight and durable. The Graco has the capacity to store and recall the last 10 readings you made, appropriate when comparing temperature from time to time especially if your toddler is having some flu-like symptoms.
Similar to the first two thermometers, the Graco also has the capacity to display results either in Fahrenheit or Celsius. We like the fact that it comes with a storage bag, so it woule be easy to stash it inside your baby bag, just in case you need to step out during the day but has to continue temperature monitoring. The automatic shut off feature is also handy in prolonging its battery life.
Once you turn on the device, you will hear the beep signaling that it is ready for use and the screen should glow indicating the quick "diagnostic" check, after that, the device will display the last taken temperature. This is the time you should put the tip in the ear and press the button until it beeps again, it will display a happy or sad face at the bottom depending on the temperature you got. The sad face of course tells you that your kid has a fever; this is especially lovely for children to see and easy for your to refer to.
The Graco is a pretty straightforward ear thermometer and you get the results you require quickly. It is on our 3rd spot because of those qualities and the no-nonsense usage and since it does not have dual functionality and has a lesser number of readings recalled.
Details of the Graco 1 Second Ear Thermometer

Dimensions

1 x 2 x 6 inches

Weight

2.4 ounces

Power Source

3 V Round Lithium Battery

Features

In-ear probe and automatic shut off feature
Care Touch Digital Infrared Ear Thermometer
The Care Touch digital infrared ear thermometer offers straightforward temperature checking for busy parents who does not like any complicated details on their chosen devices. Compared to the Graco 1, the Care Touch is able to give you quick and accurate results within 2 seconds.
The result given is available in either Fahrenheit or Celcius through the easy to read jumbo display. The instructions will be able to guide you easily in changing the measurement to suit your preference.
These features are essential when trying to read the temperature of your kid especially at night or if you do not have a great eyesight. It is also important to note that the Care Touch is FDA approved, meaning it was carefully tested and studied to make sure that it passes the highest standards among its peers. When it comes to the memory function, the Care Touch ear thermometer is one of the best thermometer for kids which has up to 10 recalled readings.
What's also great is that it has a smiley result indicator, it is a good reference to have especially when you are unsure of what the normal temperature should be, plus when your kid sees the smiley it would also be easier to explain it to them. In addition, the Care Touch also has a fever alarm and you will no longer have to look into the display to tell that because it should tell you automatically.
It is lightweight and would definitely fit your pocket, perfect to have around when you are on duty, and you need to have it with you all the time just in case the time to get your kid's temperature comes up. You might think 2 seconds to get a temperature is too long, comparing it to the Graco, but it is not. You have already gotten the temperature even before your child starts to fuss, no big deal. Aside from these the Care Touch is the 4th best ear thermometer because of certain features absent, but it still has accurate results and if that's what you need, it is an inexpensive option.
Details of the Care Touch Digital Infrared Ear Thermometer

Dimensions

1.5 x 8.5 x 4.6 inches

Weight

0.2 lbs ounces

Power Source

3 V Round Lithium Battery

Features

Smiley result indicator and fever alarm
Braun Thermoscan 5 Ear Thermometer
There are a lot of ear thermometer reviews on this product and checked out the Braun Thermoscan 5 ear thermometer. It is one of the most inexpensive ear thermometers in the market that is durable and is frequently used in the household. If the only thing that you are aiming is the accuracy of results without the other features involved.
The Braun offers pre-warmed tip which means that you will get the most accurate reading as the cooling effect might affect the temperature this is because of the Exac Temp technology that doctors love. In addition, the tip is flexible enabling a much more gentle reading of your child's temperature, perfect for fussy children. It is also great for taking the temperature of children who are still sleeping so parents would no longer have to worry about any unscheduled wake up. The guidance system makes sure that you are putting the tip properly for accurate results; it will light up and beep accordingly once it is properly positioned.
Aside from the device itself, the package included a protective case, which is great when you need to travel with the ear thermometer, batteries and lens filters. If this is the first time you are using an ear thermometer, it is important to note that because you are checking for temperature there is a tendency that you are dealing with a communicable disease, and you wouldn't want anyone else in the family to be affected by it. In this case, you need a lens filter before you would check on someone else's temperature. It is also important in making sure that the temperature readings are accurate, because you are using a different filter to each of your child. This could be easily verified with the claim that even if you repeat the checking of temperature, you should still get the same result.
Overall, the Braun similar to the Care Touch and Graco and is one of the best thermometers heavily relying on their accuracy of results as their features would not be able to compete with the rest of the ear thermometers. The Braun is 5th on our list because it could be a bit more expensive to maintain in the long run due to the use of the lens filters.
Details of the Braun Thermoscan 5 Ear Thermometer

Dimensions

5.3 x 2.6 x 9 inches

Weight

0.57 pounds

Power Source

2x AA Batteries

Features

Memory function recalls the last temperature reading and guidance system tells you that the thermometer is correctly positioned
Conclusion
After the reviews we have made on what is the best baby thermometer to buy, we still believe that having an ear thermometer is your safest bet to monitor your baby's temperature. Ear thermometers in general will give you the most accurate results in the shortest amount of time, without disturbing your baby especially at night. You could invest on the added features, but it should all boil down to what would be best for your baby.
Enter your text here...