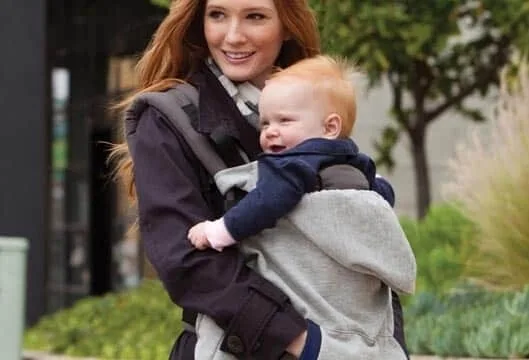 Top 5 Best Baby Carrier Cover | 2020 Reviews
Winter is coming, says the motto of the House Stark. It is meant to remind the people to be in constant vigilance for whatever might be coming ahead and, for parents living in the present times, it could also be a literal warning. Going around with a baby or having a vacation with a toddler during the winter months is not something to be taken lightly, after all.
Among the most important things that parents in countries with four seasons is finding a way to keep their babies warm even if they are out for the day. Jackets are effective to use but they can also be bulky and minimizes the warm contact of bodies between a parent and a child. Thankfully, the baby carrier cover is here to the rescue.
How do you look for the right baby carrier covers for you and your little one? It all depends on many factors.
For example, it might depend on the season and average temperature in your place. If you do not really get a decent amount of snow but still experience chilly winds, a lighter fabric that can still keep you warm might be a good choice. If snow and rain are issues, go for baby covers that can resist water so you and your little one will not get soaked through.
You might also want to consider the flexibility that these winter covers have. Some parents love those that can be used whether on a front carry or a back carry. There are also covers that can be used not just on a baby carrier but can also double as a car seat cover or even a grocery cart cover. Cool, right?
Now, if you're ready, we've come up with a list of the top 5 best baby carrier covers for you to choose from.​
Quick Comparison Table
| Bebamour Universal Hoodie All-Season Carrier Cover | BabyBjorn Cover for Baby Carrier | Mommy's Joy NurseMe Infant Carrier Cover | Stretchy 4-in-1 Carseat Canopy | Nursing Cover | Cozy Cover |
| --- | --- | --- | --- | --- |
| | | | | |
| | | | | |
| $$$ | $$$ | $$$ | $$$ | $$$ |
| 10.6 ounces | 13 ounces | 6.2 ounces | 11 ounces | 13.6 ounces |
| | | | | |
Bebamour Universal Hoodie All-Season Carrier Cover
Baby wearing moms, rejoice, here is the best infant carrier cover that you and your baby can use!
It can be tricky to find a universal hoodie, especially one that can be used during all seasons, which is why we give a double – and even triple – thumbs-up to this product. Why do we love it so much? Let us count the ways.
For starters, it fits all types and sizes of baby carriers and can be used for infants and up to five years old (if you can still carry them, that is). This carrier cover will keep them warm, dry, clean and well-covered even when you are out on the streets. Whether you love carrying your baby in front or at the back really does not matter because this cover can be used either way.
However, things do not just end there. Aside from being a carrier cover, it can also be used for other purposes including as a stroller cover, a poncho, a nursing cover and many other things. The hat in this baby carrier winter cover can be detached through its zipper and buckle so when it starts to get a little warmer, they can be taken off. The carrier cover's front also comes with a pocket to put in essentials for both parent and kiddo but they also work great as a hand warmer.
A few things to note, though: although this baby carrier cover is made with water repellant materials, it is not recommended to stay out for long during a rainy day or whenever there is access to water as it is not good for the baby. Moms will also rejoice that this cover can be machine washed but it is still recommended to wash it by hand to help protect and lengthen the life of its attachments. Just do occasional spot cleaning instead.
There is no doubt, this baby carrier cover is right at the top of our list!​
Details of the Bebamour Universal Hoodie All-Season Carrier Cover

Weight

10.6 ounces

Dimensions

33.9 x 1.2 x 19.7 inches

Color

Green (Coffee Brown), Red, Yellow, Dark Purple
BabyBjorn Cover for Baby Carrier
Are you looking for the best baby carrier winter cover especially since the snowy days is just a few months away? Look no further because we have just the perfect product for you to check.
The Baby bjorn carrier cover is everything that you are looking for in a carrier cover and more. For starters, it is made from polyester as well as fleece to help it water repellant and windproof. After all, it is these situations that we want our little ones to be protected from, right? Using this when going out especially during the winter months will help keep your babies safe, warm and dry without you having to don a lot of bulky and heavy accessories.
This baby carrier cover is lightweight and flexible so you do not have to worry when it comes to switching your baby's position. Whether they are facing forward or facing you, it works perfectly in keeping them warm and covered. No need to worry about getting yet another product for yet another position your child is in.
Perhaps our only main gripe about using this product is that it can take a while and lots of trial and error for one to get the perfect fit. Sadly, the instructions were not of much help but when you do figure it out, things become much easier and comfortable for everyone. It even stays roomy inside so your baby won't feel cramped inside and you still have some room for an extra blanket to make them feel snug.
There might also be some difficulty in trying to use this on another carrier as it uses loops that go on around the buckles in a Baby Bjorn carrier. Perhaps a workaround can be done instead.We certainly love that this comes lined with fleece but the fact that there are a few glitches around made us decide to put this one on second spot.
Details of the BabyBjorn Cover for Baby Carrier

Weight

13 ounces

Dimensions

11.9 x 5.3 x 3.1 inches

Color

Black
Mommy's Joy NurseMe Infant Carrier Cover
If you are looking for flexible and multiuse baby carrier covers, you should definitely look into adding this product into your list. It is super functional that it can be used in five different ways and maybe even more, depending on where your imagination takes you.
So, what is so great about this cover for baby carrier? Well, for starters, it can be used as a nursing cover and can fit you and a toddler without a problem. It may even fit a slightly older kid if needed. This stretchy fabric can be used all throughout the year as it is made from 95% rayon and 5% spandex. Whether you are planning to use it to keep your kiddos protected from the sun, rain, germs, wind, dust, cold and even some mild snow or rain, it works quite well!
Another reason we love using this product is that they are huge enough to be used as a cover for an infant car seat so your sleeping infant can stay warm and protected even when you are carrying them outside in harsher conditions. Yet another great feature which we have not seen in other similar products is that they are huge enough to be converted into a stroller cover. If the canopy is just not enough to give them full protection then you can definitely use this one. Or, if your toddler gets cold inside the car, it can also be used as a car seat blanket. You do not have to worry about it falling because you can wrap it around the seat so they stay secured.
Perhaps the biggest drawback to using these types of multifunctional products is that they tend to look great only in pictures but not so much in real life. Busy moms might find it hard to set this up for every type of situation they are in so if they could master at least one function, that is already a big step. For this reason, it goes to the middle position in our list.
Details of the Mommy's Joy NurseMe Infant Carrier Cover

Weight

6.2 ounces

Dimensions

7.9 x 7.9 x 1.4 inches

Color

Black/White
Stretchy 4-in-1 Carseat Canopy | Nursing Cover
If you are looking for a fashionable and flexible baby carrier covers, you should definitely look into this new product that is taking the world of baby products by storm.
What is so great about this product? Well, for starters, it looks really cool and fashionable so regardless of how you use it, you will definitely feel proud using it. Whether you are just a babywearing parent or a breastfeeding mom, you will certainly love using this product every single day.
This product, which can also be used as a carseat canopy, is made from soft and non-scratchy fabric and can be used all throughout the year. No matter what season it is, it will keep your baby safe, warm and germ-free. This will help you protect them from germs, the weather, the cold, the wind and even strangers without making things complicated for you.
But, what we even like more about this product is that it can be used in many different ways. It works quite well as a nursing cover so you can also double it as a carrier cover even if you are not currently breastfeeding. Another way to use it would be to cover those infant car seats in case you are transporting them from one point to another outside the house. It can also be used as a shopping grocery cart cover, perfect for moms who are scared of germs. And lastly, when they are not in use, they can be used as an infinity scarf for the fashionable mama. Sounds cool, right?
While the fabric is made from soft and breathable material, parents do not have to worry as it certainly keeps the wind out. This might not be great for use when there is water involved but, as previously mentioned, it might be best to just keep the baby indoors when that happens.
Perhaps this cover will feel a little too crowded to use on older kids and setup also takes time but we will still place this on fourth spot since it looks really beautiful.​
Details of the Stretchy 4-in-1 Carseat Canopy | Nursing Cover

Weight

11 ounces

Dimensions

28 x 24 x 0.2 inches

Color

Vintage Navy Floral, Grey Arrow, Pink Floral
Cozy Cover
Although this isn't exactly a carrier cover, we still included this in the list for moms of infants who are looking for a cover to keep their babies warm during the winter months. We have included two infant car seat winter covers but when it comes to protection against cold temperatures and even snow and rain, nothing definitely beats this cozy cover for babies.
Why should you consider getting this product for your baby's car seat? Obviously, it offers the best protection for them. Did we mention that it is made from 100% microfleece with soft inner fleece? That means that it provides the best protection from harsh elements but without you having to lug bulky stuff around.
Another reason why we like this product is that it comes with dual zippers so you can access your baby easily or the child safety straps at the bottom. There are simply times when you do not need to open the whole thing lest you expose your baby to the cold, right? There is also a hole at the top for the baby's head but if they have to be 100% protected from the elements, there is also a flap that you can use to close it. Don't worry, it does not seal shut so your baby can still breathe comfortably inside. Just make sure to only use it when transporting the infant car seat outside and only in the harshest of weather conditions.
If you are putting the infant car seat into a stroller, this product also makes for a great winter stroller cover. You do not have to buy additional accessories for it because its backless design allows you to fit it with just about any model of car seat and stroller. Sounds cool, no?
In some infant car seats, the cover's face hold also tends to be located much higher instead of around the face so it is hard to see the baby and makes many parents worried. We definitely love the fleece but we will have to put this one down the bottom of our list.
Details of the Cozy Cover

Weight

13.6 ounces

Dimensions

9 x 8.4 x 3.4 inches

Color

Beige, Black, Black Quilt, Blue Plaid, Charcoal, Jungle, Pink, Beige Quilt, Lightweight Grey, Pink Quilt, Pink Zebra
Conclusion
We never really thought baby products were this complicated until we became parents, right? Who knew covers for baby carriers were still necessary? We hope this list of the best carrier covers will help you decide on one that you and your baby can comfortably use. Remember that even though these products help keep the baby warm and protected, nothing still beats staying indoors so don't force going outside with a little one unless really necessary.
If you do have to, make sure that you go for a product that is not a hassle to use and set up even by yourself. Comfort still beats looks anytime. Happy shopping!​