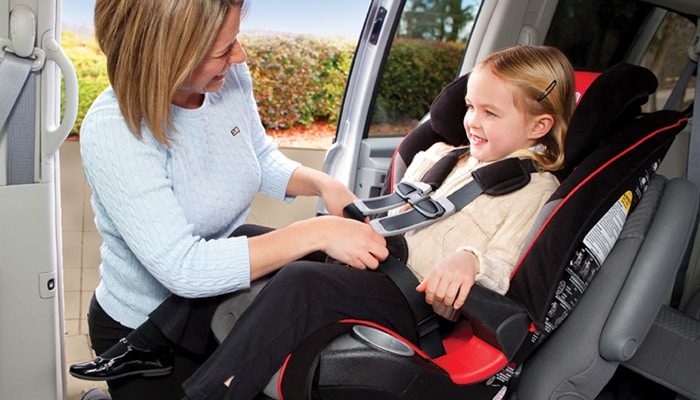 Best Booster Seat Buying Guide
Time surely does fly when you are having fun and being busy playing parents to your baby. Sooner than later, the child you have cuddled so delicately in your arms will be running around the house and will be playing hide and seek with you. He will be talkative and will ask you lots of questions you probably aren't prepared to answer. Soon he can return the hug you've been enveloping him with ever since he was a baby. He will start eating on his own. He will start demanding his own place at the table -- without a high chair. And maybe he'll start demanding to seat in the car with seat belts on -- like a real adult. He's grown bigger over the past year, sure, but he's not that big to wear an adult seat belt yet. He's not quite there yet, thank heavens. And though you cannot slow down time, you can at least let him sit in a booster car seat while he waits for his turn to wear his adult seat belts.
When your child grows and finally exceeds the height and weight limit of his or her forward facing car seat, it is time for a booster car seat. Seat belts are designed for adults and not until your child can properly wear a seatbelt, you are to provide your child with a booster seat. A seat belt is properly worn when the belt goes over the sternum and the center of the collarbone instead of the neck, and over the upper thighs instead of the abdomen. Booster car seats lift your child up in the vehicle and allow the seat belt to be worn correctly. Simply put, they are belt-positioning seats.
Booster car seats are required by the law in the US except for the states of Florida and South Dakota. Most vehicle seat belts cannot properly fit most children without booster seats until they are at least 10 years of age. The National Highway Traffic Safety Administration or the NHTSA, however, advises to use proper child restraint systems or booster seats for children who are under 4 feet and 9 inches, no matter their age and weight.​
Once your child has exceeded the height and weight limit of his harnessed car seat or when his ears have reached the top of the seat and his shoulders are above the harness slots, start looking for booster seats. If you are unsure which booster seat to get, read on and let us help you out. We here at ParentsNeeds HQ have prepared a buying guide for the best booster seats to help you pick one the suits you and your child.​
What are the types of booster car seats?
The two types of booster car seats are backless and high-back booster seats. Backless booster seats are portable. They are easy to pack up and move from one car to another in case you use multiple vehicles. Most backless booster seats are kept in place by the weight of the child and by the seat belt, once it is fastened over the child. High-back booster seats may come with a LATCH system, which you can use to keep the seat in place. Unlike backless boosters, high-back seats may be used in vehicles with or without headrests. High-back booster seats are generally recommended more than backless seats since they position the seat belt better. Additionally, they can protect from whiplash and provide side impact protection.
What are the things to consider when choosing the best booster car seat?
● Your child
Keep track of your child's age, height and weight. These factors will affect the type of seat that you will need. Car safety seats come with height and weight limitations. It is important to choose one that is fit for your child because the car safety seat's effectivity largely depends your child's compatibility with the booster seat.
● Your car
Familiarize yourself with your car by reading your owner's manual. Find out the vehicle's features regarding car safety seats and if it is equipped with the LATCH system. It is only practical to figure out whether a booster seat will be compatible with your vehicle or not. Whether your car has a headrest or not and if it has low-seatbacks will also determine its compatibility with the booster seat of your choice.
What are the features to look for in the best booster car seat?
● High safety rating
The best booster car seat will have a high safety rating, meaning it has undergone crash tests that have proven its effectivity in preventing injury or at least keeping it to a minimum in an event of a collision. It might be helpful to check out the list of booster seats with high safety ratings from organizations that conduct independent crash tests. Consumer reports, for example, have been conducting crash tests for more than 30 years. They provide updated lists of car safety seats with high safety ratings.
● LATCH system
The LATCH system (Lower Anchor and Tethers for CHildren) allows the booster seat to be installed in vehicles equipped with latch connectors. Vehicle models starting from year 2002 are all compatible with car seats that have LATCH connectors.
● Adjustable headrest / harness / harness height
A booster seat that comes with adjustable headrest, harness and harness height is an ideal car safety seat for children who are barely big enough to use booster seats but have outgrown their forward facing car seats. They might still be too small to achieve proper belt positioning with the help of booster seats so a harness might still be the best option for them. Booster seats with adjustable restraint systems will allow your child to be safely fastened until they are big enough to use the seat belts as restraints.
● Impact absorbing foam
The best booster seat will have impact absorbing foam that will protect your child from injuries in an event of a crash.
● Side protection
Choose a booster seat that provides side protection as well in case the point of impact will come from the sides of the vehicle, instead of from the front or back.
● Removable seat cover
Look for a booster seat that comes with a removable seat cover. This will render the car seat easy to clean and maintain.
● Positioning clips
Some booster seats come with belt-positioning clips that guide the vehicle's seat belt. These clips ensure that the seat belts fit your child correctly.
● Easy to install
If you are going to use multiple vehicles, choose easy to install booster car seats. The easier it is to install a car seat, the bigger the chance of you installing it correctly and properly without taking too much of your time. A good booster seat that is easy to install will have a manufacturer's instructions that is easy to understand. The seat itself should have come with color guides or codes that will make the installation process a piece of cake. Some models also come with indicators that prompt you when you have installed the seat correctly.
● Comfort
A comfortable booster seat will make for a comfortable ride with your little one. If your child is riding in comfort, you can expect a smooth drive. The best booster seat will have a comfortable mold and soft, cushioned linings that can soothe your child. Some models can also be reclined, which can further help your child relax or even take a nap during the car ride.
● Auxiliary
Additional features like cup holders and pockets can come in handy and useful. These additional support can keep your child's basic needs within his reach, while he is safely fastened in his seat.
How to buy booster car seats:
Determine your child's readiness for a booster car seat. Keep in mind that different car safety seats cater to different age groups. This means that the kind of protection a forward facing car seat can give to babies more than two years of age will not be the same kind of protection it can provide to infants who are meant to be seated in infant car seats. The same goes for booster car seats. As you move up a type of car safety seat, the level of protection reduces so it is best to ensure that your child is indeed booster seat ready.
Test the booster car seat in your vehicle to determine its compatibility with your car. Have your child seat in it as well to determine if the booster car seat is the right size for both your child and your car.
Do your research and read up on booster car seat models. Look for models with high safety ratings. Survey consumer reviews and see what models comes highly recommended. It is also important to check out the list of car seats that were recalled during the past years because of safety issues.
Prepare your budget. A good backless booster seat will cost you around $25 while a quality high-back booster seat will run you around $100 to $250.
Once purchased, keep your receipt and keep track of your booster car seat's serial number in case of recalls in the future or in case your unit needs to be replaced because of a defect.
Important tips and reminders to keep in mind:
Avoid second hand units with an unknown or unreliable history. Car safety seats are crash tested and rated for one time collisions only. Buying a second hand unit might unknowingly leave you with a car seat that has already been in a crash. Units that have already been in a collision, whether a child was in it or not, should no longer be used.
Booster car seats have weight limits. So do the LATCH anchors that hold the seats in place. Read the specified weight limits indicated in the manufacturer's manual and follow their safety guidelines. Generally, once the combined weight of the car seat and the child has exceeded 65 lbs, it is advised that the vehicle's seat belt be used to hold the seat in place.
Ways to tell if your child is ready for a booster seat: 1) when he has exceeded the height and weight limit of his forward facing car seat, 2) the shoulder harness slots are already below your child's shoulders, or 3) his head has already reached the top of his forward facing car seat.
When using a backless booster seat, your vehicle must have headrests that are above the ears of your child.
You will know that the booster seat is the right fit for your child when once the booster is installed in the car and you have your child sit in it, he is comfortably seated all the way against the backseat. His knees should be bent at the seat edge and his legs should not be sticking straight out.
Check for correct belt positioning once your child is fastened. The seat belt should go across the thighs and not on the abdomen. The shoulder belt should land cross the center of the chest, between the collarbone and sternum, and not on the neck.
The middle rear seat is the best position to place the booster seat since this spot keeps your child protected from impacts that may come from the side.
Our Recommendation
You are down to the final car safety seat for your child before he starts using the adult seat belt on his own. By now you are probably just about ready to get it over with, but before making that trip to your local store to buy one, let us present to you our Top 5 Best Booster Seats. We here at ParentsNeeds HQ only want the best for you and your precious one so we have accepted the challenge to round up a number of booster car seat models and put them head to head to see which is the best. Our list includes both backless and high-back boosters to ensure you have enough options to choose from, whichever type of booster seat you are in the market for. One model has to come out on top. Read here and find out why we chose Britax Frontier Clicktight Combination Harness-2 Booster Car Seat as our top one.