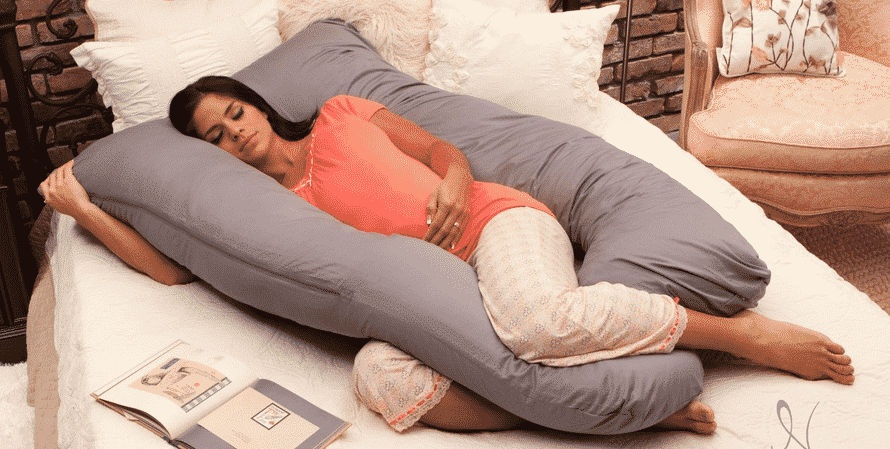 Best Pregnancy Pillow Buying Guide
As you get more months into your pregnancy, it is expected that your body will undergo drastic changes. Remember that you are now carrying for two. You are responsible for your well-being, as well as that of the baby inside your tummy. The food you eat will serve as nourishment for the two of you. You will consume twice as much energy, probably even more. It is only natural then that you get more than enough rest. With your ever changing body, however, it can become quite difficult to get a good night's sleep. Pregnant women often have trouble achieving uninterrupted sleep. It is also not uncommon for them to wake up feeling pain in some body areas. These body areas become sore due to the lack of proper support during sleep.
Pregnancy pillows are then considered a gift to all pregnant women out there. These pillows are designed to give the full support and comfort a body of a pregnant woman will need. Ordinary pillows are often unable to provide such support and comfort to expecting mothers. The benefits of pregnancy pillows or otherwise known as maternity pillows include reduction of body pain incurred during sleep, reduced swelling, total body comfort and unrestricted sleeping body position, meaning sidewise sleeping is made possible. Sidewise sleeping, preferably on the left side, is recommended to pregnant women by doctors as this sleeping position promotes better blood circulation. Investing on pregnancy pillows is therefore always a good choice. Now comes the question of which pregnancy pillow to get as there are a number of options to choose from in the market.
We here at ParentsNeeds HQ have prepared a guide on how to buy the best pregnancy pillow for yourself. Depending on your needs and preferences, we will help you narrow down your choice until you are able to finally decide on the best pregnancy pillow. First, let us discuss the types of pregnancy pillows.
What are the types of pregnancy pillows?
● Wedge pillow
The wedge pillow is, yup, you guessed it right - a pillow that comes in the form of a wedge. Pregnancy wedge pillows are small in comparison to the other pregnancy pillows on this list. They are portable and can serve to be useful when you are travelling around. They are small enough that they take just enough space in the bed without having to evict your partner. Wedge pillows may be used under the baby bump to provide support to your tummy and to avoid straining your hips and back. A wedge may also be used to keep you in place when you are in a sidewise sleeping position by acting as a wedge behind your back. Wedge pillows are also perfect for holding hot water bottles or warm packs against your side. Heartburn and reflux may also be avoided with the help of a wedge pillow, by placing it under your ordinary pillow and instantly elevating your head. Due to its limited size, however, it is often used in supplement with other pregnancy pillows in order to achieve that full body support.
● Full length pregnancy pillow
Full length pregnancy pillows are pretty much like your ordinary pillows at home, except they are much longer and covers almost the same length as that of your body. This type of pregnancy pillow is ideal for side sleepers and will no longer require a separate head pillow during sleep. They are meant to be hugged sideways and are great for cuddling. Getting a full length pregnancy pillow will eliminate your need for separate pillows for your arms and legs. Although they provide support to your head, midsection and legs, they do, however, provide less support to your back.
● Total body pregnancy pillow
Total body pregnancy pillows, or the ultimate pregnancy pillows as what we here at ParentsNeeds HQ sometimes like to call it, are designed to wrap around your whole body. They give your body the full support it needs as they are often 5 to 6 feet long -- just the right amount of length to curl up inside to. Total body pregnancy pillows can simultaneously provide support and comfort to your back, front, neck and legs. With this type of pregnancy pillow, you will definitely no longer need other pillows during your sleep. Now do you understand why it is the ultimate pillow for us?
Total body pregnancy pillows may come in two forms. One form is the C-shaped body pillow, which is meant to be used in a sidewise, riding position. The top portion of the C serves as the rest for your head. The curve of the C runs along the length of your back, providing support and comfort to your spine. The base of the C then serves as your saddle, which you may hug between your legs, in a cuddling position. The other form of total body pregnancy pillows is the U-shaped body pillow. This type of pregnancy pillow provides support for both sides so it is perfect for pregnant women who enjoy sleeping on their back but are forced to sleep in a sidewise position due to their growing tummy. U-shaped pillows are meant to be straddled, with the head resting on the base part of the U. One side of the U supports the back while the other side may be cuddled.
What are the things to consider when buying pregnancy pillows?
● Body area of concern
Some pregnant women experience body pain in specific body areas only, which may be easily addressed with just one type of pillow. Wedge pillows for example may provide support for the tummy, back or legs but should you need support and comfort for more than one of these areas, you will need more wedge pillows as well. If you find yourself in need of more support, full length or total body pregnancy pillows might be the best for you.
● Sleeping position
In which position do you often sleep in? If you are someone who enjoys sleeping on their back, there will come a time in your pregnancy when this position could become uncomfortable due to your belly. By then you would be advised to sleep on your side. Pregnancy pillows that give back support will help you sleep better on your side and will make the transition from being a back sleeper into a side sleeper easier.
● Bed space
How much space in your bed can you spare for your pillow? Some pillows are small and portable, while some could get very bulky and space consuming. Wedge pillows and full length pillows could often be used without having to ask your partner to sleep somewhere else. Total body pregnancy pillows are, however, a different story. Since these pillows are designed to wrap around the whole of your exterior body, they could measure up to 6 feet long and take up space from both your front and back. Be sure to have enough room for your total body pregnancy pillow and your partner or else be ready to choose who gets the space.
● Budget
Pregnancy pillows don't exactly come cheap. Wedge pillows often come in more affordable prices when compared to the much bigger pregnancy pillows. But even then, the kind of material used can make a big dent in its price. It is best to keep in mind that when choosing pregnancy pillows, you are making an investment that you will not regret.
What are the characteristics of a good pregnancy pillow?
● Versatile support
The best kind of pregnancy pillow is one that can offer you full support for various parts of your body. Being pregnant, you will find that your needs change with your ever changing body. The body part that needs comforting today may be different with that of tomorrow. Get the pillow with the most versatility. Some pregnancy pillows can support any area of the body. Some can even support these areas all at the same time!
● Quality material
Of course, a good pregnancy pillow is made of quality material. Choose a pillow that is made of hypoallergenic materials to ensure that your sleep will go uninterrupted by the unnecessary bouts of allergy attacks. A good pregnancy pillow should be made of soothing linings and breathable materials that can only contribute to your good night's sleep.
● Firm and adaptable
There are different types material that could be used to fill pregnancy pillows. The firmness of the pregnancy pillow will depend on the type of filling it contains. The best pregnancy pillow will be firm enough to be able to provide good support and will be able to adapt to the shape of your body for comfort as well. Examples of these fillings include microbeads, polyester fibers, memory foams, and styrofoam balls. Microbeads are very fine, lightweight balls which render sand-like firmness to pillows. The firmness or softness of pillows filled with polyester fibers will depend on how much fibers are used. They are, however, not as breathable as the other types of fillings. Memory foams are naturally firm. They easily adapt and conform to your body once you press against them, and they easily regain their original form once the weight is lifted. Styrofoam ball fillings are often found in more affordable pregnancy pillows. They are lightweight and they easily adapt to your body shape as well. The only downside is that they can be quite noisy when you move against the pillow.
● Quiet
Some people are steady sleepers, while some are not. The best pregnancy pillow should be quiet enough so as not to disturb you when you stir a little during sleep. If you move around quite a lot and are a light sleeper at the same time, you will need a pillow that will not produce any noise that may interrupt your sleep. Styrofoam balls produce a considerable amount of noise while microbeads, memory foams and polyester fibers are virtually noiseless.
● Easy to clean
You will be using your pregnancy pillows for months and to be able to maintain proper hygiene, get a pregnancy pillow that is easy to clean. The best pregnancy pillow to get is one that has a removable cover. A removable cover will prevent your pillow from absorbing sweat during those sweaty nights. It will act as a shield instead. And since it is removable, the act of cleaning it should be easier than the idea of cleaning such a bulky pillow. Spare covers are a plus since they will allow you to continue snuggling with your pillow when you have washed its covers.
● Useful beyond pregnancy
It is always a joy to come across a product that you may continue to use beyond the original purpose you have bought it for. Long after you have given birth, a good pregnancy pillow will still find a place in your life and in your bed. Pregnancy pillows can still serve to provide you support and comfort even when you are no longer pregnant. Wedge pillows, for example, may still be used to support your back or legs when you are simply couchsurfing. The bigger pregnancy pillows may find use in helping you support your baby during nursing sessions.
Our Recommendation
Now that you have read all about pregnancy pillows and which features to look for, you are now ready to buy your very own pregnancy pillow and start getting that well-deserved relaxing sleep. But before you head to your go-to pregnancy store, be sure to check out our recommended pregnancy pillows. We here at ParentsNeeds HQ have listed our favorite pregnancy pillows along with the reasons why we absolutely love them. We have narrowed down the list for you to just five choices. It sure was not easy, given the number of pregnancy pillows that are actually available in the market. Among these five choices, the three different types of pregnancy pillows are included so whether you have decided to get a wedge, a full length pillow or a total body pregnancy pillow -- we have got a recommendation for you. Check out our Top 5 Best Pregnancy Pillows and read all about our number one choice, the Boppy Pregnancy Wedge.