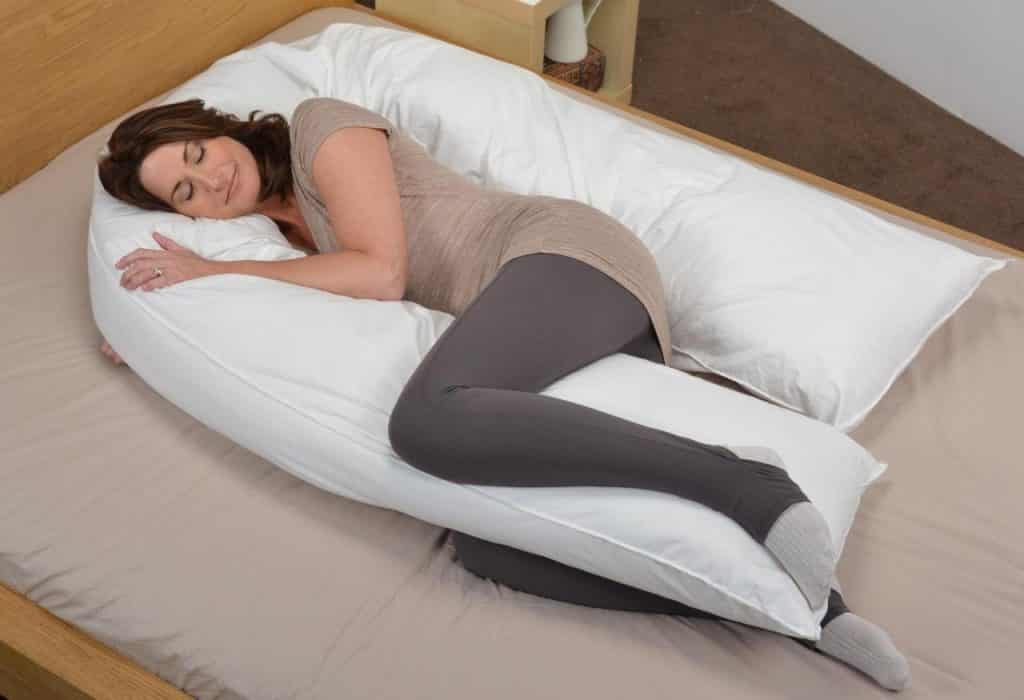 Top 5 Best Pregnancy Pillows | 2020 Reviews
Morning sickness. Voracious appetite and weight gain. Emotional swings. There are all sorts of physical and mental changes a woman experiences during pregnancy, and those are just a few of them. In most cases, first-time moms-to-be have seen family members or friends have those issues – or have at least read about them – and aren't caught off-guard when they occur.
What often comes as a surprise, though, is how incredibly difficult it is to sleep when you're pregnant.
It makes sense, of course. The enormous (literal and figurative) changes in a woman's body as her baby grows completely change the body's size and shape, making it nearly impossible for many women to get comfortable enough to sleep or even nap. It's even worse for those who commonly sleep on their stomach or back.
A common reaction whenever anyone, pregnant or not, can't sleep is to play around with their pillows. Placing them in different positions shifts the position of the body, removing pressure from areas which may be sore and making minor changes in body temperature. Pregnant women, however, don't usually gain enough relief from adjusting their everyday pillows to overcome the discomfort that's keeping them awake.
Pregnancy pillows are the gift from heaven which can "save the life" of a pregnant woman who has gone days without restful sleep. They support weight in the areas which need support, alter body position to help blood flow, and make it possible for a woman whose body is completely different than the one she's had for all of her life to find a comfortable sleeping position.
It's difficult to compile a list of the top 5 best pregnancy pillows as a complete resource for all readers, because there are three major types of these pillows, along with different configurations for each. For example, a C-shaped full-body pillow provides very different benefits than a round wedge one, and what's right for one person won't help another at all.
What we've decided to do is choose the best of each type for inclusion on our list of best pregnancy pillows, and explain how each one is before reviewing it. We understand that won't help you choose between five different brands of flexible full-length pregnancy pillows – but it will tell you the best one to try, while giving you a complete look at the types of pillows available so you can make it through the next few months in relative comfort.
If you're going to choose a specific style of pillow and go looking for more options on your own, there are few issues you should consider. Natural fillings like wool or spelt, and whether the pillow is hypoallergenic, will be concerns for important for many, while others will be more interested in the comfort of a memory foam filling. You'll greatly appreciate your pillow having a removable cover after a few sweaty nights in bed. And don't forget to consider the size of your bed; that full-body pillow may look awesome, but it might not fit on your twin- or full-sized mattress along with your big belly.
Before going on our list, you may want to check out our comprehensive Best Pregnancy pillow Buying Guide here.​
Let's get comfortable.
Quick Comparison Table
| Boppy Pregnancy Wedge | Leachco Snoogle Total Body Pillow | Leachco Back 'N Belly Contoured Body Pillow | Newpoint Body Pillow | Boppy Custom Fit Full Body Pillow |
| --- | --- | --- | --- | --- |
| | | | | |
| | | | | |
| $$$ | $$$ | $$$ | $$$ | $$$ |
| Cotton | Cotton / Polyester | Cotton / Polyester | 100% cotton | Cotton |
| 8 ounces | 6 pounds | 7 pounds | 5 pounds | 3 pounds |
| | | | | |
Boppy Pregnancy Wedge
This may be the best-selling pregnancy pillow in the world and there are good reasons for its popularity, most having to do with its versatility.
A wedge pillow is most helpful if you sleep on your side, and it can be used in several different ways. The most obvious is positioning it underneath your belly, to support the weight of your baby and relieve the stress of your tummy trying desperately to find a position on the bed instead of up in the air. But a wedge is also useful if you place it between your knees; the idea isn't to support the belly, of course, but it will let you properly align your legs, hips and back for a more comfortable (or less painful) sleeping position. One other possibility is to use it under your back or under your regular pillow to stop yourself from tossing and turning while asleep and to keep you in position to avoid the heartburn and reflux which often accompanies pregnancy. Some women buy more than one.
Wedges are small so you can use them in beds of any size, and they're easy to pack up and travel with if you're going to visit your parents and show off your growing tummy to high school friends. They're also the least-expensive style of pregnancy pillow, although high-quality ones won't be cheap. You should also know that there are two shapes of wedge pillows: round (or half-moon) and triangular. The round pillow is thinner so for most women it's better for under the belly or between the knees use; the triangular one works better for placing behind you.
Now, for the Boppy pregnancy wedge. This is a small, lightweight pillow – but it might take some getting used to because it's not as soft as you might expect. The Boppy's firmness is important because it's supporting a lot of weight; cheaper wedges may be softer, but they'll quickly flatten out and do no good. The substance of this pregnancy pillow is due to a dense polyurethane foam core which does the job well. There is a pima cotton cover which is removable (with a zipper) and machine-washable.
The pillow's small size makes it ideal for travel, or even for shifting it from belly to legs during the night without having to get out of bed and readjust your body. But its primary advantage is that for many women it will turn a painful, sleepless night into a relaxing respite from pregnancy in a jiffy. Some even repurpose it as a pillow for infants with GERD who must sleep with the heads elevated.
The Boppy is certainly the least expensive pregnancy pillow on our list, at less than $15.
Details of the Boppy Pregnancy Wedge

Core

Polyurethane foam

Cover

Cotton

Removable Cover

Yes

Size

14 x 11 x 3 inches

Weight

8 ounces
Leachco Snoogle Total Body Pillow
This is one terrific pillow – if you can fit it into your bed without evicting your partner. The Snoogle is another best-seller, and has been for more than a decade because of the total body support it provides. This is a C-shaped pregnancy pillow; let's look at the benefits of this style.
Imagine a pillow that's designed to snuggle your body the way you'll snuggle your baby once she's born. That's what a C-shaped total body pillow does, as your body fits right into the "C" from head to thighs. The true advantage of this style is that the one pillow takes the place of separate head, tummy and leg pillows. Your head and neck comfortably rest at the top of the "C," your belly is supported by one of the tails of the "C" and you can tuck your knees between the bottom of the "C." (If you prefer, you can also sleep facing into the "C" and spoon.) That description explains why you'll need a large bed to fit your partner along with your body and the Snoogle, but it's worth it.
This total body pillow has a polyester fiber filling making it firm for good support, but it may be a jolt for those accustomed to sleeping with super-soft pillows under their head. Give it a little time; you'll thank us later. It won't smoosh down after a few months, either. There is a cotton/polyester blend removable sham cover which is machine-washable although understandably difficult to remove. The Snoogle is free of free of latex, phthalates and BPAs. Some women also use this pillow after they deliver, because it puts the body in a perfect position for nursing.
The $55 base price tag may put you off at first, but how much would you pay at 3 am in the middle of your pregnancy for just one good night's sleep?
Details of the Leachco Snoogle Total Body Pillow

Core

Polyester fiber

Cover

Cotton/Polyester; 100% cotton also available

Removable Cover

Yes

Size

60 x 25 x 7 inches

Weight

6 pounds
Leachco Back 'N Belly Contoured Body Pillow
Yes, we're including a second Leachco total body model on this list of top 5 best pregnancy pillows, but it's because this is a completely different style of pillow: U-shaped instead of C-shaped.
You can easily picture the difference, as a U-shaped pregnancy pillow opens at the bottom instead of the side. Once again, it takes the place of several separate pillows and provides great support for the head, neck, back and legs. But it's best for the total support it gives the tummy (and the baby inside), particularly in the final trimester. This style of pillow is a good choice for women who really want to sleep on their back but can't during pregnancy, because it comes closest to letting them stay in their natural sleeping position, tossing and turning (within reason) without waking up. The advantages of this pillow are obvious when you see that it's not specifically sold as a pregnancy pillow, but also for people who suffer from muscle, joint and other physical problems like fibromyalgia, sciatica and carpal tunnel syndrome.
The manufacturing details and materials used for the Back 'N Belly are the same as for the Snoogle. It's just as difficult to get the removable cover off, but this Leachco pillow has all of the benefits as well. The one unfortunate difference is price, with the Back 'N Belly costing $10 more than the Snoogle.
Details of the Leachco Back 'N Belly Contoured Body Pillow

Core

Polyester fiber

Cover

Cotton/Polyester; 100% cotton also available

Removable Cover

Yes

Size

51 x 33 x 8 inches

Weight

7 pounds
Newpoint Body Pillow
What's the difference between a full body pillow and a total body pillow? In the world of pregnancy pillows, a total body pillow "wraps" you from head to toe, while a full body pillow is simply a long one which is essentially the same length of your body. The Newpoint falls into the latter category.
Nothing is easy when it comes to these categories, so you've probably guessed that there are two styles of full body pillows. Straight ones look like a "normal" pillow, but are much longer. Flexible full body pillows, on the other hand, take the shape of an elongated "S" and can be twisted to fit into the nooks and crannies of your body. Both are used in the same way; you hug the pillow like an oversized binkie, allowing the middle of the pillow to support your belly while tucking your knees around it. Depending on your position, you may or may not need an extra pillow for your head.
The Newpoint Body Pillow is a straight, full body pillow, with a polyester fiber fill for good support and a 100% cotton shell. It's softer than most pregnancy pillows, which is great for cuddling but also means that it will tend to scrunch up over time. One drawback of this model is that it does not come with a separate pillowcase, requiring you to purchase one separately. That can also be a plus, though, since this pillow is a standard size (believe it or not) and you should be able to find a pillowcase which will match your bedroom's décor.
Full body pillows are dramatically less expensive than total body models; you can pick up the Newpoint for a very reasonable $20.
Details of the Newpoint Body Pillow

Core

Polyester fiber

Cover

100% cotton

Removable Cover

No, separate pillowcase required

Size

54 x 20 x 5 inches

Weight

5 pounds
Boppy Custom Fit Full Body Pillow
If you've been keeping score, you know that there's one variety of pregnancy pillow we haven't reviewed yet, the flexible full body pillow. Once again we've chosen a Boppy model, because it's much more than just the typical long, S-shaped pillow.
The Boppy Custom Fit let you use the pillow just as we've described, hugging it to your body and nudging it to fit perfectly into your body's contours. But it does a lot more; this pillow has three different detachable parts (attached with Velcro) and is so flexible that you can shape it into nearly any size or position you'd like, to support the part of your body that needs help the most. You can also use the three pillows separately.
The pillow is made from polyester fiber with a cotton cover, making it soft and comfy but prone to sagging after a while, as is unfortunately the case with most comfortable full body pillows. (You can find firmer ones with microbead fillings, but they're more expensive and more difficult to snuggle up to comfortably.) One other negative: the Velcro straps holding the pieces in place can crackle as you move around while you sleep.
The company says there are ten different configurations possible by using the leg pillow, belly pillow and main pillow in different combinations. That may be too much work, or not exactly what you're looking for, though; the Custom Fit works just fine as a flexible full body pillow on its own, and without the extra pillows in place, it's quiet, too. It's also expensive, at just over $50.
Details of the Boppy Custom Fit Full Body Pillow

Core

Polyester fiber

Cover

Cotton

Removable Cover

Yes

Size

17 x 13 x 12 inches (fully assembled)

Weight

3 pounds
FAQ (By Our Ardent Readers)
What is the use of the pregnancy pillow?

Pregnancy pillows are used to support the back, belly and legs of a pregnant women when she finds it difficult to lie on her back.

Do i have to use these pillow during my pregnancy?

Not really. It is just a matter of extra comfort. But we would strongly recommend it as you get the comfort you need and can have a well deserved rest when you need it the most.
What kind of pregnancy pillows do i need to buy?

This is a relative question and can vary from person to person. Also there are several types of pregnancy pillows available in the market, which only makes it more confusing. So we would recommend to read through our reviews about each product and then decide what suits you the best.

Where can I buy them from?

It can be bought from any store or online. Please read through the reviews from authority sites and also customers reviews from amazon site before finalising it.
Is the pregnancy pillow washable?

Yes most of the pillowcases are machine washable. They can even be pulled apart and washed separately and fitted back to have a fresh new comfort.

What material is the Pillowcase made of?

It is mostly made of polyester or cotton or a mix of both to provide maximum comfort in all seasons.
Can i use my pregnancy pillow on my bed?

yes you can. It can be either used on the bed as long as the pillow fits in properly into your bed or on any flat surface that is comfortable for you to lie down.

What shaped pregnancy pillow gives maximum comfort?

It depends on what defines comfort for you. There are 'C', 'U' and wedged shapes pillows that are more popular in the market. Please read the reviews from our website before buying it.
Is the pregnancy pillow anti allergic?

Yes most of the popular brands are hypoallergenic and do take necessary precautions in making it.

What filling in pregnancy pillows gives maximum comfort?

There are several types of filling available in the market. For example; Memory foam filling, Styrofoam filling, microbead filling, polyester fiber filling, cotton filling etc. Each of them have their own pros and cons. Our recommendation would be memory foam filling as it is very comfortable and takes the shape of our body when in use and gets back to its original shape soon after use.