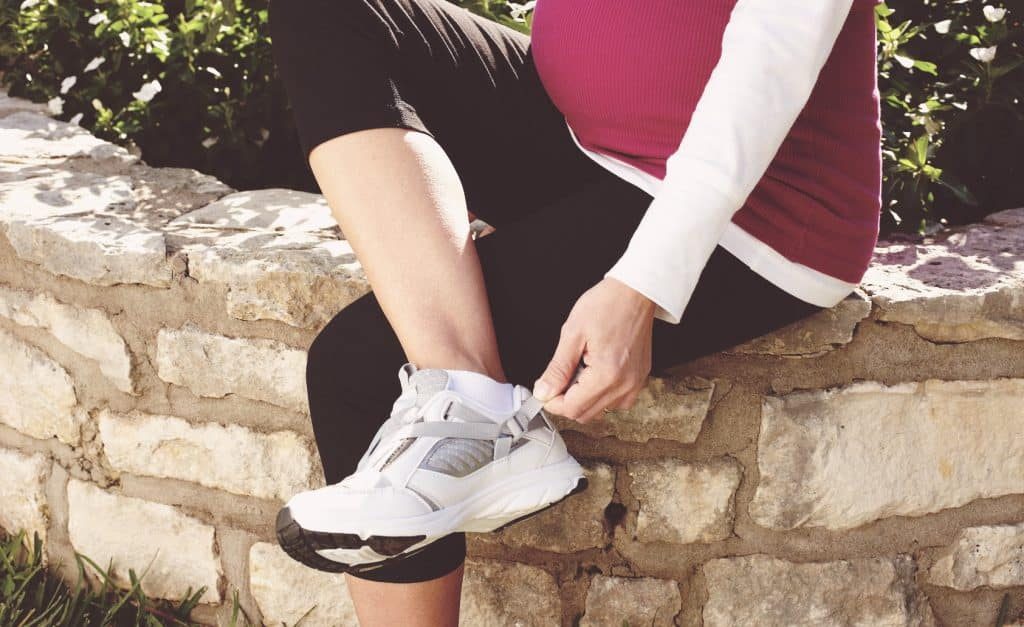 Top 5 Best Pregnancy Shoes | 2021 Reviews
Finding the perfect shoe can be a pain for many people, whether they have a baby bump or not. However, pregnant women have things more difficult as they have to deal with swelling feet.
So, how do you go about finding the perfect pair of shoe that will still make you look and feel sexy and comfortable and yet ensure that it supports all the aches and pains that pregnant women have to deal with?
The most important thing to remember is to make sure that you choose a pair of shoe that is most suitable for the situation. Pregnant women cannot go strutting in high heels because it can cause strain to one's joints and muscles due to the increasing weight in the body. Not only that, it increases the risk of a fall, which could lead you and your baby to harm's path.
What is the most recommended type of footwear for pregnant women? Flats, sandals and flip-flops, of course! But just because there are limited choices does not mean that you have to choose one that is the least stylish. While it is important to consider aesthetics in choosing a pair, it is more important to prioritize comfort, fit and support especially during pregnancy.
Not sure where to get started? We have rounded up a couple of the best and most recommended shoes for expecting women. Hopefully this will help you in making your search a lot easier. What's even better is that these choices are stylish, too, because you don't have to sacrifice looks for comfort and fit!
Quick Comparison Table
| Orthaheel Tide Slide In Orthopedic Sandals | Skechers Performance Go Walk Slip-On Walking Shoe | Birkenstock Unisex Arizona Slide Sandals | Sanuk Women's Donna Hemp Flat | Dansko Women's Professional Mule |
| --- | --- | --- | --- | --- |
| | | | | |
| | | | | |
| $$$ | $$$ | $$$ | $$$ | $$$ |
| 2 pounds | 1.1 pounds | 3 pounds | 6 pounds | 3 pounds |
| 11.8 x 5.8 x 4.8 in | 11 x 4 x 7 in | 12 x 8 x 4 in | 3 x 10 x 14 in | 11 x 7 x 9 in |
| Black, Navy, Gold, Natural / White, and more | Black, Black/White, Grey, Navy | Taupe, Stone, Mocha, Pink, Black, and more | Black, Natural, Olive Grey | Black, Blue, Grey, Cobalt, and more |
| | | | | |
Orthaheel Tide Slide In Orthopedic Sandals
If you are looking for footwear that can provide some breathing space for your precious toes, then you might want to consider getting one that has an open toe design. Sandals – or flip flops, however you may call it – are among the most preferred types of footwear among pregnant women because they are very easy and comfortable to use. The Orthaheel Tide Slide-In Sandals makes for a good type of flip flop not just for pregnant women but all women, actually. They come with a sporty design with a woven polyurethane upper making it very stylish as well as very comfortable. The toe posts are also soft and the straps are lined with foam to ensure added comfort to the wearer.
What we love about this pair of sandals is that they are designed by podiatrists thus giving you an assurance that the best interest of your feet is being taken into consideration. Another reason that you might like wearing the Orthaheel is that it provides support to the arch of your foot. Its biomechanical Tri-planar Motion Control footbed comes with a deep heel cup which helps support, stabilize, and even realign your feet back to its natural position. If you have problems related to your feet even before pregnancy, this is the perfect footwear for you. Plus, now that you have extra load to consider, you can already say goodbye to ankle pains! The midsole help absorb the shock so your feet, ankles and even your knees take less of the usual strain they undergo.
Now, when it comes to choosing footwear for pregnancy, a major factor to consider is always the ease of use. Obviously, opting for sandals or flip flops make things a whole lot easier for pregnant women as it eliminates the need to strap anything around the feet or ankles. You no longer have to bend over to wear this pair – all you have to do is walk in them and you are good to go. We also love the soles of this pair as it has a grip that provides extra traction. Whether you are going out on a stroll in your favorite mall or hanging out by the beach, they still make the suitable footwear. Thus, we are placing this one at the first spot in our list.
Details of Orthaheel Tide Slide In Orthopedic Sandals

Weight

2 pounds

Dimensions

11.8 x 5.8 x 4.8 inches

Colors

Black, Navy, Pewter Metallic, Bronze Metallic, Gold, Natural/White, Gold Metallic
Skechers Performance Go Walk Slip-On Walking Shoe
Being pregnant does not have to mean that you get stuck wearing ugly sandals and slippers for the entire nine months that you are carrying your child. Not convinced? Well, what about walking in this beautiful pair of Sketchers Go Walk Slip-On? Sure, you may be waddling your way around but it doesn't matter since you are walking in these anyway. What exactly is there to love about this "maternity" shoe? For starters, pregnant women will love that this one comes with no laces. Yep, all you have to do is slip on your feet into these comfortable shoes and then you are good to go. This is especially a big plus since it gets harder and harder to bend over and (gasp!) tie your shoe laces as the months pass by. Additionally, this pair of shoes is super light so you do not have to worry about bringing around additional weight. Your belly is already heavy enough as it is.
When it comes to walking around while pregnant, finding the perfect shoe is all about finding the one that provides the best comfort and support. Your feet and ankles will be going through a lot of strain and pressure with all the added weight in your body so you need to be able to take care of them even when you are walking. Wearing these slip-on shoes even just for a few minutes would already provide you the necessary support and comfort that you need.
Of course, another huge factor you might want to consider when choosing the right pair of shoes during pregnancy is style. Let's admit it: no one wants to be caught dead in their tracks with an ugly pair of shoes especially since a lot of women can feel "ugly" during their pregnancy. This shoe model from Sketchers is very pleasing to the eyes and comes with very cute colors. You might just want to choose a pair that goes well with your wardrobe. Better yet, you might want to purchase extra pairs so you can mix and match them with the rest of your maternity (and non-maternity) wear. Thus, we believe that this pair deserves to be placed at the second spot in our list.
Details of Skechers Performance Go Walk Slip-On Walking Shoe

Weight

1.1 pounds

Dimensions

11 x 4 x 7 inches

Colors

Black, Black/White, Grey, Navy
Birkenstock Unisex Arizona Slide Sandals
The two-strap wonder from Birkenstock has long been imitated by other brands and yet they continue to be unsuccessful at duplicating its success. This has long been a trusted brand in footwear by both men and women alike, pregnant or not. Its classic design never grows old so you can mix and match them with other items in your wardrobe. This pair of sandals was designed by experts to ensure that the wearer will feel comfortable in them as well as be provided with the right orthopedic support that they need. Each pair was created meticulously with a combination of European craftsmanship, state of the art technology and medical know how. The moment you set your foot in its super soft and comfortable foot bed, you can be sure that you have made the right choice.
Then again, not everything comes perfectly and while we love nearly everything about this product, it does pose a difficulty in one aspect to its fans. For first time buyers, figuring out which pair to buy can be a headache as you will have to figure out the size conversion, foot bed and so on. It might be a little difficult to choose whether to go for a narrow or a medium sandal but if you did choose the right one, then you will have a match made in heaven.
Getting a pair of Birkenstocks may also hurt your budget a bit. It is actually the most expensive pair in our list but, trust us, it is well worth the investment. It is made of highly durable materials and can last you years and years of wear plus they stay very comfortable, too. Just remember to break in the sandals for a few days – make sure to wear them inside the house first before you take them out for a long walk as it will have to adjust to your feet in order to provide it the best fit and comfort that it can deliver.
After weighing all the pros and cons with this product, we believe that this one should be placed in the middle of our list.
Details of Birkenstock Unisex Arizona Slide Sandals

Weight

3 pounds

Dimensions

12 x 8 x 4 inches

Colors

Taupe, Stone, Mocha, Pink, Black and many more
Sanuk Women's Donna Hemp Flat
If you are the type of person who loves to wear sandals all day, every day, but love the added protection of a closed shoe, then you will surely love strutting around with your feet in this Sanuk Donna footwear. Sure, it was designed with the surfer in mind but that certainly does not mean that pregnant women and those who have recently given birth cannot join in the trend too.
The moment you slip your feet into this pair will feel like heaven. It comes with a cushy EVA sole that provides utmost comfort to your feet. They definitely make the perfect match to your maternity clothes as they provide the necessary support and comfort that your feet and ankle needs during pregnancy. You can wear them at home for added comfort or you can also use them for casual walks as you run errands or enjoy a day at the beach or at the nearby park.
Like most of our footwear choices included in this list, a pair of Sanuk is a well worth investment: it provides the comfort and support that you need plus you can wear it even beyond your pregnancy. They also last very long so you definitely will not mind shelling out some money (they are not that expensive, really) because they won't get destroyed very easily.
Keep in mind though that a pair of Sanuk will require some time to break in, as with other shoes in the market. The longer you wear them, the more it will be able to mold to your feet so that it can provide the right fit and comfort that you need. You will definitely feel like wearing nothing when you choose to go around in a pair of Sanuk sandals.
Several customers who bought themselves a pair of these comfortable sandals did run into sizing problems as they tend to be smaller (sometimes larger) than expected. Do make sure to choose the right size – half sizes are also available for that perfect fit. As such, we have decided to place this cute footwear at the fourth spot in our list.
Details of Sanuk Women's Donna Hemp Flat

Weight

6 pounds

Dimensions

3 x 10 x 14 inches

Colors

Black, Natural, Olive Grey
Dansko Women's Professional Mule
The only main reason why we have to put this one at the very bottom of our list is because this pair is the ugliest looking (not that the first four looked bad) of all footwear options in our list. To make it up for the bad style and design, they are actually among the most comfortable work shoes available in the planet so that should actually place them at the very top of our list.
Why would you consider getting this pair of Dansko shoes? Well, the brand has long been known to produce and sell high quality shoes (including these clogs) and they have become a household name in many places. In fact, these are probably the only pair of work shoes that are being recommended by most nurses who have to endure 12-hour shifts.
Another reason why you might love this pair is that it is made from premium leather. That said, you can be sure that you are making a good investment on your feet. Not only is it comfortable but it is also made from very high quality materials that will last you years and years of wear. You probably will use it way beyond your pregnancy – and maybe use it when carrying your next child – as it is simply very sturdy. Now, moms no longer have to worry about their feet because these clogs will take care of and protect your precious little toes, heels and ankles.
This pair is also perfect for those moms-to-be who cannot let go of their heels. They do come with 2-inch heels but the rest of the shoe is also raised so you really do not put any strain on your feet and calves even with the additional weight in your tummy. For added comfort and protection, each pair also comes with a polyurethane outsole that helps absorb shock as well as a roomy toe box to give your toes some room to wiggle around.
If these clogs just are not your taste, you can also take a look at other sandals and shoes being produced by Dansko. But, if you are looking for a good pair of working shoes and do not really mind the style and look, definitely consider adding this pair of clogs into your maternity wardrobe.
Details of Dansko Women's Professional Mule

Weight

3 pounds

Dimensions

11 x 7 x 9 inches

Colors

Black, Blue, Grey, Cobalt, Pastel Striped and many more
See? Our choice of the best sandals and flats for pregnant women here at Parents Need HQ is definitely not something that you would avoid. In fact, you might just want to continue wearing them even beyond pregnancy as they simply help keep those dainty feet comfortable and free from aches and pains even if you go standing, walking or even running for long periods.
Now that's just one part of pregnancy that you have to deal with. What about the other aspects of it? Well, if you have not figured other things out, you might want to check this pregnancy plan – because a little planning can go a long way!