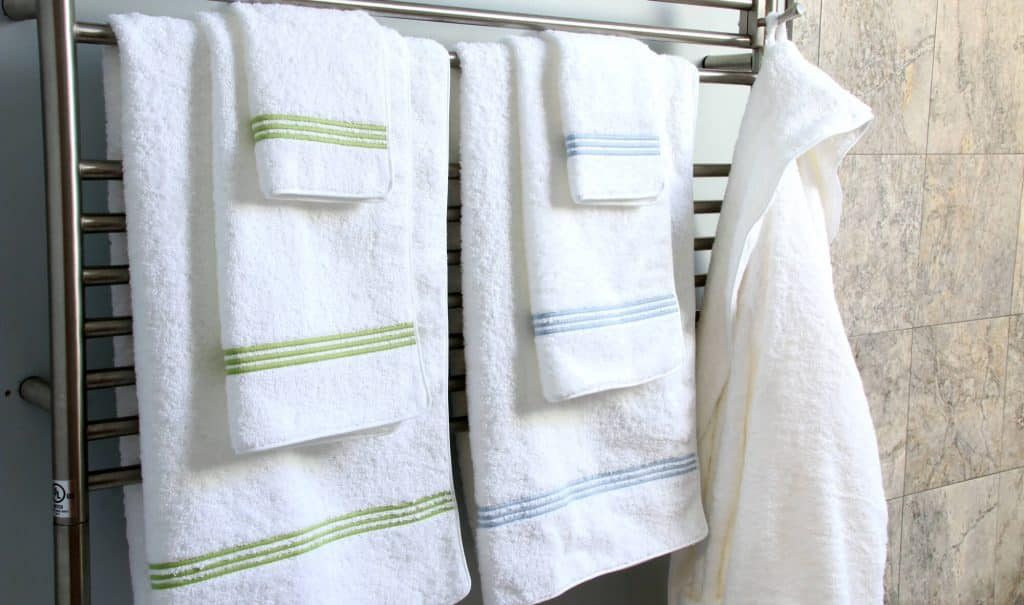 Top 5 Best Towel Warmers | 2020 Reviews
Judging by the name itself, you already know what towel warmers are-- they make sure your towels are nice and warm and snug. There aren't a lot of people who believe in the need to use a towel warmer or to even keep one in their homes. The reality is, they aren't really a necessity for homes to have but they are indeed home appliances that do more than giving you are really comfy and warm towel just fresh off the shower. There are so many benefits to getting your bathroom a nice towel warmer, here are three reasons why we decided to have one in our homes:
1, once you get off the shower after a really great hot bath, you don't want to start shivering once you put on a cold towel, do you? Towel warmers keep your towels warm and cozy and they really make you feel like you'd love to keep the towel on a little bit longer.
2, the bathroom is always a damp place, it is a major breeding ground for mildew and bacterial growth and one the places where these tiny critters live to live in for starters are your damp towels. It's a great way to sanitize your towels actually.
3, it is a great way of adding a luxurious panache out of your bathroom. They are lovely and they are really things that make your toilet look like as if they came out of the magazine for featured homes.
These are the main reasons why we love them in particular but depending on the type of towel warmers you get, they have more added features that we think you too will love. So, how to choose the right towel warmer? Don't worry about looking at a long list of towel warmers, we cut the list down to five to make your list of choices much easier.
Quick Comparison Table
| LCM Home Fashion 6-Bar Freestanding Towel Warmer | Warmrails HCC Mid Size Wall Mounted or Floor Standing Towel Warmer | Amba RWH-CB Radiant Hardwired Curved Towel Warmer | Elite Hot Towel Cabi-Warmer (HC-X) | Brookstone Towel Warmer |
| --- | --- | --- | --- | --- |
| | | | | |
| | | | | |
| $$$ | $$$ | $$$ | $$$ | $$$ |
| 35.6 x 21.7 x 13.2 inches | 37.5 x 24 x 10 inches | 31.5 x 23.6 x 5.8 inches | 17.5 x 14 x 10.5 inches | 22 x 13 x 13 inches |
| Freestanding and Wall-mounted options | Freestanding and wall-mounting options | Wall-mounted towel warmer | Cabinet Towel Warmer | Towel Warming Can |
| | | | | |
LCM Home Fashion 6-Bar Freestanding Towel Warmer
One reason why we ended up getting this particular item is because it really looks chic. It is aluminum-framed with a brush chrome-plated finish. It is really neat and very handy. It is a freestanding towel warmer with a 6-foot-long cord plug but you can also assemble it and mount it on the wall as well. This freestanding towel warmer does the job in heating up your towels constantly throughout the entire day. You can even hang up some swimsuit or mini towels in there too. This assures you that you get to enjoy sanitized towels all the time.
This can also be a wall-mounted towel warmer that is very convenient in keeping our towels dry. The thing is, with the bathroom being such a constantly damp place; a damp clothing or a damp towel in there becomes an easy home for molds and bacteria. This would particularly be a frightening case when dealing with our baby's with sensitive skin. As a baby skin care tip that parents should always remember is that we should always sanitize everything we put on our baby's skin and that includes towels after a bath. It sanitizes our towels, bathrobes, swim suits and other damp clothing.
You can also use it as a dryer for your delicates if you put it in the laundry room. Since this is an electric towel heater, it doesn't need any special wiring or plumbing installation. You only need to plug it in the socket and you are good to go just wait for 30 minutes for it to heat up and you can leave it on as you please. You can leave it plugged on while you're at work but if you are particularly worried about leaving it on you can purchase your own programmable outlet timer.
Since it can warm up to 120 degrees Fahrenheit, it is quite convenient in warming up your smaller room like the nursery or any area that needs a bit of warming comfort. Besides, since it's a plug-in you can move it from one room to another. No sweat. We love that it can easily dry out some rain soaked socks for guests who happened to have gotten wet under a deluge of rain or just a heavy blizzard.
For the many uses you can think of, we found the LCM Freestanding Towel Warmer is our first pick for the best towel warmers.
Details of the LCM Home Fashion 6-Bar Freestanding Towel Warmer

Dimensions

35.6 x 21.7 x 13.2 inches

Type

Freestanding and Wall-mounted options

Heat Source

AC powered

Capacity

3 oversized towels
Warmrails HCC Mid Size Wall Mounted or Floor Standing Towel Warmer
One of the main reasons why we, as parents think that we really need a towel warmer is mainly for the sake of our children-- our babies actually. One of the things we love our towel warmers are that we can also use them in warming up some of our baby stuff and one of them are our swaddle blankets. When your baby happens to be very fussy even with a full stomach and a clean diaper, your little one might just be feeling a bit uncomfortable. Tossing your baby's best swaddle blanket inside the hot towel heater will provide a more comfortable feel for your little one. Believe us when we say it works like magic, they immediately keep quiet and relax.
The Warmrails towel warmer is freestanding towel heater but is can also be wall-mounted—that would be dependent on how you prefer it really. What's great about it is that it doesn't consume much electricity; it runs practically the same watts as a big fluorescent light bulb. What it does is keep your towels dry and retain its good smell.
We love that it is a great item to keep those swimsuits dry out and ready again. It isn't really ideal to use bigger clothes to dry on this rack but it is great for drying out small towels, swimsuits, socks and underwear and other smaller pieces of clothing. It is however, great n warming a blanket if you want to snug in it on the couch in mid-winter.
Installation is quite easy; you can simply use it as it is since it does come with a stand but if you want to mount it on the wall. It does come with an instruction manual to set it up on the wall, the downside to mounting them on the wall is that you need to buy the brackets separately, it's not expensive at all but it does add a bit more of a hassle when done that way. With that slight thumbs down, we put this as our second the best towel warmer.
Details of the Warmrails HCC Mid Size Wall Mounted or Floor Standing Towel Warmer

Dimensions

37.5 x 24 x 10 inches

Type

Freestanding and wall-mounting options

Heat Source

AC powered

Capacity

2 regular towels
Amba RWH-CB Radiant Hardwired Curved Towel Warmer
There is an ultimate guide in bathing a newborn the right way and there is also the right way in patting your baby dry with a towel—a warm towel. Babies are very delicate and we should always consider that after a warm bath anything that isn't war, that touches their skin will feel cold.
That's primarily the main reason they end up crying very after they take a bath. So, the best solution? Grab yourself a towel warmer. The Jeeves Amba Curved Towel Warmer is a delight to work with. We love that it is super sleek and so pretty to look at. On its, own it looks like nice decorative piece on the bathroom wall.
It really does the greatest job in heating up a number of towels since it comes with ten stainless steel bars to hang as much towels as you want. As far as we have tried you can hang about three oversized towels simultaneously. We suggest that as long as you keep it on for 24/7, try as much as possible to fill the bars with towels, delicates, nappies and the like because it can get pretty hot and burn you if you happen to accidentally touch the bars.
You may also have the option of getting a programmable switch with the Amba Curved towel Warmer. This option comes as an additional accessory so you need to specify the need for a programmable switch so that you can set the times when the towel warmer comes on or off. This is particularly helpful if the house is left empty throughout the day.
We love that the item is of great quality too. The stainless steel is pretty thick and sturdy so when we hang on some really damp beach towels in there; it holds it like a boss. We love having it around really especially in drying out baby cloth diapers. Cloth diapers don't take a while to dry up but because a dryer can be harsh on baby delicates, we preferred hanging them on the Jeeves Amba towel warmer making them dry and warm to put back on sweet little baby.
The only thumbs down for these are that they don't come with a freestanding option and that they can get really burning hot. You may also want an expert to install it since there are many common mistakes in installing towel warmers. Still, this is one of our best pick for the best warm towel drying rack making it on spot number three!
Details of the Amba RWH-CB Radiant Hardwired Curved Towel Warmer

Dimensions

31.5 x 23.6 x 5.8 inches

Type

Wall-mounted towel warmer

Heat Source

AC powered

Capacity

3 oversize towels
Elite Hot Towel Cabi-Warmer (HC-X)
Most of our guests who happened to get into our bathroom thought that we had a mini refrigerator inside the bathroom. The Elite Hot Towel Cabi-warmer really does look like a real mini refrigerator but it does everything opposite.
The cabinet warmer does more than just heat towels up. It can go hot enough to warm spa hot towels, spa stones and even essential oils for massage. And that's what we really need especially in relieving baby gas and how to prevent it—warm essential oils. Just rubbing them over our babies' tummy and back help completely relieves the gas.
This is the only cabinet towel warmer that we have in our list and believe us when we say that this is the only one we liked out of all of them. One reason why we love the Elite cabinet towel heater is mainly because it really heats towels through and through even if your roll it up. No matter how thick your towel is, it will definitely get warm and hot too. That's because it doesn't rely on heater bulbs like eggs to hatch but with a fully insulated cabinet that lock in the heat in order to warm up your towels and other damp clothing too.
Primarily, it functions as an all around heater for family towels and mostly nappies. It is quite a tight fit inside but folding the cloths would be much easier to keeping it full. We love the fact that even if it is filled with cloths and towels and nappies, it can heat all of them up. It's not like other cabinet spa towel warmers that use metal walls to heat up the towels—which can burn the cloth—but fully insulated padding that can lock the heat in allowing the warming process to permeate the entire towel warmer.
This is relatively a cheap towel warmer cabinet but the price is still over a hundred. nonetheless, it provides great heating for all the cloth inside the spa towel warmer cabinet. And for that reason, it completes our list at spot number four for the best towel warmers!
Details of the Elite Hot Towel Cabi-Warmer (HC-X)

Dimensions

17.5 x 14 x 10.5 inches

Type

Cabinet Towel Warmer

Heat Source

AC powered

Capacity

24 facial towels or 4 oversized towels
Brookstone Towel Warmer
This is a really cute tub, it looks like a fancy looking waste bin though but it really does the job in heating up two huge oversized towels that's about 4 to five regular towels and up to 30 tiny wash cloths.
We use it more as a baby essential though. We put in baby cloths and nappies and even cloth diapers in there, it is particularly nice during winter and we can't live without it in cold weather. The basics in cleaning a baby includes a constant supply of sanitized warm towels for when we change their diapers on the bed or on any other surface. Or just a nice warm towel to dry our babies off with after taking giving them a bath.
The Brookstone towel warmer can heat up your delicates, towels, robes and blankets in 120 degree Fahrenheit, once it heats up your damp clothing and dries it out it eventually shuts off so as not to overheat. It keeps that towels warm for about an hour after it shuts off, so that's still a definite bonus. It can really heat up smaller towels so if you're feeling stressed out add some facial towels in there until they get toasty hot and put it over your face as a hot towel, it works relaxing wonders.
One other reason we love the Brookstone towel warmer is because of its size, you can keep it inside the bathroom cabinet if you want it out of sight but, of course, as an appliance, you'd want it somewhere you can constantly have an eye on it. We love that it is compact and portable so we can definitely move it around depending on its convenience.
The only downside to the Brookstone mini towel warmer is the auto-shut off. Although it is made as a safety feature it also becomes a problem because it can't keep your towels warm every time you need them. You'll have to wait for bout 6-10 minutes for your towels to warm up and if you happen to forget turning it on once you get in the shower, you'll end up with the same room temperature towel you're dreading in the first place. You must be careful as well in using especially with children around because once it gets hot, it can really get hot. And that is why this is our fifth pick for the best towel heaters.
Details of the Brookstone Towel Warmer

Dimensions

22 x 13 x 13 inches

Type

Towel Warming Can

Heat Source

AC powered

Capacity

Two oversized (40 x 70 inches) towels
Now you now the benefits of owning a towel warmer. You know what they can do for you and what they can't but it is definitely up to you to choose which one would make a great addition to your bathroom. Hot towel warmers have proven themselves to be very helpful in many ways you can imagine and getting one for your bathroom has more advantages than disadvantages. So, no matter which item you choose from our list, we sure know you'll love every bit of it.