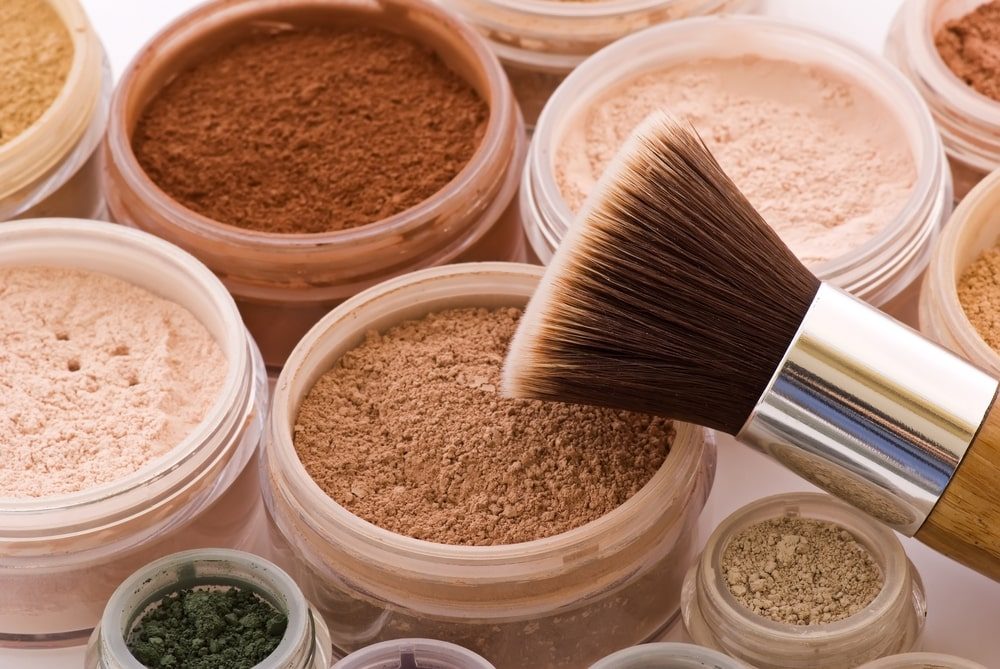 Top 5 Best Mineral Makeup | 2021 Reviews
It's almost impossible to ignore the drumbeat against makeup containing parabens, nasty chemicals, artificial colors and fragrances – and if you're smart, you've paid attention to all of the criticism of these products. Our mothers and grandmothers used makeup with all kinds of "bad" stuff in it, of course; even though mineral makeup has been sold for decades, it wasn't common or easily found unlike eye creams and foundations.
We're more fortunate today, as there is an enormous selection of mineral makeup to choose from. And it's not just worth considering for the "healthy skin" benefits of going natural. These formulations are game-changers for those who have sensitive skin since natural minerals don't cause irritation the way traditional makeup often does. They're even more of a revelation for sufferers of adult acne because the minerals are non-comedogenic, which means they don't clog pores, a major factor in the proliferation of acne. They are also a good natural sunblock and are so gentle you won't have a problem if you're so tired that you fall into bed without taking your makeup off.
Mineral makeup is produced by grinding and milling common minerals like zinc oxide, iron oxide or titanium dioxide and including them in the product. The end result is a foundation or other product which doesn't irritate the skin but looks just as good as the makeup you're probably using now; in fact many people believe there's an extra glow to their face after using mineral formulations. It usually has to be applied more often because it doesn't have the normal chemical binding ingredients, but that's a small trade-off.
Many of the big brands have hopped on the bandwagon by offering mineral-based foundations, and some companies have complete lines of mineral-based products. Naturally, some are better than others. Which are the best? Keep reading for our top 5 best mineral makeup reviews.
You may also check out our Best Mineral Make-up Buying Guide here.​
Quick Comparison Table
| Bare Escentuals bareMinerals Get Started Complexion Kit | IQ Natural 12pc XL Minerals Makeup Set | Physicians Formula Mineral Wear Loose Powder | Pur Minerals 4-in-1 Pressed Mineral Makeup Light | Jane Iredale Liquid Minerals A Foundation |
| --- | --- | --- | --- | --- |
| | | | | |
| | | | | |
| $$$ | $$$ | $$$ | $$$ | $$$ |
| Flawless Application | No Chemicals | Hypoallergenic | Formulated with Vitamin E | Light-reflecting Formula |
| 0.5 oz. | 6.4 oz. | 0.3 oz. | 1.6 oz. | 3.2 oz. |
| | | | | |
Bare Escentuals bareMinerals Get Started Complexion Kit
We normally start top 5 lists with the highest-quality product. Here, we're making an exception. Don't get us wrong, the bareMinerals kit is very good; it's just not the very best makeup you'll find in our rankings. We make the exception here for one important reason. Most mineral makeup is sold "on its own," so it can get pretty expensive testing various brands just to find out whether you want to make the commitment to minerals. If you haven't tried any mineral products before, this is a great way to get started, because the Bare Escentuals kit includes primer, original and matte foundations, and finishing powder as well as an application brush.
The makeup in this kit is very light, and between the somewhat-different process of applying each component and the "strange" feel of the primer, foundation and finisher, you may find that it takes a while to get all of the makeup on correctly. It quickly becomes second-nature, though, and the results are worth it if you have sensitive skin. Our testers who are prone to acne or skin irritation noticed a definite difference in the way their face reacted to the bareMinerals product, and there was no problem going to sleep with the makeup on, either. This review is not being written in the worst of summer heat, but it would seem to us that the products would be ideal for "sweaty" weather.
The bareMinerals foundation doesn't cake on like many products do and it's light to begin with, so you may find there are some areas of your face which aren't covered enough for your taste, particularly spots under the eyes. You may need to use a different, non-mineral product for touching up those areas. That's still a darn sight better than using that product on your entire face.
At first, you may feel like you're not even wearing makeup when you use the bareMinerals makeup – it's really that light. Your final look may not be the one you're looking for if you're going out for a big date, since in no way can you consider the makeup a traditional "concealer." It will do a very good job concealing your acne, though, and is a great way to get acclimated to makeup that's free of oils, binders, fillers, waxes and preservatives.
The "medium" kit should last you at least a month and will only cost you about $30; there are other sizes and shades available as well. That's not a lot to pay for a first foray into the world of mineral makeup.
Details of the Bare Escentuals bareMinerals Get Started Complexion Kit

Includes

Prime Time Foundation Primer (0.5 ounces)

Original Foundation (0.07 ounces)

Matte Foundation (0.05 ounces)

Warmth All-Over Face Color Finishing Powder (0.03 ounces)

Face Brush

Makeup Clutch
IQ Natural 12pc XL Minerals Makeup Set
Here's one more really good kit to try if you're investigating the world of mineral makeup. It's even more complete than the Bare Escentuals one because it includes concealer, bronzer and eye shadows in addition to two foundations and a finishing powder for the same price (although with slightly larger sizes of most cosmetics). We rank it at #2 simply because we like the feel of the bareMinerals products a bit better.
The foundations give you a good choice of base color, but they each go on easily and you can barely tell that you're wearing makeup at all. The colors didn't match our testers' faces quite as well as the bareMinerals, but of course that's going to differ with each individual. What the foundation and powder did do was hide blemishes and acne very well, while lasting longer than we would have expected.
The IQ Natural concealer is a nice touch, but unlike what you may be used to, it is a smooth powder rather than a cream. That makes sense when you think about the way mineral makeup is made, but it's still a bit of a shock when you open the jar. As it turns out, the powder goes on easily and does the job, particularly around the eyes. The eye shadows are pure powder as well (we weren't surprised when we opened them, having thought about the manufacturing process) so you'll need to use an eye primer, something which sort of defeats the purpose of using mineral cosmetics.
All of these products are fully organic and the ingredients are 100% minerals, so you'll feel good about using them in addition to looking better. We didn't like the overall look and feel quite as much as with bareMinerals, but it was a close call. We liked the cute cosmetic bag that came with the IQ Natural set, too.
Details of the IQ Natural 12pc XL Minerals Makeup Set

Includes

Two mineral foundations (0.2 ounces each)

Setting Veil (0.2 ounces)

Bisque concealer (0.05 ounces)

Bronzer (0.1 ounces)

Eye Shadows (0.05 ounces each)

Brushes and Cosmetic Bag
Physicians Formula Mineral Wear Loose Powder
We now move to "stand-alone" mineral makeup – products you can use for the long-term once you've become convinced that you want to go the mineral route. And we start with an inexpensive powder which is simply terrific. Just one warning before we start, though, this talc-free product does contain parabens in addition to a number of minerals and vitamins, so the Physicians Formula foundation isn't for those who want a completely organic product.
This powder comes in neutral shades so it's best used by those with lighter skin. It goes on smoothly and feels very gentle and sheer on the face, as you would expect from mineral makeup, and reflects light very slightly (so it has a tendency to make oily skin look somewhat shiny). The Physicians Formula mineral powder has more than its share of active ingredients to provide UVA protection so it will protect your skin well, although using a foundation that's also good against the sun is recommended.
You'll find this powder covers most skin blemishes well, doesn't highlight fine lines or wrinkles (because it doesn't contain the talc that often settles into those areas found in many products) and doesn't aggravate acne or skin sensitivities. Some concealer may be needed for problem areas, but for most people it won't even be necessary. The Physicians Formula loose powder stays put for hours once you've applied it, and works well either in combination with foundation and finisher, or just on its own. It probably won't be the only weapon in your mineral makeup arsenal, but it's one that should be there if you're on a budget, since it only costs about ten bucks.
Details of the Physicians Formula Mineral Wear Loose Powder

Size

0.5 ounces

Colors

Creamy Natural, Buff Beige, Natural Beige, Sand Beige, Translucent Light, Translucent Medium

Partial List of Ingredients

Titanium Dioxide, Zinc Oxide, Boron Nitrate, Zinc Stearate, Vitamins A and E, parabens
Pur Minerals 4-in-1 Pressed Mineral Makeup Light
The 4-in-1 in the name of this powder refers to foundation, powder, concealer and sunscreen, and Pur Minerals claims that this one product can substitute for all four of those products. That may be overstating the case, but doesn't take away from the fact that this makeup is very good for some people – those with normal, medium complexions.
The primary attribute of the 4-in-1 makeup is the way it looks once it's been applied. The texture of the powder is smooth and it goes on evenly; once it's there, the matte finish has fine sparkles which add greatly to the skin's overall look and healthy glow. However, all bets are off if you have excessively dry or oily skin, because you'll likely find that the powder is either not absorbent enough or too absorbent. For normal skin, though, it looks great. It also stays for hours without fading or smudging.
Now, for the bad news. We wouldn't count on the Pur Minerals product to replace a concealer or sunscreen, despite the marketing claims. It simply doesn't come close to the coverage you'd get from a dedicated concealer, and you'd really have to slather it on to get decent UV protection without using additional sunscreen or an extra foundation with a higher SPF rating than the 15 rating of this powder.
Putting that aside, this pressed powder (without parabens) works wonders for those with acne or sensitive skin, and does do the job of both a foundation and a powder quite well. It costs $30 for about a quarter-of-an-ounce, which is rather expensive but not outrageous for a well-performing mineral powder, let alone a foundation as well.
Details of the Pur Minerals 4-in-1 Pressed Mineral Makeup Light

Size

0.28 ounces

Colors

11, including Porcelain, Light, 2 Mediums, 3 Tans, 2 Darks, Deep and Deeper

Partial List of Ingredients

Titanium Dioxide, Mica, Bismuth Oxychloride, Boron Nitride, Zinc Stearate, Magnesium Silicate, Citric Acid, Sodium Citrate, Dextrin, Ferulic Acid, Lactic Acid, Shea Butter, Retinol
Jane Iredale Liquid Minerals A Foundation
Here's a final entry which is truly a splurge product. The jane iredale foundation is a light-diffusing liquid serum which comes in a pump jar and almost feels like water when you apply it. It gives your skin a beautiful smooth, matte look when you spread the foundation with a brush or sponge; the spreading is necessary because the minerals inside the liquid can be a little chunky and need to be "broken up" manually. After you get used to the process, though, it's no big deal.
Unlike mineral powder foundations, the liquid can be blended with glycerol and other ingredients that nourish the skin, an added plus to the Liquid Minerals A foundation. Like the powders, it doesn't irritate the skin and covers acne and blemishes well. This liquid will last longer on the skin than most powder foundations, without feeling heavy as some liquid products do. It's also vegan and gluten-free. You'll have to spend $50 for a fluid ounce, but it will give your skin an attractive, natural look without breaking you out.
Details of the Jane Iredale Liquid Minerals A Foundation

Size

1.01 ounces

Colors

13, including Amber, Bisque, Caramel, Golden Glow, Honey Bronze, Latte, Beige, Natural, Radiant, Satin, Suntan, Sienna, Silk