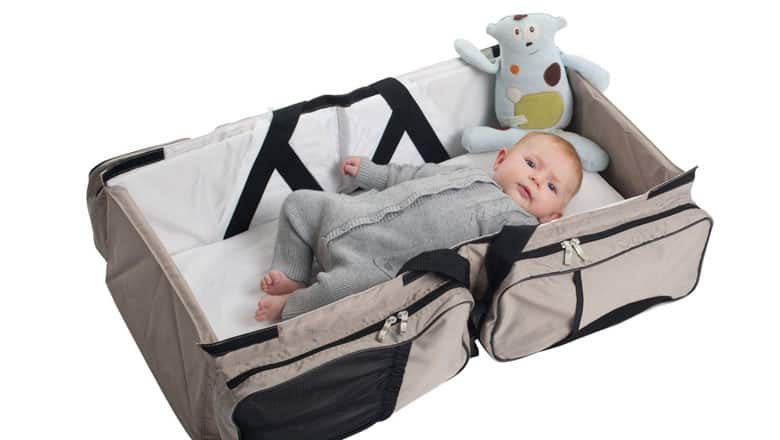 Top 5 Best Travel Cots for Babies | 2020 Reviews
Parents expecting a baby for the first time may spend more time looking at cribs than any other type of baby furniture. But after the bundle of joy has arrived and it's time for the first trip to grandma's house, those same parents will stare at each other and ask "Where is the baby going to sleep?"
A high-quality, lightweight travel cot isn't just useful for family trips. It's just as handy when friends or relatives stop by and they need somewhere to put their baby down during the visit, or when you need somewhere safe to put your sleeping angel while cleaning up the mess she made in her crib. A travel crib is also an ideal "downstairs" cot when your baby normally sleeps upstairs, and it's a nice thing to have on hand when (or if) you ever get to take an actual family vacation, because the ones many hotels provide are far from ideal.
There are two primary criteria when looking at travel cots: how easy they are to transport and how comfortable they are for baby. Some travel cribs pack up small enough so you can take them onto planes as carry-on baggage, and most come with a mattress that's thick enough to provide a comfy rest for your little one. Models with bassinet inserts are also a good choice for very young infants, and some travel cots are built to do double-duty as a playpen; Pack 'n Play is a popular model whose name is often used to describe those two-in-one cribs.
Your decision may be based on a desire to find a travel cot which you can still use once your baby is a toddler, or you may be looking strictly for a model designed for infants. Either way, our list of the top 5 best travel cots for babies will put you on the right track. You may also check our Best Travel Cot Buying Guide here.
Quick Comparison Table
| Lotus Travel Crib And Portable Baby Playard | BabyBjorn Travel Crib Light | Graco Pack 'n Play On The Go Playard | phil&teds Portable Traveller Crib | KidCo PeaPod Plus Travel Bed |
| --- | --- | --- | --- | --- |
| | | | | |
| | | | | |
| $$$ | $$$ | $$$ | $$$ | $$$ |
| 13 pounds | 13 pounds | 22.9 pounds | 7 pounds | 2.5 pounds |
| Mattress, backpack straps | Mattress | Pad, bassinet, toy bar, bag | Inflatable mattress, sheet | Sleeping pad, ground straps |
| | | | | |
Lotus Travel Crib And Portable Baby Playard
The Lotus is one of the lightest and most convenient baby travel cots you can find. It weighs just 13 pounds and is a compact 23 by 12 by 8 inch size when packed (backpack-style straps are also included so you can just toss it onto your back when traveling). That's one reason this crib is #1 on our list; the other is the extremely convenient side zipper which lets you put baby into the crib without having to bend over or wake her up. It can also let you lie down and nurse while she dozes, and toddlers love the zippered side because it lets them play "house" or "fort." When set up the Lotus isn't particularly tall but it has a fairly wide and very secure footprint. Setting it up literally takes only seconds because it's basically built as a pop-up unit, although securing the mattress does take extra time. Taking it down will require an extra minute or two.
Speaking of the mattress, we do wish that the one which comes with this travel cot was thicker, but it's more than thick enough for part-time use. The real drawback is that the mattress isn't a standard travel cot size. Pack 'n Play sheets won't fit, and while some crib sheets will be pretty close they won't have the slots that accommodate the mattress straps. You can buy sheets designed for this model from the company that makes the Lotus, Guava Family. (Incidentally, the company says that it deliberately keeps the mattress to a one-inch thickness as per U.S safety standards, so that there's no gap between the mattress and crib sides.) The mattress cover is machine-washable.
The sides of the Lotus are made from a fine mesh, which gives you a perfect view of your sleeping baby and also acts as a safety measure to prevent accidental suffocation if the infant inadvertently rolls into a corner of the unit. While on the subject of safety, all of the materials used to construct the Lotus (primarily polyester) are free of all the "bad stuff" like phthalates and PVC, and there are no flame-retardant chemicals used. Overall, the construction wasn't the very best of all the models we've listed (that distinction goes to the crib we'll look at next), but it was solid and durable, and we'd have no concerns putting our most precious possession inside.
This travel cot is large enough to serve as a playpen for babies and young toddlers, but once they get larger and fully mobile you may need something bigger. For infants and babies, though, it's perfect. It's also just $200, significantly less expensive than our other contender for the top spot in our rankings.
Details of the Lotus Travel Crib And Portable Baby Playard

Ages

0-3 years

Footprint

42 x 24 x 25

Folded Size

23 x 12 x 8

Weight

13 pounds

Material

Polyester

Accessories

Mattress, backpack straps

Washable

Mattress cover is machine-washable

Warranty

One year
BabyBjorn Travel Crib Light
So, here's the other baby travel cot we've mentioned – the one that's a little better built and has a slightly thicker mattress. We liked both of those attributes, as well as the facts that the footprint of this model is slightly smaller than that of the Lotus and the crib fabric is machine-washable. We weren't sure, though, that those features justified paying $300 instead of the $200 that the Lotus costs, particularly since there were several features on our #1 model that you won't find on the BabyBjorn (which we'll get to shortly). We'll leave the ultimate decision up to you.
This is unquestionably a terrific baby travel crib, however. It's extremely well-made, with a slightly sturdier frame and thicker polyester fabric than on any of the other cots on our list, and it will hold up longer than even the Lotus. One of the negatives we referred to: the mesh sidewalls don't have a side zipper, so you have to bend over to put the baby in or take her out. The footprint is a tiny bit larger than the Lotus' but when packed the BabyBjorn is definitely larger, more like a small suitcase than a backpack – taking this model on a plane as a carry-on might pose a problem, and that's the other big disadvantage to the Travel Crib Light. Setting up this crib is just as simple (perhaps even a bit easier), though, and taking it down is almost as fast an operation.
The mattress that comes with this travel cot may be a little more comfortable for your baby. It's ¼ inch thicker than that of the Lotus, and it's softer because it's made from a polyester foam; that concerned us at first, but the foam, like the rest of the materials used to build the BabyBjorn, are free of all problematic chemicals and fire-retardants. There is the same "issue" with sheets that we discussed earlier, and the company offers organic fitted sheets which cost $35 apiece if you decide to take that route.
We chose to rank the BabyBjorn in second place because of its larger folded size, solid mesh walls and higher price, but that may just be nitpicking. We'd be thrilled to use it as our regular travel cot for babies.
Details of the BabyBjorn Travel Crib Light

Ages

0-3 years

Footprint

44 x 25 x 32

Folded Size

24 x 19 x 6

Weight

13 pounds

Material

Polyester and polyester foam

Accessories

Mattress

Washable

Crib fabric and mattress cover are machine-washable

Warranty

Two years
Graco Pack 'n Play On The Go Playard
It's completely understandable if you want to spend less than $200-300 on a travel crib which may get very infrequent use. That's why this Graco unit comes in at #3 on our list of top 5 best travel cots for babies; it's not as convenient, as lightweight, or as high-quality as the Lotus or BabyBjorn – but for about $75 it will get the job done, particularly if you're planning to use the cot as a playpen or a "second home" for baby at the grandparents' house, rather than toting it around and setting it up every night.
This is one of the Pack 'n Play units that we mentioned at the start, meaning it's designed to function as both a crib and playpen. For that reason, it's bigger and heavier than the travel cribs we've already reviewed, and comes with a pad (that seems comfortable) for the bottom rather than an actual mattress. The former makes this a somewhat-difficult model to travel with, but the latter may actually be seen as a plus by parents who have read that firm pads are safer for babies to sleep on.
Setting up the Graco takes a lot longer than setting up the Lotus or BabyBjorn. There are poles to fit together and rails to lock into place; figure minutes instead of seconds for the procedure. Once it's up, the unit is stable and has mesh walls (without a zippered opening) and provides plenty of room for babies or small toddlers to play. As a Pack 'n Play, a toy bar with small toys on it and a removable bassinet come with this unit. It also includes a carrying bag, which unfortunately is the only part of this travel cot that is machine-washable.
One other fact we have to mention that may concern some parents: Graco does not certify this product as being free of flame-retardants or chemicals, and the mattress does have a slight funky smell to it which could be a byproduct of those substances. If you don't consider that an issue this is a large portable crib which would work best as a semi-permanent second cot, at an attractive price.
Details of the Graco Pack 'n Play On The Go Playard

Height Limit

35 inches

Footprint

40 x 29 x 28

Folded Size

27 x 11 x 11

Weight

22.9 pounds

Material

Polyester and polyester foam

Accessories

Pad, bassinet, toy bar, carrying bag

Washable

Spot clean, carrying bag is machine-washable

Warranty

One year, limited
phil&teds Portable Traveller Crib
There may be some who have read through these reviews and thought "13 pounds? I don't want be lugging something that heavy around!" For those readers, we are pleased to introduce phil&teds Portable Traveller, which comes in at an amazing seven pounds, yet has the same general footprint as much heavier competitors. This unit isn't meant for double-duty as a playpen or as a semi-permanent cot (although it could serve as the latter). It's designed to be a crib that you're happy to take on trips.
It's more involved to set up and break down, but after a little practice you'll be able to set up this cot in 5-10 minutes or so. It's not quite as sturdy as the large models we've previously reviewed, but infants and even smaller children are not going to be able to tip it over. The mattress has to be inflated for each use (contributing greatly to the light weight of this unit) but comfortable. There are mesh sidewalls with the zip-down side that we love, and a cotton sheet and carry bag are included. The materials are all chemical-free and safe, and there's an optional mesh top with UV protection if you want to use the crib outdoors.
In short, this is a high-quality travel cot which may not have all of the bells and whistles, but is a crib that frequent travelers will quickly fall in love with, despite its $200 price tag.
Details of the phil&teds Portable Traveller Crib

Ages

0-3 years

Footprint

45 x 22 x 26

Folded Size

27 x 10 x 8

Weight

7 pounds

Material

Polyester, aluminum frame

Accessories

Inflatable mattress, sheet

Washable

Spot clean

Warranty

One year
KidCo PeaPod Plus Travel Bed
Seven pounds is still too much to carry? OK, we've saved this for last: the KidCo Peapod is 2.5 pounds, and it folds up into a disc that you can pack almost anywhere. Not bad for $70, right?
Well, be aware that this is a travel cot for very specific uses. Specifically, it's a bed for sleeping, and can't in any way double as a playpen. The tent-like structure snaps right open for setup, with a sleeping pad already attached underneath the unit instead of a mattress inside, and the mesh screen zips open for access to your child. To emphasize how much like a tent the Peapod is, it has ground anchor straps for outdoor use along with UV protection. On the downside, there's no certification that the materials used to manufacture the Peapod is free of chemicals or flame-retardants.
The lightweight polyester material is somewhat flimsy, so this cot may not hold up over the long term and isn't intended for everyday use. But it's incredibly light and portable, and a great choice for campers or those who like to stay on the move during their trips.
One note: KidCo only recommends this model for use with children over the age of one, apparently because of liability concerns involving safety and SIDS which previously led to a recall and redesign of this product. If you feel it's safe for your younger kids, it will certainly accommodate them.​
Details of the KidCo PeaPod Plus Travel Bed

Ages

1-3 years (per manufacturer)

Footprint

46 x 28 x 18

Folded Size

16 x 17 x 3

Weight

2.5 pounds

Material

Sleeping pad, ground straps

Accessories

Sleeping pad, ground straps

Washable

Spot clean

Warranty

One year