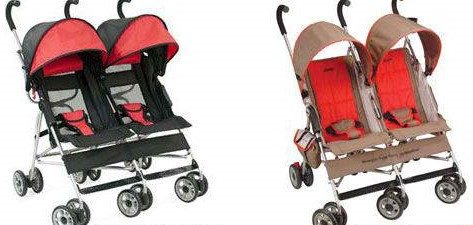 Top 5 Best Double Umbrella Strollers | 2021 Reviews
Parents with at least two young children are often faced with the dilemma of how to bring their kids around without making the entire trip (yes, even a trip to the groceries) a hassle for everyone.
That's where the lightweight double umbrella stroller comes to play.
Just as the name suggests, umbrella strollers are named so as they take the form of an umbrella when they are folded. This basically means that they are extremely compact and lightweight so that they are ideal for trips around the neighborhood, within the city, through crowded and narrow streets and even for road trips and air travel.
The only difference this time is that the ones we have included in our list of the best double umbrella strollers are made for two children: twins, Irish twins or infant-toddler combinations.
However, unlike its single counterparts, you will have to expect that even the most lightweight double stroller is still much heavier. They are made for two children, after all! Additionally, if you want a really light double stroller to work for your family, you will have to give up a few bells and whistles such as huge storage baskets, all-terrain wheels and so on.
To make it a truly compact and light double stroller, choose those that can provide the basics including a 5-point harness and enough sun shade. Otherwise, it might become difficult to get them to fit in the trunk.
So, are you now ready for our list of the best? Below are double umbrella stroller reviews that you might want to consider on your next purchase.
Quick Comparison Table
| UPPAbaby G-LINK | Maclaren Twin Triumph | Kinderwagon HOP | Kolcraft Cloud Stroller | Chicco Echo Twin |
| --- | --- | --- | --- | --- |
| | | | | |
| | | | | |
| $$$ | $$$ | $$$ | $$$ | $$$ |
| 25 lbs | 21.2 lbs | 21.5 lbs | 21 lbs | 31 lbs |
| Side by side | Side by side | Stadium/Tandem | Side by side | Side by side |
| | | | | |
UPPAbaby G-LINK
When it comes to daily use, the UPPAbaby G-LINK certainly does not fail.
What is great about this stroller is that it has seats and footrests that can be reclined and adjusted at different levels independently. This means that you can use it to support your kids' varying nap times. Aside from the full recline, this double umbrella stroller also comes with extra large canopies plus extendable sunshades for maximum sun protection.
Parents love the fact that they can still see their little ones through the peek-a-boo windows in the canopies. The stroller's design makes it extremely easy to fold and is lightweight so taking the stairs will not be a problem either.
With its aluminum frames, the G-LINK is strong yet sturdy and can be maneuvered even with just a single hand. Plus, it comes with extra storage at the back of the canopies and below the seats for small items. It also has two cup holders to keep everyone hydrated during the walk.​
This is our Top pick as it's high-quality and even with daily use, this double umbrella stroller will not disappoint you.
Details of the UPPAbaby G-LINK

Weight

25 lbs

Orientation

Side by side

Dimensions

45.5 x 19 x 14 inches

Target gender

Unisex

Weight recommendation

50 lbs per seat

5-Point Harness

Yes
Maclaren Twin Triumph
Pushing two kids around can be very tedious which is why it is a big advantage that the Maclaren Twin Triump is super lightweight. You do not have to worry about constantly getting it in and out of the car and it folds very compact so you can easily store it anywhere.
Parents will love that the seats for this side-by-side stroller work independently so it can be reclined anytime of the passengers wish without affecting the other. Each seat also has a huge water resistant hood (which also has viewing windows) for protection against the sun and wind. When it starts to pour, you can easily don the rain cover on both seats simultaneously so your kids can stay warm and comfortable even as you continue strolling.
The seats come equipped with a five-point harness: the shoulder straps can be adjusted to three different height settings although the crotch strap cannot be moved backwards or forwards. The Maclaren Twin Triumph comes with ergonomically angled handlebars and medium-sized storage baskets great for quick trips.​
The Maclaren Twin Triumph is a quality pushchair that's compact and easy to manoeuvre. It's got everything you need from an umbrella double stroller, for twin or siblings, especially in urban settings and rightfully earning the number 2 position.​
Details of the Maclaren Twin Triumph

Weight

21.2 lbs

Orientation

Side by side

Dimensions

35.4 x 24 x 41.1 inches

Target gender

Unisex

Weight recommendation

55 lbs per seat

5-Point Harness

Yes
Kinderwagon HOP
If you have younger kids (or kids who are smaller for their age) and love taking them around the city with you, then you have found the perfect match in the Kinderwagon HOP Tandem Stroller.
The Hop is quite unique in that it offers stadium seating for its passengers – this means the rear seat is slightly higher than the front seat – and is thus ideal for kids who are close in age. However, the only downside is that it can only take one car seat at a time so it isn't recommended if you have infant twins.
This tandem stroller's stadium seats can accommodate only up to 50 pounds each but they are designed to be shallower than average so a lot of preschoolers might find it slightly smaller for their liking.
If you have smaller kiddos, you can definitely fit them inside. The seats are well-padded and come with a 5-point harness for added protection. Since only the rear seat can be reclined to nearly flat, the usual arrangement is to have the younger kid sit at the back and the toddler in front. When this happens, parents and toddlers often find it a big hassle to get around the bumper bar. Even if kids are big enough to get in and out of their stroller seats, they will need the help of their parents to get out of this one.
Despite these limitations, we do love the Hop as it is quite compact and is only slightly larger than the average umbrella when folded. It also comes with a slightly larger canopy, rain cover, cup holder, six-inch wheels and even front and back suspensions. Surprised? Sadly, its storage basket is quite small and can only be accessed from the sides so if you have a large diaper bag with you, you will have to carry it yourself.
After weighing all its pros and cons, we have come to a conclusion to bring this lightweight double stroller to the third position.
Details of the Kinderwagon HOP

Weight

21.5 lbs

Orientation

Tandem/Stadium seating

Dimensions

118.4 x 48 x 30.5 cm

Target gender

Unisex

Weight recommendation

50 lbs per seat

5-Point Harness

Yes
Kolcraft Cloud Side by Side Stroller
If you are in the lookout for a travel friendly stroller that you can easily fit inside the car trunk and not have an issue when checking in for your flights, check out the Kolcraft Cloud Side by Side Stroller!
This 21-pound double umbrella stroller is so lightweight that you can maneuver it with just a single hand. It also comes with a lot of features and can still fold compact.
Among its numerous features include a suspension system in its front wheels. The all-terrain wheels ensure that your kids stay comfortable and enjoy a smooth ride no matter where you bring them. It should be noted thought that this model cannot be used as a jogging stroller.​
Safety is not compromised with this one, definitely. For one, it comes with a multi-recline feature to accommodate the passenger's needs. Another is that it has a three-point harness system ensuring that your kids stay safe even during bumpy rides. The three tier extended canopy also makes sure that your kids get all the protection that it needs against the sun.
Basically, the Kolcraft Cloud Side by Side Stroller has everything you want in a stroller: great riding experience, maximum safety and protection and compact and lightweight. Its biggest cons, for parents, are its three-point safety harness and lack of storage basket under the seats.​
Sadly, it doesn't have a bottom storage basket and with the 3-point harness, it is our Top 4th Pick.​
Details of the Kolcraft Cloud Side by Side Stroller

Weight

21 lbs

Orientation

Side by Side

Dimensions

31 x 31 x 38.5 inches

Target gender

Unisex

Weight recommendation

35 lbs per seat

5-Point Harness

Yes
Chicco Echo Twin
Last, but definitely not the least in our list, is the Chicco Echo Twin double umbrella stroller which is packed with comfort and functionality that the passengers and parents are looking for.
This extremely stylish ride is well-loved by its passengers in that it comes with embroidered seat pads, padded backrests and the independent four-tiered full reclines which can be done with just one hand. Its dual canopies, which can be adjusted independently, have zip off rear flaps that help protect the passengers further from the elements.
Parents love its stylish look which includes the European wheel design and the colored rear tubes. It also has a simple cup holder outside, a small storage basket and a detachable design for easy cleaning.
Aside from being sturdy, lightweight and compact, parents also love that the Chicco Echo Twin comes with a very affordable price!The only complaints about this double umbrella stroller is the small storage, lack of accessory pockets and a pretty tight weight capacity at just 40 pounds for each seat, so this strolls into our 5th spot.​
Details of the Kolcraft Cloud Side by Side Stroller

Weight

31 lbs

Orientation

Side by Side

Dimensions

85.1 x 78.1 x 105.4 cm

Target gender

Unisex

Weight recommendation

40 lbs per seat

5-Point Harness

Yes