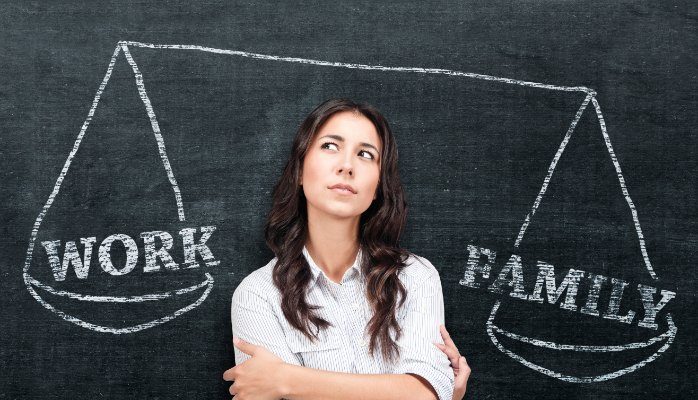 New Parents' Guide to Balancing Work and Family Life
Parenthood is like opening a new page in a drawing book. You and your partner will serve as the artists who will draw lines and objects plus add colors to produce beautiful artworks in this canvas. Every stroke may be thin or thick, strong or light depending on the different experiences life has to offer. Throughout this journey, there is one little artist who will need guidance in every step of the way - your child. Parenthood is embracing the responsibility to be accountable for your offspring's well-being. The role of the parents is to be support the child's basic needs, wants, and education for him or her to grow as a smart and independent adult. This chapter is not a contest against anyone but requires parents to give a great deal of effort, time, and resources.
Parenthood is an exciting page in life but mix this with work and you have a bittersweet routine to manage. Finding the balance between work and family is not easy but you and your partner can do it. In the late 90s, the statistics of households whose mother has no full time work have started to decrease. But in comparison, during this time, there are still more households who have full-time working fathers and stay-at-home mothers than both parents who are employed.
In this modern time, the number of families with working parents is doubling year by year. Recent surveys show most moms and dads are becoming more acquainted to the idea of sharing the responsibilities of rearing a child and maintaining the household.
Working Moms
The concept of working moms is slowly being accepted in the society. The rise of the cost of living pushed women to get out of their comforts zones and help fathers to provide for the family.
Simultaneously, many employers these days are offering positions tailor-made for women. Add to this other benefits like flexible work hours, maternity leaves, and healthcare for the employee and immediate family. Online jobs like virtual assistance and teachers also target mothers who want to stay at home but still earn income. These good paying employment options have encouraged women to step up and be a bread winner.
Hi-tech gadgets have also helped working mothers stay connected with their children. Employed mothers can check on their children through a phone call or by sending a message to the nanny via numerous social media platforms. Parents can decide to install a baby camera to see live videos of their child at home through a mobile app. Though sometimes, a short but sweet note for your child can do the trick.​
Overtime at Work
The big question now is that is it really possible for employed parents find the work/life balance? The pursuit for the answer to this question will take us to a practice frequently done at the workplace - overtime work.
Staying at the office beyond the required work schedule to finish remaining tasks can easily tumble down the balance.
Overtime work has its pros and cons. It is beneficial since a working mom or dad is paid for every excess hour at work. This means additional income for the family. However, the fast-paced, modern corporate world these days has somewhat encouraged the idea that working overtime is okay. Nowadays, work can be brought outside of the office by simply connecting to the wifi through different devices.
This practice has brought mixed feelings to new parents. Let's look into the common frustrations of parents when figuring out how to balance work and life:​
Overwhelmed with workload and find it difficult to decline demands from superiors
A lingering feeling that parents are missing out important events in the partner's or the kid's everyday life
Feeling of guilt for leaving their babies at home and have someone else take care of the baby's' needs
Has no energy to do other activities outside of home and office
Social life is in the least of priorities
No time to pamper oneself
Sees home as another source of things to-do's
There is not enough time for work and household chores
It is acceptable for working fathers to focus more on work and spend little time with family
Working mothers have fear that society judges them for choosing career over family
When you go online, you will see many articles giving out tips on how to achieve work life balance. Which of these tips work? Let's wind down these tips and see which things you can do to help keep the balance between work and family.
At the Office:
Mention to your boss your responsibilities at home and if there will be overtime work, it will be better if he or she can make a heads up
Offer alternative solutions to your boss when you cannot say yes to new tasks immediately. You can suggest offset work schedules to be able to meet deadlines.
Try to write down the tasks you have for the day and stick with it if possible
Set yourself a curfew
Put the family picture in one corner of your table to feel inspired every time you work. This can also push you to finish work early so you can come home to your family as soon as possible
If work requires you to travel a lot, pick a nice souvenir in the places you go to and share the story behind each item when you get home to your family
When pals propose after-office activities, let them know you are interested to join but you have to be home by a specific time
Avoid the option that you can take paperworks with you or you can just reply to just one email at the comforts of your home. It will likely lead to more work!
At Home:
Make it a point to join your children while they eat. This can be during breakfast before your kid goes to school or at dinner time. If you come home late, check on your kid in his or her room and have a small talk on how his or her day went. Seal the day with a sweet and loving goodnight kiss.
If possible, put your mobile phones or tablets in silent or idle mode when at home. Lessen the instances that you peek at your gadgets while you talk to your children. Allot some spare time in the afternoon to check on your work email.
Build a support group consisting of family and friends who can assist you in accomplishing errands at home. They can help you with a few household chores so you will have more time for your children. These people can also provide you will tips on how to handle work and family based on their own experiences
Pick a day in a week where the whole family can do something together. It can be a movie, board game, baking, or toy night. It can just be a simple but enjoyable activity. Happenings like this can lessen your frustrations of missing out on the achievements of your loved ones.
Parents can also plan weekend activities in case mom and dad are very busy with work on weekdays. Kids can join the parents in watering the garden, walking the dog, or doing the grocery. Children appreciate that they take part in simple adult chores.
Set aside time to go on dates with your partner. A little chat over coffee is enough to destress. This is also the perfect time to open up with your partner about anything you have in mind or about future family plans.
Squeeze in some easy home workouts or yoga sessions alone or with your partner. Exercise is a great stress buster. It releases the endorphins and eliminates the toxins in the body. If you have limited time, you can start with simple breathing exercises with little stretching.
Balancing work and family on workdays is tricky but you can set up a message board in the kitchen or on your bedroom door and instruct the kids to post messages or the things they did at school. In this way, you will feel connected to the family and you will also encourage the kids to open up to you.
Aside from a message board, you and your partner can maintain a family calendar where you can jot down your meal plans, chore assignments, trips, workouts, retail therapy, or even some 'me' time.
Listen and Empathize
If you analyze the tips mentioned, it sums up to one thing: listening play an important role to keep the family glued together. The simple act that a family member knows you are not just around to hear the words but also understand the experience makes the moment special and unforgettable. As you listen, you will also discover the act of empathizing. To empathize is to understand the feelings and needs of another.
Listening and empathizing are skills that when developed, can help the family stay bonded amidst the busy schedules. It can start by shutting down distractions when you spend quality time with your loved ones. You can unplug the Wifi and other gadgets for some time and observe how this experience can nurture your relationships with your partner and children.
Developing these skills can also help your children perform well at school. Children who know how to listen to instructions are less likely to commit mistakes. Reading, language, and writing will be easy subjects for your children as these fields of studies require great listening and comprehension skills.​
This will also pave the way for your children to win new friends as he or she know how to socialize and empathize with other kids.
Family First
When it comes to finding the balance in work and family, no one can dictate what is the right or wrong answer. New parents can test various options and see which one will work best for the family. The answer may also differ depending on the stage where the family is at the moment. As a couple, you can decide if one can work full-time jobs while the other stays at home or if you opt to be both take full-time employment, make sure to find someone who can be trusted to take care of your child.
The availability of online jobs enabled other couples to work at home and that for one partner to take full-time employment while the other does a part-time job. The same thing can also happen when a couple owns a business. If you are a single parent, you can ask the support of your ex-partner or relatives to be able to balance work and child care.
Many women have learned to be efficient in their career and family. Yes, these women agree that it can be quite stressful to balance these two but nothing is impossible. Many of these women say that it is about planning ahead and keeping things organized. There might be moments of imbalance, but it is part of life's journey.
Family relationship specialists also suggest that new parents have to drop the idea of perfection when it comes to schedules and routines. The juggling between work and family will naturally takes it course. Don't feel pressured by the people around you. Believe that you and your partner are great parents and you can survive anything life throws at you.​
Above all, your family became the most important aspect of your life when assume the new roles as parents. Of course, you would not allow your family to go hungry and not enjoy the great things in life - which are reasons why you work long hours. This grind goes hand in hand and will teach you many things about your capabilities and limitations.
It seems hard to keep up with the fast paced world but remember that change is the only permanent thing in this world. To keep the balance, you embrace the change as even a small change can lead to big outcomes that will benefit you, your partner, and your children.​