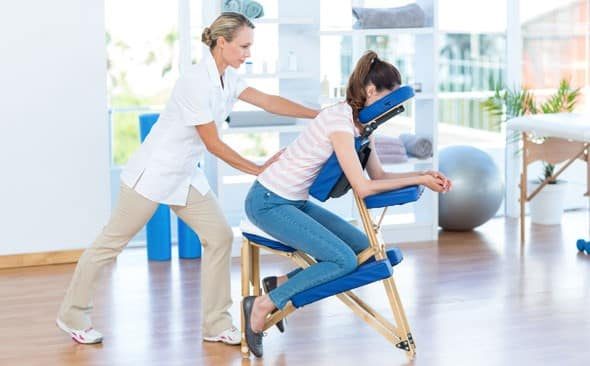 Top 5 Best Portable Massage Chairs | 2020 Reviews
Have you ever experienced a real kneading massage that literally releases the tension off your muscles? Well, a spa massage won't be able to do that. You need to go to an expert who does treatment massages to relieve all those stiffness and sore muscles. Your back is the one that faces the most strain of an average person. We often stress our back with working even if we are only staying in the office.
Back aches are very common, especially in middle-aged adults. Back aches and age are directly related and oftentimes, this is when we start looking for a chiropractor. But if you know how to do a good back massage, you won't have to get yourself a massage table. It's too bulky and it also limits your movements as a masseuse. But if you often hire the help of a masseuse, getting yourself a massage table is just too inconvenient. We have a better alternative for that. You can just buy a professional massage chair.
Professional massage chairs are massage chairs that are used for head, neck and back massages. It provides the person having a massage a comfortable sitting position while having a massage and allows the masseuse more space to move to deliver a better and more effective massage. The reason why you should get a professional travel massage chair rather than a massage table is mainly because it is compact, lightweight and convenient to use.
There are more reasons to get a professional massage for yourself especially when you often hire the help of a masseuse. And here are five great reasons why you should choose a foldable massage chair.
Quick Comparison Table
STRONGLITE Ergo Pro II Portable Massage Chair

EARTHLITE Vortex Portable Massage Chair

Master Massage Bedford Portable Light Weight Massage Chair

Ataraxia Deluxe Portable Folding Massage Chair

Best Choice Products Folding Portable Massage Chair

$$$

$$$

$$$

$$$

$$$

27 x 16 x 47 inches

29 x 19 x 51 inches

43 x 20 x 11 inches

20.5 x 10.2 x 39 inches

27 x 16 x 47 inches

19 pounds

15 pounds

15.2 pounds

26 pounds

20 pounds

Best for Versatility

Best for
Professional Use

Best for
Strength and Durability

Best for Easy Clean-up

Best Value for Money
STRONGLITE Ergo Pro II Portable Massage Chair
Sometimes, we wish that we have a home sauna to help relax the entire body. But the thing is, it doesn't really solve the problem of relieving the stressed muscles and can't really remove the pain we feel in stiffed necks, shoulders and other muscles. Getting a massage is the best way to do it and no ordinary massage chairs can totally ease them completely. If you're tired of going to the spa house and just want to get a massage from a masseuse, then purchase a foldable massage chair for both you and your masseuse's convenience.
As one of the leaders in the production of massage chairs since 1986, it is no wonder that for more than 30 years, their products become better and better every time. We love Stronglite Ergo Pro massage chair because of the mere functionality of it. It is highly adjustable to accommodate differently sized men and women ranging from a wide height difference from a 4' 6" petite woman to a 6'6" giant. It is very versatile since it can also be adjusted for men and women on the wider side of the scale.
It is pretty ergonomic because of the adjustable headrest. The armrests are also detachable for adjustments and simply if the client finds it unnecessary. The chest pad is also adjustable; it slides up and down and tilts too. The seat can also rise, lower down and tilt. The headrest is also adjustable to optimize client comfort in the massage chair.
The chair itself is very light. For only 19 pounds, it is pretty easy to bring around. Despite being lightweight, it is very sturdy. The frame is made of a super light and very strong heat-treated T6 aluminum alloy making it a really robust chair. Other than the material Stronglite massage chairs use, they also have a patented double tube design that adds extra stability. The frame is also coated with a high gloss powder finish to give the chair a fine finish. It also comes with a durable Nylon carry case valuable pouch, sternum pad, and wheels for added ease of movement. This is technically a great way to give a perfect chair massage.
These are the reasons why we love the Stronglite professional massage chair making it our top pick for the best foldable massage chairs in the market.
Details of the STRONGLITE Ergo Pro II Portable Massage Chair

Dimensions

27 x 16 x 47 inches

Weight

19 pounds

Weight Capacity

375 pounds

Best for

Versatility
EARTHLITE Vortex Portable Massage Chair
Typically, we rely on getting ourselves a neck massager to help out relieve the sore neck and shoulders that we often experience. Whether we are stay-at-home parents or office workers or hard labor workers, we always suffer neck and shoulder aches. That's mostly because of bad posture; but we don't think that changing the body posture will happen anytime soon, right? Well, we can simply call for a masseuse to have that problem solved. If you're already a masseuse, then you probably already know the importance of having great pressure and access on the back and shoulders to deliver a satisfying massage. And that's actually one of the things we love about having a back massage. But for the purpose of really stringing out the stiffness and the numerous aches, we rely on the help of a good professional massage chair for your clients to use with great comfort.
For only 15 pounds, you'll love carrying this around especially if you go for house calls. This seat folds into a smaller and more compact block and comes with a rugged Nylon carry case. The shoulder strap is padded for added comfort. It also comes with a convenient and comfortable sternum pad. It is easy to travel with because of the weight of it.
The frame uses an aircraft grade aluminum which allows better portability and stability. It is also very sturdy since the material is fairly strong and durable that you can even toss it at the back of your truck and still won't be damaged despite being put through a rough and bumpy ride.
We love that it is super comfortable too. It is upholstered with high quality, dual-density ProLite cushion. The upholstery uses a buttery soft Naturesoft upholstery for superior comfort and durability. It also comes with multiple adjustments for the headrest, the armrest, the chest pad and the seat to better accommodate all heights and sizes of your clients. And oh! It has a 3-year warranty by the way. That's awesome. For a great quality product line since 1987, it's no wonder that Earthlite massage chair is one of the best top rated portable massage chairs Amazon has in store and that is why this is our second pick for the best foldable massage chairs.
Details of the EARTHLITE Vortex Portable Massage Chair

Dimensions

29 x 19 x 51 inches

Weight

15 pounds

Weight Capacity

300 pounds

Padding

dual-density Pro-Lite cushion

Best for

Professional Use
Master Massage Bedford Portable Light Weight Massage Chair
One of the key features in a foldable massage chair is the light and ease of portability. It is a chair that comes often with most massage parlors and one that we believe should be something that you must own especially if you are a massage therapist. Massage therapists know different back massages like the ins and outs of the Bowen technique, acupressure on the back and around the shoulders and much more. Back massages are actually the most common massages that masseuse do because it is where most of the strains and stiffness happen.
There is no other stronger massage chair than the Master Massage Bedford massage chair. Imagine, this little chair can hold on to a person weighing up to a total of 650 pounds. Imagine half a ton person sitting on such a small chair. But the reality is, it is incredibly strong. It is very sturdy because the frame uses an Aircraft aluminum frame. It is superbly lightweight and really strong. The weight is noteworthy because, at only 15.2 pounds, it has the ability to carry a person weighing more than half a ton.
With an aircraft grade metal frame, it sure is tough and light. It has an anti-scratch feature brought by the electro-statically powder coated frame. The coating prevents your foldable massage chair from rust, nicks, and scratches. It also comes with a six-way adjustable face cradle, a max comfort memory foam layered pillow, a session pouch for you to store your jewelry, your eyeglasses and your gadgets, and a luggage style wheeled carrying case.
It is also very comfortable because the padding uses a Multi-layer Small Cell Foam. This has a higher density than ordinary foam. It actually makes the padding more durable in the long run. The padding is covered with a PU upholstery that is both waterproof and oil proof for easy cleanup. The upholstery uses a denim-like reinforcement back for extra durability. That way, the upholstery won't easily tear up even after a long period of usage. And for those reasons, we chose this as our third best portable massage chair.
Details of the Master Massage Bedford Portable Light Weight Massage Chair

Dimensions

43 x 20 x 11 inches

Weight

15.2 pounds

Weight Capacity

650 pounds

Padding

Multi-layer small cell foam

Best for

Strength and Durability
Ataraxia Deluxe Portable Folding Massage Chair
If you are a masseuse looking for the best foldable professional massage chair, then no need to tire yourself out in search for a good one. If you want to offer your clients the best back massage, you need the perfect companion to do it. How else are you going to deliver proper Bowen technique or proper kneading back massages if you are having a hard time massaging your client? Foldable massage chairs offer a lot of access throughout your client's entire body, which is superbly beneficial.
One of the things that we don't like about massages is the tough clean up. We know how it feels, oil is really tough to remove and if we can't clean it up well right before the next client steps in, you'll be in trouble; which is why we love this foldable massage chair. The synthetic leather cover of the massage chair is both oil resistant and waterproof. It's an awesome feature to have because sweat and oil are one of the worst mixtures of funky body odor to stick to any surface especially on leather. This foldable professional massage chair is easy to clean up making it a great option for a masseuse who often requires the frequent use of a foldable massage chair.
The frame is pretty sturdy. It uses a durable steel frame that can withstand heavy weights. The frame is very solid allowing you to have an undisturbed back massage since this seat also allows movement with absolutely no squeaky metal sound.
One of the most notable reasons why this is very popular is the price that sits under $100. A lot of people love this because it is made of great quality despite the price. There are, however, a few issues that this chair presents. Once you buy it, it is pretty stiff; like it needs a lot of loosening up to do. The seats are too firm and the adjustability of the seat is a bit tight. You need to use it a couple of time before the padding becomes more comfortable. The adjustments have weak points that may break; but don't worry, you can immediately call for a replacement of this item. But with a good and frequent use, you will surely get the hang of this seat and the adjustments won't be as tough. And that is why this is our fourth pick for the best foldable massage chairs in the market.
Details of the Ataraxia Deluxe Portable Folding Massage Chair

Dimensions

20.5 x 10.2 x 39 inches

Weight

26 pounds

Weight Capacity

350 pounds

Padding

Foam

Best for

Easy Clean-up
Best Choice Products Folding Portable Massage Chair
One of the interesting things about foldable chairs is that they look odd and uncomfortable. On the contrary, it is practically one of the best seats in the world. It offers a good and comfortable headrest, armrests and a good comfy sitting position so that you can have a great massage from your masseuse. We know how it feels and how great it is to sit and relax and get all those stiffness out of your neck once and for all. Even if you don't know how to massage someone's back, it is a pretty good chair for anyone in the house to do a simple back massage for each other. One reason why we also recommend that you own one especially if you often request for the services of a good masseuse, we know for sure that you wouldn't really want to use a chair wherein a lot of your masseuse's clients use. You don't know if someone was sweating naked on the chair. It is quite unsanitary, right? That's why we recommend that you get this brand of portable chair.
With the name of the product line itself, you sure would be making your best choice with this foldable massage chair because this is the best cheap portable massage chair you can ever find anywhere. It is third of the price of most foldable massage chairs but it is pretty great in terms of quality. You might wonder just what makes it awesome aside from the price. Right?
Well, let's start off with the comfort side of it. The padding uses high-density foam that allows you to have greater comfort in getting a massage. The padding is also pretty firm as well, proving to add better ease in delivering a good massage. In addition, the frame is made of powder-coated aluminum. This makes the material lighter but more durable all in all.
We love that it is highly adjustable for all body types and sizes. However, the weight capacity is much lower compared to most having only a maximum weight capacity of 350 pounds. Another issue we have with this travel massage chair is the head rest. It is comfy, for sure, but it has a problem in staying where it should. It either slips or adjusts on its own and it easily comes off loose. Other than that, this is an awesome portable massage chair that is perfect for Physical therapy students. It is a great practice chair to learn how to give a better massage and also very affordable for too. And that is why this is our fifth and final pick for the best portable massage chairs.
Details of the Best Choice Products Folding Portable Massage Chair

Dimensions

27 x 16 x 47 inches

Weight

20 pounds

Weight Capacity

350 pounds

Padding

Foam

Best for

Value for Money, Portable Massage Chair
Whether you are a professional masseuse or not, a portable massage chair allows anyone to deliver a good back massage. In fact, with so many portable back massage chairs nowadays, you aren't quite sure which one would fit your massage parlor or the comforts of your home. And so with our top picks of the best portable massage chairs, we know for sure that you already have an idea of which to get for your needs.