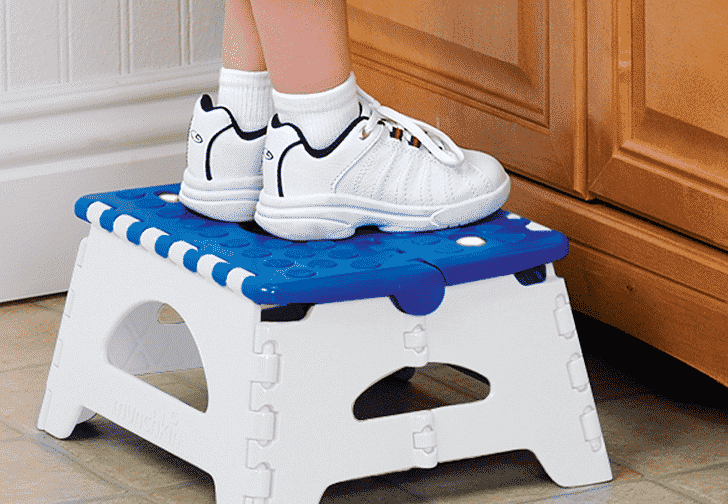 Top 5 Best Step Stools | 2020 Reviews
Babies grow up real quick. In a span of two years, you will be surprised as just how quickly your baby can grow up. One of the things that surprise us is when you are already shopping for your toddler's step stool. You will suddenly think how fast time has passed that your baby has already graduated from diapers and potty chairs and is now ready for the big throne.
Your little one isn't as little as you thought he/ she may be, now, that he/ she would only have the need for a few more inches to reach the toilet. It's a bittersweet feeling shopping for a step stool for toddlers. There are many uses for step stools. They're not just used to reach the toilet but they are also very helpful in keeping your child a few inches higher to reach everything. Toddler step stools are very handy in reaching for the sink when they need to wash their hands or brush their teeth. It is also particularly helpful when they want to be mommy's little chef in the kitchen and daddy's little helper in the garage.
You get to do more while your child gets to see more and it creates a stronger bond between parent and child. Kids step tools aren't just cute chairs to stand on or tiny ladders that give a lift; they are helpful items that also put a step higher on your little one's confidence. That's why a needed baby step stool isn't just a quick shop at the supermarket. We made a list of five for the best safety stools for toddlers that will definitely narrow your choices down to the best.
Quick Comparison Table
| The Growing Step Stool by Little Partners | KidKraft Two Step Stool | DIBSIES Step Stool with Storage | Jeronic Plastic Folding Step Stool | Ikea Forsiktig Children's Stool |
| --- | --- | --- | --- | --- |
| | | | | |
| | | | | |
| $$$ | $$$ | $$$ | $$$ | $$$ |
| | | | | |
| 32 x 15 x 20 in | 18 x 17 x 4 in | 18 x 17 x 4 in | 11 x 9 x 11 in | 5 x 14.6 x 9.5 in |
| 5 pounds | >1 pound | >1 pound | 2 pounds | 13.6 ounces |
| Plywood | Rubberwood, Veneer | Wood | Plastic | Synthetic Rubber |
The Growing Step Stool by Little Partners
This is the best toddler step stool with rails. It is very handy and very versatile because it can be used all over the place; in the kitchen, the bathroom, the nursery and not just for your little one too. This children's step stool can hold the weight of children and adults up to 300 pounds, anyone can use it! You can use it for a number of things as well.
In the NURSERY, there are cribs that are pretty tall. The height of cribs may be a hurdle for you to place your sleeping baby in the crib so this one helps. Since it has rails, you can carry it with only one hand and your baby in the other. In the BATHROOM, you can use this as a kneeler. When bathing your baby in the bathtub, your knees won't go painfully sore. You can also use it as a seat if kneeling on it is a hassle for you. It can also be very helpful for your toddler to brush his/ her teeth, wash hands and rinse their faces when they wake up or before they go to bed. In the KITCHEN, your baby can help you out in cooking like maybe sorting out veggies, helping you wash fruits and simple things like those. That's why we love the Little Partners 3-in-1 growing step stool.
One great thing about this kids wooden step stool that makes it so universal is that it is adjustable. It has an adjustable platform that boosts your child's height just at the right level. And they can continue using it until they grow old enough to reach the counters, sinks, and tabletops on their own. It's pretty big too so two kids can go on top if they want.
This wooden step stool for kids has a handle that can be used as the best step stool for elderly. The rail can also support older people in reaching places they can no longer reach. It is made with a beautiful finish too. It is made of plywood. It's cute, simple and sleek design doesn't tip over and has an absolute great center of balance.
And for this reason, we choose this as our Number One Best Child Safety Step Stool.
Details of the The Growing Step Stool by Little Partners

Dimensions

32 x 15 x 20 inches

Weight

5 pounds

Capacity

300 pounds

Colors

Green, White, Ebony, Espresso, Pink

Material

Plywood
KidKraft Two Step Stool
There are so many step stools to choose from. Even if they are simple plastic tiny step ladders for toddlers, they are a handful of help for your little ones. Step stools for kids happen to create a whole new world for your toddler. You may not know it but the secrets that lie above the countertops and tables are finally revealed to them with just the help of a few inches. Step stools for kids give them the confidence to feel more needed and also give that boost of energy to offer help. Just try and notice, once they get to do a small job and get praise from you, your child feels so enlightened that they wish to do more for you.
And for that reason, your little one would wish to be a bigger part of your world with the help of a tiny chair tool. KidKraft Two Step Stool is one of the best-sellers and definitely for good reason. It is straight to the point item that does the function well; help your child reach higher. They get more than just a boost up but they get to reach higher too. Your toddler won't just be able to reach the sink but also reach his/ her toothbrush too. Some kids are just too small and they need a few extra inches of boost. And that's what KidKraft Two Step Stool has created.
This step stool is very sturdy; it can hold up to 250 pounds of weight. Well, that definitely makes sure your little one is safe! It also comes in two types, wood, and plastic. We definitely recommend the wood so much more because it is non-slippery. It is also wide and it really helps your child to feel so much taller. This is a perfect kid bathroom stool because it helps get your little one over the counter and tall enough to reach the sink. It can also hold two toddlers since it is pretty wide. Even you can use it when there are things you need to get from way up in your kitchen cupboards.
Because it has a slanted design, when it sits by the wall, there is a gap that your toddler might step into and slip off. So this makes our Second top Pick for the best step stool for the kitchen.
Details of the KidKraft Two Step Stool

Dimensions

18 x 17 x 4 inches

Weight

>1 pound

Capacity

250 pounds

Colors

White, Espresso, Beige

Material

MDF, Rubberwood, Veneer
DIBSIES Step Stool with Storage
There are plenty of manufacturers out there who become creative with products that they make and some of these products can become a lovable novelty item just like this two step stool for toddlers by Dibsies. One of the main reasons why we love this toddler step stool for the bathroom is because it can be personalized! Come on! Everybody loves something that distinctly says it's theirs! And buying an item online and being delivered to your home with your name on it just sounds totally amazing.
That's not the only reason why we also like this child's step stool. We also love it because it has two steps; one of the problems with one-step stools is that some can be too high and some can be too low. It's just not ideal at all. This two step stool for kids presents two great heights that adjust to your little one's need. And it's great because at least you won't have the need to buy another step stool that because the other one ended up being too small for your short tiny babe.
Now, one of the great aspects of this step stool is that it has a small storage area! And that's why we love this bathroom step stool so much. This becomes a great step stool for toddlers to reach sink but also great for your child to easily step into the bath. The small storage can be a tiny compartment for your little tot to keep his/ her bath toys away and out of sight. Your little one can also use the storage as a toy chest or as a slipper compartment if it's placed as a step stool for your little one's tall bed. It can be used as anything. In fact, even you can use it since this hardwood step stool can hold up to 250 pounds of weight.
The only thing that we don't like about it is that you would need to put an anti-slip tape over the steps because even if it's made of wood, the finish just made it quite slippery. And for that reason, we are ranking this as our third best step stools for toddlers.
Details of the DIBSIES Step Stool with Storage

Dimensions

18 x 17 x 4 inches

Weight

>1 pound

Capacity

250 pounds

Colors

White ( Maximum of 10 Letter name for free)

Material

Wood
Jeronic Plastic Folding Step Stool
Our little children often have the desire to be part of every single thing that you do. To them, you are like a superhero that every single thing you do is something amazing and that they want to be a part of it. Sometimes, your little one just drags or pushes a heavy chair to where you are and ask you to put them on and see what's going on. "What is it that you're doing that you can't pay attention to me?" Well, your little one doesn't need to be potty trained before you think of buying him/her a step stool.
Think about it, you might as well get one, the moment your tot learns how to climb or else, you might end up screaming every time you find your baby up somewhere he/ she shouldn't be. And that can be a big problem. If you get a kitchen step stool for toddlers, you can easily teach your child to only climb on a step stool to get something, see somewhere and things like that. It will teach your child to know what his/ her limitations are.
This folding step stool for a toddler isn't just a bathroom step stool. It can be used anywhere. It's easy to close and open and pretty sturdy that you might actually think it is. It already comes with a pullout handle that allows you to have a complete and immediate access to your step stool for kids.
If used as a step stool for potty, it works too. In fact, it can work anywhere! In the kitchen, your little one wants to get the eggs from the refrigerator and run with the step stool in one hand and the egg on the other to where you are and then prop up the stool and go to you so he/ she can beat the eggs. Your little one can practically have a better understanding of doing chores at home if you just let them. And we believe that this child safety step stool will be the perfect item to do it with. That's because it's easy to bring in one hand. It's light enough for your toddler to carry it with one hand. It is also skid proof!
Since it's light, extremely portable and packable, and comes in an array of colors, we put this as our top four favorite in the Top 5 Best Step Stools for Toddlers!
Details of the Jeronic Plastic Folding Step Stool

Dimensions

11 x 9 x 11 inches

Weight

2 pounds

Capacity

300 pounds

Colors

Red, White, Black, Blue, Green, Black-Red

Material

Plastic
Ikea Forsiktig Children's Stool
One of the best toddler step stool Ikea has to offer is this adorable box-type foot stool. This is simple yet straight to the point step stool for children. It serves three main functions for your child, easy additional inches of height, a footstool, and an outdoor seat. It's mainly created for a child that is why this thin and lightweight kids step stool can only handle to as much as 78 pounds. Well, that's more than enough for our children's weight anyway.
Ikea is one of the brands that produce great quality rubber ware and this step stool for kids is not an exception. It may be very simple it stays true to its purpose which is to help your little one reach the sink as well as reach the counter top if the need arises that your child is in need of a few more inches. One of the greatest aspects of a good child's step stool is that it should be easily used and kept away. That's why it is lightweight, compact and has two finger holes on both sides so you or your toddler can keep off sight when it's not needed.
Since it is compact and doesn't have many designs that need plenty of consideration, the fact that you can simply set is aside or push it inside the bathroom cabinet makes it an easy item to have around. It promotes easy access and quick use. And that's why no matter how simple the design of this safe stool for toddlers might be, it serves its function completely. One of the things you do need to consider is the grip of this stool. It has anti-skid rubber grips at the bottom so unexpected slip-ups won't happen when your toddler is either brushing his/ her teeth or washing his/ her face. It also has an anti-slip cover on top that reduces the risk of slipping but not entirely. When your child goes on the stool with wet feet, it may pose to become a slipping hazard.
That's why the toddler step stool Ikea has is just the best kid bathroom stool to complete our list.
Details of the Ikea Forsiktig Children's Stool

Dimensions

5.1 x 14.6 x 9.5 inches

Weight

13.6 ounces

Capacity

78 Pounds

Colors

White/Green

Material

Polypropylene, Synthetic Rubber
No matter what you use it for, for your little one, for you, for the elderly, a step stool is one house item that comes in extremely handy oftentimes. And no matter what type of child's step stool you choose, you are guaranteed that these toddler stools will not just give a boost in height but a mighty boost in your little one's confidence.