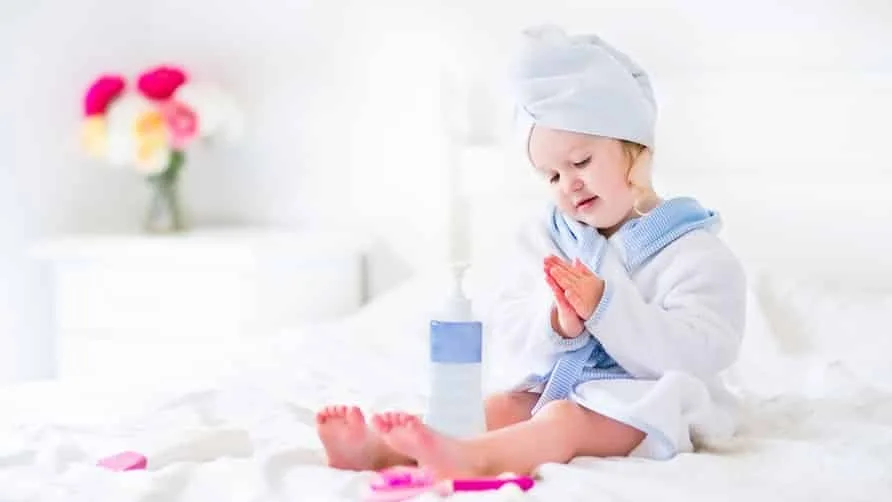 Top 5 Best Moisturizer for Babies |2020 Reviews
You're holding a bottle of baby lotion and a jar of moisturizer for baby; but the thing is, you don't know what to get. Should you get a baby moisturizer? Or should you opt for a lotion for babies? Oftentimes, we mistake lotions for moisturizers. The thing is, they are practically alike in the way they function that we often get confused what's what. Even health and beauty manufacturers also get confused that they use the words 'moisturizing lotion' or 'lotion moisturizer' that we also think they're the same. Well, the reality is that they are completely different products.
Lotions and moisturizers are used to hydrate the skin. That's practically the main use for them. They are also both creams that we apply to our skin. And they are also used to help heal dry skin. But those are generally the similarity between them. What we don't know is that moisturizers are mainly used for the face while lotions are used throughout the body. The skin in the face has different needs compared to the body because it is the most exposed part of our body that is why a moisturizer is preferred to be used on our face and lotion for our body.
Moisturizers are also thicker in consistency while lotions are made to be runnier. Moisturizers have more oil content in them. A lotion doesn't have much oil in it because it mainly answers to temporary skin lubrication, especially to help relieve scratches because of friction.
Moisturizers are meant to bring back the vitamins and oils that are supposed to keep our skin alive and glowing, especially for our baby. It's also used as a prescription cream for babies with sensitive skin. If you're still not sure what your baby needs, then our reviews on the following baby face moisturizers will help you finally put a product in your shopping cart.
Quick Comparison Table
| Aveeno Baby Soothing Relief Moisturizing Cream | Babo Botanicals Miracle Moisturizing Baby Cream | BareBaby Organics Premium Lotion | CeraVe Baby Moisturizing Cream | Cetaphil Moisturizing Cream |
| --- | --- | --- | --- | --- |
| | | | | |
| | | | | |
| $$$ | $$$ | $$$ | $$$ | $$$ |
| 5 and 8 oz tube, 12 oz bottle | 2 ounce jar | 8 ounce pump bottle | 3 & 5 oz tube, 8 & 12 oz pump | 3 and 8 oz tube, 16 oz jar |
| Dimethicone, Colloidal Oatmeal | Colloidal Oatmilk | Glycerin | Dimethicone | Dimethicone, Glycerin |
| | | | | |
Aveeno Baby Soothing Relief Moisturizing Cream
For over 70 years of quality service, Aveeno has never missed a mark when it came to caring for our babies' skin. Aveeno baby daily moisturizer is one product we love to have more and more! Ensured to be one of the most recommended baby face moisturizer for sensitive skin, we highly recommend Aveeno especially with your kids who suffer from a variety of skin conditions. You don't have to worry much your child suffering too much with irritation, sore skin patches, painful and itchy dry skin and more skin conditions that need more loving than usual.
Aveeno made it a point to care for our baby's sensitive skin that's why we ranked it as the best baby moisturizer. Aveeno baby daily moisture lotion is a perfect baby moisturizer for face because it is made with colloidal oatmeal. That's because oatmeal has the ability to absorb moisture and almost instantly relieves itchy patches of dry skin. It isn't uncommon for babies to have skin conditions like eczema; however, it is due to the help of the best baby moisturizers that your child will be able to deal with his/her skin condition.
Aveeno is a steroid-free moisturizer. It is naturally nourishing because it helps us get ahead with our home duties without having to worry if our baby is agitated or really stressed out because he/she is feeling annoyingly itchy. It is also hypoallergenic and fragrance-free, so there are much lesser chemical compounds to think about. We fully understand how parents nowadays are nuts for natural products and we, at ParentsNeed always take those into consideration.
It aids in keeping sensitive skin at bay especially on the face of your baby. It is gentle and non-greasy that you can put this baby face moisturizer to lessen the burden of letting your child scratching his/her face off. Without all those parabens and SLS and fragrances, we assure you that Aveeno is our top choice to help you and your baby keep his/her face soft and delicate while keeping his/her entire body nourished and protected.
Details of the Aveeno Baby Soothing Relief Moisturizing Cream

Sizes

5 ounce tube, 8 ounce tube, 12 ounce bottle

Active Ingredients

Dimethicone, Colloidal Oatmeal

Treatment

Eczema, Psoriasis, Skin Irritation
Babo Botanicals Miracle Moisturizing Baby Cream
If you're looking for a baby moisturizer for face, you should always opt for something that is healthy and environment friendly. In this case, we found one for you. Babies with skin conditions have extremely delicate skin and tender skin needs the utmost love and care to keep it moist and hydrated at all cost. That's one reason why we adore Babo Botanicals Miracle Moisturizing Baby Cream. It was carefully formulated to handle sensitive skin.
It is the best baby face moisturizer. It also contains colloidal oatmeal that specifically targets the results of eczema on the skin. It aids relieve the itchiness of dry skin and also keep it healthy looking while maintaining the moisture locked-into the skin. Babo Botanical Moisturizing Cream doesn't use soy, dairy products or gluten—which are strong allergens—that may make your kid's skin get worse.
This baby face moisturizer works well because of the natural ingredients working together to keep your babies' faces soft and pinchable; that's because it uses Shea butter and Calendula extracts as an emollient that is highly effective against inflammation. It also uses chamomile as its sweet aromatherapy kind of thing and definitely the oatmilk that helps the skin become softer. Unfortunately, the cream can be a bit too thick so you might want to spread it on a slightly damp face and also, the smell can be an issue. It's a smell the both appeals and repeals depending on the person but we, at ParentsNeed, absolutely love the wild flower garden scent.
Babies with sensitive skin have the tendency to be easily irritated and kids have this relentless urge to keep scratching their dry skin making them bleed and get even worse. Babo Botanicals work miracles in helping these dry patches of skin heal because it has calendula extracts in it. When you turn your jar of Babo botanicals, you will notice that every ingredient is plant derived. They were carefully extracted to makes sure that each chemical works its way into helping children find relief from suffering from skin conditions. And with that reason, you might end up loving Babo Botanicals as the best baby skin moisturizer.
Details of the Babo Botanicals Miracle Moisturizing Baby Cream

Sizes

2 ounce jar

Active Ingredients

Colloidal Oatmilk

Treatment

Eczema, Psoriasis, Skin irritation, Diaper rashes
Bare Organics Premium Moisturizing Lotion
There is a tendency where you end up having the feeling that you want to cry because your baby is suffering from inflammation caused by eczema or loud fuss fights because the rashes have gone dry, flaky and even gone bloody. That's the dilemma we have to face when it comes with our babies. But you don't have to feel helpless; you just need the right baby skin moisturizer. BareBaby Organics Premium Moisturizing Lotion may be one of those solutions. We chose Bare Baby Moisturizing Lotion as one of our top contenders in the list of best baby face moisturizer and sensitive skin.
One reason why we love it so much is that it is 80% organic where 95% of it are plant-derived chemicals and all oils used to making this product is 100% organic plant oils. You would also love the fact that BareBaby Organics is gluten-free, soy-free and dairy-free making it really hypoallergenic. It is also free from all phthalates, parabens, dyes and synthetic fragrances making it a wonder skin treatment for baby with sensitive skin.
It is pleasantly gentle on our babies' skins with the added plus factor of significantly reducing itchiness and dry patches caused by eczema or psoriasis. It's real easy to smooth on your baby's skin, even yours since it is also a very effective moisturizer for you, especially during winter. You wouldn't want you face to dry up at all, will you?
This baby face moisturizer is labeled as fragrance free but for an unscented moisturizer it has a faint warm aroma with it that's nice and delightful. It will definitely become your clean baby smell once you've gotten used to putting this baby moisturizer for the face. It doesn't feel greasy at all and it is easily absorbed by the skin. Whenever you apply it, it makes you feel like as if you just added a second layer of skin on you that doesn't even feel like it's there. It's gentle, it's soothing and calming and definitely extremely helpful to your baby's skin health.
Details of the Baby Bare Organics Premium Moisturizing Lotion

Sizes

8 ounce pump bottle

Active Ingredients

Glycerin

Treatment

Eczema, Psoriasis, Dermatitis, Skin Irritation
CeraVe Baby Moisturizing Cream
More than just lotion, more than just cream, more than just moisturizer, it's CeraVe. CeraVe is developed by dermatologists in order to provide an answer for quick relief for children with skin conditions. From mild skin conditions to major skin irritations, CeraVe was created as a solution for all these skin conditions. This is why we include CeraVe in our top five lift of the best baby moisturizer.
Moms love this product, even us here at ParentsNeed. We know you're not so aware of checmical labels at the back of the packaging but be familiar with these word: caprylic triglycerides, ceramides, and hyularonic acid. They are components that aide in the softening of our babies' skins. Although in some skin types, it works the opposite way. Instead of making the skin moist and soft, it causes rashes, dryness and even cracks. But in some other skin types, the skin broke out perfectly. This is one reason why it is one of the best baby moisturizer for dry skin. It also works well with acne, psoriasis, different types of skin conditions even severe ones. However, don't apply it on open wounds. Scratches may be fine but when cuts are already evident, just apply around it.
This makes an awesome baby moisturizer because it is given as a treatment for dry skin by dermatologists. It also serves as a good baby face lotion for newborns. It even serves you and your baby well since it can also double as an effective sunscreen for the outdoors. It is a multipurpose baby face moisturizer but its function well exceeds it. We love recommending this to you because we find it very appealing in curing major skin conditions especially on children.
There is one problem though, the consistency seems like it's not a moisturizer, it feels more of a lotion because it's a bit runny. But still, it doesn't change the fact that it still works well as one of the best moisturizers for baby sensitive skin.
Details of the CeraVe Baby Moisturizing Cream

Sizes

3 ounce tube, 5 ounce tube, 8 ounce pump bottle, 12 ounce pump bottle, 16 ounce jar

Active Ingredients

Dimethicone

Treatment

Eczema, Dermatitis
Cetaphil Moisturizing Cream
If you are looking for that perfect baby cream for the face, you don't need to look further. Cetaphil is one product that really focuses on the needs of the face, the baby's face. Cetaphil is known as a treatment moisturizing cream that is prescribed by dermatologists but it can still be bought without a prescription. Cetaphil is one of the best baby moisturizer for dry skin because is targets exactly the healing and prevention of dry skin.
It doesn't just work as a baby moisturizer but works as a moisturizing cream for adults as well. It nourishes you and your baby's skin to gain back the natural oils that are easily stripped off especially during winter. Break-outs occur and you don't want your baby's sensitive skin and your skin to crack up. You want them soft and cared for. It serves as a magic cream somehow because it contains Dimethicone. It's a chemical that helps in reducing redness and irritation. It prevents your baby's skin from flaring up.
You are guaranteed that your skin along with your child's is protected from painful cracks caused by eczema or dermatitis. You have nothing more to worry about but that rather mucky scent. It still has this weird cream smell on it that isn't so pleasing to sensitive noses either but nonetheless, it's a good baby moisturizer for everyone in the family.
Other moisturizers a studded with fragrances and overwhelming chemicals that brands believe are healthy for children to use. So in the long run, you might want to continue using this all-around baby face moisturizer for you and your baby to make sure that you both have soft skin to be proud of all day long. That's what makes Cetaphil moisturizing cream great. It's simple and direct to the point. It does the job well without having to add other hassles like scents and dyes.
Details of the Cetaphil Moisturizing Cream

Sizes

3 ounce tube, 8 ounce tube, 16 ounce jar

Active Ingredients

Dimethicone, Glycerin

Treatment

Eczema, Psoriasis, Skin Asthma
You must be aware that children with skin conditions need more care than just what lotions can offer. It's great to use lotions but it doesn't really give the solution we want to extremely dry baby skin. That is why we have narrowed a list down for mothers such as yourself to know which brands work the best for you and your child's dry and sensitive skin. These are the best baby face moisturizers out there.