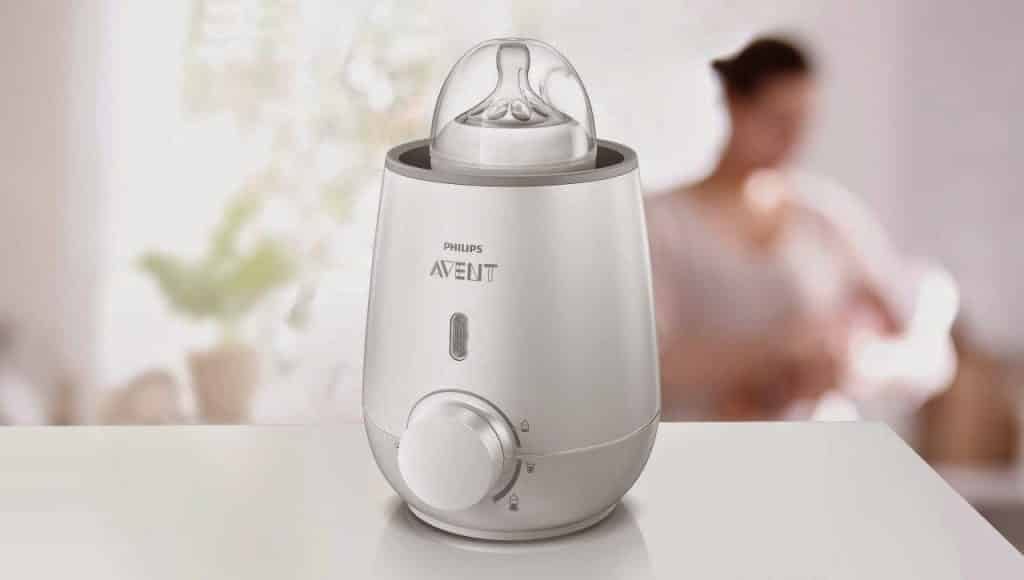 Top 5 Best Baby Bottle Warmer | 2020 Reviews
Do you really need a bottle warmer? Although there are many products that are not exactly a necessity in your life as a parent but, once you welcome them into your life, you'll soon realize how much comfort and convenience it brings that you never want to part from it.
Take the baby bottle warmer, for instance. In the past, parents have always relied on tried and tested methods such as running the bottle under warm tap water or soaking it in previously boiling water. But let's face it; these methods can be a major challenge especially if you have a crying kid (or two) in your arms. With the help of a bottle warmer, you only have to put the bottle in, press a button or two and, in a few minutes, your baby should have a warm meal ready for them!
How do you choose the best bottle warmer that's right for you? A few things that you might want to consider include the following: ease of use; easy setup and clean up; health and safety; warming method and efficiency.
The most important factor to consider of all would be health and safety. You need to ensure that the way the machine warms the bottle and its contents make it safe for the baby. Remember that overheating breastmilk could mean losing its important nutrients which is essential for your baby. You certainly do not want that, right?
Additionally, parents would prefer going for machines that are easy to setup, use and clean up afterwards. Moms are busy people and, when you are taking care of another human being, you would rather spend your downtime catching up on sleep instead of figuring out how to clean up and put back together a bottle warmer.
Now, if you are all set, here are the best baby bottle warmers that we believe parents should give a try:​
Quick Comparison Table
| Kiinde Kozii Bottle Warmer and Breast Milk Warmer | Born Free Tru-Temp Bottle Warmer and Cooler | Dr. Brown's Bottle Warmer | The First Years Quick Serve Bottle Warmer | Munchkin High Speed Bottle Warmer |
| --- | --- | --- | --- | --- |
| | | | | |
| | | | | |
| $$$ | $$$ | $$$ | $$$ | $$$ |
| 2 pounds | 4.1 pounds | 2.2 pounds | 1.4 pounds | 2.1 pounds |
| | | | | |
Kiinde Kozii Bottle Warmer and Breast Milk Warmer
The Kiinde Kozii is perhaps the most popular and most recommended of all bottle warmers available in the market. No surprise there. It is, after all, the first and only machine designed to follow the guidelines set by the USDA and the Center for Disease Control when it comes to thawing and warming milk using the warm bath process.
What is there to love about this product? It comes with the SAFEHeat Technology which allows it to do high speed warming using very low temperature. This means that the bottle of milk inside the machine is bathed in warm milk for a certain period – and a built-in timer is used to help prevent overheating the contents. In the end, what your baby gets is milk that is safe to drink and that is not removed with essential nutrients that would have been killed had it gone through the high temperature steaming process.
Another thing that parents love about the Kiinde bottle warmer is that it is designed to accommodate a full 8oz bag of frozen breast milk – simply place it inside the warming chamber, turn on the machine and wait for it to finish its magic. Even if you are not able to take out the milk on time, you don't have to worry because the warming completely stops when the time is up. There is definitely no danger of overheating the milk inside.
Although we love many things about this machine – the warming process, the user friendliness, the timer – there are still a few setbacks to this product. While it is a highly recommended product, it is also among the most expensive of all bottle warmers available in the market. It can also be a pain to clean up which is not exactly ideal for the busy mom.
But, considering all other features – health and safety, ease of use and efficiency in warming – it still does better than the rest and makes it to the top spot in our list.
Details of the Kiinde Kozii Bottle and Breast Milk Warmer

Weight

2 pounds

Dimensions

7.7 x 7.4 x 5.2 inches

Colors

Light Blue, White
Born Free Tru-Temp Bottle Warmer and Cooler
If you want a truly state-of-the-art bottle warmer that does its job well (even exceeds expectations) and costs much less compared to the Kiinde Kozii, check out the Born Free Tru-Temp Bottle Warmer and Cooler.
Now, fixing a bottle of milk in the middle of the night can be a hassle when you have a crying baby and you're still half asleep, right? You can have your bottle warmer by your baby's bedside but then – you will have to get your frozen milk from the fridge which is a hassle. However, with this machine, you can keep your milk cool using two ice packs. It can even accommodate up to two bottles at a time; it is perfect for when you have a kiddo with a big appetite or when you have twins! The bottles can be chilled inside the machine for up to 8 hours so you can have them ready when you need them. No more fumbling for bottles in the fridge in darkness.
Most importantly, this baby bottle warmer does its warming function very well. It has a water reservoir so you do not have to refill it with water every time you use it. In fact, the machine adjusts the amount of water it uses based on the size of the bottle and the temperature you desire to achieve. Some moms, however, think that this machine produces way too high temperatures which can create a detrimental effect on the milk, especially on breast milk.
We do love many things about this machine including the consistent heating which will save you and your baby a lot of time and stress. A 4oz bottle usually takes just four minutes to heat up. Another thing we love about it is that it has a very nice design – it comes with a stainless steel finish and is also very durable.
For that, we are placing this item at the second position in our list.
Details of the Born Free Tru-Temp Bottle Warmer and Cooler

Weight

4.1 pounds

Dimensions

10.7 x 9.8 x 7.9 inches

Colors

Gray / White
Dr. Brown's Bottle Warmer
This quick warming portable bottle warmer made from plastic is a great machine in that it has a huge water receptacle that is separate from the actual warming chamber. All you need to do is fill the water receptacle, which is huge so you do not have to constantly refill it, saving time and energy, and then turn it on. You can set it to your desired time and the LCD panel will show a countdown timer much like a microwave. Once the time is up, it produces a sound alarm so you know that the warming process is done.
There are so many things that parents love about this Dr. Brown's bottle warmer. For starters, it is very portable and lightweight and yet still packed with many awesome features. The only difference it has with most warmers in this list is that it uses steam technology to heat the bottles up. It does keep the bottle safe and ensures that the contents get heated perfectly every single time.
Sadly for this portable bottle warmer, the cleaning process might be a bit of a challenge since there are no removable parts except for the water receptacle. Just keep the bottle loosely screwed and not too full to prevent the contents from spilling over. In case you do get the milk spilled inside, unplug the machine and wipe off the inside to prevent it from creating a foul smell. Otherwise, the only place you really need to clean up is the water receptacle – and no more.
While we like that the water receptacle is found separately (the steam is trapped inside so there won't be a lot of evaporation going on which means less refills), this bottle warmer still falls short in the bottle compatibility department. The device's neck is not very large so bigger bottles, especially wide neck ones, might not be able to fit inside it. Thus, we will have to place this in the middle of our list.
Details of the Dr. Brown's Bottle Warmer

Weight

2.2 pounds

Dimensions

9.6 x 8.1 x 5.5 inches

Colors

Light Blue, White
The First Years Quick Serve Bottle Warmer
If you are looking for a portable and lightweight travel bottle warmer, consider getting the quick serve bottle warmer from The First Years. It is compact and uses warm bath to heat the milk up. Although it will take some time before the contents of the bottle gets hot, it will be worth the wait and you do not have to worry so much about overheating or uneven heating, too.
At just 1.4 pounds, this warmer is rather light and easy to use. Its material is free from phthalate, latex, PVC and BPA so you can be sure that your baby's food and milk is safe for consumption. It also comes with a good sized receptacle so it can accommodate different baby bottle sizes. Plus, it comes with an auto shutoff feature so you need not worry about being in front of the machine all throughout the warming process.
This product may just be considered as the best bottle warmer as it serves two purposes: a bottle warmer and sterilizer. That means one less appliance on your countertop and one less appliance to budget for. This machine is also very affordable and is perhaps the cheapest item added in our list.
However, as beautiful as this machine may be, it does have one major flaw. It does not come with a water reservoir which means that you will have to fill it with water before every use. This might not be the most convenient thing for a parent to deal with especially when you are making your way around the kitchen, with a baby in one hand, and half asleep.
If you don't mind this inconvenience and would rather opt for this machine because of its very cheap price, then by all means go for it! But, after weighing all the pros and cons of this product, we will have to rank this item on the fourth place in our list.
Details of the The First Years Quick Serve Bottle Warmer

Weight

1.4 pounds

Dimensions

7.2 x 5.6 x 5.5 inches

Colors

Light Blue, White
Munchkin High Speed Bottle Warmer
The Munchkin bottle warmer also makes use of steam technology, just like the one from Dr. Brown's. What we love most about this high speed bottle warmer is its huge bottle receptacle which can accommodate pretty much all baby bottles available in the market, even the wide neck ones. The design of this machine is pretty straightforward and there is no need to tinker a lot of parts or buttons to get it operational.
This machine is also designed to heat up the milk or food inside the bottle in as fast as 90 seconds so you can get your baby's food ready in just a very short period of time. It also comes with a measuring cup so you can accurately refill the water and not worry about putting in too much or too little of it. Should you decide to heat baby food, simply add the adapter ring inside and you can follow the same procedure as you would heat up a bottle of milk.
Another reason why this is considered one of the best bottle warmers in the market is because it comes with an auto shutoff feature so you do not have to worry about missing the alarm and ending up overheating the bottle of milk or food.
Sadly, we didn't quite like that this bottle warmer requires a cooling time after every use. It may not seem like a big hassle but if you end up underheating the milk or food (could be rare) or have to warm up another bottle (you probably have multiples), then you will have to wait a little bit more before you could start heating and preparing food for your second baby.
Otherwise, it is still an awesome product that is worthy of consideration. Plus, it belongs to the rather cheap price range (doesn't mean its quality if compromised) and costs just a little over half the price of the Kiinde Kozii.
Details of the Munchkin High Speed Bottle Warmer

Weight

2.1 pounds

Dimensions

10.8 x 6.4 x 6.0 inches

Colors

Light Blue, White
You might think that a baby bottle warmer is not necessary in the household but when you have nothing but a bag of frozen milk and an endlessly crying baby – in the middle of the night – you will be forever grateful for having this machine on hand. You simply put your bottle inside and turn the machine on – all this you can do with the one hand while the other carries the baby – and you can feed them right away after just a few minutes.
Make sure to choose the right bottle warmer that is compatible with your baby bottles and one that provides consistent and reliable warming to your baby's milk and food.