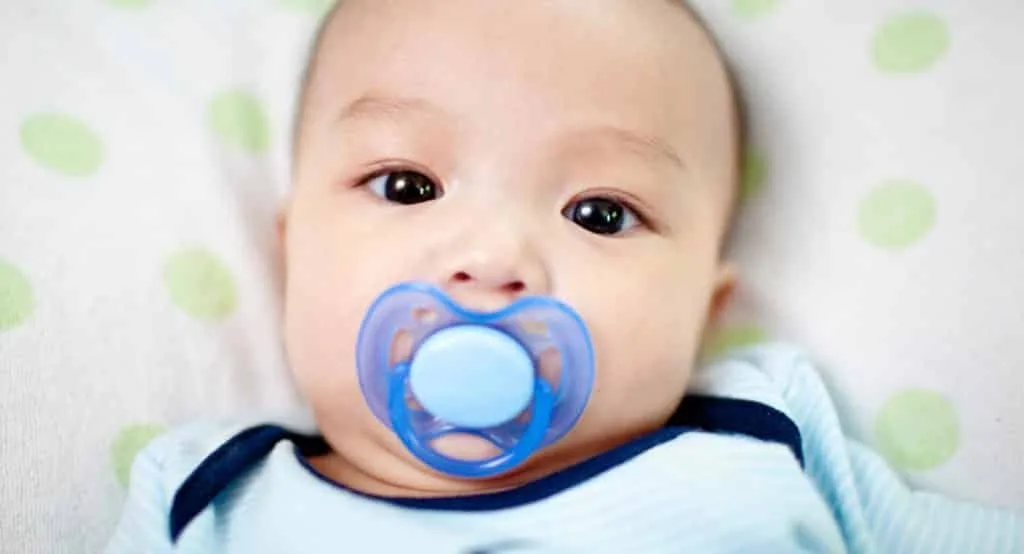 Benefits of Using Pacifier and Tricks to Keep it on Baby's Mouth
A Closer Look at Pacifiers
A pacifier can do wonders for a mommy. A pacifier can work like magic in comforting and soothing a crying baby. It's quick and easy. It works well in calming your baby down when she is feeling a strong need to suck but not you nor her hands are an option. Pacifiers sound great, right? Right. That is if you manage to keep it in your baby's mouth. Otherwise, you're giving your baby another frustration to cry about.
In this article, we will discuss some tricks and tips on how to keep your baby's pacifier in his or her mouth. First, let's talk about the basics of a pacifier. A pacifier is essentially a nipple that is made of rubber, plastic or silicone. Also called as a dummy, binky, soother or teether in countries other than the US, a pacifier is given to babies to suck upon. The basic parts of a pacifier include a teat, a mouth shield, and a handle. The teat is where the baby latches on. Both the mouth shield and handle should be big enough in order to prevent the baby from swallowing the pacifier or choking on it.
Pacifiers have been around for decades, although back in the olden times, pacifiers looked a whole lot different. They were actually a development of hard teething rings, which were given to toddlers to aid and comfort them during the teething process. Pacifiers came to replace sugar-teats or sugar rags, which had been used to distract and calm babies. Sugar-teats were made from small pieces of linen, with a balled up sugar at the center, and with a thread tied around it.​
If you have just become a new mommy, we are sure you highly value the importance of comforting your baby. A crying baby is distressful. Of course, you only want your baby to feel comfortable and satisfied. A distressed baby means a more distressed mommy. While babies can easily be soothed by cuddling and swaddling, there will be moments when they won't feel content to suckle only during feedings. Sometimes they feel the need to suck on something, even when they're not hungry. Here's where a pacifier comes in the picture. You many ask, how to get a breastfed baby to take a pacifier? Now a pacifier is not, by any means, a substitute for feeding. It is meant to appease your baby's desire for more, when she has already had her fill of formula.
What are the Benefits of Pacifiers?
● Pacifiers can be soothing for both you and your baby.
A pacifier can help relax your baby and satiate her need to suckle some more, when she is not supposed to feed on more milk. It soothes her without risking your baby to overfeed. A soothed and satisfied baby could mean longer sleep for you, as well. As a new mommy, you know very well how precious sleep can become. The fact that pacifiers can help you and your baby lock in hours of undisrupted sleep is precisely the reason why a pacifier may be a welcome childcare buddy.
● A pacifier could save your precious baby's life.
Studies have shown a link between the use of pacifiers and a decrease in the risk of Sudden Infant Death Syndrome or SIDS. According to research, babies who had been given pacifiers during bedtime or naptime were less susceptible to SIDS. It is believed that babies wake more easily from sleep when they are sucking on a pacifier. Due to the suckling that a pacifier entails, babies who suck on them may not sleep as deeply compared to babies who do not use pacifiers. Additionally, sucking on a pacifier ensures the baby is receiving enough oxygen by helping open up air space around her mouth and nose.
● You are in control.
You get to say when to start giving your baby his first pacifier. You get to pull the plug on it as well. Giving your baby a pacifier is better than letting her learn to thumb suck. Thumb sucking proves to be a harder habit to break.
Will a pacifier be bad for your baby's teeth?
A pacifier's effect on your baby's dental health will only be of real concern once he or she enters toddlership. Continued pacifier use beyond two years of age is linked to ear infections. A teething toddler who is still reliant on a pacifier past two years of age may suffer misalignment of her teeth and changes in the structure of her mouth's roof. Anterior open bite, which can be described as the presence of a gap between the front upper and lower teeth, is the most common dental effect of continued pacifier use in older children. If the use of pacifier is not properly weaned off, the child stands to risk having crooked, crowded, or protruding teeth. Experts advice to wean the baby off of the pacifier before she turns two years of age.
What are the things to consider when choosing a pacifiers?
There are a number of types of pacifiers that you can choose from. Here are some of the factors that may affect how you choose your baby's pacifier:
Nipple shape. Common nipple shapes to choose from may include the standard-shaped pacifiers that have straight elongated nipples. A cherry nipple pacifier has a trunk that gets ball-shaped towards the bottom, while an orthodontic pacifier has a rounded top and a flat bottom.
Material. The usual choice is between a pacifier made of latex or one that is of silicone material. Latex pacifiers are softer and more flexible, although they also deteriorate faster and wear out sooner. Keep in mind that your baby might be sensitive to latex. Silicone pacifiers are sturdier and last longer. They don't retain odors and are dishwasher-safe. The likelihood of your baby chomping through the silicone material is lower than that of latex pacifiers.
Mouth shield. While some pacifiers may be one-piece and completely made of latex, other models come with plastic mouth shields. These mouth shields may come in different colors and with different shapes. Keep in mind that a mouth shield should always have holes for ventilation.
Handle. Common handles for a pacifier include rings and buttons. Pacifier with ring handles are easier to retrieve once the pacifier has fallen off. Button handles make it easier for your child to grasp on the pacifier.
Nipple cover. Nipple covers are meant to protect the pacifier from getting dirty when not in use. Just be mindful of the cover since it may become a choking hazard for your baby.
How to keep the pacifier in your baby's mouth
Pacifiers are one of our ever reliable sleep crutches. Of course, this is only true when the pacifier stays in the baby's mouth. If the pacifier keeps falling out of your baby's mouth, your baby will only cry and complain, and will require more reapplication by you. Frequent reapplication equates to less sleep for you. Keeping a pacifier from falling out of baby's mouth is challenging especially when the baby still has the inability to fully use her hands. No, you may not tape the pacifier to her mouth, but you are also not the first to want to attempt it. Still, no. To help you out, we have gathered a few tips that don't involve duct tape. Below are some of the common tricks used by parents to keep the pacifier in their baby's mouth:
● Gently introduce the pacifier.
Introduce the use of pacifier to your little one at a time when she is content and calm. You may do this directly after a feeding session. Avoid using the pacifier as a substitute to feeding. When you do this, you are teaching your baby to associate his pacifier with hunger and your baby will only learn to spit out the pacifier when you offer it. It is helpful to introduce the dummy when she is happy so that she will learn to associate it with contentment.
● Make it a pleasant experience.
You may coat the pacifier with a small amount of your breast milk or your baby's formula. This will give the pacifier a more pleasant taste that your baby may enjoy, instead of the usual rubber-like taste that new pacifiers have. Avoid using honey or other sweeteners. These substances may affect your baby's gums and teeth development. The application of breast milk or formula should only be for the purpose of introducing the pacifier. Do not make a habit out of it just to get your baby to always take pacifier.
● Swaddle and tuck.
Given that your baby is not old enough yet to fully use her hands, you may try to keep the pacifier in place by tucking just its bottom into the edge of your baby's swaddle or bib. This trick will only work for babies who still cannot roll. Once your baby learns how to roll, the pacifier will just fall out from the tuck. The good news is that your baby is probably gaining more hand control, too, if she could already roll. Hand control is useful for our other tips on how to keep the pacifier from falling out.
● Use pacifiers with stuffed animals.
Pacifiers with stuffed animals attached to them are easier for babies to handle. These are easy to grab, and your baby can use his or her arms to push the pacifier back into the mouth when it starts to fall off.
● Get the right match.
It is important to get the right size of pacifier. Match the size to your baby's age to make sure that the pacifier fits her mouth. With the right-sized pacifier, your baby's suckling will seem more natural, and there will be less tendency for the pacifier to be spat out. Also consider the shape and texture of the nipple of the pacifier. What you can initially do is purchase a couple of inexpensive options from a baby supply store to figure out which works for your baby, and go from there. Try each one until you see which combination your baby enjoys best.
● Let your baby learn how to keep the pacifier.
Apply a little reverse psychology to teach your baby to suck on the pacifier. Your baby must learn how to keep the pacifier in her mouth. Your baby will never figure out how if you keep re-applying it for her. While your baby is sucking on her dummy, gently try to tug it away. Tug just enough to let her instinct kick in, which will make her suck the pacifier back in. Keep doing this exercise for a couple of times, spread over several days until your baby gets the hang of it.
Other pacifier tips
Avoid strangling hazards. Do not secure the pacifier to your baby with a cord or ribbon that is longer than 6 inches. The same goes when attaching the pacifier to your baby's crib, carriage or stroller. Cords longer than 6 inches can strangle your baby. Go for clips or tethers that are specially designed for pacifiers, instead.
Don't clean the pacifier by putting it in your mouth. Adult saliva contains bacteria capable of causing cavities in your baby's teeth. Keep the pacifier clean by washing it in soap and hot water. Clean it regularly, in between use.
Never let children share a pacifier. This is unhygienic and can pose serious health issues.
Choose a pacifier with a mouth shield that has holes. These ventilation holes will serve to let the air in and ensure that your baby is getting enough oxygen.
Sure, glued-on moustaches are cute when you glue it on your baby's pacifiers but they can become serious choking hazards as well. Use the pacifier as is and do not attach anything that doesn't belong to it.
Do not use the pacifier to delay or replace a meal. Offer only the pacifier when your baby isn't hungry. Give the pacifier in between feedings.
If the pacifier falls off while your baby is sleeping, don't force it back in. Cuddle or rock your baby instead if she seems fussy while napping.
Babies shouldn't be used to having pacifier for long. For sure, the will come a time when you will ask, when to stop pacifier use? Eventually, you have to learn pacifier weaning system. For the mean time, just don't forget the importance of breastfeeding because it is still the best for both moms and babies.