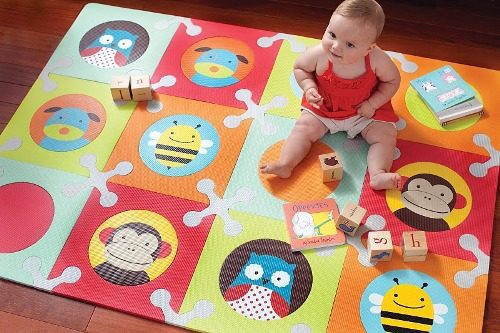 Top 5 Best Baby Play Mats | 2020 Reviews
We are often told that babies always need sensory stimulants. The thing is, there are times when we get very busy in doing chores, errands, and work and we need to let our babies be while we do them. Sometimes, it is boredom that makes them have those crazy crying spells and it just takes too much of our time when they become very fussy.
No matter how much we'd love to hold and cuddle our babies 24/7, it takes much of our time and in times when you need to run to the toilet, need to wash those baby clothes or cook before dad comes home, baby playmats, gyms, bouncers and swings can babysit your little tot any time. Playmats are especially nice.
Babies love those crib mobiles but you can't really bring the crib anywhere around the house but you can bring baby mats. These playmats for infants are great in stimulating your babies' senses; they are good on the visual because of the colorful toys. Baby gyms are also good for the touch since your baby can get used to grabbing these toys with different textures. And they are also good for the listening skills because some infant playmats come with music and sounds that help our babies feel absolutely relieved.
Infant activity gyms are also great to have when we travel, it keeps our babies preoccupied and also get their attention off of fussiness and boredom. It's a great baby must-have especially in those busy days when our hands are full of unexpected chores to fulfill. We did quite a research on the Best Baby Play Mats and we came up with the Five Top Mommy recommended and moms here at ParentsNeed HQ personally tried these play mats for infants.
Quick Comparison Table
| Fisher-Price Kick and Play Piano Gym | Tiny Love Gymini Super Deluxe Play Mat | Bright Starts 5-in-1 Your Way Ball Play Activity Gym | Skip Hop Treetop Friends Activity Gym | Earlyears Fill 'N Fun Water Play Mat |
| --- | --- | --- | --- | --- |
| | | | | |
| | | | | |
| $$$ | $$$ | $$$ | $$$ | $$$ |
| 27 x 18 x 3" | 30.5 x 23.2 x 2.2" | 48 x 48 x 4.5" | 36 x 36 x 1" | 20 x 17 x 2" |
| 4.3 pounds | 2.7 pounds | 5 pounds | 3 pounds | 9.6 oz w/o water |
| Lead-Free Polyester | Light fabric | Soft cotton | Polyfabric | BPA-free Plastic |
| Best for Exercise | Best for Sense of hearing & touch | Best for Safety | Best for Travelling | Best for Tummy Time |
| | | | | |
Fisher-Price Kick and Play Piano Gym
There is nothing more adorable than your little one laughing. The reason why we love this baby mat so much is because it has everything in it. Playing mats for babies need to have every aspect of joy and attention needed by your little one and the Fisher Price Kick and Piano Gym fulfil everything that catches your infant's attention.
It comes with so many colors that your baby will just love to spend hours staring at the bright colors around them. It is also very comfy for your child that you can leave them playing or sleeping on your infant mat without a worry. It has five busy activity toys that your baby can reach for. And it also comes with a large mirror at the center of the arches above the head. We know just how much babies get interested with their own faces. They get curious and they get very intrigued when they look at themselves in the mirror. The large mirror gives your baby that must-run-for-laugh that you love to hear so much. Anyway, what we like about this is that it really keeps your child active long before they start rolling over or crawling around the place. Every kick on the piano keys rewards your baby with cute musical notes. It becomes a highly interactive playing gym for baby because it is finely interesting to keep around.
Your little one will really love this gym for baby because it also plays music up to 15 minutes. This is not just a baby playing mat or a gym for baby because in the end, it is a learning tool for infants. Your little one will get familiar with actions leading to reactions like certain actions can produce sounds like kicking on the piano keys. It also becomes a very good stretch and reach exercise for your little tot. And what's great is that they are pretty easy to carry around with you if you do choose to bring the baby mat with you for a picnic or a visit to granny's house. That's why this is our top pick for the best baby play mats.
Details of the Fisher-Price Kick and Play Piano Gym

Dimensions

27 x 18 x 3 inches

Weight

4.3 pounds

Material

Lead-Free Polyester

Themes

Pink, Blue

Cleaning

Spot Clean Only

Power Source

3 AA batteries

Best for

Exercise

Additional Features

Piano keys, Musical Play Mat, Large Mirror, Collapsible Arches
Tiny Love Gymini Super Deluxe Lights & Music Play Mat
You will have fun in this jungle themed play mat. It is very wide for your little tot to roll around. Your little one will definitely enjoy the cute plushie animals hanging above the head. It has plenty of toys to play with and they are all of the different textures that will definitely allure your children into grabbing and recognizing these textures, from soft plushies to roughed up dangling toys, your baby will learn to familiarize themselves with the way these different toys feel. From soft to hard to rough, it's all basics for the sense of touch.
What we do love about this awesome activity mat is that it has two musical options: classic music and nursery rhymes. We often hear how well classical music stimulates the intellect. Well, this one really does take that a big consideration. Infants do like reaching for these plushies hanging overhead. And it helps them learn to feel and grope things around this play gym baby mat.
Every touch is equivalent to something interesting, touching the giraffe gives a rattle. Kicking, poking or touching the sides will produce lights and music. If your baby happens to touch the elephant ears on the mat, it makes a crinkly sound. The sounds stimulate your baby to turn, roll over and even grab things. These things will also help your child with regard to motor skills. Every single animal makes a sound, every single touch stimulates a reaction. Your baby tummy time mat comes with a mirror that your little one will surely enjoy. This will encourage your child to play and have fun on his/ her own.
You will also love that the mat is so easy to clean, we know we do. You can just collapse the arches and put it in the washing machine. It is also very portable since you can fold it small and quickly. It is easy to store and bring around so that it won't be much of an eyesore when not in use. For all the many reasons to love the only reason why it's not our first pick is because it consumes a lot of batteries. You may need to change them more frequently than you would with other baby floor gyms. This is our Second favorite pick for the best activity gym for baby.
Details of the Tiny Love Gymini Super Deluxe Play Mat

Dimensions

30.5 x 23.2 x 2.2 inches

Weight

2.7 pounds

Material

Light fabric

Themes

Baby safari

Cleaning

Machine Washable

Power Source

3 AA batteries

Best for

Sense of hearing and touch

Additional Features

Flashing lights, Music, Mirrors, Rattlers and more animal sounds
Bright Starts 5-in-1 Your Way Ball Play Activity Gym
Sometimes, we don't really need a lot of things to keep our babies busy. There are instances where our babies just need the right thing at the right moment, like this infant play gym. You will definitely love this item because of its safety feature. This wide playmat for infants have walls that go up or down depending on whether you'd like your baby to play in a closed environment or just roll around freely. This works well as a tummy time mat with the walls up, that way, you're sure that your baby won't fall out of place. This converts as a ball pit for your child, and you will also love the thick padding on this one that if the walls go up, it will certainly keep your baby safe inside. The walls are sturdy enough to keep them inside, that way you are worry-free when it comes to your baby suddenly crawling out of this baby floor gym.
There are five great features that we love about this playmat for babies for floor including the walls that go up. It turns into a ball pit, it has 35 colorful balls included that will absolutely make this the most blissful baby activity mat. We all know how magical balls are for babies. They can't get over it, literally. They'll hold on to balls, crawl after them, chew on them and much more. There are also a lot of engaging toys your baby can play with. Toys include a plush musical elephant and toucan, bead chaser, crinkle fabrics, baby-safe mirror, and a lot more.
It has a toy bar on one side of the arches where your baby can shoot balls through it. It even has an elephant with flashing lights on its ears and plays music just for your baby. This becomes an absolute play area where even you can enjoy with your little one. It's wide enough and the walls can go down to accommodate you while you play with your baby. It's the safest mat for babies you can find because it is thick and it can surely secure your baby within its four walls. And for that reason, this is our favorite third placer!
Details of the Bright Starts Your Way Ball Play Activity Gym

Dimensions

48 x 48 x 4.5 inches

Weight

5 pounds

Material

Soft cotton

Themes

Pink, Blue

Cleaning

Machine Washable but not for the dryer. It can tumble dry but preferably air dry

Power Source

3 AAA batteries

Best for

Safety

Additional Features

Ball pit, Music and Flashing lights, Collapsible walls, Toy Bar
Skip Hop Treetop Friends Activity Gym
Infants need a place to play and as they learn to roll over, it becomes dangerous to put them on the bed. It is also quite difficult if you just leave your baby playing in the crib. Your baby also needs your presence and you also want your baby to be nearby every time you need to do something. That's what baby mats are made for like the Skip Hop Baby Infant Activity Gym. It is an adorable activity mat for baby that has crinkle leaves, squeaker flower, and tree trunk mirror. It also includes five toys dangling over the play mat that help stimulate your baby's sensors.
You can even include other toys in because there are about 13 loops where you can hang other toys for your child. The loops make it easy for you to put new toys, remove them and put them back on. That's why this playing mat for babies is so easy to bring it around when you want to travel. The soft round mat is very light and easy to clean too. You only need to remove the mirror on the tree trunk and put it in the washing machine. It can also be dried in the dryer if need be. What we love about it too is that it comes with an adorable tummy pillow. This way your baby can easily get the hang of playing on his/ her tummy.
This tummy time mate is both soft and light and very easy to assemble and disassemble. That's why it is very portable. You can bring it around with you like picnics and visits to friends and other relatives. This becomes an adorable babysitter when you need a quick run to answer the door, do the laundry, do your cooking and other chores that need your attention.
This doesn't have music or flashing lights on it. This baby gym mat is a simple mat with toys hanging above the head. Nonetheless, this can be customized so you can add other toys that play music or other things that you think your baby needs. And for that, we are putting this in spot number four!
Details of the Skip Hop Treetop Friends Activity Gym

Dimensions

36 x 36 x 1 inches

Weight

3 pounds

Material

Polyfabric

Themes

Treetop Friends, Silver Lining, Alphabet Zoo

Cleaning

Machine Washable and Dryable

Power Source

No batteries required

Best for

Travelling

Additional Features

5 Plushie toys, Mirror
Earlyears Fill 'N Fun Water Play Mat
We love water beds! They're fun and squishy feeling and it gives you that soft and gentle back massage that feels so relaxing. If you love the way a waterbed feels, you might end up liking this water play mat for infants too. It's a fun play mat for your baby. This is by far the best tummy time mat we have found. It is made to surely encourage your baby to roll over and play around. It is a stimulant for motor skills for your child too because aside from helping your baby roll over, it can also help your baby do some hand-eye coordination with the help of the animals in the water chamber.
It's also fun because every movement your baby makes allows the sea creatures to dance and move around. This baby gym mat helps your baby practice his/her agility as he/she tries to catch the moving animals. It can also keep your baby preoccupied for quite a long time and this will help your baby fulfill most of your duties as your baby laughs with complete and utter enjoyment. The sea creatures include two fish, a starfish, an octopus, a sea horse and a turtle.
If you are worried about leaks, you can have air pumped into it instead. When you do that, it also becomes a nice playmat for infants in the pool. Still, leaks aren't a problem since the plastic it is made of is pretty sturdy. You can only punch a hole in it with a really sharp object. It is easy to refill with water or pump with air and it is also easy to drain it out. It folds or rolls quickly so you can bring it with you anywhere and anytime.
Even you can enjoy with your baby as you play with him/ her catching for a sea creature swimming about. Unfortunately, this baby mat is not best for taking naps. Since it's water-filled and air-filled, the tiny plastic sea creatures sandwiched between the plastic mat can be felt by your baby and it's not ideal for them to sleep on it. Nonetheless, it's a very stimulating baby gym mat that helps with your baby's motor skills. And for that, it is our fifth favorite play mat for baby!
Details of the Earlyears Fill 'N Fun Water Play Mat

Dimensions

20 x 17 x 2 inches

Weight

9.6 ounces without water

Material

BPA-free Plastic

Themes

Ocean

Cleaning

Wipe, Mild Soap and Water

Power Source

No batteries required

Best for

Tummy Time Playing and stimulating hand-eye coordination

Additional Features

Water-filled play mat
A baby gym mat is a fun and useful item to keep your baby entertained. It is also very stimulating for your baby in many ways. A baby mat isn't a baby essential but it is a baby must-have for you and your little one. So read on and choose and explore more with your baby by getting the Best baby floor mat that suits you.