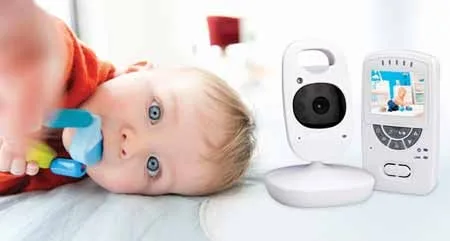 Best Baby Video Monitor Buying Guide
Your new baby at home sure is a bundle of joy that you can't get enough of. You probably like watching him sleep. And you probably would, if you could. Only, you need some sleep yourself, too. And you have those other chores that you need to attend to. It cannot be contested that the best time to get some me time is when your baby is asleep. But as a parent who is so in love with that warm, fuzzy baby, even when it is me time, you would still want one eye and an ear kept on your baby.
Baby monitors can help you out in that department. Baby monitors are designed to let you keep tabs on your baby even when you are not in the same room. They are mainly composed of a transmitter and a receiver. The transmitter stays in the room with the baby while the receiver stays in the parent's room or may be carried around by the parent while receiving audio or both audio and video data.
Now that you have been introduced to the wonderful idea of baby video monitors, the next thing to do is to go out and get yourself one. But which one, exactly, you might ask. There are various baby monitors out in the market, all offering their own brand of unique features. We are here to help you narrow down your choices. This is a buying guide to help you look for the best baby video monitor for you and your baby. We here at ParentsNeeds HQ have put together some tips and reminders which can help you figure out what type of baby video monitor to get.
What are the features to look for in a good baby video monitor?
● Strong security feature
Look for a baby video monitor that has a digital lock to encrypt the audio and video transmissions. Analog models, though less expensive, do not have encrypting features. Anyone in range can pick up the transmissions, listen in and even take a peek at your baby. We sure don't want that to happen so get a monitor with strong security features.
● Digital enhanced cordless technology (DECT)
A good baby monitor will be equipped with DECT, which can significantly decrease the amount of interference from cordless phones and other devices. It is important that you get the least amount of interference so that you may be able to monitor your baby without any interruptions.
● Panning, tilting and zooming
Newer models are now equipped with the capability to pan, tilt and zoom. Some models can even provide you a 360 degree view of the room. Baby video monitors that can pan around a room is surely a good choice as it will let you monitor your baby even he's moved from one side of his crib to the other. You can catch your baby's every move with a monitor that can pan, tilt and even zoom in.
● Video and audio quality
A video quality of at least 720p HD should be good enough though there are high-end video monitors in the market that offer at least 1080p HD quality. You would want to get good quality video images to make viewing your baby easier. You do not want to be squinting all the time just to make out what is happening in the other room. It shouldn't take more than a few seconds of looking at the monitor to know how your baby is. Get a monitor from which you can view whether your child's eyes are open or not. Clarity can be a big help in your decision on how much and what type of attention your baby needs. Audio quality is another thing to consider. You would want to hear your baby's sounds clearly so that you will know when he or she is already in distress. It is not just the crying that you want to hear. You would want to know when your baby has woken up so that you can attend to him or her accordingly. Audio quality that can pick up even the slightest of sound should be a feature of a good baby video monitor.
● Night vision
And you thought you would only get to hear about night vision in crime thriller or war movies. Now that you have a baby to watch, you would need a night vision capable video monitor so you can still see what is going on even when the baby is fast asleep in a dimmed room. One can even say that night vision is far more important than day time.
● Two-way communication
A nice feature that you could look for in a baby video monitor is a push-to-talk feature that can provide for a two-way interaction with your baby. This way you can soothe, calm and even sing to your baby from another room when he or she starts getting distressed.
● Sound activated light
The purpose of baby video monitors is that it keeps you plugged in on the happenings with your baby while you get to do your chores in the other parts of the house. Sound activated light is useful when your chores might involve a lot of noise that could get in the way of you hearing your baby. Such chores can include vacuuming the floor or dealing with the washing machine. Don't miss your child's whimpers by getting a video monitor that lights up when noise is detected in your baby's room. Even though you can't hear what's going on, a quick glance at the lighted indicator of the monitor will alert you of a development.
● Easy to set-up
As a busy parent you would not want to spend more than a few minutes setting up your baby video monitor. The best baby video monitors are easy to set-up. They do away with the hassle and spare you more time for sleeping or doing a chore.
● Sound activation
Another feature that can buy you more time and save you more energy is the ability of a baby video monitor to filter out background noise, and be sensitive enough to your baby's sounds in order to be activated. A good baby video monitor can be tuned in on frequencies that can detect and distinguish your baby's crying from background noise. The monitor will remain silent while the baby is sound asleep and will quickly tune in once an activity has been detected. This feature can help you get quality rest and even prolong your sleep since the monitor is silent. Once activated, a good baby video monitor will even amplify your baby's cries so that you may be promptly alerted.
● Dedicated handheld viewer
For a more secure feeling, you may opt to look for a baby video monitor that comes with a dedicated handheld viewer. You are less likely to be hacked via wifi connection.
● Wifi connectivity
Latest models of baby video monitors are wifi ready and are capable to stream your baby's videos online. With a wifi connectivity feature, parents who are in different places in the house, at the office or any location can simultaneously watch the baby from their phones or other devices.
● Multiple receivers
The best kind of baby video monitor is one that allows multiple receivers. This feature may come in helpful if you want to leave one to permanently stay in your room and still want one that you can carry around the house, or when there are multiple people who would like to watch the baby. Daddy could be in his study while mommy could be in the garden and they would still both be tuned in on baby.
● Sensors
Other manufacturers have gone far and beyond, equipping their baby video monitor models with sensors that can track your baby's vital signs, monitor the temperature in the room, and can even keep track of your baby's sleeping habits that it can eventually predict the time your baby might wake up. Some models may even have movement monitors, which will sound an alert in the event that your baby has stopped moving for a certain amount time. The ability of a monitor to sound an alarm in case the baby stops breathing and therefore stops moving should be particularly interesting for parents of infants 6 months and below. This period of 6 months is the time where risk of Sudden Infant Death Syndrome or SIDS and other sleep-related deaths is at its highest.
● Battery life
Consider a baby video monitor that has rechargeable batteries. The average battery life of monitors is around 15 hours. It would be a drag if you have to keep changing the batteries.
● Social media ready
Though not a priority, you may find this feature interesting if you like keeping your relatives and friends updated with your baby's life. Some models can capture photos and time-lapse videos, and compress them into seconds worth of video clips, ready to be uploaded for all your loved ones' viewing pleasure.
How to buy the best baby video monitor
Do your research and read write ups about different baby video monitors. Try to list the pros and cons of the models that you will review. Read feedbacks from users and see which models regularly come highly recommended. Keep a list of your own containing the features that you would like your video monitor to have and see which product meets the most requirements.
Purchase your baby video monitor from a retailer with a good return policy.
Test the unit immediately and check for any issue that may limit the performance of the baby video monitor. Try turning on all your devices from which interference may come while you are testing out the unit. Such devices may include your cordless phones and wifi routers. Test the unit from all the areas where you might use the monitor and check for any interference. For dedicated baby video monitors, test the range and don't simply rely on the manufacturer's range claim. On closer inspection of the specifications of your new baby video monitor, you might find that the range given by the manufacturer may actually vary depending on the materials of your wall and how thick your walls are in the house.
Come up with a working budget. Good baby video monitors will cost you around $100 to $200.
Don't forget to save your receipt.
Important tips that may come handy
If there is an interference issue, return the monitor and look for a better alternative. An interference issue is not something that you can fix or something that will eventually go away. The sooner you return the unit, the better it will be for you and your baby. It is not worth losing sleep over so be sure to keep your receipt and avail of the store's return policy.
Place the baby video monitor 3 to 10 feet away from your baby's crib so that the monitor may pick up your baby's sounds.
Read the manufacturer's instructions on how to set up the baby video monitor and follow their safety guidelines.
Getting the optimum view of your baby's room will be a matter of trial and error. Be sure to try out different positions and distances so that you may get the most out of the baby video monitor.
In case your baby video monitor has a cord, avoid the risk of strangulation by making sure the whole unit is out of your baby's reach.
Never place and leave your baby video monitor in or around a water source.
Always check the battery level of the baby video monitor before going about your own business. You do not want the monitor dying on you without you realizing the battery has gone dead.
To avoid your monitor from being hacked, be sure to set your own password and to reset it periodically. Also, keep the firmware of your unit up to date.
Be sure that your wireless connection is ultimately reliable should you go with the wifi connectivity feature. You never know when an unreliable internet connection might be down, and if it happens while you are sleeping in the middle of the night, it can unfortunately go unnoticed. Imagine the horror of not getting the actual live feeds and alerts you are expecting your baby monitor to give.
Our Recommendation
Check out our Top 5 Best Baby Video Monitor and see if you would like some of the baby monitors on our list. Read on and maybe our number one choice, the iBaby M6T HD Wi-Fi Digital Baby Video Camera Monitor, could be your choice, too.