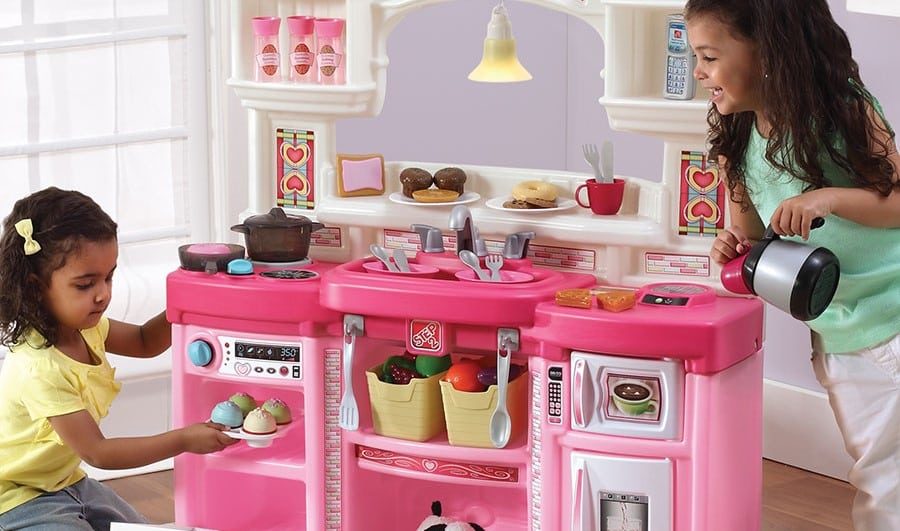 Top 5 Best Kitchen Playsets |2020 Reviews
Whenever we go to a family diner or restaurant, we often see kids with their heads buried in their tablets and smartphones. Who could blame their parents? Having phone apps and games at your fingertips has become practical for many reasons. For one, it's space-saving. You don't need to clean up after them, no toys to put away, and no need to worry about missing toy parts. It's a great setup that benefits both you and your child. Furthermore, with the rate at which new apps and games are being developed these days, your kids are guaranteed to have loads of fun trying out new ones each week.
We're not going to tell you that good ol' games and sports are better than these electronic games. We believe that they are also an essential tool in the holistic growth of your child and a great way to introduce them to technology. However, we all know there are still dangers to it. For instance, staring at a screen for a prolonged period of time can be harmful to your child's eyes. Not to mention, kids benefit from physical activities like, say, playing basketball outside. It keeps them energized all day. Also, playing games with other children face-to-face will help build their social skills early on.
A classic toy like play kitchen sets are great for doing just that. Your kids can move around while playing it with their friends. Hosting playdates is easier if you already have a toy that's great for sharing. You can also help teach them discipline and independence by allowing them to put their toys away after use. It's a win-win. This is why we came up with our very own list of the top 5 best kitchen playsets that your tiny tots are sure to enjoy.
Quick Comparison Table
| KidKraft Vintage Kitchen | Melissa & Doug Chef's Kitchen Play Set | Naomi Home Kids Gourmet Kitchen Set | KidKraft Ultimate Corner Play Kitchen Set | Little Tikes Cook 'n Learn Smart Kitchen |
| --- | --- | --- | --- | --- |
| | | | | |
| | | | | |
| $$$ | $$$ | $$$ | $$$ | $$$ |
| 3 years and up | 3 - 8 years old | 3 - 10 years old | 3 - 8 years old | 2 - 5 years old |
| 40 pounds | 65 pounds | 73 pounds | 59 pounds | 10 pounds |
| 33 x 11.7 x 35.7 inches | 42.5 x 19.5 x 8.5 inches | 40.5 x 16.8 x 41 inches | 32.7 x 42.4 x 36.5 inches | 17 x 22 x 30 inches |
| | | | | |
KidKraft Vintage Kitchen
The top spot goes to none other than KidKraft. This vintage-style toy is the best play kitchen your kid will ever have. There's a lot that we love about it but we'll try to just cover the basics – what you need to know. Let's start with the color. Our personal pick is the vintage blue color. It looks like something out of a 50s kitchen catalogue and it's absolutely gorgeous. If you're not feeling it though, you can choose from black, red, pink, and white. Options, options…
This is a strikingly beautiful KidKraft play kitchen that'll make you want to have a life-sized version of. Honestly, it's just too cute. The pieces are made out of wood, so they're sturdy and durable. Playful kids won't easily topple this over and ruin their playtime. A fair warning, though: this package only includes the play kitchen set, not the accessories. You'll have to buy those separately. Fret not, KidKraft also sells accessories that go perfectly well with this play set. Alternatively, you can use pretty much any other brands of kitchen accessories to go along with this toy. Otherwise, your kids might already have kitchen toys lying around inside their toy storage boxes which will do just fine.
For the assembly, of course, the adults are the ones responsible for it. There are bolts and screws, after all. Brace yourself because if this is your first time assembling a play kitchen set, then you're in for a 2 or 3-hour session. It doesn't help that the instruction manual that's included doesn't have any words on it so you'll have to make do with pictures.
We love how the doors on this thing snaps close, perfect for a young child's strength. If you don't want to set it up on the floor, there's the option of anchoring it to your wall. We think it's also the perfect height. It's a little bit too high for 2 and 3-year-olds but that just means they can use it for a couple of years more and they will not outgrow it that quickly.
It's an amazing thing to watch our kids have lots of fun with this KidKraft play kitchen set. To top it off, it's not even really that expensive, as compared to other brands.
Details of KidKraft Vintage Kitchen

Dimensions

33 x 11.7 x 35.7 inches

Weight

40 pounds

Recommended Age

3 years and up
Melissa & Doug Chef's Kitchen Play Set
At second place is the Chef's Kitchen from Melissa & Doug, probably one of the best wooden play kitchen sets that you'll find. It comes in black and pink. The charcoal color gives a more sophisticated feel to it, which actually makes it look like a miniature version of an actual kitchen.
It looks simple yet much more realistic. The thing you have to worry about here is the lack of color. It could get boring to look at sometimes, especially when your kids' other toys are a combination of bright color schemes.
Aside from the color, though, there's pretty much nothing to complain about when it comes to the Chef's Kitchen. It has all the best features of play kitchen sets. It has an oven, a microwave, a stove, and a sink that are all built in. The refrigerator also comes with a working 'ice dispenser'. You can choose to buy just the Melissa & Doug play kitchen set or you can buy the bundle package with all the accessories.
The microwave plate spins, the doors open, and the knobs turn and click in place just like real ones, so your kids should be able to have loads of fun playing with their kitchen play set. This will surely bring out the tiny chef in them and you can join in on the fun.
Another thing that we love about the Chef's Kitchen play set is that it's quite easy to assemble and it's big enough for playdates or for homes with 2-4 kids. You can also just as easily buy kitchen toys to add to this play set to mix things up a bit. Overall, it's a beautiful, classic wooden toy from Melissa & Doug that's guaranteed to be sturdy and will bring joy to your kids for years.
Details of Melissa & Doug Chef's Kitchen Play Set

Dimensions

42.5 x 19.5 x 8.5 inches

Weight

65 pounds

Recommended Age

3 - 8 years old
Naomi Home Kids Gourmet Kitchen Set
Naomi Home is at third place. One look at this play kitchen set and you'll understand why. It's gorgeous and this is something that we definitely want for our own real-life kitchens. It only comes in one color but you can choose to have the countertop in either cream or black granite.
Same as the other play kitchen sets on this list, the parts are movable so it feels authentic. The dishwasher has a sliding rack and the sink is removable, too. The knobs turn and click as well for the four stove burners. The oven below the stove can be opened and it also has a sliding rack. The faucet handle can be turned as well. The refrigerator has a mini notes chalkboard but it doesn't have an ice dispenser nor a spinning microwave plate like the Melissa & Doug entry on this list but that's the only downside to this play kitchen set.
We love the details on this toy, particularly the spice shelf under the microwave oven. It looks compact and well put together. It really will make your kids feel like they are working with an actual kitchen. It provides a lot of opportunities for the children to interact and have fun with it. If you're planning on a playdate soon, you can also count on this to keep the kids busy for hours.
Note that it is also quite heavy at a little over 70 pounds. It's sturdy enough that your kids won't easily knock it over by accident. It's perfect for smaller children who still tend to hold on to things for support when standing. Our verdict for the Naomi Home play kitchen set is that it's beautiful and sturdy enough that we are seriously considering getting a life-size version of it for our own kitchen.
Details of Naomi Home Kids Gourmet Kitchen Set

Dimensions

40.5 x 16.8 x 41 inches

Weight

73 pounds

Recommended Age

3 - 10 years old
KidKraft Ultimate Corner Play Kitchen Set
It shouldn't come as a surprise that KidKraft has taken two spots on this list. Look at their selection and you'll find the best play kitchen sets available. This one, while more expensive than the rest on this list, is definitely called the 'ultimate' play kitchen set for very good reasons. You might want to skip this, though, if you're working with a smaller budget.
First off, it comes in white and brown, both variants look absolutely lovely. The white one gives off a more chic feel while the brown one has a cooler theme with its turquoise accents. Both look vintage and the whole set is big enough for up to four kids to play with. It has four sections: the fridge, stove, sink, and clothes washer.
The burners and the ice dispenser on the fridge make sounds when in use. There are pegs above the stove that are perfect for hanging pots and pans. The knobs, of course, can be turned and will click in place. We love the shelves under the sink, the kids can put the bowls, cups, and plates.
We also love the design of this play kitchen set although we find it a bit odd that there's a clothes washer. The two small windows are a great addition, too! The cupboards provide ample space for storage, too. It may appear to be bulky but it's surprisingly compact and doesn't really take up too much space.
Assembly is also a breeze. In fact, you can safely let your kids handle it on their own, except for when attaching the doors. It can be time-consuming but a fun bit that you and your child can bond over. If parents here at ParentsNeed HQ are happy about this lovely, albeit expensive, play kitchen set, then we don't see any reason why you can't be, too!
Details of KidKraft Ultimate Corner Play Kitchen Set

Dimensions

32.7 x 42.4 x 36.5 inches

Weight

59 pounds

Recommended Age

3 - 8 years old
Little Tikes Cook 'n Learn Smart Kitchen
Alright, so far we've listed amazing kitchen play sets for you but now it's time to wrap it up with our fifth-placer. The rest of the entries on this list all look like something straight out of an interior design catalog. At number five, we have something a little more "child friendly," appearance-wise.
Little Tikes' Cook 'n Learn Smart Kitchen is the best play kitchen set if you're looking for something that really does look like a child's toy. With its vibrant colors and accessories, there's no mistaking that this play kitchen set will not fail to grab your child's attention.
Equipped with its mobile and tablet app that can be accessible via Bluetooth, this play kitchen set makes your child's playtime more interactive. The app recognizes the accessories that your children are holding and will provide with instructions or sound effects that will make your children feel like they're in a cooking show. They'll hear chopping sound effects as they are chopping their vegetables in their pretend kitchen. They'll also be able to play additional games using the mobile application and it really is an engaging experience for them, overall.
Assembly is such a breeze because the instructional manual is straightforward and easy to understand and can only take around half an hour to forty-five minutes. It's not as big as the other entries on this list and it's not as heavy, so it won't take up too much space in your kid's room.
The good thing about this app is that it's compatible with a lot of the popular mobile devices. It has Toddler and Preschool modes that will make the children's playtime become educational as well. The app also incorporates teaching basic stuff like numbers, the alphabet, colors, and some interesting trivia about food. It could even be a great way to teach your kids to do small household chores or keep them interested in helping out around the house. There's a reason they call in the Smart Kitchen, after all.
Details of Little Tikes Cook 'n Learn Smart Kitchen

Dimensions

17 x 22 x 30 inches

Weight

10 pounds

Recommended Age

2 - 5 years old
There you have it, fellow parents! We understand it can be difficult choosing among these great play kitchen sets for your kids because they're all great. It's important that you also let your kids be part of the choosing process when you're buying toys – whether you're picking out board games, outdoor games, or whatnot – because they are the ones who will be using it. Try to figure out what features your kids will enjoy and benefit from the most and you shouldn't go wrong with that.