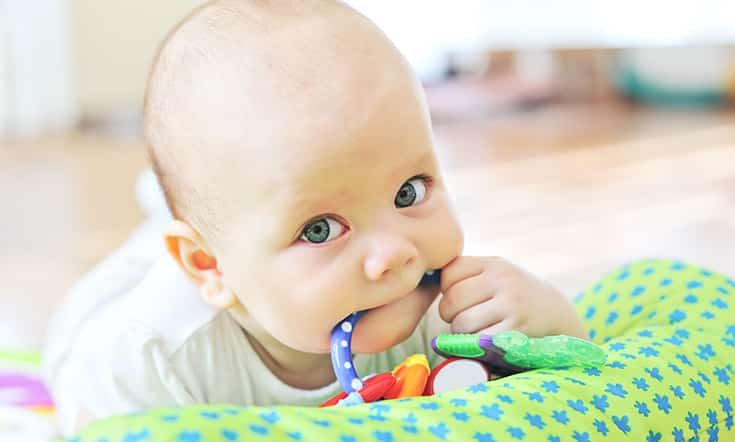 Top 5 Best Teething Gels and Oils | 2020 Reviews
There comes a time when you start looking for your baby and find them only after following a trail of drool. Once you find your baby, they're enjoying a delightful chew at one of your end table's legs. You don't know whether to find it cute or whether to run off and start pulling your child away from the side table. Teething is an exciting process for mommies and daddies but not so with our babies. It's a distressing stage in their lives. It's a painful process that needs proper attention because at this moment in their lives they are irritable and easily agitated. Some symptoms of teething are: they don't eat as much and they love biting, sucking or gum-rubbing. That's because when a tooth is about to erupt, it cuts a hole through the gums, making the gums really inflamed and painful. And that's the reason why we buy the best baby teething gel to help our babies find relief.
We have heard of so many myths, dos and don'ts in buying teething gels for our babies. But one thing is true though; you must try and buy a teething gel without benzocaine. Benzocaine has been proven to be a dangerous chemical that can cause a horrible effect on your baby. Babies can get a dangerous illness called methemoglobinemia. It is a blood disorder where you blood is producing an abnormal amount of methemoglobin and it may even lead to death. That's very scary to learn about teething gels. No worries! We made sure that our selection of best teething gels don't contain benzocaine.
We have a list of the best teething gels that relieve the pains of erupting teeth and also aid in keeping your child go through the most painful experience they will ever have in their babyhood.
Quick Comparison Table
| Weleda Childrens Tooth Gel | Bonjela Fast Acting Gel for Teething | Punkin Butt Teething Oil | Wellements Baby Tooth Oil | BALM! Baby Teething Rub! |
| --- | --- | --- | --- | --- |
| | | | | |
| | | | | |
| $$$ | $$$ | $$$ | $$$ | $$$ |
| 1.7 ounce | 0.5 ounce | 2 ounce | 0.5 ounce | 0.5 ounce |
| 0 year old and above | 4 months old and above | 2 months and above | 4 months old and above | 6 months and above |
| | | | | |
Weleda Childrens Tooth Gel
Weleda Children's Tooth Gel acts as a great teething gel and even doubles as an effective toothpaste for baby. It works both as a topical soothing gel for your baby's tender gums as well as a safe gentle cleanser for those popping pearly whites. The reason why we love Weleda so much is that it never fails to amaze us with its all-natural products, and this baby teething gel is no exception.
We really like caring for our children's sore gums and growing teeth at the same time and Weleda just gave us one product that tackles both at the same time. We love the Weleda tooth gel because it is safe to swallow. It doesn't have fluoride—for the toothpaste part—and benzocaine—for the teething gel part. It only uses the ability of the Calendula flower extract's capability to reduce swelling and relieve the pain of inflammation especially inside your little tot's mouth.
We also love the fact that is introduces new organic flavors to your children because it doesn't opt for the typical fruity flavors we have in the market. It uses organic spearmint and fennel as it's flavoring, which is surprisingly a good flavor to the taste and also adds a nice scent to your teething baby. We even tried it on ourselves and it does the fast relief we expected it too.
This makes one of the most-loved and best teething gels safe for babies and even infants as it serves as a soothing agent for those extremely painful and itchy gums of your babies. All you need to do is apply a decent amount of tooth gel on your baby's gums. Other parents would recommend using it as toothpaste, and leaving the suds in the mouth first before rinsing it out after a minute. It automatically relieves the itchiness and the painful gritting underneath your baby's gums working as a highly effective natural teething gel. You are a sure winner when it comes to Weleda Tooth Gel, you get the fun toothpaste your baby needs as well as the relieving treatment with a teething gel without benzocaine to keep them happy and healthy.
This is by far our Favorite Teething Gel Without Benzocaine, thus making it our First Pick!
Details of the Weleda Childrens Tooth Gel

Flavors

Spearmint Fennel Flavor

Active Ingredients

Calendula flower extract, esculin

Size

1.7 ounce

Recommended Age

0 year old and above
Bonjela Fast Acting Gel for Teething
We often get teething gel warnings because it contains chemical compounds that are dangerous to our baby's health. And for that reason, there have been plenty of teething gel recalls because of the FDA warned drug, benzocaine. That's the reason why teething gels have opted for teething gels safe for babies to use. That is why we also chose Bonjela teething gel as a good baby oral gel. Although is it not an all-natural teething gel, it will serve your child well in cases when signs of teething get worse. Since it uses cetalkonium chloride, it helps prevent bacteria from affecting your baby's gums due to growing teeth. At this time, your baby's is prone to bacterial attacks because their gums are tender and swollen and break open every time a tooth erupts. This may be painful but with the help of Bonjela, teething would be a passing phase for your baby.
We also love this product because it's really helpful in making it easy for your baby to grow his/her teeth without the worry of ever getting a blood disease or any chemical related illnesses. We are also sure to tell you that the mild flavor of Bonjela is very appealing to baby's tastes. It's not too sweet and strong but just the right sort of sugary flavor which is a definite love-it for this baby oral gel.
As a parent, we can understand your worry when you see the word anesthetic in anything you're going to use on your baby. But you don't have to worry about Bonjela. It is a mild anesthetic that serves as a baby teething numbing gel. It also serves as an antiseptic that will help reduce baby teething rashes that are just too common when it comes to floods of drool flowing down your baby's mouth. It also protects your little chomper from getting mild infection. It's a good teething gel to have and to love so we're placing it to the second spot on our list.
Details of the Bonjela Fast Acting Gel for Teething

Flavors

Sugar-free

Active Ingredients

lidocaine hydrochloride, cetalkonium chloride

Size

0.5 ounce tube

Recommended Age

4 months old and above
Punkin Butt Teething Oil
The best option to go in choosing the right teething gel for your baby is going organic. Organic teething gels are not packed with laboratory made chemicals that pose dangers to our babies. That is why we, at ParentsNeed, chose Punkin Butt Teething Oil as our best teething gel for infants.
We love the fact that it is 70% composed of organic products while the remaining 30% are naturally extracted. It is technically 100% all-natural making it less of a worry for mothers.
We don't have to think about long scientific names that are confusing for any shopper. Whenever we look at the ingredients list of this teething gel without benzocaine, we get familiar with all of the chemicals that are in there. This makes us less worried about recommending this product. Punkin Butt may not be a gel per se but it is topical serum to relieve the numbness in teething that is known for making natural products that are proven to be very safe for our babies even our newborns. In this case, we look at the teething gel that is effective in keeping your babies' gums relieved from swelling.
This is the only non-medicated teething gel that we were able to find. It's quite difficult to find all-natural teething gels that would help in keeping your agitated baby at bay. What's great about this teething gel for baby is the fact that it acts as an instant and long-lasting relief. This will really help you and your baby gets a good night's rest since its topical treatment will relieve your baby's gums through the night or at least most of it. And one of the things your baby will like is when you massage his/ her gums with this ointment. That is also relaxing for your baby.
We also love that it doesn't use other chemicals; it uses an essential oil blend extract that contains chamomile, clove and peppermint as its main ingredient that instantly relieves swelling. It also helps soother the gums and the Grapeseed and Grapefruit extract acts as an agent that helps with the drooling. It may not reduce the heavy drooling but it does help reduce the teething baby rashes on your baby's chin and cheeks because of the drool. You are guaranteed a great and safe relief for your baby day-in and day-out making your baby's teething experience less painful. For these reasons, this is our third pick for great teething gels or oils for baby!
Details of the Punkin Butt Teething Oil

Flavors

Mild mint

Active Ingredients

Grapeseed Oil, Organic Sunflower Oil, Organic Sesame

Size

2 ounce, 4 ounce BPA-free plastic bottle

Recommended Age

2 months and above
Wellements Baby Tooth Oil
It's difficult to find a teething gel without benzocaine in it. And looking for a good teething gel for infants can be a difficult task because most of the teething gel chemical agents are with benzocaine. Although it is highly effective in soothing the sore gums during the teething process, benzocaine still has its risks.
We like Wellements Tooth oil because its main ingredients have no dangerous chemicals. It uses clove bud extract that serves as a baby teething numbing gel to lessen the pain your baby feels when a tooth is already about to erupt. The spearmint and olive oil, on the other hand, is are gentle anti-inflammation gentle to your baby's mouth that reduces the swelling significantly. The spearmint keeps your baby's mouth clean and free from bacteria that might infect the broken and sore gums that just happened to push a tooth out. It's a good alternative to popular teething gels in the market because this is just as effective without the benzocaine.
One plus factor for the product is that it is sugar free and it uses stevia as an alternative sweetener. Stevia is a plant with extremely sweet leaves and it is the recommended sugar for diabetics. It also becomes a favorite among kids because it has a mild minty flavor that comes along with it. It also turns out to be a good mouth freshener for your baby. It works as a highly recommended teething gel safe to be swallowed. It is also good as a topical instant relief for swelling gums. You would also just hate it when your baby crawls around nibbling on anything stiff to soothe the itchiness but applying Wellements every after one to two hours does the magic. Your child will feel relieved and also perky considering that your child is teething.
The only problem with Wellements is that it comes in an easy tip bottle. When you're applying the oil, it needs to be secured before actually being used since it can easily tip and spill. And the spearmint can be overwhelming for some children too because its mintiness can be mistaken as something else. The fact that it doesn't need a dangerous chemical to effectively help your baby have a happy teething, then it means that you don't really need to depend on anesthetics to help your baby during teething. For that reason, this is one of our favorite teething gels for infants and we are putting it in spot number 4!
Details of the Wellements Baby Tooth Oil

Flavors

Mild mint

Active Ingredients

Olive Oil, Clove Bud Flower Oil, Spearmint Leaf Oil

Size

0.5 ounce bottle and dropper

Recommended Age

preferably 4 months old and above
BALM! Baby Teething Rub!
A fussy baby makes a really tense household, everybody seems to be on the edge when our babies get really fussy and irritable. That gets especially worse when your baby starts teething. Teething is a long and painful process that involves the entire family's cooperation, that's why recommend the best relieving gel we can find for you and your baby. This teething gel is effective in reducing the fuss, the irritability and sleeplessness.
It uses homeopathic drugs as an alternative to synthetic chemicals that are dangerous to your baby's health. This is why we love this product! Because the chemicals found in it is extracted from naturally occurring minerals, plants and others. Signs of teething will be reduced with the use of Balm! Baby teething gel. We can assure you that the teething oil is highly effective in helping your baby have a good night's rest.
Unfortunately though, it acts more like a sleeping pill for baby rather than an ointment to reduce the swelling in the gums. It may help in relieving the gums a little bit but it doesn't actually work as an instant topical teething gel but rather a soothing drug. It acts like a good stress-relieving topical gel for baby. Nonetheless, it's efficacy in helping your child deal with the stress of teething is just as wonderful as teething gels which have benzocaine in it.
One thing to love about Balm! Teething Rub is its homeopathic approach in dealing with the most difficult time in your baby's teething. This is a safe teething gel because it uses naturally-derived chemicals like chamomile, clove bud oil, and Calendula extract that helps tone down your child's irritability. Your baby is also sure to have more better days as the signs of teething would lessen and effectively seem like they won't bother your baby too much. For a homeopathic approach to helping your child go through her teething with absolutely less worries, this is exactly the best teething gel safe for your baby to have all the time. That's why this is our fifth top Pick for the Best Teething Gel!
Details of the BALM! Baby Teething Rub!

Flavors

Minty

Active Ingredients

Olive oil, clove essential oil, catnip, calendula

Size

0.5 ounce bottle

Recommended Age

6 months and above
With the advancement of technology, it becomes a hazard when even things we put in our baby's mouths are packed with lab chemicals. We don't want our babies to suffer from chemical borne diseases and disorders that is why we opted to give you a list of natural teething gels without benzocaine. We have narrowed the list to the top 5 in order to help you understand which brand would work well for you and your baby's teething needs.
For more information about teething, you may also check out our reviews of Best Baby Teething Toys and an article about What to Feed Your Teething Toddler.