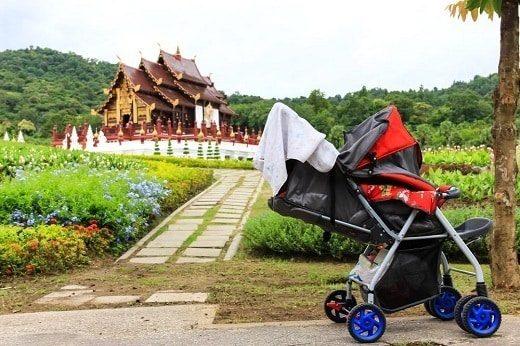 Top Tips to Maintain Your Baby Stroller in Great Condition and Last for Years
Most parents will agree that a baby stroller is an essential purchase for a growing family. Baby strollers exist to make transporting and moving babies around possible, and easier. They aid you in getting around without having to carry your baby all the time, saving your back and arms the dreaded ache.
Modern parents now enjoy improved and advanced baby strollers that cater to their specific needs. Manufacturers are coming up with better and more useful features every year. Baby strollers come in a number of sizes and serve several purposes. It is undeniable how useful baby strollers are, whether you opt to get the traditional type or go for the more advanced stroller, like a jogging stroller for example.
What are the benefits of a baby stroller?
Baby strollers offer convenience when it comes to transportation. It is now easier to take care of your daily tasks and be on the move with your baby in toe. With the use of a baby stroller, you may carry your baby with you no matter where you go, and you don't have to break your back for it. It gives comfort to both you and your child, especially as your child continues to grow, and it becomes harder to carry him or her around. Most baby strollers are easily folded, locked and stored. Its versatility make it possible for parents to bring it anywhere and stroll around with their children. It is an easy way to enjoy quality time together with your child.
Baby strollers are equipped with features to ensure your child's safety and comfort. These safety and comfort features may include trouble-free and efficient locking of the stroller's wheels, easy separation of the child seat that can double as a car seat, and mesh ventilation windows for your child's comfort. Some models even feature side impact protection systems to keep your child protected from both sides, should there be an impact. Other models also have protection against harmful environmental factors, like the harsh ultraviolet rays.
A baby stroller should be a long-lasting investment
Baby strollers are supposedly durable products that will last you for a long time. Stringent safety standards have been enforced to ensure that childcare products from complying manufacturers are of the best quality. Baby strollers that are made of durable and quality materials should, therefore, be a long-lasting investment.
It is important to note, however, that baby strollers still need the proper care. Similar to how other transportation devices require proper maintenance, so do baby strollers in order to last for years.​
Why should you maintain stroller in great condition?
A stroller is a big and expensive purchase. It is a wise investment that should help you care for your child for years to come. That is, if it does not get worn out. Properly caring for your stroller should keep it in great condition to last you for years. More importantly, ensuring that your baby stroller is well-maintained will ensure your baby's safety. Keeping the stroller clean and safe to use is your duty as a responsible parent.
How to keep a well-maintained baby stroller
Secure the owner's instruction manual.
It is always best to start with the stroller instruction manual. Go on and put your baby stroller's instruction manual to good use. The manufacturers have included that in the package for a reason. If you can't recall whether you have a copy of the stroller instruction manual or not, you can always go to the stroller company's website. Most company websites make product information available to the company's customers. Log on to their website and look for any available product documentation regarding the specific model of your baby stroller. Most stroller companies give dedicated product information per model. Product information often come in a downloadable version, most commonly in PDF format.
The easiest way to look for your stroller's instruction manual online is to type the model of the stroller in the search bar of the search engine of your choice. Look for the stroller company's official website. This will usually be among the top of the list. Once on the website, look for instruction manual for your stroller.​
Use the stroller with care.
Now that you have secured your stroller instruction manual, use the stroller according to how it should be used. Take time to read the instruction manual so you would know how to properly handle your baby stroller. Through the instruction manual, you would know how to fold or unfold the stroller properly. This will ensure that all the parts of the stroller are in the right position before and after use. The same goes for the locking and unlocking of the stroller wheels. Determine the carrying weight capacity of the stroller from the instruction manual so that you would know when the stroller can no longer accommodate your child. This will also help you determine how much other baby stuff you can put on the stroller without exceeding its carrying capacity.
The importance of using the stroller with care lies on the fact that the safety of your child depends on it. Also, proper use of the stroller will help prevent it from being worn out due to careless handling.
Give importance to the stroller's storage condition.
Store your stroller in a clean, dry space. Don't leave it outside where it may be exposed to harsh elements. Extreme temperatures may cause damage to the stroller. Leaving it out under sun can cause for the plastic parts to get brittle. Leaving it out in the cold can result to rusting of the metal parts. An indoor closet or a well-sheltered shed could be a good place to store strollers. Stroller hooks and bags are also available in the market for easy storage indoors.
Learn how to clean a stroller properly.
As a parent, you would want your child's health to be always a priority that is why maintaining your stroller's cleanliness should be of importance. A clean stroller could go a long way. One good way to preserve a stroller's good condition is to give it a thorough cleaning every once in a while, at least a few times in a year. Strollers should be cleaned more often in the warmer weathers. It is during these warm weather months when the stroller is more frequently used and more exposed to mud, sand, and other casual dirt on the streets. Give yours some cleaning before it gets too cold and it becomes harder to get those dirt off.
Tips on how to clean a baby stroller
Begin by vacuuming the material of the stroller. This will help remove any crumbs of food or other loose dirt that may have settled on the stroller's seat and compartments. It is best to use a handheld vacuum that is equipped with an adjustable nozzle. This way, you can be sure to cover every nook and pocket of the stroller without much difficulty. The seat will most likely be the dirtiest area, specifically where the seat meets the back. This is where food crumbs tend to collect. Be sure to run the vacuum over that spot a few times to clean out all of the crumbs.
Determine if the fabric material of the stroller is removable so that you may thoroughly wash it. If you are unsure, you can always check with your stroller's instruction manual to see if the seat padding and fabric material could be removed from the stroller frame. Some models allow for the easy removal of the fabric part to facilitate its cleaning, while others require bolts to be unscrewed from the frame.
Under the "Care and Maintenance" portion of the stroller's instruction manual, see how the fabric material could be washed. It is usually indicated there whether the fabric may be machine-washed or hand-washed. Other fabrics get cleaned better when they are hand-washed. If it is machine washable, it is best to use cold water. Set the washing machine to a gentle cycle, unless otherwise stated by the instruction manual.
Carefully choose your cleaning detergent. To prevent irritating your baby's sensitive skin, use only mild detergents that are free from fragrance. Sensitive skin types such as that of your baby's get easily irritated by perfumes and dyes found in some detergents.
Hang the fabric material to dry, whether it was hand-washed or machine-washed. Avoid using the dryer to prevent the fabric from shrinking.
If the fabric material cannot be removed from the frame, you may opt to clean it outdoors. You may clean the fabric while it is still attached to the stroller frame by using a water hose to wet and wash the whole of the stroller. Or you may use buckets of water if you do not have access to a water hose. Soap up and scrub your stroller clean. Again, use only mild laundry detergent.
Use warm water and sponge to remove dirt from the parts of the frame that are especially exposed to dirt when in use. These parts of the frame may have accumulated mud and dirt over time. You may use a toothbrush to get to the hard-to-reach and hard-to-remove dirt. Disinfect after thoroughly washing the parts.
Completely dry your stroller before using it again or keeping it in storage. You may choose to leave it out to dry for a while, but it is better to wipe it dry. It is important to dry the metal frame of the stroller after it has been wet from cleaning in order to avoid rust formation.
Another great option in cleaning the metal frame is to use baby wipes. Instead of hosing down the frame, you may use these disinfectant wipes to wipe down the stroller frame. The wheels and the rims of the stroller may also be disinfected in this manner.
Plastic accessories that come along with the stroller are often detachable. Remove any detachable plastic parts, like the food tray or the cup holder. You may clean these plastic parts using warm water and baby-safe detergent or cleaning product.
Laundry detergents are often good stroller cleaners. Just be sure to choose baby-safe products. Baby-safe cleaning products are often those products that are labeled as "organic", "chemical-free" or "baby friendly". Avoid products that contain a lot of harsh chemical. These may include products that list bleach and lye as ingredients.
Disinfection of the plastic parts should be done a number of times a year as going to public places can cause for germs to accumulate on the stroller. It is also important to disinfect the stroller each time your child gets sick to avoid contaminating other kids and re-contaminating your own child.
Fix squeaky and sticky wheels by spraying them with a WD-40 or some other type of natural lubricant silicone spray. This should loosen them up and get the wheels back to rolling efficiently and silently. Be sure to perform this step outdoors or in a well-ventilated area.
Regularly lubricate the other moving parts of the stroller. Check whether you are able to fold and unfold your stroller with ease, and lubricate as necessary.
Check what type of tires your stroller has. If the tires of your stroller have air, check the pressure with a pressure gauge. Determine from your owner's manual if you need to refill the air. Check the tire treads and make sure that all parts are properly tightened.
Check for any debris, like leaves and twigs, that may have gotten stuck in between the gears of the stroller. Remove them, if any, completely and wipe the area clean.
Reassemble the stroller carefully. Only put the stroller back together once everything has been cleaned and dried. Completely secure the fabric material back to the stroller frame. Reattach the plastic accessories that you have previously cleaned, and make sure that they fit correctly. Check for any loose attachments to prevent any falling hazard from hitting your child on the head. Check for the completeness of the stroller parts.
As a finishing touch, spray the entire stroller with a disinfectant and a deodorizing spray to make for a clean and refreshed stroller.