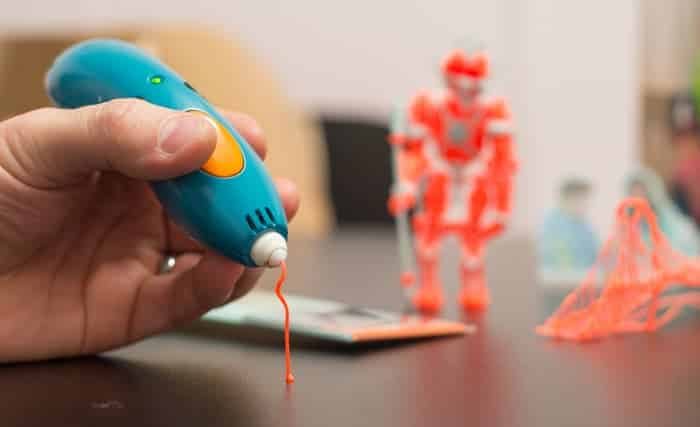 Top 5 Best 3D Printing and Drawing Pens | 2020 Reviews
Forget the time-tested fingerpaints, sidewalk chalk and boxes of 64 Crayola crayons with colors like burnt amber and magenta. Don't bother with the old-fashioned Spirograph and the whiteboards of the '90s and '00s, and put aside more modern options like Bamboo drawing tablets and smartphone apps like Do Ink.
What kids go crazy over these days are state-of-the-art 3D printing and drawing pens.
These pens don't use ink at all. Instead, they are filled with plastic which is melted at high temperatures and then cools as it comes of the pen, so it can be used to draw on surfaces or in mid-air to create three-dimensional artwork. Kids love them because they can let their imagination run wild without being confined to a piece of paper and two-dimensions, while adults find them an invaluable tool for conceptual thinking and advanced 3D modeling. They can even be used for artistic decorations placed onto everyday objects, simple repair work, or together with a 3D printer to attach small parts to larger objects.
The best 3D pens allow you to choose the plastic filament used by the implement, the temperature at which it's melted, and the speed at which it is extruded from the pen. Generally speaking, a 3D pen is almost as easy to use as a traditional one – but there are definitely some that are more versatile and comfortable to manipulate than others.
Many models are thick and bulky, making them difficult to grasp and draw with. Some jam up easily, while others are somewhat noisy or unable to work with both of the common plastic media types used for 3D drawing (the media require different temperatures to work properly). On the other hand, there are 3D printing and drawing pens that come with bells and whistles like advanced unclogging mechanisms and LCD screens which display the current temperature and speed settings.
The technology may be relatively new, but we're on top of it. We've checked out the major (and some minor) players in the market, and put together a list of the top 5 best 3D printing and drawing pens. But before that, check out first our Best 3D Printing and Drawing Pen Buying Guide.
And here it is.
Quick Comparison Table
| 7TECH 3D Printing Pen with LCD Screen | Scribbler 3D Printing Pen V3 | Samto 3D Pen Version 2015 | CreoPop Cordless 3D Printing Pen | ccbetter Intelligent 3D Pen (Version III) |
| --- | --- | --- | --- | --- |
| | | | | |
| | | | | |
| $$$ | $$$ | $$$ | $$$ | $$$ |
| 2.2 ounces | 2.4 ounces | 2.2 ounces | 4 ounces | 1.9 ounces |
| AC 120/220V | AC 120V | AC 120/220V | Lithion-ion battery | AC 120/220V |
| | | | | |
7TECH 3D Printing Pen With LCD Screen, Version 2015
Since these devices are still in their infancy, manufacturers are continually refining and improving them so you'll often see version identifiers in their names. It's always a good idea to choose the latest iteration such as Version 2015 of the 7TECH 3D pen, our choice as the best.
It's difficult to manufacture a slim pen that has a heater inside (although we'll review one in a bit), and we'd find it wrong to describe the 7TECH as "slim." However, it's not as unwieldy as many competitors, weighs just a few ounces and has been ergonomically designed so that it's easy to hold and manipulate. The LCD screen is placed in the middle of the barrel so it's always in sight, and the buttons that adjust the filament thickness and the temperature being used are right next to the screen making them easy to control as you draw. There are also controls further down the barrel for changing the speed at which the filament is extruded, and a slider to choose whether the plastic goes backward or forward (we know that one sounds confusing, but it makes more sense as you're actually using the pen to draw in three dimensions).
The 7TECH uses 1.75mm plastic filament, and can generate the higher temperatures necessary to work with ABS (Acylonitrile Butadiene Styrene) as well as the lower temperatures used to heat organic PLA (polylactic acid). We won't get into the pros and cons of each medium, other than to say that PLA smells better when heated and is a better choice to be used by children, even though it's more likely to break apart after a design has been created. Whichever you choose (and this pen comes with a small amount of various-colored ABS filament included, as well as a spatula to help you work with the plastic without burning your fingers), the 7TECH will heat it and extrude it properly. Incidentally, it works off AC power.
Another reason this 3D pen has reached the top spot in our rankings is that it jams less frequently than most of its competitors, thanks to an anti-clogging design. When it does inevitably jam, though (something to be expected when you're heating plastic inside a small chamber over a prolonged period of time), the 7TECH is easier to take apart and clean out than the rest of the pens on this list.
Needless to say, this tip of this pen (and every other 3D printing and drawing pen) will get extremely hot at the tip, so this isn't a toy for young children; the manufacturer recommends a lower age limit of 8. The 7TECH is, though, seems less "dangerous" to us than the hot glue guns regularly used by elementary-school kids, and there's nothing in its construction which makes it overly hazardous. It also shuts off automatically after five minutes of idle time. At about $80 and in the right hands, it's just plain fun – and potentially quite useful.
Details of the 7TECH 3D Printing Pen With LCD Screen, Version 2015

Power

AC 120/220V

Nozzle Diameter

0.7mm

Medium

1.75mm spool, ABS or PLA filament

Temperature Range

160-230, adjustable

Adjustable temperature/filament thickness

Yes

Size

7.3 x 1 x 1.5 inches

Weight

2.2 ounces
Scribbler 3D Printing Pen V3
Here is version three of the Scribbler, and just as with the 7TECH model, a number of positive changes have been implemented from earlier generations of this 3D pen. The most obvious is that there's an OLED display screen on V3 to show you the current settings for metrics like temperature and feed speed. The even more impressive update which isn't visible – but is extremely useful – is that the Scribbler doesn't just restrict you to ABS or PLA filament, but will also work with bronze, copper, wooden and flexible styles of plastic. And aside from the six selectable temperature settings, you can easily choose just "ABS" or "PLA" settings and the pen will determine the appropriate temperature for your filament automatically. The unit comes in a choice of seven colors, and three small spools of PLA filament are included.
There are also a couple of smart safety design features on the Scribbler. One is a safety shutoff similar to the 7TECH's which only waits for a couple of minutes of idle time before turning the unit off; the other is the use of a ceramic nozzle, instead of the more-common copper nozzles which conduct heat and present a greater risk of accidental skin burns.
The V3 model works very well and the new features are very well thought-out, but there are several reasons we rank it a bit lower than the latest version of the 7TECH pen. One is that it's a little more prone to jams and slightly more difficult to open and clean. The other is that it's $20-30 more expensive than the 7TECH.
Details of the Scribbler 3D Printing Pen V3

Power

AC 120V

Nozzle Diameter

0.7mm

Medium

1.75mm spool, ABS, PLA, bronze, copper, wooden and flexible filament

Temperature Range

170-220, adjustable

Adjustable temperature/filament thickness

Yes

Size

6 x 2 x 4 inches

Weight

2.4 ounces
Samto 3D Pen Version 2015
We really wanted to place the Samto at the top of our list of the top 5 best 3D printing and drawing pens. It's among the lightest, its slimmer construction makes it a bit easier to hold and draw with than our first two choices, and it comes with an anti-jam detector built into the pen. However, we've found that the Samto's quality isn't quite as reliable as we'd like. If you get a good one, it's terrific. If you get a dud, you may end up struggling with it or exchanging it for a new one. We also thought the LCD screen was awfully small and hard to read.
Putting those concerns aside, a "good" Samto is a very good 3D pen indeed. It works with both ABS and PLA filament, there's a good range of temperatures to select from, and you can control the filament extrusion speed, thickness and temperature without a problem (just remember your selections since you may not be able to read them on the display). The end result, though – your plastic creations – are just as good as with the VTECH and the Scribbler, for a price of just $50.
Details of the Samto 3D Pen Version 2015

Power

AC 120/220V

Nozzle Diameter

0.7mm

Medium

1.75mm spool, ABS or PLA filament

Temperature Range

160-230, adjustable

Adjustable temperature/filament thickness

Yes

Size

7 x 1 x 2 inches

Weight

2.2 ounces
CreoPop Cordless 3D Printing Pen
For those who really like to be on the cutting edge, we introduce the CreoPop pen. Even if you're already an old hand at using 3D pens that plug in and heat plastic filament in order to design cool shapes, we guarantee you've never seen anything like this before.
First of all (as you could probably tell from the name of this product), the CreoPop doesn't require AC power, allowing you to design freehand without being restricted by a cord; a rechargeable lithion-ion battery takes care of all power needs. What's more interesting is the fact that the pen doesn't heat anything at all (that's the reason a battery can supply enough power). Instead, the implement utilizes cartridges that contain light-sensitive "cool inks" known as photopolymers. An ultraviolet light mounted in the pen shines on the ink as you draw, hardening it into the firm 3D shape you've created without the need for heat.
The pros and cons of the CreoPop are very different than with most 3D pens. The biggest advantage, of course, is that there's no danger of burning yourself or anyone else with the implement, making it safe for younger children to use. We've already touched on the fact that there's no plug required; the battery lasts for about two hours and simply recharges in any convenient USB port. There are no smells of any kind emitted from the pen, the cartridges can be changed easily and don't cause jams in the pen, the inks are non-toxic, and they come in a large range of hot colors including glitters and glow-in-the-dark shades. There are five speed settings to control the output.
The negatives of the CreoPop, though, are the reasons that it only ranks at #4 in our reviews. One is that the ink, or even the finished designs, can react with some surfaces and damage their finishes or paint, and some claim it can be hazardous to stare at the reflected LED light although we suspect that's just a wives' tale. The biggest problem, though, is cost. It's about $130 to buy the pen, and although it comes with three ink cartridges, those are used pretty quickly and replacement cartridges are $20 per three-pack. That's a lot more expensive than plastic filaments for hot pens, and these cartridges can be very difficult to find.
The technology used for this pen is brand-new, and we suspect that as newer versions are released, prices will come down and this will be the technology of choice for 3D drawing. For now the CreoPop is a very cool toy, but it's an expensive one.​
Details of the CreoPop Cordless 3D Printing Pen

Power

Lithion-ion battery, USB rechargeable

Nozzle Diameter

N/A

Medium

1.75mm spool, ABS or PLA filament

Temperature Range

N/A

Adjustable temperature/filament thickness

N/A

Size

9 x 2 x 6 inches

Weight

4 ounces
ccbetter Intelligent 3D Pen (Version III)
The final entry on our list of top 5 best 3D printing and drawing pens is another heated model, with most of the pros and cons of the pens we've already reviewed. We like it because it's just under two ounces in weight, accommodates both ABS and PLA, and has all of the controllable functions of the higher-ranked pens.
What we weren't so crazy about were the facts that the placement of the control buttons further down the barrel weren't as convenient as they should be, the pen's maximum temperature is 210° which is a little low for use with ABS, and the LED screen is small and somewhat difficult to read. It's a very good 3D pen, but not the best choice at its price of $80.
Details of the ccbetter Intelligent 3D Pen (Version III)

Power

AC 120/220V

Nozzle Diameter

0.7mm

Medium

1.75mm spool, ABS, PLA and wooden filament

Temperature Range

160-210, adjustable

Adjustable temperature/filament thickness

Yes

Size

8 x 3 x 4 inches

Weight

1.9 ounces