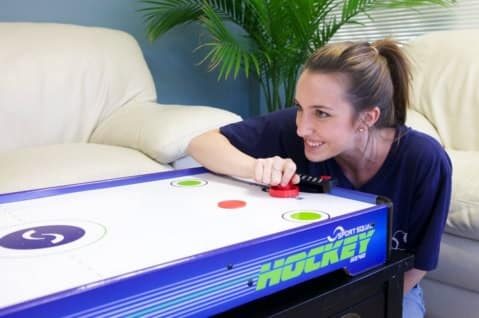 Best Air Hockey Table Buying Guide
So your kids spend hours in the arcade playing air hockey, do they? And a couple of times, you have found yourself joining in on the fun. Why don't you recreate that fun arcade vibe in your family rec room by purchasing your own air hockey table? While it used to be that the only available options for having an air hockey table were the expensive tournament types, these days there is a plethora of more affordable and lightweight styles that your family can enjoy. It's all a matter of your priorities and needs in the rec room.
We here at ParentsNeeds HQ are here to help you buy the best air hockey table for your family by providing you with a buying guideline.
What features to consider in buying air hockey table?
● Size
A full size tournament air hockey table is 8 feet long and you can get the full arcade experience with a table this size if you have the space or the budget for it. As a general guideline, you need to have a space that is 10 feet long by 7 feet wide if you would like to fit a full size table. If not, there are other smaller options intended for a family rec room ranging from 7 feet long, which is almost regulation size, to a mere 4 feet long which is perfect for those who really have just some room to spare. And if you really don't have the room, there are table top varieties that will allow a casual game when the kids are stuck at home.
● Table or Table Top
For the family of air hockey enthusiasts, an actual table is a must. And while it is true that heavier is better, a real heavy duty make might be too expensive for many middle class families. Good thing there are tables made of medium density fiberboards that are durable enough for family use that won't break the bank. One other important thing that you might want to look for in an air hockey table is stability. You and your children will be leaning over the table and applying some force on it, and the last thing you want is a table that could collapse under that weight. You also want a table that has adjustable levelers to make sure that you don't have a table that slants.
A table top air hockey board is something you might want if you don't have the space. But if you do, why not get one anyway for when you and your kids go on camping trips or visit grandma's place so they can have a friendly game with their cousins? Your kids will love the fact that they can bring the arcade with them to take up their time when things get boring around the grown-ups.​
● Power
Air hockey actually gets its name from the fans that blow air through the perforated play surface. The air slightly elevates the puck to better simulate its movement on the ice. This means that your air hockey table has to be powered either by electricity or batteries. You will want a battery operated board if you are going to take it out where there is no electricity – such as if you want to take it out hiking or camping – but other than that, you're better off ditching battery operated models in favor of those with a power cord. Tables that are powered by electricity will naturally have more powerful fans that will bring you closer to the arcade experience which is what you want in your rec room anyway.
● Large Puck or Small Puck
Home air hockey tables are built for casual players, but some are more 'casual' than others. Take hockey tables that use a small puck, for example. These tables have fans that are not too powerful, so in order to keep the puck in play, it has to be lighter so it would be easier to lift. But it also means that if you go full on force on these little lightweight pucks, you could easily send them flying out of the play table – not good. So this is ideal for tweens and younger kids who like to play air hockey but who do not have the hitting power and intensity of a teenager or adult.
Now if your family has an intense love of the game with the competitive spirit to match, go for a standard large puck system that could withstand the beating. These systems are normally the larger tables that are close to regulation standard that will challenge you and keep you at your level best.​
● Budget
When it comes to air hockey, you really do get what you pay for. This means that while your budget is a very important factor in influencing your purchase, it really should not be the first consideration. Once you have figured out what your family wants out of an air hockey table in the rec room, then go ahead and consider which ones within your price range can deliver on those desires.
Benefits of Playing Air Hockey
If you are a game table enthusiast, it isn't difficult to figure out why. A table game like air hockey takes up very little space but use a lot of energy because of its fast pace. Indeed, the physical demand will surprise first timers. It comes as no shock then, that some people might turn to air hockey as part of a fun cardio routine. But aside from promoting fitness, air hockey actually has a lot of benefits for you and your children.
● Non-exercise Activity
By non-exercise activity, we mean that playing air hockey is not associated with the physical exertion that people normally associate with exercise such as running, aerobics, and weight lifting. But it burns a ton of calories and gets your heart rate going! This means that a good game of air hockey can help you burn a lot of fat without your even noticing. Talk about having fun during a workout!
● Stress Relief
Ever get the feeling that you just have to hit something sometimes? Take it out on the puck! Psychologists agree that when you have a lot of pent up anger it really helps to whack something and let it all out. So an aggressive game like air hockey is just what the doctor ordered. But because it is a social game that you have to play with a friend or a family member, you might like that you also have some company while you sort out your emotions. Now isn't that a fun way to get over something that's bothering you?
● Hand Eye Coordination
Good hand eye coordination is something that you want to develop in your kids, so a game of air hockey will really do them good. But adults need to practice too, so playing with your kids will benefit you as well.
● Strategy
Air hockey is not just about hitting a puck with a mallet hoping that you will score a goal. It is a game of strategy and placement! Whenever you send the puck down the table, you have to be intentionally displacing your opponent so that they are off position for your scoring shot. Even if through the grunting, shouting, and laughing within the game, air hockey is a thinking game – and you will have to do it on your feet. Even though you might not believe it, air hockey helps keep you sharp.
● Competitive
People, children especially, really need to be constantly exposed to the pressure of competition. Being in a competitive environment makes kids give their best over a sustained period of time. It tests their focus and their skills, and even if they try with all their might, they sometimes have to lose. And when they do, they test their character. All of this within the non-life threatening environment of sports and games. In short, there is nothing like a little competition to prepare them for real life. Having a table game such as air hockey within easy reach means that they have constant access to "life training."
● Social
Air hockey is just one of those games that you can't play alone. This means that you are giving your kids an opportunity to socialize during an air hockey game. This is especially important if you know that your kid needs to be coaxed out of his shell a little bit more than others. It is also a nice piece of furniture to have in your rec room for when you feel like entertaining guests. A great game of air hockey is sure to enliven any party whether you're entertaining your guests or your kids' friends.
Air Hockey Table Maintenance
Avoid eating or drinking by your air hockey table. You wouldn't want to have bits of food or liquid falling into the air holes because it could clog up the holes or compromise the performance of the fans. At the worst case, the puck might no longer float on the table and this will affect an integral part of the game. After all, no air means no air hockey.
Vacuum the surface of your air hockey table with your regular household vacuum cleaner. This ensures that you pick up any lose dust that may be clogging the air holes. Don't miss the corners.
A damp cloth is usually enough to clean any surface dirt off an air hockey table if you ensure that sticky hands don't touch it. But if you really need to, use a liquid glass cleaner to wipe any stubborn stains. Be sure to spray the cleaner onto your cloth and not directly on the table to avoid any liquid going through the holes on the fan. You will want to avoid using any type of waxy cleaner because they could end up clogging the air holes.
Clean the pucks the same way with glass cleaner and a lint free cloth. This ensures that the pucks stay smooth and retain their glide.
When not in use, protect the surface of your air hockey table. The simplest way is to cover it with cloth, but a more attractive option is to cover the surface with plexi glass or plastic sheeting. If you so wish, you can also use a piece of plywood cut to size and polished well so that it is free of surface roughness that could nick your table. Make sure that you don't load the surface of your hockey table with clutter because one sure way of making a game a chore is if you need to move things around first. Keeping it clean means that your table is always ready for a game.
Periodically check the bolts on your table to make sure that they are always on tight. Also check often if your table is level so that you can adjust accordingly.
Our Recommendation
If you read through our guide all the way down to this point, you know that air hockey is more than just a game. To some, it is an actual competitive sport, to parents it can be a character builder for their kids if they use as a tool to develop their competitive spirit. So if you are now thinking of getting on the market to purchase an air hockey table, then we absolutely agree with you. But before you head out or get online to make a purchase you might want to visit our reviews of the Top 5 Best Air Hockey Tables to read about what's out there. We have compiled the best 7 foot, 6 foot, 4 foot, and 40-inch table top air hockey tables and all you need to do is pick the one that suits your needs. You might to check out the Atomic Blazer 7' Hockey Table, a large beauty that will be star of your rec room. It is a big table, almost regulation size, but with a sleek design that is not heavy on the eye and comes with its own electronic scoreboard to bring in that fun arcade feel. It just might be everything you want in a home air hockey table and is our Top Pick for you. Now the only problem you're going to have is how to keep the noise down in the house amid all that mallet pounding fun.