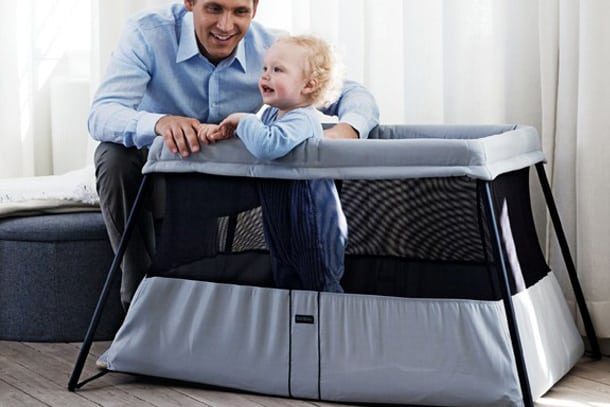 Best Travel Cot for Babies Buying Guide
There is no doubt that you envisioned doing so many fun things with your baby when he was just a new born. You imagined a lot of smiling and cooing while you spoke your first words for him. You visualized telling him what things were called as he pointed to them and introducing him to other babies in the neighborhood. Then your little toddler nephew comes to visit his brand new cousin expecting to play… and then he vocalizes his disappointment as he looks at your little bundle of joy, "He just sleeps!"
Of course you know that. And all the fun times you're going to have with your baby will come later. But right now, your newborn baby will be sleeping a whole lot. Aside from his bed in his nursery, have you given much thought to his sleeping arrangements when you need to take him out? If you haven't, you might now want to take the time to look at some travel baby cots.
Does your baby really need a travel cot?
You might have glanced at a few baby travel cots when you were buying things for your baby during your pregnancy but you never really gave them so much as a second thought. At that time, what you were really looking for was a crib for the baby to sleep in and maybe a moses basket to carry him home. Buying another cot probably seemed like overkill at that time since you could put your baby in his bassinet anyway if you had to take him with you.
A litter later on, though, you might want to take your little family out on a vacation and you might realize that hotels don't have a suitable place for your baby to sleep in. Or if they do, you're not really sure how well they are cleaned. What if your baby's doting grandparents invite you to sleep over so they could get to know their darling grandchild – what then? When you really come to think about it, having a travel cot is not so much of a luxury after all.
The question then isn't really about whether or not you need a travel cot for your baby, but rather what kind you need. Are you an active family that likes to go on vacation a lot? Do you often travel by car or do you commute? Do you like to spend a lot of time outdoors? Or do you just go out occasionally? Knowing the answer to those questions will be very helpful in choosing a portable baby bed that makes sense for you and your baby.​
What are the types of Travel Cots?
Traditional. A traditional looking travel cot looks much like the one in your baby's room except it folds onto itself and has mesh sides. A lot of traditional travel cots have been proven stable and durable and remain to be a very popular choice for parents. However, a traditional looking cot could be bulkier and heavier than the next type of travel cot and will not be ideal if you travel by commute.
Tent type. Tent type travel cots open up to either teepee style or bubble type cribs. They also have walls made of mesh material and have side access. These travel cots tend to be very light weight and fold up into small packages. This makes an ideal bed for your little one if you like going outdoors or if you have to travel by commute. They are durable enough considering the light materials, and when your baby gets bigger, he can use it as a play tent. You will want to carefully check the manufacturer's reputation, though, to make sure you don't get one that is too flimsy.
Is it appropriate for your child's age?
How old is your baby? If he's a newborn, you may wish to get a travel cot that comes with a bassinet that he can use until he is 3 months old. But if you have a bigger baby or if you already have a bassinet, a regular travel cot will be okay. Traditional type travel cots have a hanging bed that is raised halfway from the bottom of the cot. This is ideal for babies 1 to about 4 to 6 months – as long as the baby can't pull himself up to a standing position yet. That raised bed is something you will appreciate because you won't have to bend too low to reach your baby. When baby can pull himself up, it can be removed and he can sleep on the bottom of the cot. It will also double as a play pen in case you go to a house that isn't child proof.
For a tent or pop-up style travel cot, you want to make sure it is big enough to accommodate your growing baby's needs. Some pop-ups are small and will be inappropriate once baby starts gaining weight and getting taller. You will want to get one that can withstand a toddler's play and tumble energy so you can get the most mileage out of his travel cot.​
Is it easy to assemble?
By the time your family gets to your destination, your baby might be too tired to smile. Having to wait too long to lie down might not agree with your little youngster. With that in mind, how much assembling can you or your baby tolerate? Not much, we assume. Some traditional pack and go travel cots simply unfold while others require some minor assembly like putting some rods through fabric. Most of them never really amount a major production, which is a relief. Tent types on the other hand are also called pop-ups for a reason. You simply take it out of its carrying case and it springs into shape.
Aside from thinking of putting up your travel cot, you might want to think of disassembling it too. It can be pretty off putting if you need to leave in a hurry and you can't pack your travel cot fast enough.​
Is it easy to carry?
Most travel cots win in this area. Some of them fold up and fit into a bag with wheels or have the ability compress into a nifty little package. If the travel cot you're looking at can't do either one of those things, then there is simply no point in buying it. Better to move on and look for a baby travel cot that can.
Is it easy to clean?
There's always the occasional spit up and diaper "accident" so you will want to make sure that your crib is easy to clean. Some travel cots can simply be taken out of their frame and thrown into the wash, while others have specific instructions for spot cleaning. Whatever the method for cleaning, it should be easy or else your travel cot might be up for just one use before you toss it aside, never to be used again.
Material
Babies spend a lot of time sleeping so you want a travel cot with safe materials to avoid SIDS. You want to look for mesh walls so that baby doesn't accidentally asphyxiate should he suddenly roll and press against it. You want any fillers in the mattress to be hypoallergenic and and chemical free. See that the hardware is lead free and check the fabric materials for flame retardants – your travel cot should not have any because those chemicals can cause respiratory problems for your baby.
Does it come with a mattress?
Most travel cots come with a very thin mattress and you might not like it if your baby can feel the floor through it. If that is the case, check if you can buy a mattress that fits your travel cot. When you pick a mattress, you want it to be firm so that it is supportive to your baby's back as well as safer as far as SIDS is concerned. You also want to cover it with only a fitted sheet so that your cot is hazard free.
Does it come from a trusted manufacturer?
We are all for giving newcomers a chance. However, your best bet is still with those who have been in the business for a long time. They tend to have passed federal regulations and perform quality checks more often. They have a record you can refer to and more accessible customer service.
Do customers like the travel cot?
Have you thought of asking other parents who have bought the travel cot you're eyeing? What do they think about it? Other parents are a great source of information and there are many who have the same situation or lifestyle as you. Tap them and ask what they bought, if they like it, and how long they used it. It would also be a good thing to ask them if there are features they wish their travel cot had so you can look for those features in your own baby's travel cot. As an aside, you can also read customer reviews of travel cots.
What is your budget?
Finally, you want to think about how much you want to spend on your baby's travel cot. Yes, there will be situations where you will definitely need it, but how often will that be? If you are a homebody and only occasionally go on trips with your family, then it might not make sense to spend an arm and a leg on that super juiced up baby travel sleeper. But if you know that you will use it a whole lot, then you will want to invest in one that will keep all your needs covered and that will withstand such heavy use. Usually, this kind of baby travel cot will cost more than those models that are meant to be used only once in a while.
Safety Tips
Babies actually don't need that plush toy in their cribs. Clear away any hazards like stuffed toys, pillows, and blankets from your baby's cot. It will keep them safe from accidental suffocation.
Some get the idea to use the travel cot as a permanent bed. While the idea can save you money, it is important to remember that a travel cot is meant to be used as a temporary sleeping place. Babies will outgrow it in a two to three years and the travel cot might not be able to support baby's weight. Unlike a proper nursery crib that can convert to a proper toddler bed.
If your travel cot has wheels, always check that they are locked. Or you can buy a travel cot that has two wheels and two legs to avoid your cot accidentally rolling away and hitting something dangerous.
Travel cots with closed tops and a side access are better for a nap outdoors. But if yours is an open top cot, a mosquito net will make an excellent cover.
Some travel cots have a changing unit so that it's like bringing your changing table with you too. You can look for this option when you are shopping.
Good ventilation is important. So never cover the mesh walls with blankets if you think your little one is cold. Instead, dress baby appropriately for the temperature of the room.
Our Recommendation
Go ahead and plan that family vacation because you won't ever have to worry if your little one has a place to sleep. Now that you know what you should be looking for in a baby travel cot, you are ready to go out and buy one. But not so fast! Knowing what to look for is just half the battle. There is still a whole arsenal of cots to choose from and we want to save you the time and effort of going through all of them. So we did some field test for you and compiled the Top 5 Best Baby Travel Cots. Of all five, we simply cannot deny that the Lotus Travel Crib and Portable Baby Playard is the best and, therefore, our top pick for giving your baby restful slumber on the road.