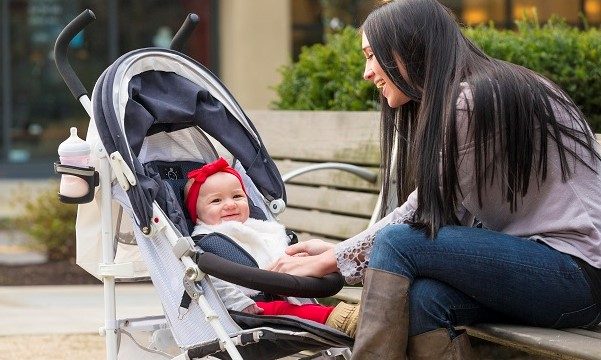 Top 5 Best Strollers for Newborns | 2021 Reviews
Newborn babies may be small and cuddly but they can be very expensive creatures. These little people require a lot of things and take up a huge chunk of your budget – and they have not even reached their first year of life! Now, don't go on a shopping spree and purchase every single item meant for a newborn. You may think that they need every single in the list but they actually don't.
One of the things that are not actually required for a newborn, not even by law, is a newborn stroller. These things can be pricey if you are not careful in making your choices and can definitely make a huge dent in your pocket.
But, how do you choose the best stroller for newborn? There are actually many types of strollers available in the market to help fit your needs and lifestyle.
A travel system is a popular and economical choice for parents who are constantly out and about with their kid. Although they can be quite heavy and bulky to bring around, parents are comforted by the fact that they have everything they need – stroller and car seat – that can be used until toddlerhood, without worrying about compatibility.
It is also possible to buy the stroller and car seat separately, if a parent tends to prefer one brand over the other. However, the problem arises when the parts are incompatible with each other.
Car seats are often the first item that is purchased for a newborn so instead of getting the usual stroller for infant, parents opt to get a stroller frame so they can easily get the car seat from the car to the stroller and vice versa without having to disturb the baby.
Another popular choice for parents is to go for the stroller and newborn bassinet combination. The main advantage to this setup is that babies can stay (and sleep) longer inside the bassinet and it can even be used for sleeping overnight, unlike the car seat. However, bassinets are only good until the baby is around 4 to 6 months old which means you will eventually have to upgrade to a car seat or a toddler stroller.
Not sure which one to go for? We've rounded up reviews for the best infant strollers to make your shopping a little easier:
Quick Comparison Table
| UPPABaby Vista Stroller | BOB 2016 Revolution Flex Stroller | Britax 2016 B-Agile Stroller | Bumbleride Indie Baby Stroller | Baby Jogger 2015 Vue Lite Stroller |
| --- | --- | --- | --- | --- |
| | | | | |
| | | | | |
| $$$ | $$$ | $$$ | $$$ | $$$ |
| 27.5 pounds | 28.5 pounds | 18 pounds | 22 pounds | 16.5 pounds |
| | | | | |
UPPABaby Vista Stroller
When it comes to strollers for newborn, there is no doubt that the UPPABaby Vista makes it at the topmost of any list. It comes with great features that will make parents of 1, 2 or even 3 kids smile wide. What do you get out of the Vista?
First of all, the Vista stroller package already comes with a bassinet so it can accompany your family right from birth until your kid is around 50 pounds. You can configure it to accommodate the bassinet and have it face rear for more parent-baby contact. As your kid grows older, you can switch to a toddler seat which can face forward or backward, depending on your preferences. It also comes with a multi-recline feature to adjust to your kid's comfort. Through the MESA Infant Car Seat, you already have a complete travel system without the need for car seat adapters!
If it happens that you decide to have a second baby, you can also use the same stroller. If you have kids of different ages, you can get a rumble seat and turn it into a double stroller with ease. This stroller is also perfect for families with twins or Irish twins as you turn it into a double stroller with bassinet (or two), car seats or toddler seats in an inline configuration at the same time. Plus, it comes with a huge storage basket that can carry up to 30 pounds of essential baby and parent items.
Other reasons why the Vista is considered as one of the best in the market today are its all-wheel suspension, huge adjustable canopy with all-weather protection, telescoping handlebars (perfect for tall parents!) and a one-step standing fold.
Even better? You can add a Piggy Back accessory so an older third kid can ride on it while you go and push two kids inside the stroller. No wonder it deserves to be placed at the top spot in this list!
Details of the UPPABaby Vista Stroller

Weight

27.5 pounds

Dimensions

33.4 x 24.3 x 16.5 inches

Colors

Denny, Marine Blue, Jake, Pascal, Lindsey, Taylor

Recommend Weight

birth to 50 pounds
BOB 2016 Revolution Flex Stroller
There are many reasons why the BOB 2016 Revolution Flex is considered as one of the best strollers for infants. But then again, it also comes with a few flaws here and there so we had to place it at the second position of our list.
What did we love about this awesome stroller? It is an incredible travel system, that's for sure! We love how versatile this stroller is – you can use it from newborn to toddlerhood without a fuss. And, whether you are an urban dweller who loves quick strolls around neighborhoods with paved and even surfaces or would like to go off-road to keep up with your active lifestyle, it can easily transform to fit your family's needs.
This stroller for newborns comes with a superb suspension system that offers three inches of travel and two stages of weight support to ensure that your baby stays secure and comfortable inside no matter what type of road you take and no matter how heavy (or light) your passenger is. Its front wheel swivels for easy maneuverability but you can also lock it in place to increase stability when you go jogging or running.
The Revolution Flex is also great for tall parents because its adjustable handlebar can be configured in nine different positions so they are perfect for parents of all heights. Plus, you do not have to worry about transporting and storing it because it comes with a two-step easy fold so even if you are going out with your kid by yourself, you can still manage to handle everything without a problem.
If you want even more control with your stroller, you can also check out the Revolution Flex Pro which comes with a hand brake, perfect for going downhill. The non-pro version is pretty much the same and although it does not come with a hand brake, it does have a wrist strap so you can secure the stroller to your wrist and not worry about it going way too far from you.
Thus, we will have to place this at second spot.
Details of the BOB 2016 Revolution Flex Stroller

Weight

28.5 pounds

Dimensions

44 x 25.4 x 43 inches

Colors

Black, Canyon, Lagoon, Meadow

Recommend Weight

Up to 75 pounds
Britax 2016 B-Agile Stroller
At 18 pounds, the Britax B-Agile Stroller is one of the most lightweight new baby strollers available in the market which is why we are putting this one at the third position in our list.
What is there to love about this Britax stroller? Well, we love the 3-wheel configuration which helps add stability and makes it easy to maneuver especially in the tightest corners and narrowest hallways. Its quick-fold design and click and go system are clearly created with the multitasking parent in mind. You only need to pull a strap in the middle of the stroller with a single hand to fold (this may take some time to get used to) and store it while the click and go makes it super easy to install and remove the Britax infant car seat. However, if you do not have a Britax car seat, you can always use the adapter and it fits well with most available infant car seats.
We definitely love so many things about this Britax stroller. Have you ever noticed how huge its canopy is? This ensures you baby stays safe and secure even if you go out under the heat of the sun. Unfortunately, it isn't exactly the best stroller in terms of having complete accessories. The sad part is that it does not come with a cup holder, snack tray or a foot rest. You will have to get the items separately which is not really great since these should be included in the package right at the start.
The seat also does not get to be fully upright and always has a slight recline. Although this looks a little uncomfortable, it is great for long walks because they get to rest and stay comfortable all throughout the ride.
Because of a few minor flaws, we are rather sad to have to push the Britax B-Agile stroller down to the third spot, in favor of the UPPABaby Vista and the BOB Revolution Flex.
Details of the Britax 2016 B-Agile Stroller

Weight

18 pounds

Dimensions

38.5 x 23 x 40.5 inches

Colors

Black, Meadow, Red, Sandstone, Cyan, Steel

Recommend Weight

Up to 55 pounds
Bumbleride Indie Baby Stroller
For the urban dwellers looking for an all-terrain, everyday stroller, the Bumbleride Indie fits the bill quite well. Whether you use it on narrow, busy roads or even off-road, it can do perfectly well and you and your baby will stay comfortable when using it.
Why do parents love the Bumbleride Indie? Parents (including us here at ParentsNeed HQ) love the 12-inch wheels that can take on any type of terrain. Its front wheel can go on a full 360-degree swivel but it can also be locked in place for added security and stability when jogging in rough terrains. Although the tires are air filled and need pumping once in a while, you can be assured that it can easily take on uneven surfaces instead of passing it to your kid inside the stroller.
What makes this the best infant stroller is that even though it accepts most major brands and models of infant car seats, it does not require one to install a car seat in order to have a newborn fit inside. But, even better is that the Bumbleride Indie can be used from infancy to toddlerhood (or until the baby is around 55 pounds) – no need to get a stroller for every phase of your child's growth.
Another reason why it can be considered as one of the best baby strollers is that it has an awesome canopy! It is pretty huge so even if you live in a sunny place, you can go out with your kid without a problem. It blocks the sunshine from all angles plus you can see your kid while pushing them around because of the peek-a-boo window.
Unfortunately, the Bumbleride Indie is not the best to use if you are an avid traveler. It is rather bulky at 22 pounds and not something you might want to take in and out of the plane. However, if you are simply the type who loves to run quick errands around the neighborhood or would like to take out their kid to the park from time to time, this is the product for you!
We love the jogging stroller option and the huge storage basket underneath so we are placing it at the fourth position in our list.
Details of the Bumbleride Indie Baby Stroller

Weight

22 pounds

Dimensions

37 x 24.5 x 46 inches

Colors

Camp Green, Dawn Grey, Maritime Blue, Red Sand, Silver Black, Dawn Grey

Recommend Weight

Up to 55 pounds
Baby Jogger 2015 Vue Lite Stroller
When it comes to looking for a superb stroller for newborn, parents should always look into two things: the stroller's weight and the ability to recline fully flat. Sure, it is also possible to install a car seat or a bassinet on top of the stroller but wouldn't it be nice if you don't need to do that? Fortunately, these things have already been covered by the Baby Jogger Vue Lite.
So, what is there to love in the Vue Lite? First up, parents we love its super lightweight design – it is, in fact, the lightest stroller added into this list. This makes it a whole lot easier to take in and out of the house; you can do it on your own and not have a problem with it at all. Another thing to love about this stroller is that you can easily flip the seat to a forward-facing or reverse-facing configuration. Both sides of the seat come with a seatbelt so you do not have to rethread it every single time you flip the seat. The stroller's canopy is also huge so parents do not have to worry about getting the sun in their baby's face.
Unfortunately, the Baby Jogger Vue Lite is not perfect by any means. Sure, it is the best newborn stroller for parents looking for a lightweight option but it means living with a number of flaws.
As a forward facing stroller, it is impossible to get the seat into a full recline so newborns will be limited to facing their parents (which is probably what they prefer anyway). This configuration, however, comes with padded shoulder pads for added comfort. Another reason why parents do not quite love the Vue Lite is the lack of great storage. Placing a diaper bag underneath is very difficult and you might have to resort to placing items one by one, from the side.
Because of this, we will have to push the Vue Lite down to the bottom of the list.
Details of the Baby Jogger 2015 Vue Lite Stroller

Weight

16.5 pounds

Dimensions

31 x 19.8 x 42 inches

Colors

Citrus

Recommend Weight

Up to 55 pounds
Okay, maybe newborn babies really just need some place warm to sleep and stay cute in plus mom's breasts. However, it can't hurt to try and get other things that make life a whole lot easier and more comfortable not just for the baby but also for the parents.
When choosing the right newborn stroller, make sure to check all the advantages and disadvantages of each item. If you can possibly get products that can last longer than their infancy stage then the better, because it will save you more money (and time for shopping) in the long run. Good luck, parents!