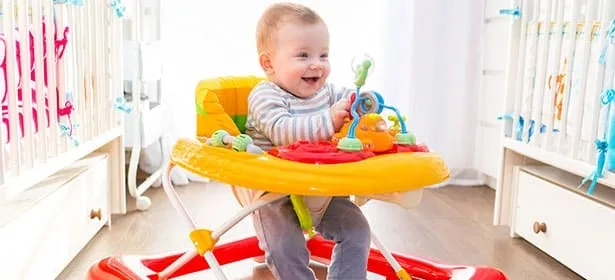 Top 5 Best Baby Walkers | 2020 Reviews
You have to admit it, you have been waiting for the day your little baby will finally show signs of wanting to stand up and walk. But then your little one's delight in his newfound freedom starts to take its toll on your back. The need to constantly bend down to hold his hands while he clips and clops around. Before you question your sanity why you ever wanted him to be mobile, it might be better to start looking around for a good baby walker.
Baby walkers have had a bad rap lately for possible injuries, especially the cheap baby walkers which are little more than plastic assemblages with toy attachments. Some parents decide to do away with it, but the truth is, with a little bit of research and prudence, you and your baby may reap the benefits of buying one. The first benefit that a baby walker brings is that every parent can have that grace-saving 5 minutes of quiet as you just sit and silently supervise the baby while playing with his toys.
Walkers for babies are also a pre-walking tool which would help a child stand and hold themselves upright while maintaining balance. This also helps them develop their leg muscles for further motor skills. And the most exciting benefit is that of the stimulation they get exploring their surroundings. Most of the accidents that happens while using baby walkers involve some lapse in parental supervision. So if you agree that no toy, no matter how expensive, can be used as a babysitter and should still require the presence and guidance of a parent or guardian, then the best baby walkers reviews below might help you decide which one to get.
Types of Baby Walkers
You might have already seen that there are different types of baby walkers. There are seated walkers, Sit-to-Stand Walkers and Combi Walkers.
The Seated walkers give baby the option to sit down when tired, removes the risk of falling down flat on their face, and maybe even have a snack while walking. Sit to stand walkers are thought of as better tools to help a child practice to stand up on their own and push while they walk. Combi all in one activity walkers can be adapted to do both. It really depends on you as the parent which one you believe would suit your child the most. We at ParentsNeed HQ value safety over anything else, and have compiled the following list with this in mind.
Quick Comparison Table
| VTech Sit to Stand Learning Walker | Bright Starts Walk-a-bout Walker | Hape – Wonder Walker Push and Pull Toy | Safety 1st Sounds 'n Lights Discovery Walker | Joovy Spoon Walker |
| --- | --- | --- | --- | --- |
| | | | | |
| | | | | |
| $$$ | $$$ | $$$ | $$$ | $$$ |
| 5 pounds | 11 pounds | 7.1 pounds | 11 pounds | 12.3 pounds |
| | | | | |
VTech Sit to Stand Learning Walker
Our top choice for best baby walker is the VTech Sit to Stand Learning Walker which helps your little crawler turn into a little walker. You can almost feel your child getting smarter as he plays with the many features on this product.
When folded down, it is an amazing floor toy with piano keys that plays musical notes, spinning rollers, shape sorters, and light up buttons. It even has a telephone handset for pretend play to encourage imagination and creativity! And did we mention it has over 70 sing-along songs, music and sound effects and phrases that will teach baby the early forms of language? It is enough to keep them entertained for hours.
These toys use innovative technology which reacts with baby's interactions, making each play experience fun and engaging. First concepts of words, shapes, colors and music are easy to teach with the use of the baby walker toys. This is one baby activity walker which makes you wish you had stuff like this growing up.
When folded up and used as a walker, the most important feature that the newest models have is a tension control dial on the back side of the rear wheel. This will help make sure that the learning walker will not move too fast and leave the baby to fall flat on their face. There is also a rubber seam on the rear wheels that prevents side to side motion. The average 8-month-old child can use this product without toppling over but that is something the parent should look into and monitor.
If you put it all together, this product seems to have it all. With proper parental guidance, this baby walker can really be the best in the market out there.
Details of the VTech Sit to Stand Learning Walker

Product Dimensions

16.5 x 14.2 x 18.1 inches

Product Weight

5 pounds

Safety Features

Tension control dial (brake controls), rubber seams on wheels

Other Features

Piano keys, shape sorter, spinning rollers, telephone handset, music and lights buttons
Bright Starts Walk-a-bout Walker
Most parents look for value for money, and this walker falls squarely into that territory. It has a lot of what the other walkers have to offer but provides unique features on its own: it has a higher seat back support which provides more comfort for baby, a removable toy station which they can use when not in the baby walker, space for additional toys and snacks, adjustable height which allows the product to grow with your baby, and it folds away flat for easy storage (even under the bed). More importantly, it has an added safety brake which helps stop the walker especially around stairs. It also has a big, sturdy and wide frame which doesn't feel like flimsy plastic at all.
The toy may not have as many thingamajigs as the VTech Sit to Stand Learning Walker, but it does its job as an activity walker for babies. It plays fun melodies and has volume control, all setting appropriate for babies and not too loud, it has 2 loop links for additional toys, a driving wheel to finagle, and roller beads and toys to maneuver and move around. All in eye-catching color to help stimulate babies' interest. Reviews stated that the wheels have some difficulty moving on carpeted surfaces, so that might be one of your considerations if your home has wall-to-wall carpeting.
This isn't a fast cruiser, the brakes working means the baby would have to exert some extra muscle to move. However, that also means that accidents due to uncontrolled skidding are also unlikely. All in all, its sturdiness, safety and entertainment value is viable. But what really gets our gears going is it is one of the more affordable but safe walker for baby choices in the market.
Details of the Bright Starts Walk-a-bout Walker

Product Dimensions

34 x 28 x 24 inches

Product Weight

11 pounds

Safety Features

Brake pads on wheels

Other Features

Folds flat for easy storage, removable toy dashboard for floor play and on-the-go
Hape – Wonder Walker Push and Pull Toy
This toy will bring you back to the olden days when having wooden toys were en vogue rather than today's modern children accoutrement of ugly plastic. Suitable for babies 8 months and older, this baby push walker is made of very sturdy wood material with excellent craftsmanship from sustainably grown forests (if you like those kind of things). It is made in Switzerland, where you just know it was made with exquisite care and built to last generations. If you are scared that your baby will tip over while standing up using the toy as a grip, or falling flat on their face as they move forward, then you can rest your fears with this one.
The wheels have rubber grips which controls the speed and movement, and the construction of the frame is sturdy enough to not tip over. It has setback wheels which works when your baby pulls himself up on it. When by happenstance your child falls and brings the toy down with him, it's not so heavy as to squish him. It has a lot of moveable gears and knobs which encourages stimulating play, but the best thing about it is that it is also a cart which your kid can put his favorite stuff into and lug around.
Hape even recommends a friend can join the ride, that's how useful the storage base is. This product was also awarded the 2011 Parents' Choice Award for baby toys, especially because it consistently exceeds all applicable safety standards.
Why then did we only choose it for # 3? Mainly because it is amongst the pricier range of $55 dollars and up. Also, as a push walker, it has the usual proclivities of not being able to allow babies to go side-to-side or swivel to the left or right as easily as seated walkers do. But if you are willing to splurge on a walker, and not so keen on having so many attachment toys but would rather have a long-lasting, safe and sturdy walker, then take out your wallet and get this one.
Details of the Hape – Wonder Walker Push and Pull Toy

Product Dimensions

13.1 x 18.1 x 19.9 inches

Product Weight

7.1 pounds

Safety Features

Rubber strips on wheels, sturdy construction

Other Features

Storage base, moveable knobs, gears and balls
Safety 1st Sounds 'n Lights Discovery Walker
Your baby can cruise in the Sounds 'n Lights Discovery Walker, play with either the Dino-themed or Safari-themed toys inlaid, or use the swing open activity tray for other toys and some snacks.
The frame folds easily for more compact storage, and you can definitely clean up the baby's mess easier since it has machine washable padded seats. More importantly it has grip strips to reduce movement on uneven surfaces, in case your little explorer goes into unsafe territories like a floor decline or the stairs. We at ParentsNeed HQ is amazed how much the little tots are entertained by the toys on this kids' walker. It features different sounds and lights and colorful toys to keep them entertained while you load up the dryer (keeping them where you could still see them, of course).
Seated walkers are often considered safer for younger babies just learning to walk. This baby walker though best suits babies 8 months old and up since they'd have to be quite tall to use this as an actual walker. It has 3 adjustable height settings, but most reviews stated that even the lowest setting isn't low enough for a small baby, so that's a tip for you if you are considering to buy this for a 4-month-old kid (unless of course, she's gigantic).
Frame-wise, it really is quite sturdy and helps assure parents it won't tip on its own bringing baby with it. It works for both tile and carpeted flooring which means your kid can follow you anywhere (and play anywhere, just remember it must be a baby-proof place). If you plan to travel and bring along child walkers, it wouldn't take up too much space since it can fold down to a third of its size. The best feature it has though is its price. This is one of the more durable and safer choices for walkers at $50 range.
For those who believe that toys are easily outgrown anyways, this may be a product for you. Economically-friendly and baby friendly, so really, it's quite a deal.
Details of the Safety 1st Sounds 'n Lights Discovery Walker

Product Dimensions

24 x 28.1 x 22.5 inches

Product Weight

11 pounds

Safety Features

Strip Grips to reduce movement in uneven surfaces

Other Features

Sounds and Lights, swing open trays, Dino or Safari – themed toy attachments
Joovy Spoon Walker
What's clean, contemporary and avant-garde? That'll have to be this baby walker. It proudly combines two essential furniture for your kid: a walker and a high chair. This way you could minimize space usage and you have got to see how cool the design of this furniture is. Yes, it is furniture and not essentially a toy. The Joovy Spoon Walker doesn't have any attached accoutrements, it does not make any loud, jangly sounds, and it isn't that colorful. Instead, it's whole frame is white, and only the seat has a splash of color you could choose from: tasteful charcoal, blueberry, purpleness, red and greenie (manufacturer produced names). It does boast of a big-sized tray that has removable insert which is machine washable.
The padded seat is supportive and comfortable and made with 600D material – which means that it is tough but soft and with a high back. The height can easily be adjusted into three positions and it has huge wheels. It can support babies up to 30 lbs. and / or 33.5 inches tall. It has a wide base so your little one's tiny toes won't get caught in it while walking and hurt themselves and the frame is made of steel reinforcements. It also folds flat for easy storage and travel purposes.
The Spoon Walker exceeds all government standards in compliance for space and stair safety. It is also a breeze to assemble --- you unwrap almost ready to use, and all you have to do is to attach the padded seat insert. Seriously, how easy is that?
We at ParentsNeed HQ have heard nothing but praises for it. It's sturdiness and safety and over-all pleasing aesthetics makes you want to question the flimsy, poorly made plastic walkers in the market, and why would you want to attach anything toys that noisy or can break off and be swallowed. However, it also means investing a whopping $90 dollars for one of these babies for your baby. It's not an easy one to swallow, but if you have the resources, then we really suggest you splurge on this one.
Details of the Joovy Spoon Walker

Product Dimensions

18" H x 25.5" W x 27.75" D

Product Weight

12.3 pounds

Safety Features

Non-slip stair pads, sturdy reinforced steel frame and wide base

Other Features

Super-sized tray, oversized wheels and high back support
Remember, even though there is a clamor to stop selling walkers for babies in the US market (and it is banned in Canada already), the use of baby walkers really should be strictly monitored by parents. It is also best to use the walkers at the appropriate stages of babies' development. Babies do need to learn to crawl first before they can walk, or cruise. If used safely and appropriately, the benefits of using a baby walker will outweigh the supposed risks.