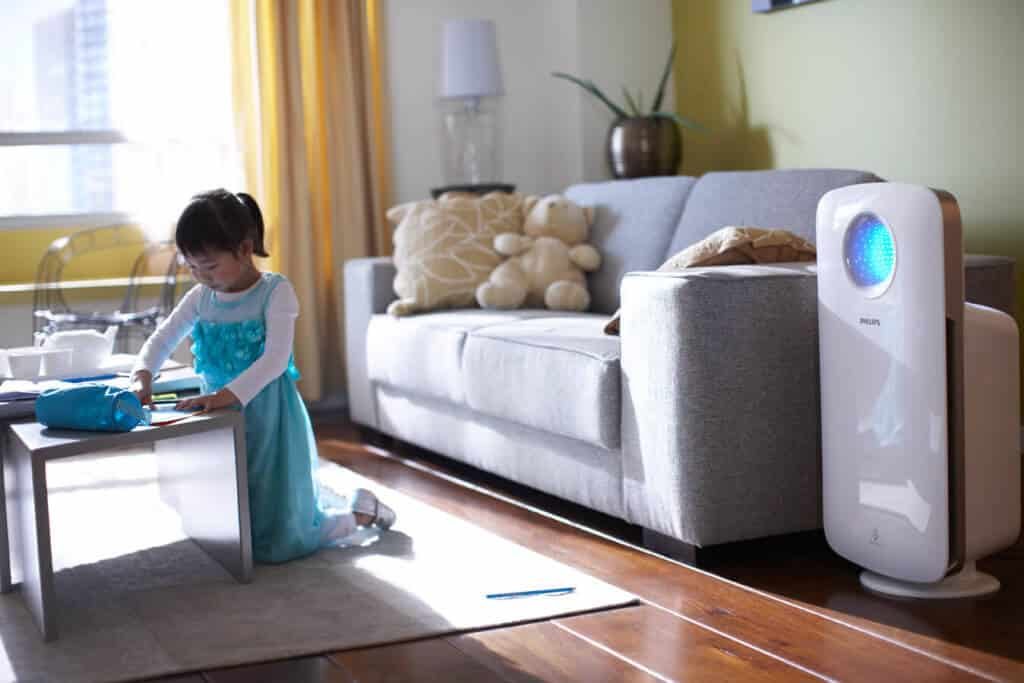 Top 5 Best Air Purifiers for Your Family | 2021 Reviews
As parents, we often get bothered by so many things especially when it involves the safety of our family. Most often, the cause of our scares and panic attacks come from the things that we don't get to see. At home, we are threatened by the presence of germs and bacteria lurking in every corner of the house but sometimes we forget that these contaminants are even in the air that we breathe. This is among the many reasons why you might consider having air purifiers in the house.
Benefits of Having an Air Filtration System at Home
Appliances that remove miniscule dirt and allergens in the air inside your home do not just help keep your family healthy. In fact, if you use those devices that come with HEPA air filters, they can take away bacteria, pollen, mold and many more keeping both your homes and families in tip-top shape. Additionally, you can also opt for those that use activated charcoal to help remove the unpleasant odors inside your home.
When you start looking for the best air purifier to use inside your house, make sure to check to see if they come with a HEPA filter. These types of filters help take out molds that can destroy the walls of your house as well as dust and pollen, pet hair and dander and allergens and other airborne particles.
With so many products available in the market, choosing the best product becomes a very difficult choice. We have put together our list of five of our most recommended brands and we hope these air purifier reviews will make shopping a little bit easier for you.
You may also check out our comprehensive Best Air Purifier Buying Guide here.​
Quick Comparison Table
| Honeywell 50250-S True HEPA Air Purifier | Whirlpool Whispure AP51030K Air Purifier | Holmes HEPA Type Desktop Air Purifier HAP242-NUC | O-Ion B-1000 Ionic Air Purifier | Winix WAC5500 True HEPA Air Cleaner |
| --- | --- | --- | --- | --- |
| | | | | |
| | | | | |
| $$$ | $$$ | $$$ | $$$ | $$$ |
| 21 pounds | 22.6 pounds | 6.7 pounds | 3.8 pounds | 20 pounds |
| HEPA | HEPA, Carbon | HEPA, Carbon | Carbon, UV Light | HEPA, Carbon |
| | | | | |
Honeywell 50250-S True HEPA Air Purifier
We are starting off our list of the best air purifiers in the market with the Honeywell 50250-S.
For a very powerful machine, we love that this air purifier does not cost as much as the other brands of the same capacity. Although it does not have a permanent air filter, it does use long-life HEPA filters which you can use for a maximum of three to five years.
The filter itself works quite impressively and is said to capture up to 99.97% of the particles. Plus it comes with carbon pre-filters that helps take out unpleasant odors inside the home. Of course, we can't really see that for sure but we can feel and smell it – no more allergies and asthma attacks!
Another thing we love about this Honeywell model is that it comes with an Intelli-Check Electronic Filter which will tell you when you need to change or clean your filters. Cool, huh? Just in case you forgot when you last changed, at least it will remind you to do it. If you still are not convinced about it, this model is also highly recommended by doctors for allergen reduction. You can use it to filter smoke, pollens, dust, pet dander, mold spores, germs, odors and VOCs from the air inside your home.
Its extra powerful filters, capacity to purify air in large spaces and price are the main reasons why we are placing the Honeywell Air Purifier at the number one spot.
Details of the Honeywell 50250-S True HEPA Air Purifier

Dimensions

18 x 18 x 19.6 inches

Weight

21 pounds

Filter Type

HEPA

Recommended Room Size

Medium to Large
Whirlpool Whispure AP51030K Air Purifier
If you are looking for a quieter appliance that can still effectively clean the air inside your house – and do not mind having to pay a little bit more for it – then try out the Whirlpool Whispure.
Its HEPA air filter can clean the air up to 4.8 times an hour in a room that is around 500 sq ft. But, even with such power and even if you decide to run it for 24 hours each day, it would still take around 1.5 years before the HEPA filter indicator starts blinking. The best feature for this product, aside from its easy-to-use electronic controls, is the extremely silent operation which will probably make you forget that you had it turned on. You do not have to worry about it bothering you while you sleep and certainly not even if you have guests over. You might even want to use this in the nursery room and not worry about it disturbing your baby's sleep.
The Whirlpool Whispure is also great in removing unpleasant odors inside the home – yes, even smoke – and the great thing is that takes pretty long before you need to change the charcoal filters. We are talking about a time range between four and six months. At least that proves to be less time-consuming since you only need to change twice a year.
Unfortunately, this Whirlpool air purifier is a little too expensive for our taste and it would have been lovelier if the price of the appliance itself as well as its filters. For this, we are bringing it down to the second position in our list. If you don't mind paying for the higher price tag, go ahead and try it!
Details of the Whirlpool Whispure AP51030K Air Purifier

Dimensions

12.3 x 22.1 x 27.2 inches

Weight

22.6 pounds

Filter Type

HEPA, Carbon

Recommended Room Size

Medium to Large
Holmes HEPA Type Desktop Air Purifier HAP242-NUC
Obviously, not all of us need those huge air purifying appliances in our homes. You probably already have one or maybe more around the house and are looking for a smaller one that you can use inside the bedroom or a small office.
The Holmes Air Purifier is a desktop-type machine that is designed for use in 10-by-11-foot rooms. You can simply let it stand upright or lie flat on top of a desk so it is a very economical and space-saving appliance. Although it comes in a small size, it certainly does not mean that it is inferior to the other brands. In fact, it can just as easily clean dust, smoke, pollen from the air inside any small room. It works pretty quietly and is ideal for use inside a small nursery.
Like most air purifiers, its HEPA filter needs changing every 6 to 8 months, depending on the amount of pollen that it collects. You will have to do regular clean-ups on the pre-filter to make sure that they work just as well as the new ones and they last long, too. What we didn't like so much about this desktop air purifier is that it does not come with an odor eliminator. Yes, there is a carbon filter but it does not work very well. Instead, it has an additional filter called the Odor Eliminator which comes with 10 times the odor fighting power. Using it is guaranteed to remove the smell coming from pets or from the cooking fumes, tobacco smoke, garbage and more.
ParentsNeed HQ definitely gives the small footprint and price a big plus (especially if you only need them for small areas) but the lack of odor eliminating power pushes it down to the third spot in our list. You can also choose other types of filters for different purposes.
Details of the Holmes HEPA Type Desktop Air Purifier HAP242-NUC

Dimensions

14.8 x 11.4 x 7.2 inches

Weight

6.7 pounds

Filter Type

HEPA, Carbon

Recommended Room Size

Small
O-Ion B-1000 Ionic Air Purifier
For those who love state-of-the-art appliances that come in sleek, modern designs, the B-1000 Ionic Air Purifier is a great choice. Despite the seemingly ultra advanced technology that it uses (ultraviolet germicidal irradiation), it does not cost as much as the others and, in fact, is only a third of the cost of our top product on this list.
What we love most about this appliance is that it truly uses a permanent filter since it utilizes electrostatic purification to take away the airborne irritants and pollutants. Yep, there is definitely no need to worry so much about having to take the machine apart and spend money to buy new HEPA filters. All you have to do is remove the dust collector electrostatic rod and wipe it clean – no replacements are necessary!
Of course, it still uses carbon filters to help remove unpleasant odors in the air leaving your rooms feeling fresh and clean all day, every day. The charcoal filters are washable so you do not have to buy new ones every single time you clean it out. Another thing that you will love about the product is that it works as a nightlight so it is perfect for use even in bedrooms and nurseries. The UV light, which helps kill the bacteria, germs and viruses, has quite an expensive price tag but it lasts up to 10,000 hours and you can always buy them in bulk!
Sadly, we also found out that this appliance emits ozone, although at a very minimal level compared to the limits set by the FDA. You might want to consult your physician first if you are having respiratory problems or any lung problems. We definitely love the fact that there is no need for changing HEPA filters with this one but the ozone emission brings it to the fourth position on this list.
Details of the O-Ion B-1000 Ionic Air Purifier

Dimensions

5.5 x 6.5 x 17 inches

Weight

3.8 pounds

Filter Type

Carbon, Ultraviolet Light

Recommended Room Size

Medium to Large
Winix WAC5500 True HEPA Air Cleaner
There is nothing more reassuring than knowing that your air filtration system comes with a meticulous process to truly clean the air inside your home.
The Winix Air Cleaner comes with a 3-stage cleaning process which involves the carbon pre-filter to remove odors coming from pets, food and smoke; the true HEPA filter which takes out airborne particles as small as 0.3 microns in size; and PlasmaWave technology that will break down whatever contaminants are left in the air. What we love about the WAC5500 is its smart sensors that will continuously monitor the air around the house. Although it has four fan speeds to choose from (low, medium, high and turbo), it automatically adjusts itself depending on the current air quality that it detects.
The LED lights, which are normally bright during daylight, will also automatically dim out depending on the amount of ambient light detected inside the room. This is especially helpful if you use them inside bedrooms and nurseries. Unfortunately, we found out that it emits ozone due to the plasma technology that it uses although it is far below the recommended limit set by the FDA. It would have been nice if they did not put in the "No Ozone" logo in their boxes in order not to mislead their consumers. Plus, having ozone emitted in the air can be harmful for those having respiratory problems.
This brand is also slightly noisier than the other air cleaning devices in the market, even at the lowest fan setting. It makes you wonder if you have overworked the machine or if the entire appliance is about to give in. Ozone emissions, albeit minimal, as well as the noise level that it produces discouraged us a bit which is why we are pushing the Winix Air Cleaner at the bottom of our list.
Details of the Winix WAC5500 True HEPA Air Cleaner

Dimensions

16.3 x 8.5 x 21.7 inches

Weight

20 pounds

Filter Type

HEPA, Carbon

Recommended Room Size

Large
Which one is your pick?
You probably got exhausted just looking through our list of air purifier reviews. There are definitely a lot of things to consider when shopping. This could include the Clean Air Delivery Rate (CADR), adjusted area coverage, noise level, type of filter used (usually HEPA air filters) and other features such as pre-filters, fans, speed control, air-quality monitors, change filter sensors and more.
You might also want to consider your purpose for having the appliance (remove odors, clean the air to prevent asthma and so on), budget, safety, support and warranty, ease of finding replacements and many others. Although its operation and purpose is different, some people would also consider using humidifiers instead of air purifiers.​