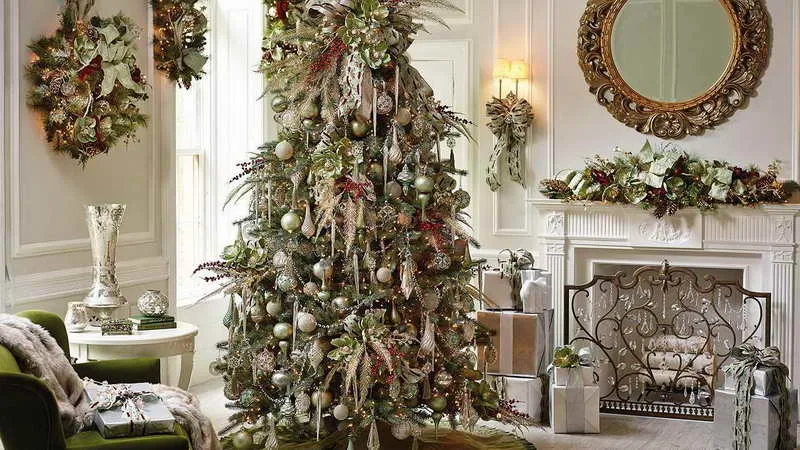 Top 5 Best Prelit Christmas Trees | 2020 Reviews
It's only a few months to go before everyone's favorite time of the year. And, for those who just cannot contain their excitement, it's probably safe to say that you can already start putting up the Christmas decorations as early as today.
Among the most essential decorations for the most-awaited holiday of the year is a Christmas tree. People have had different preferences regarding how they want their Christmas trees to be – some like it real while others prefer that they are not. Regardless of your choice, a well-decorated tree with lots of sparkling lights is guaranteed to help lift everyone's Christmas spirit.
However, a trend that has been growing in popularity is the use of fake trees. Don't worry, just because they are artificial Christmas trees does not mean they are lesser than the real ones. They thankfully are not like the plastic ones in the past and the newer models look and feel much like the real trees.
Using the best artificial Christmas tree is becoming very popular because it eliminates the mess and the fire hazard of using a real fir tree. The branch tips pretty much look like the real ones and they are even pre-strung with lights so you can save your time from doing so.
So, where do you go looking for the perfect tree? You might just be surprised at the number of beautiful Amazon artificial Christmas trees available right now. If you are still having a hard time finding the perfect match, check out our reviews below.​
Quick Comparison Table
| National Tree Company Dunhill Fir Tree Hinged | Balsam Hill Blue Spruce Artificial Christmas Tree | Vickerman Flocked Alaskan Pine Artificial Christmas Tree | Kurt Adler Pre-Lit Point Pine Tree | Artificial Christmas Green Madison Pine Tree |
| --- | --- | --- | --- | --- |
| | | | | |
| | | | | |
| $$$ | $$$ | $$$ | $$$ | $$$ |
| 450-1500 lights | 300-1500 lights | 349-2059 lights | 1026 lights | 400 lights |
| | | | | |
National Tree Company Dunhill Fir Tree Hinged
National Tree Company is well known for its beautiful Christmas trees and this Dunhill fir tree is no exception.
While this prelit Christmas tree might put you off considering how expensive it is, you will soon realize that it is worth every penny you spend it. It will take a while to set it up and make it look pretty especially if you do not read the instructions or at least watch video tutorials. The tree itself looks beautiful even without lighting it up or putting additional decorations.
A word of warning, though: putting the tree together can be a Herculian task especially if you are doing it alone. There are a lot of small branches even going all the way to the base of the tree. However, once you have it all fluffed you will definitely love the nicer and fuller look of the tree.
Aside from the beautiful output of this Dunhill fir tree, we love that it is super easy to pack and store. The hinged description means that each branch can be folded up towards the trunk through its hinge. The hinges also come with a stopper so that it folds out at the correct angle for display. Folding the branches up for storage will make it smaller so it is easier to put away and it also helps protect the branches from being bent so you can use it for years and years.
Also, it might be important to take note that this artificial Christmas tree does not come with LED lights. It is beautified with as much as 1500 clear lights (for the 12 footer tree) and they remain lit even if one burns out. It also comes with up to 7794 branch tips (763 for the 4.5-foot tree) so there's a lot of space to hang all those holiday trimmings.​
This fir tree is definitely of one of the best fake Christmas trees available in the market. It's sturdy and beautiful and even comes packed in a reusable storage carton. No doubt the top on our list!
Details of the National Tree Company Dunhill Fir Tree Hinged

Size

4.5/6.5/7/7.5/9/10/12 feet

Diameter

35/53/55/59/66/70/80 inches

No. of Lights

450-1500

Warranty

5-year tree, 2-year lights
Balsam Hill Blue Spruce Artificial Christmas Tree
If you are looking for the best artificial Christmas trees with multi colors that make it look very realistic, then this is the best product to go
This Balsam Hill Christmas tree comes with multi-toned PVC classic needle foliage in light gray, blue green and moss green colors. The sturdy branches are in brown hue making it look pretty much like an actual real tree. Once you have put this up inside your home, it will easily become a conversation starter. This is definitely the centerpiece of your holiday decorations!
The 6.5-foot tree model has 2,144 branch tips and up to 700 pre-installed clear lights. That means that you can enjoy a full and well-decorated Christmas tree as soon as you finish setting it up.
What we love most about this artificial Christmas tree is that it is super easy to put together and take apart for storage. The tree comes in three pre-assembled parts: the bottom, middle and top sections. Each section is around two feet long so you can put it up very easily even if you do it alone. Next, you need to unfold and open the branches, fluff it up and spread them out a bit in order to have a full-looking tree. You will have to invest some time to get the branches fluffed out the right way but it will be worth it at the end.
Another huge plus about purchasing this tree is that it comes with gloves to protect your hands during setup and a storage bag to prevent damage as well as dust from accumulating during storage. The package even comes with extra bulbs and fuses to help facilitate an even easier set up.
As beautiful as this tree might be, we think that the nearly $300 price tag for a 6.5-foot tree is too much for our budget. So, after weighing pros and cons, we will just put this at the second spot in our list.
Details of the Balsam Hill Blue Spruce Artificial Christmas Tree

Size

4.5/6.5/7.5/9 feet

Diameter

37/53/60/64 inches

No. of Lights

300-1500

Warranty

5-year tree, 2-year lights
Vickerman Flocked Alaskan Pine Artificial Christmas Tree
Are you a fan of a white Christmas? Well, this is the prettiest artificial Christmas tree in the market that can achieve just that!
This Alaskan pine tree looks like it has just come out of an avalanche but it does look really beautiful once set up and decorated properly. The main concern for many users of flocked trees is the shedding but we are very happy to report that this one doesn't shed as much as the other lesser quality brands.
The flocking is most likely baked on and not sprayed so it doesn't come off very easily. A little will come off once in a while but it stays very heavily flocked even after a long time of using the tree. We do not suggest, however, bringing the tree outside as you might lose all the flock. We also recommend having a vacuum cleaner handy as the white flakes might bother you.
Aside from the white Christmas effect, we love many other things about the Vickerman Christmas tree. The lights use the Dura-Lit Technology which allows each light to remain lit even if one loses a connection. You can opt to get an unlit tree or trees with warm light LEDs, multi-colored LEDs or clear lights – the choice is totally up to you!
Vickerman also offers beautiful Christmas ornaments to go along with your tree. Their decors are made using Tru-UV technology and its UV resistant finish helps protect it against fading. The ornaments are also drilled and looped with floral wire for easy decorating.
While we love nearly everything about the Vickerman tree, we didn't quite like its hefty price tag. The $567 price for a 7.5-foot tree is not something we are quite ready to invest in but if you truly want something white and extremely beautiful then it is something you should definitely consider getting. Thus, we will have to bring this Christmas tree to the middle of our list.
Details of the Vickerman Flocked Alaskan Pine Artificial Christmas Tree

Size

4.5/5.5/7.5/9 feet

No. of Lights

349-2059
Kurt Adler Pre-Lit Point Pine Tree
Although this Kurt Adler pre-lit Christmas tree looks more realistic than the other models it has, it did come with false advertising that we quite didn't like.
But first let's start with the pluses. For one, the tree comes in parts with the base and branches that simply click in place. All you need to do is stack it and screw so it stays in place. It's a beautiful tree to set up and you are sure to get a lot of compliments once you get it decorated. It does not look skinny or short and the trunk isn't visible when viewed from a few feet away.
Sadly, while there are many things to praise about this Kurt Adler considering its price point, there are still a few flaws that are hard to overlook. It might take a while to be able to fluff the branches out to make it look full.
We also found out a major flaw to the advertisement: this Christmas tree isn't exactly pre-lit wherein the lights are built in to the tree. Instead, the lights are just strung together and then wrapped tightly around the tree. If you are very particular about how the lights should look you can instead take the ones pre-installed and then do your own thing to make it look prettier. Of course, that should be done at your own risk as it will take up a lot of time to finish.
As happy as we were about the price for this tree, we weren't quite convinced about using this for a long time. We would recommend this for those looking for an affordable tree that is easy to assemble but if you are very particular about how it would look, you might be better off looking elsewhere.
For these reasons, we will have to push the Kurt Adler Pine Tree to the fourth position in our list.
Details of the Kurt Adler Pre-Lit Point Pine Tree

Size

7 feet

Diameter

46 inches

No. of Lights

1026
Artificial Christmas Green Madison Pine Tree
If you really in a budget but would still like to get a beautiful Christmas tree to decorate your house, this is your best option. The biggest advantage about getting this Green Madison pine tree is that it has a very cheap price tag of just $100, at least compared to other 6.5-foot trees in the market.
However, this might also be the reason why you might not want to consider getting this. It is cheap so you cannot expect the highest quality out of it. The package comes tightly packed which means that you will have to spend some time spreading out the branches and fluffing it to make it look full. Otherwise, you will a lot of holes and will only get a Charlie Brown tree.
After setting up the tree, you can plug the lights together and get it ready to be displayed. If you cannot get it to properly look "full", you can instead use filler ornaments to fill in any gaps within the tree.
This tree comes with tips that are just okay but definitely as good as you might expect it to be – you simply get what you pay for. The 6.5-foot tall model has a 3.5-foot diameter with 400 pre-strung mini lights and 600 branch tips. The pre-attached hinged branches can easily be folded out for display then folded back up towards the branch for easy storage.
We suggest this affordable Christmas tree for those who have a limited budget and also a limited space to work with. This also works great for those who want to test out the waters of Christmas decorating without shelling out a lot of money. You won't get the best quality tree but it is just great enough and presentable enough to be displayed inside your home.
We still include this tree because of its price tag however its quality is the biggest reason why we have to place it in the last position in our list.
Details of the Artificial Christmas Green Madison Pine Tree

Size

6.5 feet

Diameter

42 inches

No. of Lights

400
Conclusion
Using fake Christmas trees is definitely not as good as the real ones but they are great for those who would rather not want to deal with the mess and fire hazards that the real trees bring. Plus, if you get the pre-lit ones, you can display them as-is and not be bothered with putting on additional Christmas trees although a few more certainly wouldn't hurt.
We hope our list of the best artificial Christmas tree reviews will help you make a clearer decision in your décor shopping. Enjoy the process of selecting the best tree and do not forget to consider factors such as budget, size, ease of setup and added features. Happy tree shopping!​