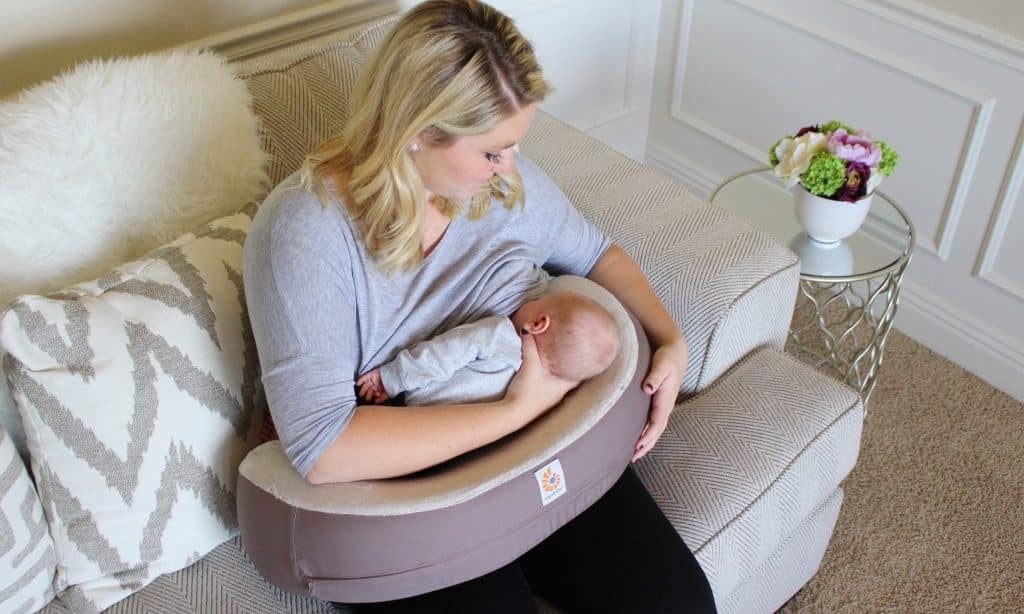 Top 5 Best Nursing Pillows | 2020 Reviews
Breastfeeding can be a very rewarding experience for many moms but it can also very frustrating and challenging for some. Fortunately, there are already a lot of products that have been especially designed for nursing moms that can help ease the pain just a little bit. It may seem like a trivial item to use but it can, in fact, do wonders in the lives of many parents, even dads.
A nursing pillow is one such product. What makes these kinds of pillows extremely helpful is that it allows parents to bring both themselves and the baby into a comfortable position. For those who breastfeed their little ones, the best nursing pillow can help get everyone settled and get the perfect latch as well as take off the baby's weight from your shoulders and back. Babies may be tiny but holding them in one position for extended periods can be uncomfortable.
However, not all moms really need to get baby support pillows but there are those who love the extra comfort that it brings compared to regular pillows. For example, some of these breastfeeding pillows have pockets to put in small gadgets and phones, which helps relieve boredom when nursing. Regardless of which pillows you choose to use, the most important thing is that you make breastfeeding (or bottle feeding) a comfortable and memorable bonding experience for you and your little one.
If you are in the search for a good pillow, you can check out our best pillow reviews to help make your decision a little easier. Don't forget to add this into your baby registry list!
Quick Comparison Table
| My Brest Friend Original Nursing Pillow | Boppy Nursing Pillow and Positioner | Blessed Nest Organic Nursing Pillow | Boppy Two-Sided Breastfeeding Pillow | Born Free Bliss Nursing Pillow |
| --- | --- | --- | --- | --- |
| | | | | |
| | | | | |
| $$$ | $$$ | $$$ | $$$ | $$$ |
| 22.5 x 16 x 6" | 18 x 16 x 5.5" | 30 x 16 x 5" | 20 x 5.5 x 16" | 25 x 14 x 8.8" |
| 1.4 pounds | 3 pounds | 6 pounds | 3.3 pounds | 4 pounds |
| | | | | |
My Brest Friend Original Nursing Pillow
My Brest Friend nursing pillows are among the most affordable of its kind available in the market which is why we are adding it to our list; it is something definitely worth considering when shopping around. Now, let's look at some of the pros and cons of this product.
First of all, this comes with a wrap-around design which we absolutely love. It can take a while to get settled into a position that you and your baby are comfortable in so it would be nice to be able to keep and maintain the ideal positioning once you have found it. Not only will it ensure that you get the best latch-on position but keeping the pillow in place will also help prevent your baby from rolling into the gap between you and the nursing pillow.
My Brest Friend reviews often come with positives just because it has a lot of things up its sleeve. This pillow comes with back support which is usually not present in most nursing pillows. You are forced to maintain a good posture while nursing your little one so you can prevent feeling sore in your back and neck. Additionally, it also has an arm and elbow support; trust us, it can get really stressful holding a baby for long periods during breastfeeding. This pillow even has a convenient pocket located in front so you can put in baby accessories and nursing supplies or even a mobile phone. This pillow is most recommended for moms who underwent a C-section during delivery.
Want even better news? This nursing pillow allows you to comfortably nurse while standing up. It sounds great, right? Definitely! And you can even get bigger discounts if you chose the much older designs so it won't cost you an arm and a leg to get comfortable! Because of that, we are placing this breast feeding pillow in the first position in our list.
Details of the My Brest Friend Original Nursing Pillow

Weight

1.4 pounds

Dimensions

22.5 x 16 x 6 inches

Colors

Fireworks, Black, White, Leaf, Petal, Green Paisley and more

Recommend Weight

16 ounces to 96 pounds
Boppy Nursing Pillow and Positioner
Among all the breast feeding pillows available in the market, the Boppy pillow is perhaps the most popular of them all. It was the first of its kind and was introduced to parents more than 25 years ago – and still enjoys immense popularity even until now.
Compared to most pillows, the Boppy takes on a very simple design but functions quite well, making it a favorite among many moms and babies. Exactly what is it about the Boppy nursing pillow that moms and babies love so much? Well, what we loved about it most of all is that it can be easily tossed into the machine for washing. Convenient, isn't it? It's inevitable to get those spit-ups or diaper explosions even when you are nursing your little one so if you aren't quite prepared for it, at least you do not have to worry so much about taking off the stain – or the smell.
Another thing that we like about this product is that it is super versatile so you do not really need to purchase any other baby pillow other than this one. You can use this during feeding so you can place both yourself and your baby in an ergonomically correct position. Surely, the only way to enjoy this bonding moment with your little one is when both of you are comfortable. This breast feeding pillow can also be used for propping where your baby can lounge in. Next, the pillow can be transformed into a very helpful prop during tummy time which helps prepare their muscles for rolling and sitting. Best of all you can use this to support them as they sit, to help add balance, and it can also be used as their sleeping pillow if they are comfortable with it.
While it is inferior to other pillows in terms of its support during breastfeeding, it does offer a bit more beyond that which is why it is still worth a lot of consideration. For that, we are placing it at the second spot.
Details of the Boppy Nursing Pillow and Positioner

Weight

3 pounds

Materials

90% Polyester, 10% Cotton

Dimensions

18 x 16 x 5.5 inches
Blessed Nest Organic Nursing Pillow
Some parents are very particular about the type of materials that touch their baby's skin. There are those who would only limit their baby's items to organic materials thus making this breast feeding pillow the perfect item for them.
What do parents love most about these pillows? There are many reasons why it is high on top of their list of must-have items. For starters, we love that it is made from 100% organic material so we do not have to worry so much about toxic chemicals getting in touch with your fragile little one. Another thing we like about this product is that it is made from cotton French terry. The pillow also comes with buckwheat hull fill, which is quite similar to what bean bags have inside them. This means that you can move the pillow around and even adjust it around chairs in order to find the most comfortable position possible for you and your baby. Once the hulls lock in place, the shape is maintained and provides ample support.
But, no matter how many words of praise we give this product, there will always be a flaw somehow. For example, the pillow is made from white French terry which means that it can easily catch dirt and will require a lot more maintenance. The good thing though is that the cover can easily be tossed into the washing machine and you can just spot clean the pillow itself and throw it into the dryer if you have to. Another huge turn-off is the expensive price tag, which is normal for items made from organic materials. Nevertheless, you do get some peace of mind knowing that there aren't any chemicals around to harm your baby.
We do consider this product one of the best pillows around but after weighing the pros and cons, we will have to settle with placing it at the third position in our list.
Details of the Blessed Nest Organic Nursing Pillow

Weight

6 pounds

Dimensions

30 x 16 x 5 inches

Material

100% Organic
Boppy Two-Sided Breastfeeding Pillow
As simple as the Boppy pillow may look, it is actually one of the most popular pillows there is because of the versatility.
However, the original design isn't really best for moms who want a lot of support when nursing their kiddos which is why this particular product was created – to help address those issues.
What's with the two-sided breastfeeding pillow? Its main selling point can be found right in its name: it has two sides, namely the soft side and the firm side. The firm side of this pillow is best used with newborns that need ample support so they can successfully latch on to their mom's breast comfortably and without pain (for the mom). On the other side is the soft side which is designed to adjust to the needs of your growing baby. It helps them stay comfortable even as they start to gain weight and grow. For added comfort and support for moms, it even comes with straps to help keep it in place. You do not have to worry about losing that comfortable position or your little one rolling towards the gap between you and the pillow. You can totally go breast feeding with both hands free!
Now, what about washing, you ask? It basically follows the same rule as the original Boppy pillow – you just have to remove both the foam insert and the belt then toss the pillow into the wash and you are good to go. Moms do not have to worry so much about getting it stained with spit-ups or even poop because they are super easy and simple to remove. Place the cover back on and then you are good to go for another round of feeding.
This upgraded Boppy nursing pillow certainly has better features to offer for breastfeeding and bottle feeding moms which is why you should consider getting this for you and your baby, although it removes the flexibility of the original one. We are putting this one at the fourth spot in our list.
Details of the Boppy Two-Sided Breastfeeding Pillow

Weight

3.3 pounds

Dimensions

20 x 5.5 x 16 inches

Colors

Kensington/Gray, Royal Navy
Born Free Bliss Nursing Pillow
If you read through breast feeding pillow reviews, you will probably realize that this one from Born Free provides the best height of all. You no longer need to crouch down when feeding your baby so you can sit in a very comfortable sitting position.
This pillow comes with many options that will make babies propped in it comfortable, no matter what age or weight they might be in. For example, newborn babies up to three months can be placed on top of the newborn mat which helps add additional height boost for small babies. As they start to grow, you can start using the contoured pillow to prevent your little one from slipping into the gap between you and the pillow. No matter which side of the pillow you use, you can be sure that your baby is placed in the correct incline which aids for a better digestion. It isn't just great for breast fed babies but even for the bottle fed ones, too!
Sadly, there are some things that we did not quite like about the pillow. We were thinking that the entire pillow is made from 100% cotton but the newborn mat is actually made from 100% Polyurethane foam. Additionally, only the huge pillow and not the newborn mat is machine washable. You will have to be careful in case your little one spits up or poops while on top of the pillow. It is also possible to add in a slipcover for your pillow but that means an additional investment for your pocket.
We believe that these top rated pillows from Born Free are best for bigger babies or for moms who have longer torsos because of the extra height and firmness that it provides. In case you fall into any of these descriptions, be sure to add this on top of your list of items to consider. We are placing this one at the fifth spot in our list.
Details of the Born Free Bliss Nursing Pillow

Weight

4 pounds

Dimensions

25 x 14 x 8.8 inches
Just like choosing any other product in the market, finding the perfect nursing pillows for new mothers can be an overwhelming chore. Weigh the pros and cons properly. Also consider your torso height, your baby's height and weight as well as other functionalities that you might want your pillow to have. Surely, you would only want to make an investment if you know that it is well worth it and that it will last you for a long time.
If you are constantly on the go, you might even want to look around for an inflatable nursing pillow so you can just blow up your pillow then deflate and stuff it in your bag when not in use. Happy shopping!
You may also check out our Top 5 Best Pregnancy Pillows.