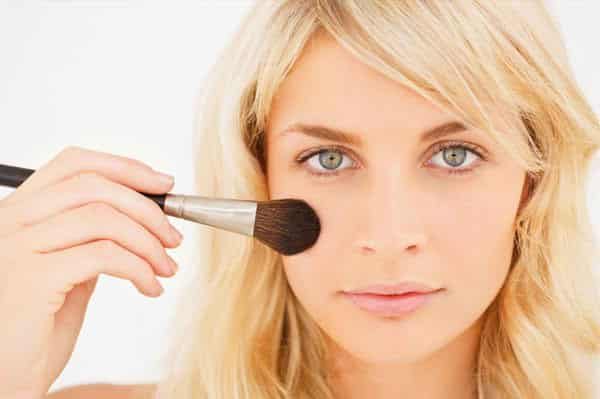 Top 5 Best Foundations for Oily Skin | 2020 Reviews
Is there any woman with oily skin who hasn't stared at her makeup mirror – or the racks of makeup in any store – and cursed the fates that decided to give her something "extra" to worry about when putting on her face?
Finding makeup that works well with oily skin is a real challenge. Thankfully, there are now a number of foundations designed specifically to eliminate that midday shine that develops on the chin and T-zone (central part of the face) when you use "normal" makeup on oily skin. Unlike eyeliner, choosing foundation that is suitable for your skin is a little harder.
Oily skin can be caused by a number of factors, from genetics to hormones, and when you're under stress the problem only gets worse. The first impulse is do some harsh scrubbing and use a product which claims it will dry out oily skin, but that only makes things worse over the long term. Many women decide to use a "shine-proof" foundation, but most are cream-based and will cake on your face, causing even more problems as your pores become clogged.
The key is to find quality foundations which are oil-free or powders, which will usually have a matte finish. They will give your makeup a reliable base, while soothing your skin and allowing it to breathe. They're also surprisingly light and long-wearing (well, surprising to women with oily skin, who are accustomed to heavy, short-lived makeup) and will hide your pores while making you feel like you finally have control over the way your face looks.
Check out our comprehensive​ Best Foundations for Oily Skin Buying Guide here.
Here's our list of the top 5 best foundations for oily skin.
Quick Comparison Table
| stila Stay All Day Foundation and Concealer | Cover FX BB Gel Mattifying Anti Blemish Treatment | Bare Escentuals BareMinerals Matte SPF 15 Foundation | Laura Mercier Oil-Free Supreme Foundation | Maybelline New York SuperStay 24Hr Makeup |
| --- | --- | --- | --- | --- |
| | | | | |
| | | | | |
| $$$ | $$$ | $$$ | $$$ | $$$ |
| 1 ounce | 1 ounce | 0.2 ounce | 1 ounce | 1 ounce |
| 14 shades | 10 shades | 20 shades | 12 shades | 12 shades |
| | | | | |
stila Stay All Day Foundation And Concealer
The best bet for oily skin is almost always to select a foundation that's oil-free, and the stila All Day foundation fits the bill. When you apply it you'll find that it almost "paints" right onto the skin without caking, with a finish that could be called matte (although it really depends on your skin whether it comes out that way). You may need to apply powder to finish the look because the product can give some faces a pearly sheen, but if your foundation is going to stay on for hours and hours applying a little powder is not a problem.
It's not just the fact that there's no oil in the stila foundation that makes it a great choice for oily skin. It also contains a number of antioxidants and anti-irritants including botanicals like ginseng root extract, ginkgo biloba leaf extract and camellia oleifera leaf extract, as well as vitamin compounds like retinyl palmitate to enhance blood circulation throughout the face. They work together to repair damage from free radicals, and condition the skin while allowing it to breathe. Once applied, you'll find the foundation feels much lighter on the face than most of its competitors.
The All Day foundation comes packaged with an oil-free, creamy concealer to use in conjunction with the foundation, and it's done in a clever way. The concealer is hidden inside the foundation cap (along with a small mirror) so you don't have to carry two separate products with you if you take the product on the road. There's nothing earthshaking about the concealer and there are no special ingredients, but it does a good job covering blemishes and problem areas. There's also a brush and scoop included with the package.
There are fourteen shades of the foundation available, designed for skin colors ranging from fair to dark – and that's where the one possible issue arises. If you have skin with yellow undertones, you may find that your skin takes on a peach or even orange look when using this product. Be sure to be careful choosing colors.
Does the stila All Day foundation really stay all day? Well, it depends on how long you think a day is. If you want your foundation to stay on oily skin throughout a workday and then remain perfect during a long night out at the club, you're going to be disappointed – but then, even without oily skin that's a tall order. This foundation will last most people through a full day at work or a full night out. And if your skin doesn't usually allow you to make it through the morning without a quick trip to the restroom to redo your face, you know how important it is to find a foundation you can count on. The stila foundation is one that you can count on if you have issues with oily skin – even though it's rather pricey, at $44.00 for this set.
Details of the stila Stay All Day Foundation And Concealer

Size

Foundation: 1 ounce, Concealer: 0.04 ounce

Shades

14
Cover FX BB Gel Mattifying Anti Blemish Treatment
This product is marked as a "foundation alternative" similar to the ones that have swept the Asian market; the "BB" stands for "beauty balm." However, it's a really good base which we would certainly consider a foundation – and a good one for oily skin.
The Cover FX treatment, as is evident from its full name, goes on as a gel. It's extremely lightweight because it's made from laponite, a substance that's similar to clay and is excellent at retaining water. That's what makes this "foundation alternative" so good for oily skin, as it is more absorbent than most other bases. There are also anti-acne and anti-inflammatory natural ingredients like thyme extract and a chamomile derivative to soothe and heal the skin, making this an ideal foundation to use if you are prone to breakouts. Bakuchiol is also in the product to aid in cell renewal much like retinoids would.
The clay-like base produces almost full coverage with an instant matte finish, although it definitely looks better when blended. The BB Gel doesn't include sunscreen, so using it in combination with a primer (there's a sister Cover FX Mattifying Primer) or moisturizer with a good SPF factor is a good idea if you'll be spending time in the sun.
This base is highly-pigmented, so you'll need to factor that in when you're matching a shade to your face, because this foundation won't look quite as sheer as some of our other selections. There are ten different light and neutral shades in this product line, from pink to golden, and they're all expensive: $45 for a tube. They're really good on oily skin, though, and will certainly last you a full eight hours without needing reapplication.
Details of the Cover FX BB Gel Mattifying Anti Blemish Treatment

Size

1 ounce

Shades

10
Bare Escentuals BareMinerals Matte SPF 15 Foundation
Many people prefer a powder foundation over a cream, gel or liquid, and while the BareMinerals Matte Foundation has its issues it's the best powder we've found for oily skin. That's how it earned its place on our list of the top 5 best foundations for oily skin.
The texture of this Bare Escentuals foundation is extremely soft, and as you'd expect from a powder, it goes on very easily and offers full coverage. There is indeed a matte finish after application, although we have to admit the look isn't quite as impressive as we've seen from creams or liquids – if you have particularly oily skin, you may still see your skin slightly glowing after you finish applying the foundation. As a BareMinerals product it is formulated almost completely from minerals like titanium dioxide and zinc oxide, which are lightweight on the skin while absorbing the excess oil on oily faces; you'll find that the process doesn't dry out the skin, though, a requirement for any foundation.
Bare Escentuals touts the SPF 15 properties of the foundation, but as most people know by now, SPF 30 is really what you need for true anti-aging sunscreen protection. You may need another sunscreen product to get full protection if you'll be outdoors frequently. There are 20 different shades of the BareMinerals Matte Foundation available, in categories from "fair" to "deep" and "dark," but the dark shades will not work well with dark skin tones.
One of the most interesting features of the product, believe it or not, is its case. Unlike most powder foundations, the BareMinerals stays firmly inside the sifter when you close it instead of spilling out non-stop once it's been opened. We wouldn't say that's a strong argument for buying this product, but we liked it anyway. The best arguments for this foundation are that it's a very good option if you really want to use a powder on your oily face, and that it has the typical BareMinerals quality for those who prefer mineral products. It's also expensive, though, at $28 for a small helping.
Details of the Bare Escentuals BareMinerals Matte SPF 15 Foundation

Size

0.2 ounce

Shades

20
Laura Mercier Oil-Free Supreme Foundation
This company has offered its Oil-Free Foundation for quite some time, but it's now been replaced by the new-and-improved "Oil-Free Supreme." Those who've used its predecessor will quickly find that there isn't a lot of difference between the two.
The Laura Mercier foundation is a liquid (with oil-absorbing ingredients) which comes in a pump bottle and goes on rather thick at first, but when blended carefully (and that can be a bit of a chore) you'll end up with a very attractive matte finish which will last for hours. The feel on your face won't necessarily be as soft and silky as it might be with some of our earlier choices, but it is definitely not heavy – and the even, matte look will be terrific, eliminating the "oil sheen" you see with some products and not settling into fine lines or wrinkles.
We mentioned the "chore" of blending, and here's what we mean. The foundation sets very quickly if you don't work it with your fingers within seconds of application, and it can streak if you just apply it with a sponge or brush. If you navigate past that difficulty, the final product is worth the work. You'll find the foundation will last about eight hours, a welcome respite for those with oily faces used to requiring constant touchups or reapplications.
12 shades of this foundation are available, most in ivories or beiges; that's a good thing, because the darker shades can make faces appear somewhat grey. There's quite a bit of sunscreen in the Laura Mercier foundation, which can be benefit to some but an irritant to others, particularly if applied around the eyes.
$48 is a lot to pay for a foundation, and while this is a very good product once you get the hang of application, we'd frankly make another choice. However, an enormous number of people find that the Laura Mercier shades work perfectly with their skin color, and you may be one of them who will swear by the Oil-Free Supreme Foundation.
Details of the Laura Mercier Oil-Free Supreme Foundation

Size

1 ounce

Shades

12
Maybelline New York SuperStay 24Hr Makeup
We finish with a foundation for readers who are saying "Even if I have oily skin, I'm not going to pay that much for a foundation!" The Maybelline SuperStay isn't perfect, but it's a good product for those who want to make sure their makeup is on for the long haul, and it's only about $13.
The "24Hr" label isn't too much of an exaggeration. You'll find this foundation is practically glued on once you apply it, and you will likely need cold cream or a strong makeup remover to get it off. But it goes on easily, gliding onto the skin and not requiring a ton of work to blend. The coverage is medium-to-full and while there's a nice matte appearance when you're done, it's a matte that may look a bit dull and powdery. The feeling on your face, though, is light.
One thing you'll look for in a long-lasting foundation is that it can stand up to perspiration over time, and the Maybelline SuperStay delivers in that regard. Don't believe it? You can wear this stuff to the gym for a workout or for a day at the beach, and while you may need a shower, the foundation will be no worse for wear. It's oil-free, dermatologist-tested, and available in twelve colors from nude and ivory to cocoa; the medium shades will look better on most skin tones. Oh, it has no SPF ingredients, so be aware that you'll need some other sun protection.
It's not the best foundation for oily skin, but it's definitely the best drugstore option
Details of the Maybelline New York SuperStay 24Hr Makeup

Size

1 ounce

Shades

12