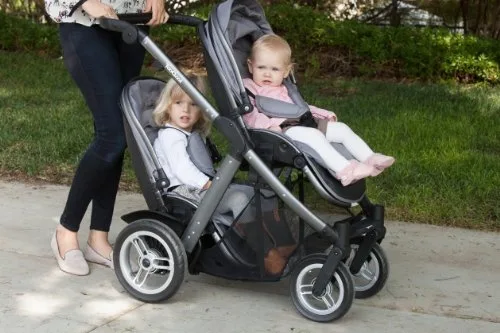 Top 5 Best Tandem Strollers | 2020 Reviews
Looking after a baby can be tough work for many parents but having two of them could almost always mean twice the challenge. One of the things that parents worry about when having two small kids is how to make it possible to run errands or go around for casual walks or shopping. Whether you have kids of the same age or varying ones does not matter a lot because both situations calls you to be twice as alert as you already are.
Thankfully, there are a lot of products made for families that have at least two small kids with a small age gap in between. Take the tandem stroller, for example. Unlike regular strollers, this piece of equipment is designed to hold to growing babies and perhaps even more for their stuff and the parents' stuff. Some are even strong enough to hold an additional load such as a small bag of groceries.
Tandem strollers are not just great for use with twins, Irish twins or an infant and a toddler. They can also be used with just one kid riding and, after the other seat has been removed, can be turned into additional space to make room for shopping bags and other items.
How do you choose the best tandem stroller for your kiddos? The few things that you might want to consider are: age of kids, weight and convenience, orientation, storage space, canopy and brakes, among many others.
To help you further refine your choices, we have come up with the top 5 best tandem strollers. Hopefully our list of reviews will give you a better view at which model to purchase for your kids.​
Quick Comparison Table
| Baby Trend Sit N' Stand Double | Baby Jogger City Select | Joovy Scooter X2 Double Stroller | Chicco Cortina Together | Delta Children LX Tandem |
| --- | --- | --- | --- | --- |
| | | | | |
| | | | | |
| $$$ | $$$ | $$$ | $$$ | $$$ |
| 33.1 pounds | 35 pounds | 39 pounds | 34 pounds | 23.5 pounds |
| Inline | Inline | Side by Side | Inline | Side by Side |
| | | | | |
Baby Trend Sit N' Stand Double
When it comes to double strollers, the Baby Trend Sit N Stand Double might just be considered the best double stroller with infant car seat, at least in our books.
Yes, it can accommodate two children of different ages but they are also perfect for kids of the same age (or nearly the same age aka Irish twins) and it grows with them, too. The good news is that this tandem stroller can fit two infant car seats at the same time, without any problem. You can interchange the way the passengers sit – with the older one in front or at the back, you only have to follow whatever arrangement they prefer best. The seat at the back can even be turned into a standing platform, perfect for preschoolers and school-aged children.
Another thing to love about this double baby stroller is that it comes with a huge storage basket making it perfect for grocery trips. If you only have one passenger with you, you can remove the seat at the back and turn it into extra storage. At just 33.1 pounds, this stroller is definitely among the lightest in the group considering that is packed heavy with features.
Did we mention that it comes with a huge and super convenient parent tray? Each seat is also equipped with child trays with a cup holder each.
There is nothing much we can say about this double stroller that will not make us want it. Its price is even quite inexpensive compared to other brands. For all these great things, we are putting the Baby Trend stroller on the top spot of our list.
Details of the Baby Trend Sit N' Stand Double

Weight

33.1 pounds

Orientation

Inline

Dimensions

49 x 21.5 x 43 inches

Weight Recommendation

Up to 50 pounds each

5-Point Harness

Yes
Baby Jogger City Select
Yet another great stroller for infant and toddler is the Baby Jogger City Select.
With 16 different seating combinations to choose from, this is perhaps the most versatile of all twin strollers with car seats. You have both kids face front, face the parent or face each other – whatever position they want to ride in, it is totally possible.
While the City Select is not designed for jogging, it still provides a comfortable ride for everyone. It comes with 8-inch swivel front wheels that make it easy to maneuver or you can choose to lock it in place for long distance walks. Another plus point for the City Select is the huge UV 50+ sun canopy that provides more than ample protection for your little ones.
We truly think that this is the best double stroller for infant and toddler and is a great investment but the $600 price tag is quite a steep price. If you do not mind the price (it can be used up to five years so it is worth it in the long run), then go for it. The price tag, which is nearly three times that of the Baby Trend, is the biggest reason why it takes the second rank.
Details of the Baby Jogger City Select

Weight

35 pounds

Orientation

Inline

Dimensions

43.5 x 25.8 x 38.5 inches

Weight Recommendation

Up to 45 pounds each

5-Point Harness

Yes
Joovy Scooter X2 Double Stroller
Joovy might just be the best double side by side stroller in the market today. The great thing is that even with the side by side design, it measures just 30 inches in width so it fits through most doors while still allowing ample space for its passengers inside. You no longer have to fold the stroller to get through narrow spaces because it can fit quite well.
What is so good about the Joovy Scooter? For one, it has bigger and better wheels with sealed bearings so your passengers can enjoy a smooth and enjoyable ride no matter the terrain. You can trust that the wheels can provide extra stability especially since you are pushing around two children. Aside from that, each seat in the Joovy Scooter works independently so you can put each kid on recline at different times, depending on their nap schedules and riding preferences. The 5-point safety harness ensures that your little ones stay securely strapped inside this stroller for twins but it also has a removable bumper bar for added protection. Did we mention that it comes with huge storage space and that it packs small?
There are just a few things we don't quite like about this compact double stroller. For example, it wobbles slightly and leans toward the heavier side when the passengers are not of the same weight. The handlebars are also not adjustable and rather short at 41.75 inches and the weight is also a major issue. Thus, we will have to push the Joovy in the middle of the list, getting it to the third spot.
Details of the Joovy Scooter X2 Double Stroller

Weight

39 pounds

Orientation

Side by Side

Dimensions

32.5 x 30 x 41.8 inches

Weight Recommendation

Up to 45 pounds each

5-Point Harness

Yes
Chicco Cortina Together
Whatever seating arrangement your kids want – two car seats in, two children, an infant in front and a child at the back or vice versa – is possible with this best stroller for twins and siblings of different ages.
We love that its canopy provides ample amount of protection for its passengers, even with the car seats on. It also comes with huge amount of storage at the bottom thus it gets a big plus point from parents who frequent the groceries with their children.
Storage is quite easy through the one handed activation and self standing fold of this double baby stroller. However, at 34 pounds, it is among the bulkiest and heaviest double strollers in the market so lifting it to put inside the car trunk can be a challenge. Thankfully, it folds quite compactly so fitting it is not a problem.
​Another thing that we didn't quite like about this stroller is that the front seat will not recline and so the passenger in front might have a hard time falling asleep when on the go. Maximum weight capacity may not be an issue but height capacity could be! Be sure to check your kids' height first and compare it with what the Chicco Cortina can accommodate before making the purchase.
Other than these few cons about the Chicco Cortina, it is still a great product. However, other models do a better job than this one so it gets down to the fourth spot in our list.​
Details of the Chicco Cortina Together

Weight

34 pounds

Orientation

Inline

Dimensions

23.5 x 45.5 x 47.2 inches

Weight Recommendation

Up to 40 pounds each

5-Point Harness

Yes
Delta Children LX Side by Side Tandem
If you are looking for a lightweight double stroller to use when running errands with your kids, this is the most recommended brand to use.
This cheap double stroller is pretty straightforward and does not have a lot of frills. For those going around on short trips that do not require bringing huge bags of shopping or other heavy loads, this is a great product to use.
For one, it doesn't have enough storage, if at all, at the bottom. The canopy also uses the European design so it doesn't really provide that much protection against the sun compared to the other brands. We highly recommend the Delta Children Side by Side Tandem for quick trips around the city or zoo that do not require a lot of stuff. This is even great if you decide to walk around Disneyland with your little ones.
This compact double stroller weighs only 23.5 pounds so you do not have to worry about pushing them around or folding them for storage. It is possible to do everything with one hand and you do not have to strain your back when trying to lift it into your car's trunk. This lightweight tandem stroller is also perfect for travel as it can be gate checked due to its very simple and lightweight design.
However, if you are on who constantly uses their tandem strollers for running errands or going on long trips. It doesn't have storage baskets underneath so you will have to hang your diaper bag on the handles (but make sure there are passengers inside to prevent it from toppling over) or wear it around your body.
This tandem stroller cannot be recommended for everyday use, only for short, quick trips, so we place this one at the fifth place on the list.​
Details of the Delta Children LX Side by Side Tandem

Weight

23.5 pounds

Orientation

Side by Side

Dimensions

31.2 x 29.6 x 37.3 inches

Weight Recommendation

Up to 35 pounds each

5-Point Harness

Yes
Conclusion
How did that go? Did you like our choices in the best tandem strollers so far? We had a great time reviewing the strollers above and we hope it helps you in making the right decision in your purchase.
Remember, expensive isn't always the best – you have to listen to what your kids tell you. They will be the ones riding it, after all! Of course, you also have to consider your preferences. You certainly do not want to hurt your back or have a hard time pushing it around – that wouldn't be too enjoyable, right?
Happy shopping!​
FAQ (By Our Ardent Readers)
What is a Tandem Stroller? How is it different from a side by side stroller?

A Tandem is typically the same size as a single stroller where the children are sitting one behind the other unlike in side by side stroller where there are sitting next to each other.

Why do i need to buy a tandem stroller?

A tandem is very useful if you have twins or kids who are just a few years apart. Also since it is not very wide you could navigate through doorways and narrow passageways very conveniently.

Is the tandem stroller very bulky?

Some of them are moderately heavy. But most of the models are designed to be sturdy enough to be able to carry 2 kids and its belongings and as a bonus a small bag of groceries too. But not to worry as it is very easy to handle and move around with it.

Can i fix my infant car seat to my tandem stroller?

Yes you can very conveniently or you can choose to have the normal seat which reclines back(though not fully flat) if your child is slightly older and is able to hold his head properly.

Can the car seat be fixed at both front and rear positions?

Some models in the market do allow that, but not all of them. It is always advisable to keep the little one close to you while the toddler is sitting in the front with unrestricted views.

Can the car seat and the standard one be interchanged?

Yes in some models this can be done depending on which child needs more attention.

Can both standard seats recline?

Yes they can. But makes it slightly uncomfortable for the passenger at the back with less leg room when the front seat if fully reclined.

Are there any models with infant seat attachment and sit n stand option for the second?

Yes certainly there is. Please read through our in depth review of tandem strollers page before you make your decision.

Can i put my newborn in the tandem?

Not really unless you are using the infant car seat or using a stroller carseat combo . The standard seat in tandem, though reclines back, does not go fully flat. The child must be able to hold its head in position properly before they are ready to sit on it.

Can the tandem be folded easily?

Yes of course with just the push of a button and can easily be stored away when not needed.

Does the tandem have a snack tray and a cup holder?

Yes it does for both passengers and also for the parent to store coffee, keys, mobile etc.

Can i get a triple tandem stroller?

Yes you can. There are several designs for twins, and for infant and toddlers of varying age. Some common brands that do these tandems are Joovy, Childcraft, Baby Trend, Graco etc.

Where can i buy the tandem strollers?

You could buy them in store or from a trusted online retailer like Amazon. We would strongly recommend you to read through the reviews first before you nail down on the stroller of your choice.

Are the accessories and spare parts easily available?

yes you could buy them in store or order online if you are sure of what you need.
---
Today's Best Sellers!
[amazon bestseller="173210011″ items="4″]