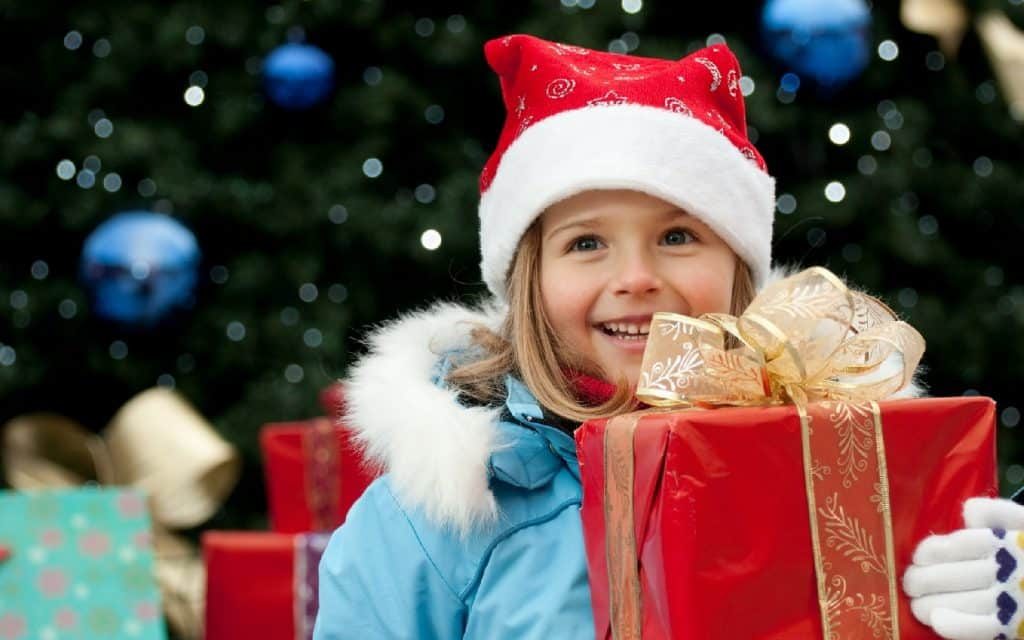 Top 5 Best Christmas Gifts for Kids | 2020 Reviews

It's almost the holidays, can you believe it? Do you already have Christmas gift ideas to give to the little kiddos in your life? (Yes, it's shocking but it is already time to start doing a little Christmas shopping.)
But the bigger question is how do you decide that Christmas presents for kids to give? A few factors you might want to consider include their hobbies, likes and dislikes and age, among many others. Gender can also be a major factor in choosing the perfect gift to give out a kid as boys would rather stay away from "girls" toys and vice versa.
To give you a quick overview, here are some of the things to keep in mind: age, gender, hobbies and interests.
Thankfully, kids are not as hard to please as those belonging in other age ranges. Just give them something colorful, shiny or new or find something that they can tinker with their hands and it would already be perfect for them!
But, if you still do not have a clue on what to give out the best kids in your life, check out our list of the best Christmas gifts for kids below. We hope that running through our reviews will help you get a clearer view on what to buy. Remember that you cannot wait out until the holidays or you will have to squeeze your way among the crowd of shoppers who are trying to beat the holiday rush. Don't forget to check out our guide to Black Friday 2019.

Good luck!​
Quick Comparison Table
| Kahootz Spirograph Design Tin Set | Battop Mermaid Tail Knitted Blanket | Coleman Pet Treat Launcher | Darice 120-Piece Deluxe Art Set | ALEX Toys Spa Hair Chalk Pens |
| --- | --- | --- | --- | --- |
| | | | | |
| | | | | |
| $$$ | $$$ | $$$ | $$$ | $$$ |
| | | | | |
Kahootz Spirograph Design Tin Set
Does your kid love writing, drawing and just tinkering around with their pen and paper? Well, they would definitely love being given this Spirograph design tin set!
What makes this the perfect Christmas present for kids? For starters, it has all sorts of gears and wheels that will provide them endless hours of entertainment. These tools will help them create all sorts of designs – the only limit is their imagination! Inspired by the original 1965 Spirograph design, they are actually perfect for use for everyone in the family so it also makes for a great bonding moment with everyone. This set even comes in a cool collectible tin box with snap-in storage tray.
Younger kids might have a challenging time trying to use this product but once they get the hang of it, they will probably spend hours using it. They are great for improving hand-eye coordination and also for encouraging their creativity and imagination, which is essential for growing kids.
Perhaps our biggest worry about using this product is that they seem to be made of a rather poor quality as the plastic wheels and gears look much thinner than expected. You might have to be very careful in handling this or the items could break and would be rendered useless.
Should you decide to get this as one of the kids Christmas gifts to give out during the holidays, do not forget to include a huge set of colored pens. They are definitely a perfect break for kids from the world of gadgets and electronics – we highly recommend giving this out.​
After considering the pros (for your child's imagination and creativity) and cons (poor quality but just right for its price), we have come to conclude that this item should still be at the top of our list. This is, after all, a classic that we have all enjoyed in the past and something that kids of the new generation should still continue enjoying!
Details of the Kahootz Spirograph Design Tin Set

Weight

8.8 ounces

Dimensions

8.5 x 7 x 1 inches

Recommended Age

8 years and up

Inclusions

7 wheels, 1 ring, Spiro-putty, 2 pens, 10-page guide book, design paper
Battop Mermaid Tail Knitted Blanket
If you have kids who are a huge fan of Ariel or just love snuggling and cuddling regardless of the season, then this is the best gift for kids to give away.
There are many things we love about this mermaid tail knitted blanket and the design is just the icing of the cake. What else is there to like? Well, for one, it can be used whenever and wherever! It can be used regardless of the season – it will keep the little kiddos warm during winter, spring, summer or fall.
This knitted blanket can be used indoors while watching a movie, reading a book, playing on a tablet or simply hanging out. If you are a fan of the outdoors and love going camping, this can also be used as an alternative to a sleeping bag. It is sure to keep the user warm all throughout the night!
This mermaid tail isn't made of fish but of acrylic fiber material which makes it feel cozy and warm, great for sitting in front of the fire (just make sure to keep your fins away from the flames). The eco-friendly and skin-friendly material ensures that it is not just safe for use against a kid's delicate skin but that it also does not bring harm to the environment.
A few cons to take note of: the packaging had a weird smell during opening although this has since been changed to add a fresher scent. It might also be important for others to know that the feet do not fully fit through the bottom of the tail as it is stitched much tighter at the bottom. You might hate getting in and out of this blanket if you go on frequent trips to the bathroom but it is otherwise a great product.
Perhaps if there was an option to slide the feet out at the bottom (although that would be weird for a mermaid) then this would be a 100% perfect Christmas idea for kids. As such, we will have to rank it second in our list.
Details of the Battop Mermaid Tail Knitted Blanket

Weight

1.8 pounds

Dimensions

55 x 28 inches

Recommended Height

Less than 140 cm

Color

Blue, Pink, Purple, Light Blue
Coleman Pet Treat Launcher
This isn't exactly a great gift that kids will directly enjoy but is still one of the cool toys to give as a present, especially for kiddos with pets.
One of the best ways to teach a sense of responsibility to kids is to get them a pet but feeding and looking after these furry creatures can get quite boring for the little people. How do you get them to play with their paw friends without making it feel like a chore? A pet treat launcher, of course!
There are so many awesome things we love about this Coleman product. For one, the price point is pretty affordable so in case kids and pets mishandle it at some point, it wouldn't be very hard on the pocket. Another thing that kids will surely love about this launcher is that it can go up by over 10 feet which is awesome for very active pets and kids. You can either get the dogs to jump very high or run very far, depending on which one you would rather want to see.
The launcher is spring action triggered and is pretty easy to load so your little ones will not have such a hard time getting it to work. Plus, it can fit just about any small treat so compatibility certainly would not be an issue. This launcher is guaranteed to give both kids and pets an exercise and it provides a great bonding opportunity for everyone as well. Munching, jumping and running around are such great combinations, just make sure you warn your kids about eating the treats themselves.
The only reason we will have to push this back down our list is that it is not exactly a Christmas present that are directly for kids but instead something that they can possibly use if they have pets. Still, it is hard to deny that this is such an awesome product that adults will probably also love. We give rank this one the fourth spot in our list.
Details of the Coleman Pet Treat Launcher

Weight

6.4 ounces

Dimensions

6 x 2 x 8 inches

Color

Red

Other Features

Spring action trigger, launches more than 10 ft
Darice 120-Piece Deluxe Art Set
Obviously, we are trying to veer away from suggesting gadgets and electronics to give as kids Christmas presents so instead we are going old school in recommending items that many parents have enjoyed as kids. That includes this huge collection of art materials that are sure to give them endless hours of entertainment.
At less than $10 for a 120-piece set, it is a very cheap investment to make considering the number of items you get in exchange. Of course, it is not at par with brands of higher quality but if you are giving it to kiddos who constantly lose their art materials, at least it would not be as heartbreaking. We also love that everything fits in a nifty case so they do not easily get lost and can be brought along during travels and quick trips to grandma's house.
As mentioned, it is not as high quality as the others and will feel cheap but seeing as kids are the recipient of this product, then it really is not such a big issue (unless your kid is an artist in training, that is). Kiddos can use the pastels, pencils, crayons, watercolors and scissors so they have something to get busy with for hours and hours. This product is not just perfect for homeschooling kids but also those going to regular schools.
Also, be careful in giving this out to very young kids as there are very small parts involved. You can have the parents take away the small parts so that they can enjoy the coloring materials but we suggest that you give this out when they are slightly older (perhaps four years and up). Still, it is important that the kids are under constant supervision in case they put the items inside their mouths and especially when they are trying to handle the scissors.
With so many inclusions for a small price, we give it two thumbs up. However, since some of the products break easily and feel very fragile, we will have to push it down our list, bringing it to the fourth spot.
Details of the Darice 120-Piece Deluxe Art Set

Weight

1.6 pounds

Dimensions

14.8 x 11 x 1.6 inches

No. of Pieces

68/80/120/131 (markers, pencils, watercolors, pastels and more)

Recommended Age

3 years and up
ALEX Toys Spa Hair Chalk Pens
Kids love trying out new things even if it means looking weird and eccentric (but that's probably just how you think as you get older). If you have preteen kids, this hair chalk pens will be a big hit to them!
This product is the perfect companion for when your kiddos start having sleepovers with their girl friends. It probably will not be the best Christmas gift idea for preteen boys but they probably will want to try it out when they are younger.
Parents do not have to worry about these chalk pens ruining your kid's hair because it is perfectly safe to use. It also washes off very easily so they can go from plain to punk and back to plain again within minutes. As awesome as this product is, the biggest gripe we have about using it is that the colors are not as intense as the packaging suggests. The chalk is greasy and makes the hair messy after application and does not deliver colors as bright as we would have wanted, even on blonde hair. The color also wears off after a few hours. But then again, that might just be a big plus because it does not stain the clothes and even the tub so that is okay.
Still, for the price that it comes in, it was just expected that it wouldn't last as long as the high-quality products available in the market. It's a fun product to use for kids who just want to look for other ways to entertain themselves but certainly not something to be used for long-term applications such as for a school play or something similar.
Fun and exciting without creating a lot of mess (at least in terms of staining clothes and other surfaces), we still recommend this product as a gift for teens. But, we will have to push this one down to the bottom of our list.
Details of the ALEX Toys Spa Hair Chalk Pens

Weight

3.8 ounces

Dimensions

7 x 1 x 10 inches

Colors

Pink, Orange, Green, Blue, Purple

Recommended Age

8 years and up
Conclusion
How did that go? Did that help you get a clearer idea on what to add to your Christmas shopping list or did that make things even harder to decide? We sure hope it's the former.
But, if you want to look for more options and Christmas gift ideas, we also have a list of the best Christmas gifts for infants and Christmas gifts for toddlers. Kiddos are a tricky group to give a present to and their ages often interlap that it gets hard to decide what might be right for the age that they are in.​