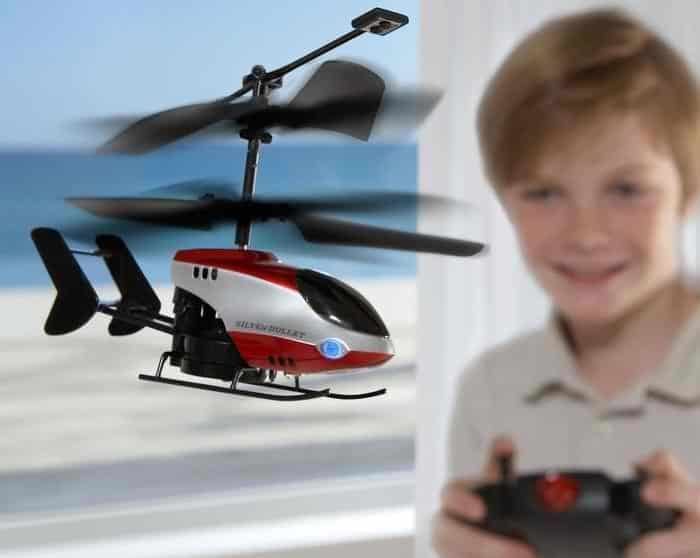 Top 5 Best RC Helicopters | 2020 Reviews
Drones are quickly becoming an integral force in both military and commercial operations around the world. They're used to launch air strikes in war-torn areas and for surveillance and crowd control operations by police. They're an important marketing tool for realtors marketing homes for sale, and have become commonplace in the production of news and sports broadcasts. Even your Amazon and Domino's orders may soon be delivered by drone.
It would be a safe bet that almost everyone involved in the development of this technology became interested in it by playing around with radio-controlled helicopters or planes. RC helicopters have been around since the mid 20th century, but it wasn't until recently that they became widely available for hobbyists and kids; today's versions are more stable than ever and easier for newer pilots to control. They are also relatively inexpensive, making RC copter flying a booming hobby that can give budding drone designers a good education in the scientific concepts they'll need to master – or simply let them have a lot of fun. A more detailed research on RC helicopters or drones for kids can be seen here.
Some models on the market have an internal combustion engine and use the same type of "glow fuel" that's been used for RC helicopters for decades, most commonly containing nitromethane (which is why these models are often called "nitro copters"). These are more difficult for novices to use and potentially more dangerous. For that reason, we'll be looking solely at electric-powered options in our list of the top 5 best RC helicopters. We're also focusing on copters in the "toy" or "hobby-grade" categories which will provide a terrific flying experience, but don't have some of the complicated (and more expensive) features you'll find on models aimed at intermediate or advanced users.
That still gives us a good range of RC helicopters to cover, from simple coaxial copters to four-channel quadcopters that can buzz around like a drone on a super-secret spy mission. We'll also touch on higher-level models. All are suitable for kids – and for adults searching for a hobby that will eat up much more of their spare time than they had ever imagined.
You may also want to check out our ​comprehensive Best RC Helicopter Buying Guide here.
Quick Comparison Table
| Blade Scout CX RTF 3-Channel Heli | Syma S107 RC Helicopter with Gyro | WLtoys V262 Big 6 Axis RC Quadcopter RTF | | Walkera V450D03 RTF |
| --- | --- | --- | --- | --- |
| | | | | |
| | | | | |
| $$$ | $$$ | $$$ | $$$ | $$$ |
| Coaxial | Coaxial | Quadcopter | coaxial | 6 Axis |
| 0.60 ounces | 1.20 ounces | 3.2 pounds | 1 ounces | 816g battery included |
| | | | | |
Blade Scout CX RTF 3-Channel Heli
This Blade model may not be the "best" RC helicopter once you've gained some experience – but we feel it's the best for younger kids and those just trying the hobby for the first time.
The Scout CX is just meant for indoor use, since it only weighs about half an ounce and can't be controlled with any wind present. In fact, it might be a good idea to close your windows before the copter's maiden flight. This is a coaxial model, which means that it has two blades (referred to as twin rotors) on top of the copter that rotate in opposite directions, so you can't change the angle of the helicopter's blades; you simply increase speed to go higher and slow down to go lower. That creates a small lag between the remote control and the copter's motion, but makes the machine much more stable.
In keeping with the "easy to fly" approach, the CX is a three-channel instead of four-channel helicopter giving the pilot fewer adjustments to worry about. The transmitter has two sticks, with one controlling the throttle (and therefore also controlling altitude) and the other the elevator (pitch, or tilt) and rudder (yaw, or left and right) axes. With only three channels there is no ailerons control for roll on this somewhat-simple heli, an advantage for those just trying to figuring out how to make the thing fly.
Even better, the Blade Scout is default-set to "beginner mode" which reins in power to about 50%; you have to manually change it to full-power mode every time you fly – and even then, it won't go very fast. We believe that's a good thing when you're just learning, unless your primary goal is to crash your RC copter a lot. Speaking of crashing, the Scout CX has flexible blades so it is surprisingly resilient despite its small size and light weight, and the internal computerized Piezo gyro will often compensate for pilot error and straighten the copter out if you do the wrong thing.
You'll get 5-6 minutes of flight time per battery charge, and the copter's LiPo 70mah battery plugs right into the controller for a 20-minute recharge. The controller itself runs on AA batteries. The copter is RF controlled, without the infrared controller seen on many toy copters; that's to be expected, however, since the Scout is really a hobby-grade RC helicopter that you can pick up at a toy copter price of about $50. It's ready to fly right out of the box, and provides a perfect introduction to the sport from a company (Horizon Hobby) well-known for quality RC products. If you want to take a step up, the four-channel Blade mCX2 offers more power and speed, more control, and more fun for an extra $50 – and the higher-priced mSR X, which as you'll see later is our choice as the best single rotor fixed-pitch model on the market.
Details of the Blade Scout CX RTF 3-Channel Heli

Style

Coaxial

Weight

0.60 ounces

Transmitter

Three-channel, 2.4 GHz RF

Control

Throttle, elevator, rudder

Flight time per charge

5-6 minutes

Power

LiPo 70mah rechargeable battery for copter, 4 AA batteries for controller

Size

9 x 9 x 8 inches

Warranty

Only against manufacturing defects
Syma S107 RC Helicopter with Gyro
We'll be looking at more impressive and expensive models after a stop in the bargain basement. As we said with the Scout CX, this may not be the "best" RC heli you can buy, but it's the best you can buy for about $15 – just right if you want a model with decent performance but aren't sure whether your child (or you) will enjoy flying a helicopter at all, or are afraid he'll crash it (or you'll crash it) within 20 seconds.
The Syma S107 is another RTF (ready to fly) indoor-only, 3-channel coaxial copter with an aluminum frame and plastic blades, able to hit the wall a number of times without splitting apart. One reason the price is so much lower is that it uses infrared signals instead of radio-frequency ones so you'll need line-of-sight to the copter, but that's not a major issue if you're just flying the helicopter around a room in your house, which is what it's designed for. The controller is similar to the Scout's in that there are two joysticks that control the same functions, with no ability to change the roll of the heli. Once again, though, the three-channel control lets you power up and fly without being overly confused by an ailerons control.
The flying time on the S107 is a little better than on the Scout, around seven minutes, but it will take twice as long to recharge this machine. You don't have to remove the LiPO battery to recharge it; you can plug the plane into a nearby USB port, or use the provided cable to plug the plane into the controller – the USB option is much better, because charging through the controller drains the controller's batteries quickly. There's a small tail rotor and an internal gyro so there's control as well as stability, and the speed is around the same as the Scout's when the latter is operating at full-power mode. You'll find this Syma model is quite impressive for its low price. It looks cool, too.
If it was RF-controlled we'd like it better than the Scout, but in that case the two would probably sell for the same price. Don't hesitate to shell out the 15 bucks if you've been thinking about an RC helicopter for your child.
Details of the Syma S107 RC Helicopter with Gyro

Style

Coaxial

Weight

1.20 ounces

Transmitter

Three-channel, infrared

Control

Throttle, elevator, rudder

Flight time per charge

7 minutes

Power

LiPo 150mah rechargeable battery for copter, 6 AA batteries for controller

Size

17 x 7 x 4 inches

Warranty

90 days
WLtoys V262 Big 6 Axis RC Quadcopter RTF
WLtoys makes a number of very good and very popular RC helicopters and their V912 coaxial model is a best-seller, although it costs more than the two helis we're already looked at. Here we've decided to step up to their quadcopter because it can be used both indoors and outdoors, it's relatively easy to master for a novice but still a whale of a good time for intermediate pilots, and a steal at just $90.
The V262 is much larger than the coax copters we've reviewed, but is still light because it's primarily made from a sturdy foam known as expanded polypropylene (EPP) which won't break up like Styrofoam if (or when) the heli crashes. It can be patched with epoxy if necessary. This machine is much more durable than you'd think when you take it out of the box, strong enough to be able to carry a cell phone camera or other optional equipment like bubble shooters as payload. It's also fast (with multiple selectable power levels) and able to go as high as you'd like.
The four rotors and six-axis internal gyro do a great job of keeping the copter level while flying, and since there are four channels with the ability to control the roll (done with one of the two control sticks), the V262 is also able to do some great tricks like 360° flips, once you've gotten used to flying it – and it lands like a charm. It even has mounted LEDs for night flying, and the foam shell can be removed and a number of mods (including batteries with more capacity) can be added once you've become an ace.
This heli does take well over an hour to recharge, but that's really the only downside we've found. Whether it's as a really fun toy or for early "drone training," the V262 is well worth its surprisingly low price.
Details of the WLtoys V262 Big 6 Axis RC Quadcopter RTF

Style

Quadcopter

Weight

3.2 pounds

Transmitter

Four-channel, 2.4 GHz RF

Control

Throttle, elevator, rudder, ailerons

Flight time per charge

8-10 minutes

Power

LiPo 800mah rechargeable battery for copter, 6 AA batteries for controller

Size

23 x 22 x 5 inches

Warranty

None specified
Blade mCX2 RTF
We wouldn't consider a top 5 list of RC copters complete without mentioning this model, so once again we turn to Blade. The mCX2 RTF comes fully assembled, tested and ready-to-fly heli that mixes the stability of the coaxial helicopters we've looked at so far, but with the control, agility. The reasons this machine performs so well is its precision swashplate and user controlled settings. Also the sleek body design and fully proportional servos give it a better balance during fly time.
You'll get terrific speed and agility when flying, as long as you're not fighting a wind. This is a light machine that's best used outdoors in calm conditions, or indoors once you've gained enough control over it to fly at fast speeds in tight spaces. The mCX2 RTF isn't the model you want to do fancy tricks, but it's exceptional for everything else.
Those who are advanced fliers would understand much of the technical mumbo-jumbo we could use to describe the advantages of the mCX2 RTF, but for those likely to be reading this review we'll deal with the question you'd be more likely to ask: can I fly this copter without previous experience? The answer is yes – but there will be a pretty steep learning curve; you'd probably be happier trying the Scout CX or the Syma for a little while before stepping up. One helpful feature is that as on the Scout, there's a "beginner mode" that will let you play around at slow speeds for a while without lifting off and immediately crashing into a wall or tree. Don't let that scare you; this is a very durable RC helicopter so it can take some abuse – but it wouldn't hurt to buy some extra parts when you purchase it. You could also buy some extra batteries from Amazon as it is really cheap and you could increase your fly time much more. The amount of thrashing it can take is unbelievable and is very forgiving and gets back to do what it is meant for immediately. But still extra care should be taken to avoid hard surfaces like walls or trees and giving it a hard landing. It certainly adds up to more fun than you ever thought possible with a coaxial ultra micro heli, whether you're a newbie or a pro.
Details of the Blade mCX2 RTF

Style

Coaxial

Weight

1 ounces

Transmitter

Four-channel, 2.4 GHz DSM2 Technology

Control

Throttle, elevator, rudder, ailerons, more

Flight time per charge

6-8 minutes

Power

150 mAh 1S 3.7V 25C LIPo Battery

Size

16 x 8 x 6 inches

Warranty

Only against manufacturing defects
Walkera V450D03
We figured that we'd end our list with a brief mention of the best drone for kids and it has to be from Walkera. They are the leading manufacturers of various types of drones and have assessed the pulse of its customers really well. They rocked the marked when they introduced cutting edge technology transmitters in their newer models of drones and have remained at the top since. Lately they have introduced the new and improved Devo series and this heli has it all. The reason it is not made it high in the list despite its great efficiency is because of its price tag. It does do a deep hole in your pocket but will definitely leave you with immense sense of satisfaction and joy.
This Walkera V450D03 is one of the best outdoor helicopters you would love flying whether you are a beginner or a pro. The 7-Channel 2.4Ghz DSSS Transmitter, is loaded with all the important features that you need for your 6-Channel aircraft, like the Throttle and Pitch curve, 3 flight mode (Normal, IDLE 1, IDLE 2), Dual Rate (DR) and EXP settings, Servo reverse, Swashplate mode and Gyro sensitivity. Ideally DEVO 7 offers the best solution for performance and is definitely a great news for every beginner or intermediate players. And by using this DEVO 7 transmitter, it can store up to 15 model memories, which means you can control your other 14 Walkera Helis (with updated receiver for DEVO series, usually with a "D" written on the receiver's name), no hassle of storing so many transmitters to play on those beautiful Walkera Heli models.
V450D03 is light weight, we felt that instantly when we got it out from its packaging. It comes fully assembled, calibrated, tested and ready to fly straight out of the box. Light weight gives the heli more direct control and more agility. We also noticed the precision on the rotor head and tail assembly, they have ZERO gaps. Also lesser the number of parts, lesser the maintenance. Walkera has done a better job on plastic parts than metal parts. Flying the V450D03 is easy, because it has a responsive chassis and very direct control, thanks to the use of Plastic, this is what makes the V450D03 so special. You may say Plastic Heli is cheaper than Carbon Fiber + Metal Heli, well, not exactly, because now-a-days plastic industry has improved a lot, they mix composite material into the plastic, sometimes they are stronger and lighter. Besides, it's no cheap, because Plastic Parts need molding, this molding process cost a lot more than you think, Walkera has taken a bold move. Plastic gives the chassis elasticity, you can actually feel this when you are flying, it feels smoother over that Carbon Fiber and Aluminum helis.
All in All a well designed, fully equipped value for money RTF helicopter which will entice everyone. Happy flying....
Details of the Walkera V450D03

Style

6 Axis

Weight

816g battery Included

Transmitter

Devo 7

Control

6 Axis Gyro control system Integrated with the Receiver(7 Channel)

Flight time per charge

8 minutes

Power

Lipo 11.1V 2600mAh rechargeable battery

Size

Main Rotor 712mm, Tail 150mm, Overall 676mm

Warranty

Only against manufacturing defects
FAQ (By Our Ardent Readers)
What is an RC Helicopter? Why should i buy it?

RC or remote controlled helicopter is a flying machine that is controlled by the transmitter on your hand or with an app on your mobile. It is more of a hobby than it was ever before. Initially it was played for fun but now a days it is a raging craze to get better and better at it. It is also considered as the best gifting option for kids and also for adult enthusiasts.

What is an RTF and BNF helicopters?

Manufacturers do 2 types of drones for the same model keeping the requirement of their customer in mind. RTF or ready to fly model is for novice users who have minimal or no technical knowledge of putting the heli together and calibrating it to fly at its best efficiency. So it comes completely assembled, calibrated and tested. Whereas BNF or bind and fly is for those enthusiasts who crave for more than just flying the drone. They get to assemble their own little flying machine and then fly it to greater satisfaction.

Which is the best beginner RC helicopter?

There are several available in the market which might be very confusing. First you need to pick on the type of heli you are comfortable with and of course stick to your budget. We would recommend you to read through our in depth review page before nailing down on the drone of your choice.

Can i fly my RC helicopter outdoors?

Yes some of the models are tough and can be flown outdoors. A couple of models are recommended to be flown inside but can be flown outside in calm weather conditions. Please read the product instructions before use.

Can RC Helicopter carry GoPro Camera?

Yes it can. Some come with the camera and few others come with a GoPro attachment to which a compatible camera can be fixed.

What are Fixed pitch, Collective pitch and Coaxial RC Helicopters?

The pitch of the main rotors in a fixed pitch heli is fixed and the lift is controlled by the speed of the helicopter. If the speed is increased, you get more lift and if decreased it starts to descend. The pitch or the angle of attack in a collective pitch heli can be altered to increase the lift while the speed of the rotors remains constant. In a Coaxial RC heli there are a pair of rotors mounted one on top of the other but rotating in the opposite direction. It has 2 seperate motors that fuel each of these rotors. They control both the speed and the angle of attack.

Can i paint my RC Helicopter?

Yes you can. But you need to take extra care to gently rough the blades with a sandpaper and apply a thin film of paint. You need to check the balance before flying it. If thick layer of paint is applied you might loose the balance of your heli. Please read the manufacturers advice before painting.

Why can't i control my RC Helicopter? Why does my RC heli keep spinning?

There could be several reasons for it. Firstly, the weather could be playing a major role to send it in the direction you don't intend to. Secondly, the speed at which you are flying it may not be appropriate. and Finally, the tail rotor may not be vertical. You may need to adjust it in the other direction to give it some balance.

Can i build my own RC Helicopter?

Yes you can. You need to buy BNF (Bind and Fly) models of the RC Heli.

Can my RC Helicopter break easily?

Well that depends on the make. If the manufacturer has strictly indicated for indoor flying, you need to stick to it as hard surfaces outside may damage it. Also extra care must be taken, not to crash it against the walls several times as it may break the parts. But by spending a few more quid you may be able to invest in the ones that are more robust and durable.

How long does it take to charge a RC helicopter?

It takes anywhere between 30 min to 2 hrs depending in the model.

How long will the RC Helicopter fly?

It again depends on the make. Ideally they have 6-8 min of fly time.

How tight should the blades be in a RC heli?

It should be tight enough for it to hold the heli when doing a turn and loose enough to move a bit when it bounces.

Why is my RC helicopter flying backwards?

There could be two reasons. One prominent factor could be gusty winds that is trying to push the heli back against its normal coarse. The other factor could be that the tail is heavy. Try to align your heli using the flybar. Finally read the instruction manual of the product.

Where can i buy the motor parts?

You could buy it through Amazon or in store.

Where can i shop for my RC Helicopter?

You could buy them through trusted retailers like Amazon or in store. Please read through our in depth review page before finalising.