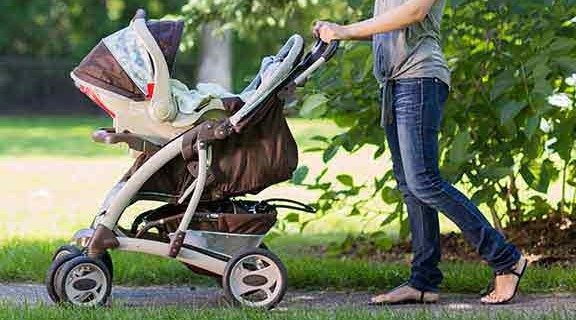 Top 5 Best Lightweight Reversible Seat Strollers | 2019 Reviews
When it comes to strollers, parents are always on the hunt for the most lightweight item that can still provide them the most number of options. Sure, having all those bells and whistles in the stroller is awesome but they are often overkill and are not exactly necessary for the family's kind of lifestyle. The solution? Getting a lightweight stroller.
Now, buying strollers are usually done when the baby is still a newborn (sometimes months before the baby is born). If you are one of those parents who wants to break the mould of traditional front facing umbrella strollers and opt for strollers that allow them to see their babies, a reversible seat baby stroller will be a perfect fit! As baby grows older, they tend to want to explore the world even more thus going for strollers that face both ways is a good option.
Instead of getting a different stroller for each of the different phases that a child goes through, parents go for a reversible seat stroller as it is a more economical option for them. They can use the stroller from newborn to toddlerhood and it can even be passed on for the next child to use (as long as it still passes the standard, of course).
However, most reversible strollers come with huge bulky seats. Fortunately, our list is limited to the lightweight options so you can still enjoy the reversible feature and yet not have to deal with huge strollers that can take up a lot of space in the trunk or in the storage of your house. Are you ready to make your choice? Here are our top choices for lightweight reversible seat strollers.
Quick Comparison Table
| UPPABaby Cruz Stroller | Quinny Zapp Xtra Stroller with Folding Seat | Bugaboo Bee3 with Aluminum Base | Stokke Scoot Stroller | Summer Infant 3D Flip Stroller |
| --- | --- | --- | --- | --- |
| | | | | |
| | | | | |
| $$$ | $$$ | $$$ | $$$ | $$$ |
| 21.5 pounds | 19 pounds | 29 pounds | 28.2 pounds | 14 pounds |
| | | | | |
UPPABaby Cruz Stroller
For those looking for style, comfort and functionality, opting for the UPPABaby Cruz is a good choice. Why is this light reversible stroller regarded as the best reversible stroller to us? There are many reasons why.
First of all, we believe that this comes with all the right features that you are looking for in a great stroller: multi-recline toddler seat position that requires only one hand to adjust plus telescoping handles perfect for tall parents. This stroller also ensures a smoother ride for kids and parents because of the air-filled tires that never goes flat – it absorbs all the shocks and bumps so your kiddo stays safe and secure in their seats.
We also love that the UPPABaby Cruz can be turned into a bassinet, along with the Infant SnugSeat accessory, to make it perfect even for newborns. As your baby grows, you can make full use of the toddler seat. You have the option to have your kiddo face forward, backward, fully upright, completely reclined or anywhere in between. Let the stroller adjust to give your baby the most comfortable ride possible!
What is awesome about this umbrella stroller that faces both ways is that it already comes with cool accessories such as rain shield, bug shield and bumper bar. You can use the insert for infants or you can also opt to get the MESA Infant Car Seat as it snaps directly into this stroller without having to get an adapter.
Now how about the common comparison: UPPAbaby cruz vs Bugaboo Bee 3? Here at ParentsNeed HQ, we think that the former is more superior to the latter though. It is lighter, cheaper, can accommodate more weight and also has a bigger storage basket underneath the seat. Both look equally stylish so it is still up to the parent and kid to decide which model they should go for. Don't forget to take a look at our review of the Bugaboo Bee 3 below.
For now, we are placing the UPPABaby Cruz, with all its cool features, at the top of our list of best rear facing strollers.
Details of the UPPABaby Cruz Stroller

Weight

21.5 pounds

Dimensions

35.2 x 21.9 x 11.1 inches

Colors

Denny, Jake, Marine Blue, Wheat, Maeve, Pascal

Recommend Weight

4 to 50 pounds
Quinny Zapp Xtra Stroller with Folding Seat
If you are looking for a stroller reversible seat that comes fully-featured and yet does not cost an arm and a leg, that Quinny Zapp Xtra Folding Seat will surely surprise you. The main reason why we are placing it at the second spot? This one allows you to use it from infancy to toddlerhood without a lot of fuss.
Not quite convinced at what we are talking about? Well, for starters, you can use the Quinny Zapp like a bassinet for newborn passengers. Even better is that you can do the transformation using a one-hand recline which is very convenient for parents who are out on their own with their little one. As the baby grows older, the seat can be adjusted to either a forward- or rear-facing recline. You can also keep the seat upright and extend the sun canopy for added protection for your toddlers.
At just 19 pounds, this compact reversible stroller is among the lightest in our list and yet it can accommodate kiddos up to 50 pounds. Additionally, when you fold it, it has the most compact footprint of all so it is ideal for families who constantly travel or those who are living in urban areas. Say hello to strolling the busy streets with your little one in this lightweight and convenient reversible seat stroller, hassle-free.
The stroller does not come with a lot of bells and whistles but you can always opt to get additional accessories including a cup holder, parasol, weather shield, travel tote, footmuff and multi-model infant car seat adapter.
Despite the awesomeness (style and functionality) of this product, it still has a few minor flaws including a small storage basket (since it's made to be lightweight anyway) and a non-extendable handlebar. Still, if height is not a problem and you want something that is not bulky to bring around, we highly recommend this reversible seat lightweight stroller. Thus, it has to be pushed down to the second best lightweight reversible stroller.
Details of the Quinny Zapp Xtra Stroller with Folding Seat

Weight

19 pounds

Dimensions

19.5 x 23 x 40 inches

Colors

Red, Royal, Black Irony, Natural Mavis, Pink Precious, Rebel Red, Rocking Black, South Beach Blue, South Beach Pink

Recommend Weight

5 to 50 pounds
Bugaboo Bee3 with Aluminum Base
When it comes to reversible strollers, the Bugaboo Bee 3 might just be considered the most luxurious of them all. Its modern design is unlike any other stroller available in the market and its compact size makes it very popular among families who live in urban areas and those who deal with very tight spaces.
What do we love most about this reversible stroller? Well, there are many things that catch our attention. For starters, we love that it looks just like a wheeled seat for toddlers. It can hold up to 37.5 pounds of baby weight and its design make it the perfect stroller for growing up kiddos. It looks and feels very "grown up" and the backrest and canopy can be adjusted to fit your growing child. Additionally, the backrest can be made to fully recline or fully upright to adjust to the comfort of the passenger.
For younger kids, the Bee 3 can be reversed so the parent and child can enjoy face-to-face contact. You can purchase a car seat adapter separately which is already compatible with brands such as Britax, Cybex and Maxi Cosi. You can also opt to go for a bassinet if you like.
Parents will be surprised at just how smooth and easy it is to maneuver this parent facing stroller and how compact it can; you can even use it during train rides and not have a problem. Plus, the bottom of the seat comes with a huge storage basket which should be enough to store all baby's and parent's needs. It also comes with an adjustable height handle!
The only thing that is turning us off this luxurious reversible seat stroller is the lack of a peek-a-boo window. We would have also preferred an even heavier weight capacity so we can use this stroller for longer. Still, we cannot deny that this stroller is perfect for the urban dwellers and if maneuverability and compactness is a huge factor, this is an ideal lightweight rear-facing stroller. For this, we are placing it on the third spot in our best lightweight reversible stroller list.
Details of the Bugaboo Bee3 with Aluminum Base

Weight

29 pounds

Dimensions

30.5 x 18.5 x 14 inches

Colors

Black, Bright Yellow, Dark Khaki, Red, Grey Melange, Ice Blue, Off White, Soft Pink

Recommend Weight

Up to 37.5 pounds
Stokke Scoot Stroller
Another luxurious looking reversible seat stroller that you can find in the market is this one from Stokke. In fact, the whole Stokke line looks pretty modern and luxurious, from strollers to accessories.
What is there to love about the Stokke Scoot? One of the things we like about this stroller is that it comes with a very small footprint making it ideal for use during travel. You do not even have to worry about navigating it through narrow spaces and tight corners because it very easy to handle and maneuver. Its foam filled rubber tires also ensure that your baby gets a smooth ride even as you move along uneven surfaces.
Other positives for this stroller include its slim width, making it very easy to navigate even in the narrowest streets, large canopy and a fitting bug shield and rain cover. Kiddos are given three seating positions including a reverse-facing setup for the little ones to have more interaction with their parents. We also love the ergonomic seat that it comes with, the soft suspension and swiveling wheels that can lock in place. Additionally, the seat height is perfect even for when you are in cafes and restaurants – no need to bring another seat for the baby!
Still, it is not without flaws. For example, assembling it and setting it up can take a while to get used to. Opening and folding it back may also require some learning. And, although the storage basket underneath looks like it can fit in a huge cargo, it actually has a rather small weight capacity. You may have a hard time fitting a lot of groceries in it and you will have to hang your diaper bag on the handles to have enough space for your grocery errands at the bottom.
We still think that this cool and modern reversible stroller is worth a shot which is why we are placing it at the fourth position in our list.
Details of the Stokke Scoot Stroller

Weight

28.2 pounds

Dimensions

29.5 x 21.6 x 43.7 inches

Colors

Aqua Blue, Purple, Red, Soft Pink, Black Melange

Recommend Weight

4 to 33 pounds
Summer Infant 3D Flip Convenience Stroller
We have only rounded up together the very best reversible strollers available in the market and the Summer Infant 3D Flip Convenience Stroller is a great addition to it. Although we have placed it at the very bottom of our list, we still think that it is worth the consideration.
Now, it should be noted that this stroller is actually the lightest of all listed here, at just 14 pounds. Its aluminum frame is well built and well designed though that it can still take on up to 50 pounds of weight. What is great about this product is that it comes with a 3-position recline whether you opt for the rear- or forward-facing position. Plus it can be done with just a single hand making it very convenient for the parent.
If you do use it on a newborn, you can take advantage of the infant insert which will help support their head. Of course, there's the 5-point harness to keep them safe and secure in their seats. The stroller also comes with lockable rear wheels, anti-shock front wheels, a huge reversible sun canopy with peek-a-boo window, side storage pockets and a cup holder.
What many parents like most about is its super compact fold – it may be fully featured but it certainly packs like a rear facing umbrella stroller. It even comes with a carry strap for easy transport and storage! All you have to do is lift the rear handle, push the lever with your foot and then fold the compact reversible stroller down.
The only downside to using it is that it seems its safety buckles do not work as perfectly as intended. It is hard to use them on newborns but it still works with some difficulty as the child grows. Sometimes, it can be very difficult and time consuming to adjust the belt and straps to fit your kid.
Then again, if you want something that's convenient, full-featured and yet lightweight and very, very cheap, you should definitely consider this cheap rear facing stroller. However, we will have to bring this one to the bottom of the list of best convertible strollers.
Details of the Summer Infant 3D Flip Convenience Stroller

Weight

14 pounds

Dimensions

40.4 x 18 x 27 inches

Colors

Double Take, Rerun Red, Totally Teal

Recommend Weight

5 to 50 pounds
All of the convertible strollers listed here are definitely the best of the best. They are full-featured products and yet have the convenience of being a lightweight model, making them perfect for use during travel or when riding on trains and walking along busy and narrow streets. They are definitely perfect for urban dwelling families!
Be sure to weigh the pros and cons properly before making your purchase and only go for the bells and whistles that you really, truly need. If you can ditch one or more of them, that would make the stroller even lighter and more convenient for you! Happy shopping!