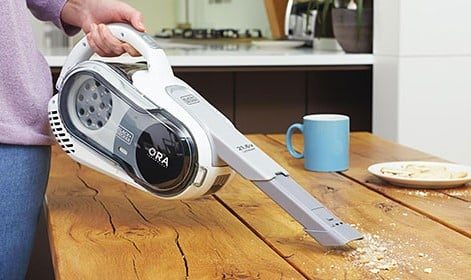 Top 5 Best Handheld Vacuum Cleaner | 2020 Reviews
You just absolutely hate it when you turn on your vacuum cleaner and it starts roaring. The roar wakes up your baby and now you'd have to postpone another clean-up because your fussy little tot just hates the sound of the vacuum cleaner. Another thing you hate about vacuum cleaners is the absolute mess it creates when you have to drag an entire machine around. The cord pulls on stuff, tugs, and tips some of your fixtures up and even trips you all around. It also won't reach far without you having to take the plug out and insert it into another socket.
It's a good thing modern technology is very kind to us mothers! We can already go for easy to use and maneuver handheld vacuum cleaners at our very disposal. We don't have to think about noisy vacuums disturbing our peace and no need for extended extension cords just to move around the entire house only to vacuum up the dirty carpet. All you need to do is choose the best handheld vacuum and be happy with your choice.
The thing about handheld vacuum cleaners is they present as great comfort in cleaning because they are compact, light and easy to bring or move around. It doesn't need much maintenance and it definitely doesn't require much cleaning either. Here at ParentsNeed HQ, we've already tried and absolutely found five best hand vac that would definitely keep you and your abode neatly satisfied. Here is our Top 5 Best Handheld Vacuum Cleaner.
Quick Comparison Table
| Black + Decker CHV1410L Hand Vac | Eureka EasyClean Corded Hand-Held Vacuum | VonHaus 2-in1 Upright & Handheld Vacuum Cleaner | Bissell Pet Hair Eraser Cordless Hand Vacuum | Dirt Devil Hand Vacuum Cleaner Gator |
| --- | --- | --- | --- | --- |
| | | | | |
| | | | | |
| $$$ | $$$ | $$$ | $$$ | $$$ |
| 17.2 x 7.8 x 5.5 in | 15 x 7 x 7 in | 12 x 8 x 6 in | 16 x 6.8 x 4.5 in | 13 x 5 x 6 in |
| 3.8 pounds | 4.8 pounds | 6.2 pounds | 3 pounds | 2.8 pounds |
| Cordless | Corded | Corded | Cordless | Cordless |
| | | | | |
Black + Decker CHV1410L Hand Vac
This best cordless handheld vacuum can do more than just suction up dirt lying around your house. It can definitely put a smile on your face for the ease of comfort it brings and absolute tire-free help it can offer. One feature you can easily notice about this best hand vac is the nozzle. It is thin and extremely long. That's one of the best features you can get in a cordless hand vacuum.
The Black + Decker chv1410l 16 volt lithium cordless dustbuster hand vac has an absolutely great performance because of its strong suction power. It picks up right about anything and anywhere. The nozzle can easily fit under the bed, behind the side tables and cabinets, and in between spaces that are really difficult to clean. It becomes an extension of your arms that easily sweeps away dirt, debris, and dust as well. From carpets to hardwood floors, to ceramic tiles and even in between car seats, this is an all-around home sweeper that really cleans everything out nice and easy.
It features this amazing cyclonic action that brings dirt and dust straight to the dirt bowl. It swirls the dirt away from the filter in order to keep the suctioning power nice and strong. It is also very easy to clean because it doesn't come with a cloth bag but a catching bowl. You can easily slip off the dirt bowl and the filter and can easily be washed in the sink with soap and water. Since this cordless hand vacuum is translucent you can quickly see if your dirt catcher is already full.
This best hand vac comes with a strong powered lithium-ion battery which can keep charge up to 18 months and also spend 50% less energy than a typical vacuum cleaner. It comes with a charging base that also doubles as a vacuum station for your household help. With its Smart Charge Technology, you get to save plenty on electricity and maintain a consistent performance from this handheld vacuum.
One other add-on feature you will come to like about this hand vac is the onboard crevice tool or brush. Just flip it on and use it to brush off larger debris. This is ideal for lint, dust bunnies and dirt that simply won't come off of your upholstery. With all those reasons, it's hard not to see this as the best cordless handheld vacuum cleaner. This is our First Top Pick for the best handheld vacuum cleaner.
Details of the Black + Decker CHV1410L Hand Vac

Dimensions

17.2 x 7.8 x 5.5 inches

Weight

3.8 pounds

Cordless/Corded

Cordless

Washable

Yes

Power Source

Lithium-ion
Eureka EasyClean Corded Hand-Held Vacuum
This cute machine is all about making the most out of cleaning. It aims to be the only cleaner you would ever need for any surface you'd need to keep absolutely spotless. The Eureka Easy Clean 71b vacuum cleaner can clean horizontally and vertically with no dust particle ever going out of the way and into your eyes. This vacuum cleaner comes with it uniquely Eureka feature, the riser visor. The riser visor is a visor or cap to cover the suction tip and provide a much easier cleaning on surfaces. Leaving the riser cover on standard allows you to clean flat horizontal surfaces like the floor, tables and much more. Once you twist it downwards, it becomes a cleaner for vertical surfaces like the back of your furniture or staircases.
You'd love this for sure because it has a wide nozzle. The nozzle can easily sweep dirt without having to keep going back. It has a wide coverage of cleaning making vacuuming easy and really quick too. This simple and compact handheld vacuum is also light and can be used with just one hand. You can easily hold your baby with the other and still manage to clean around that house without a sweat. The Eureka Easy Clean 71b vacuum cleaner has a cleaning path of 6 inches compared to the typical 3-inch cleaning path of most handheld vacuum cleaners.
It also comes with a detachable extended nozzle that really comes in very handy for you. The nozzle can be used to reach those areas beyond your reach like behind the refrigerator, in between corners and tiny slots inside the cupboards. Along with the extra nozzle is the 20-foot long electric cord. You can practically reach the entire kitchen and living area in one swoop unless you have a ridiculously huge house. One great thing to like about this vacuum cleaner is the ease of cleaning. You can remove the dust cap and simply throw out the dust in the bin. If it gets extra dirty from constant use, you can wash it wish soap and water too along with the filter. You won't need a replaceable dust bag. That's just an extra expense that comes with typical vacuum cleaners.
That's why this is our Top favorite corded handheld vacuum cleaner but finds its way in our second favorite spot!
Details of the Eureka EasyClean Corded Hand-Held Vacuum

Dimensions

15 x 7 x 7 inches

Weight

4.8 pounds

Cordless/Corded

Corded

Washable

Yes

Power Source

Direct Power outlet
VonHaus 2-in1 Upright & Handheld Vacuum
This is everything you will ever love in a handheld vacuum cleaner. This is the most versatile corded vacuum cleaner in our list. It can be a handheld vacuum cleaner or a typical standard stick vacuum cleaner. If you're up for the best hand vacuum, you might like this one very much. The hand vacuum quickly transforms into a stick vacuum with the detachable handle. Whichever fits your need at the moment, you can switch. If you have a back issue, you can just opt for the stick vacuum. However, if you just need a quick clean-up you can just go for the hand vacuum.
The great thing about this is the capacity of the dust cup. It can handle about 1.3 liters of dirt and dust. It has a precise cleaning tube that can cover about an inch of dust for that maximum suction for stubborn dust that can't be removed in the carpet, in your upholstery or any nook and cranny. It can also pick up sand particles in one swoop and you know how tough sand can be on the carpet. That makes this the ultimate best handheld vacuum for the car. Cars are tough to clean, with muddy shoes and dusty sandals coming in and out, it's a tough clean-up duty but definitely not with this best hand vac.
The tip can be replaced with other crevice tools like mini brush, extension tubes, and a turbo cleaning brush. There are many places where not one tip can suction up all the mess left behind, that's why the tips can be replaced depending on the need. So if you find dust particles gathering quite a mess on your ceiling's crowning, you can use the extension tube and suck it all away. If the one-inch tube can't handle a big mess, switch it up with the turbo brush, although the turbo brush needs to be bought separately. Anyway, this is a total package. You can clean anywhere because it has a 19.5-foot cord. It also has a sponge filtration system that locks in the tiny dust particles so it won't go back to your house or rather your nose. That can be really irritating especially with children around.
Because it is a corded handheld vacuum cleaner and leans on the heavy side, we put this in our spot number 3 for the best handheld vacuums.
Details of the VonHaus 2-in1 Upright & Handheld Vacuum

Dimensions

12 x 8 x 6 inches

Weight

6.2 pounds

Cordless/Corded

Corded

Washable

No

Power Source

Direct Power outlet
Bissell Pet Hair Eraser Cordless Hand Vacuum
One of the main reasons to get a vacuum cleaner is not just for your carpet but mainly for the sake of cleaning up after your pet. No matter how much we love pets, they just shed far too often. Their fur is practically everywhere and really difficult to clean up. Pet hair sticks to everything and it can really get on your nerves like really into your nerves. And that's the specialty of the Bisell pet hair eraser 33a1 vacuum cleaner; it is literally to suck out evasive soft pet hair completely.
You will love that it doesn't do just that. The crevice tool allows an extended tube for further reach. It also allows a brush roll to effectively remove tough pet hair sticking to almost any surface and it also proves to be very handy everywhere. The motorized brush is very helpful in breaking down those muds off the carpet. It breaks it down and sucks it in. Even those hardened juice drops are quickly taken care of using the motorized brush. The upholstery tool is a definite favorite because it cleans the super soft material around the house. Bed sheets are free of pet hair, blankets are lint free and pillows are less funky too, probably sucked out dandruff and scalp follicles.
This best cordless hand vacuum is especially helpful in cleaning up soft areas like sandy carpets and dust particles that are really stuck on upholstery and felt wallpaper. It's really efficient. The three handy attachments are absolutely helpful. It has a long tube, motorized brush, and an upholstery tool. They really do the cleaning effectively and efficiently. It also comes with a dual filtration system that prevents clogging. The dirt container is really easy to clean too.
With a gentle swipe, you get clean up almost every surface around the house. And no worries about a power cord limiting your every movement too. So, for that, this makes our fourth best handheld vacuum cleaner and definitely one of the best handheld cordless vacuums.
Details of the Bissell Pet Hair Eraser Cordless Hand Vacuum

Dimensions

16 x 6.8 x 4.5 inches

Weight

3 pounds

Cordless/Corded

Cordless

Washable

Yes

Power Source

Lithium-ion
Dirt Devil Hand Vacuum Cleaner Gator
Its name really fulfills its duty. This is a real devil for dust because this awesome hand vacuum is really tough on its cleaning. It's like an OC (Obsessive Compulsive) mom if you need to compare. It has a strong suction power that can really debunk your dirty stinky carpet by pulling out the dirt that makes it stink so much. On its own, it's a very lightweight easy to use a cordless vacuum cleaner.
You can go anywhere around your house without worrying about tripping off the cord, about the cord limiting your cleaning space and without a cord that pulls on items around the house when you're already maximizing the stretch of your power cord. We love this best handheld cordless vacuum because it comes with a crevice attachment. It can extend further into a tube that can suck out dust particles in between sofa chairs and stuffy edges of the carpet. It works really well with vehicles and easily clean up car seats and in between. It also has a cleaning brush roll that can really get into deep cleaning around your house. The brush roll works well with upholstery and sofa seats. It is also one heck of a cleaner for removing tough pet hairs that seem to get really stuck on the carpet. Don't you just hate cleaning that up? The mini brush roll tool can really take care of it real quick.
We love how compact this best portable vacuum is. It is so easy to store because the handle has a folded down to reduce storage space. Aside from storage, it is very easy to clean too. The filter is also very easy to clean. Not only that but the detachable dirt cup can just be emptied into the trash, wiped or washed with soap and water. It has a very quick and easy empty cup and replacement that you won't be bothered much even if it can only hold up to half a liter of dirt.
After a while of use, however, it can be a bit frustrating that it easily loses power, still, it's handy and very efficient and for that this is our fifth favorite cordless handheld vacuum.
Details of the Dirt Devil Hand Vacuum Cleaner Gator

Dimensions

13 x 5 x 6 inches

Weight

2.8 pounds

Cordless/Corded

Cordless

Washable

Yes

Power Source

Lithium-ion
For many reasons that you would want to buy a vacuum cleaner, you will definitely love a compact vacuum cleaner of your own. It is easy to work with; you can only just use one hand in doing your chores. You can also do a quick clean with barely an hour to really do an entire house cleaning with the best most powerful hand vacuums.